E&S Industry Event & Award Coverage
Special Features
Smallwares, Cookware & Kitchen Tools
Tabletop & Serving Ware
Smallwares & Tabletop Leading The Way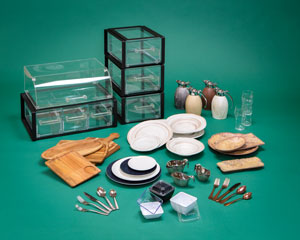 Smallwares Measure Up
In FER's 2017 Smallwares Competition, seven cool problem-solving products from a field of 28 finalists earned top accolades. Winners ranged from products that improve bartenders' lives to temperature and weighing devices.

Manufacturers came through in spades when asked for back-of-house solutions to compete in Foodservice Equipment Reports' 2017 Smallwares Competition. Some 28 products made the finalists cut at the annual event, which took place on a sunny day in July at the Boelter Co.'s SuperStore in Milwaukee.

"Manufacturers are taking everyday things and showing people how they can be used to make operations safer or better," notes judge Kim Zohfeld, Category Manager/Smallwares at Edward Don & Co.

As in years past, practicality ruled and the variety impressed. Four judges—three dealers and one operator—roamed the display-laden tables, comparing, examining and discussing. Judges evaluated products in terms of innovation, how well it solved a problem, its food or labor safety aspects and durability.

The seven products that took home the proverbial blue ribbons were the ones judges could envision using in their own restaurants, or in their clients' operations. Two judges—both with bartending backgrounds—gave high marks to items that improve bartenders' lives and guest experiences. These include a drain trap seal designed to trap tiny flying insects by Bar Maid, the First In, First Out Garnish Station from TableCraft, and the Griptite Service Trays by Carlisle.

"I'll be looking that up later for my customers," says George Papp, Sales Representative/National Foodservice Smallwares Division for the Wasserstrom Co., about the fruit fly-blocking drain trap seal. Judges discussed its ease of use (rating: easy) and array of sizes (many).

As for the product rotation garnish station, one judge praised its food safety chops. "At every restaurant I worked in, we'd put new limes on top of the old ones. That's why I never let bartenders put anything in my drinks."

The non-skid service trays inspired one judge to test them out using wine glasses borrowed from the Tabletop Competition entries. Needless to say, no spills.

Temperature and weighing considerations characterized the remaining winners. CateringStone, a first-time entrant in the Smallwares Competition, won accolades and a top spot for its Cold Stone, Hot Stone & Server buffet solution. Comark's Bluetooth-enabled thermometer (with folding probe) had judges making practice temperature recordings on a smartphone using the accompanying app.

From Edlund comes a portion control scale that will stay clean in the messiest settings thanks to a close-fitting, washable clear plastic shield. Judge Felipe Medina, Event and Facilities Manager for Tuscan Banquet Hall, also tested how hard or easy it was to take the scale apart for cleaning, paying extra attention to the platform. "I love that it's a perfect square," he says. "When the platform's not quite square, crew members sometimes re-assemble the scale wrong, which affects readings."

The remaining temperature-related product array included mini infrared thermometers from Taylor and a thermometer holder that pops open from CAREmometer. In the weighing arena, judges investigated, along with Edlund's scales, scales with low profiles from San Jamar and scales with high capacities by CDN, to name a few. There was servingware fit for back- or front-of-house—in addition to Vollrath's utensils—such as an elegant kettle with hammered exterior and glass top from French maker Mauviel, colorful ceramic servingware that doubles as bakeware by Emile Henry, and indestructible cast-iron debuts from Lodge. Labor-saving devices also were well-represented, in the form of a handy cutting tool for opening boxes from CrewSafe, a multi-function potholder called Skillet Buddy, and a blade-free plastic film dispenser from TableCraft.

Watch the December issue for write-ups on all finalists.
CHAMPIONS OF THE 2017 SMALLWARES COMPETITION
Fly-Bye Floor Drain Trap Seal by Bar Maid Corp. impressed judges by solving a problem few had given much thought to. "Great idea!" was the shared comment on this chemical-free pest and pathogen blocker. Installed at the top of a drain—under the stainless drain cover—the Fly-Bye features a 1-way valve that allows waste liquids to flow down the drain while a built-in "skirt" blocks fruit flies or cockroaches, odors and sewer gases from coming back up. The Fly-Bye comes in 4 sizes and is made of ABS plastic housing and silicone.
Fly-Bye Floor Drain Trap Seal—Bar Maid Corp.
bestinthebar.com

Griptite 2 Service Tray by Carlisle FoodService Products was put to the test by 1 judge, a former bartender and server. He loaded the non-skid tray with sample glassware from the tabletop side of the competition, and walked from 1 side of the room to the other with the glass-laden tray held high. "Yes, this works," was his emphatic verdict. The tray surface's slightly rubbery grip prevents spills from unsteady glasses. Coating on tray edges helps protect it if it's dropped or handled roughly. The trays carry a 5-yr. warranty, NSF certification and come in black or brown.
Griptite 2 Service Trays—Carlisle FoodService Products
carlislefsp.com

Cold Stone, Hot Stone & Server by CateringStone keeps hot food hot without the repeat expense of canned heat or the bother of electric cords, and cold food cold minus messy ice and the ensuing melt-water. The Hot Stones deliver 170°F heat for hours by simply boiling the square stones in water for about 40 min. The Cold Stones, available in 14°F and -15°F versions, require 1 night in a freezer to stay cold for up to 20 hr. per use. The 10-in. x 10-in. stones fit into an attractive walnut and slate Server, also by CateringStone.
Cold Stone, Hot Stone & Server—CateringStone
cateringstone.com

Bluetooth Pocketherm with Kitchen Checks App debuted by Comark works with a smartphone to meet kitchen HACCP requirements. The app, available for Android and Apple devices, automates data collection and replaces handwritten notes. Checklists within the app ensure procedures are followed correctly, and a cloudbased dashboard lets users quickly spot temperature anomalies. The temp monitor has a folding probe fitted with a thermocouple sensor that uses Bluetooth to transmit data to your mobile device. The probe's 1ó-mm tip enables fast, accurate temperature-taking throughout the kitchen.
Bluetooth Pocketherm with Kitchen Checks App—Comark
comarkinstruments.net

Bravo! Digital Portion Scales with ClearShield by Edlund Co. solve the problem of operating an electronic device in an environment filled with airborne grease, dust (flour, etc.) and juices—a.k.a. a typical kitchen setting. Edlund's Bravo! series of scales come with a close-fitting, washable (and replaceable) clear plastic cover that protects them from spills, moisture and worse. The units also feature a large, easy-to-read LCD display, side-mounted power jack and operate on either battery or plug. "The clear cover makes a great addition to the scale's functionality," notes a judge. "Love the idea!" says another.
Bravo! Digital Portion Scales—Edlund Co.
edlundco.com

First In, First Out Garnish Station by TableCraft combines the 2 things every bartender worth his or her salt wants for bar condiments: copious storage and a foolproof rotation system. The dispenser, which fits in most bar rails, fills from the top and doles out from the bottom so, no condiment gets left behind. The garnish station holds 6 1.-pint bins, which can be further subdivided for up to 9 compartments. A built-in lid blocks fruit flies and allows the dispenser to be stored in the walk-in. During use, icepacks tucked into the back of the unit keeps the contents cold.
First In, First Out Garnish Station—TableCraft
tablecraft.com

Miramar Contemporary Serving Utensils by The Vollrath Co. pack portion control with elegant durability. The capacity of each piece is marked on its back, in oz., mm and cups. The high-polish stainless utensils feature an eye-catching slot running the length of the handles that helps dissipate heat, the manufacturer says. The collection includes tongs, ladles, serving spoons and forks, pie servers and knives. "A sleek look and feel" and "love these!" were comments from judges.
Miramar Contemporary Serving Utensils—The Vollrath Co.
vollrath.com