E&S Industry Event & Award Coverage
FER Management Excellence Awards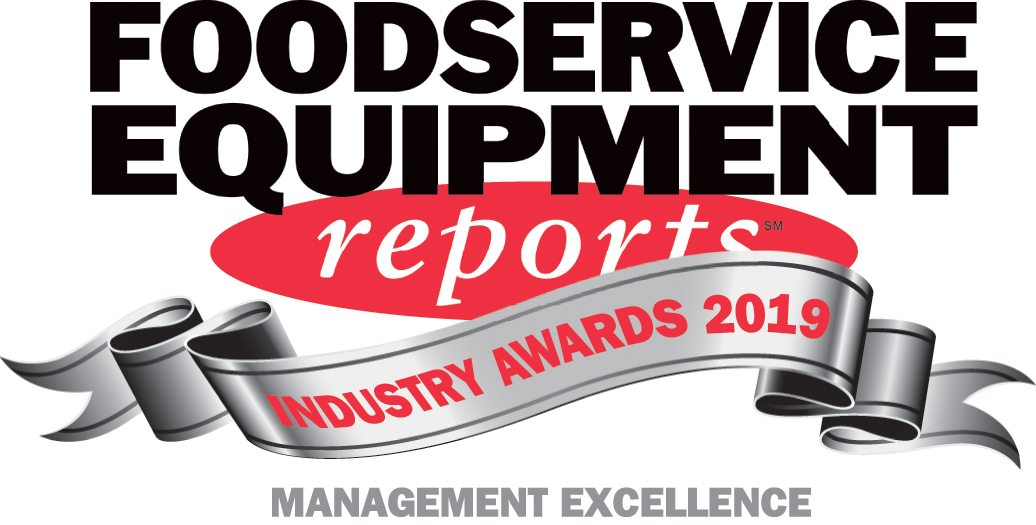 Management Excellence
Service Agency

Hawkins Commercial Appliance Service
No. of Employees: 67
No. of Locations: 2 (headquarters and one branch)
Sales Volume: More than $3 million
Company Motto: "Delivering service excellence since 1907"

By Cynthia Clampitt, Contributing Editor

Hawkins Commercial Appliance Service was already more than 70 years old when John Schwindt came on board in 1978. "I was employee number 10," Schwindt recalls. "I was 17. I started as a shipping and receiving clerk and worked my way up." Today, Schwindt is the G.M. and V.P. of Operations. The fourth-generation family business has grown to 67 employees, but Schwindt says it still has a small company feel, like family.

Small, perhaps, but with a big impact. Cha Nye Farley, Facilities Manager for Smashburger, details the Hawkins team's strengths: "Customer service, relationships, transparency, knowledge—they are amazing people to work with. The Hawkins group has been part of the development of Smashburger since day one. They are an integral part of our success." Farley recalls one memorable rescue: "A grill went down on a weekend in a new restaurant in Colorado Springs, Colo. Hawkins sent its best technician from Denver. He was there on a Sunday morning at 7:30 a.m. and got the grill running again. The Hawkins team had the expertise but also understood the urgency. They are not just a vendor—they are a partner."

Southbend Service Director Rob Taylor notes, "The Hawkins group maintains a very high level of expertise across the wide array of equipment and manufacturers they represent. They have very strong fundamentals in terms of understanding the nature of problems and addressing them quickly. For example, a few years ago we had a very frustrated customer and dealer who demanded we replace their equipment. The customer site was a long distance from Hawkins's main office, but Schwindt took the time to drive to the customer site himself to evaluate the equipment and help the customer understand the diagnosis. That highlights the exceptional level of support we receive working with Schwindt and Hawkins."

The expertise being praised is not an accident, Schwindt emphasizes. "We invest heavily in training. We are an authorized warranty service and parts distributor for more than 80 different manufacturers, so to stay on top, we have all of our techs go through every factory training every time. Because we do cross training, we can be very lean when it comes to support people, and upper management can help cover for sickness or vacations. Everybody helps each other and the stress level is kept low for the most part."

Asked what he'd consider his business maxim, Schwindt replies, "Be honest always. Do the right thing because it is right." He adds to this his thoughts on empowering employees, noting, "We don't micro-manage. We allow our staff to do their jobs—and make their own decisions. For example, when Hurricane Katrina hit New Orleans, FEMA called our service manager after hours on a weekend to get some equipment installed and started up at an old shutdown military base, so they could bring up refugees from the disaster. The manager picked up the phone, got some techs together, and got the job done. He didn't have to call his boss to get permission or to ask what he should do. It was the right thing to do, and he and everyone else stepped up and got the job done."

W. West Equipment and Furnishings Co. Executive V.P. John Rogers, relates, "Schwindt and his team have done a great job of creating relationships with the foodservice customers in the Colorado market. They've established tremendous credibility by being available and by providing the appropriate expertise for every service call. They do what they say they are going to do, and I have a comfort level of knowing that I can call Schwindt in a pinch and the situation will be resolved."

Welbilt Service Director Dave Neidlinger adds, "The Hawkins team has found a way to manage the balance of great customer service and outstanding manufacturer support. They can always be counted on to take care of business in a very professional manner. Hawkins is a role model for how great service providers can still flourish in today's age of the Internet and decreasing parts sales as a part of the normal business."

The biggest challenge Schwindt faces now is replacing long-time employees. The average employee tenure at present is 11 years, but there are employees who have been at Hawkins for 45 years. "We need to be developing the next generation of leaders in our company. We have a great pool of talented young people that will make great managers and leaders. Mentoring them is exciting to me."

But Schwindt doesn't focus solely on Hawkins. Currently President of CFESA, he hopes to create a CFESA Training University, to benefit the entire industry. He also is working to create partnerships, bringing together leaders from CFESA, MAFSI, FEDA, NAFEM and FCSI to pool resources, ideas and talents that will affect the future of the industry in a very positive way.


Management Excellence
Dealer

Burkett Restaurant Equipment & Supplies
No. of Employees: 48
Projected Revenue Increase for 2018 Over '17: 25%
Core Values: "Wear Your Customer Hat" "Develop Open And Honest Relationships" "Drive Change And Innovation" "Do More With Less" "Build Fun And Positive Teams" "Pursue Growth And Learning" "It's Your Company, Build It"

By Rob Townsend, Contributing Editor

"Do more with less" is one of Burkett Restaurant Equipment & Supplies' core values and it sure seems to be working. "Around 2010 to '12, we went through a period of hypergrowth and our sales were stronger than our infrastructure; we saw we were growing without a strong foundation to support it," says Jameel Burkett, President and CEO of the Perrysburg, Ohio-based dealer. "Angry customers aren't sustainable, so we scaled back, hired and managed a new sales force and installed new technology, including a new Enterprise Resource Planning system." ERP is a software that integrates a company's financials, supply chain, operations, reporting, manufacturing, and human resource activities.

Burkett now has a staff of 48 people, down from more than 60 during the period of intense growth. In April '16, the company moved from Toledo to nearby Perrysburg, opening a new headquarters, a 10,000-sq.-ft. showroom, and a new equipment reconditioning center, custom painting and cleaning rooms. The company introduced a new corporate website (burkett.com) in March '17, burkettconcepts.com in October '18, and launched its new ERP in October '17.

With all of that now in place, Burkett and his staff hit January '18 with a renewed eye on growth. Revenue in '18 looks to be up 25% over '17, he says.

Burkett's grandfather founded the company in Toledo in 1977, offering reconditioned restaurant equipment to local businesses. His father took the company's reigns in '85, began offering new equipment and moved into a larger space in Toledo. In '05, Jameel accepted the leadership torch.

In conversation about the company's culture of success and growth, Burkett casually slips in call-outs to other company core values, such as "pursue growth and learning," "it's your company, build it" and "build fun and positive teams."

"I love the word 'family,'" he says. "Because we number nearly 50, we have a family feel here. We often see each other more than our own families, so it's important that we build fun and positive teams since we spend so much time together. We know that everyone gets frustrated at times but a healthy culture helps counter those frustrations."

Employee empowerment is important to Burkett. "It's everyone's company, not just mine," he says. "Everyone is CEO of their own domain. Everyone makes mistakes and as long as those mistakes don't turn into habits, there are no worries. That's one way we grow through learning."

"Jameel has put in a very good management team that's allowed them to grow and empower their people," says Kevin Woods, V.P. of Sales and Marketing, Globe Food Equipment Co., maker of commercial mixers, slicers and more. "He also invests in employee training. He's sent several employees to our dealer school and I know he's had several other manufacturers do training at their site."

So what sets Burkett's company apart from his competitors? "Relationships are the strongest asset in the world and they're one of our biggest strengths," he says. "We build relationships with our clients, our supply chain partners and each other. We sell the same equipment as everyone else so it's our relationships and service that makes us special."

Burkett is one of the easiest people to do business with, says Filippo Berti, CEO of the Ali Group, the diversified manufacturer of foodservice equipment. "We have a great relationship. He's very straightforward and very positive. If I'm trying to sell him a product and he doesn't like where the discussion is going, he's never contentious."

While the company serves many different industries, about 20% of its business is serving the pizza industry. "Pizza is part of the heart of the family meal; everyone loves pizza," Burkett says. "We've had a long relationship with Marco's Pizza, one of the largest chains in the country, as well as many independent pizza businesses. We've been able to take what we've learned from the pizza industry and use it to build relationships with new clients in other markets."

This ability to translate success in one market to others impresses Danny Schwartz, V.P., Advance Tabco, maker of stainless fabrication. "Jameel is very focused," Schwartz says. "They don't count their chickens and they aren't complacent. He knows that chain business may not be there forever so he's always looking for additional opportunities for growth."

Over the years, Burkett has built a strong online presence for the company. "Many people think we're an online company, but it counts for less than 50% of our business. We see our traditional website as a lead generator rather than a sales site."

About the additional site, burkettconcepts.com, Burkett says, "it pulls together our consulting, planning, design, sales, installation, financing and support services in one place. We have many customers who didn't know we did all these things and now they can see in one place what we can do for them."


Management Excellence
Dealer

TriMark USA
No. of Employees: 3,200
No. of Locations: 66
2017 Sales: $1.776 billion
Company Mottos: "We are TriMark, and we bring it." "We'll never let a customer down, no matter what."

By Michael Sherer, Senior Contributing Editor

Three or four years ago, few in the foodservice industry foresaw an equipment dealer log $1 billion in sales. TriMark USA, South Attleboro, Mass., not only met that goal but almost doubled it this past year with sales of close to $2 billion. How did a little company that got its start in 1947 pull off a feat like that? With a singular, uncompromising focus on its customers.

TriMark began life as United Restaurant Equipment, later renamed United East to distinguish it from another East Coast dealership. Owner Bob Halpern hired Jerry Hyman in '81 as a sales rep, where Hyman learned the value of customer service, often getting customer calls on weekends, and personally driving to the warehouse to pick up products and deliver them. The company adopted the TriMark name in '90, and Halpern sold the company to a private equity firm in '98. Since then, Hyman has steered TriMark on a clear path to growth.

Despite the company's sometimes aggressive acquisition strategy, Hyman, now TriMark President and CEO, is quick to point out that only half of the company's growth is from acquisitions while 50% is organic. "That's by design," he says. "We're fortunate to have acquired 14 companies in the past 20 years, but we've chosen those companies very carefully."

TriMark, which is now backed by private equity group Centerbridge Partners, approaches buy-outs with four criteria in mind, according to Hyman. "We're only inter-ested in well-run, profitable companies. We only consider companies where existing management is willing to stay in place, since we don't have a deep bench to parachute people in. They must have the same philosophy of treating their customers and employees the way we do at TriMark. If they meet these criteria, then there must be a compelling reason that enhances the value of TriMark. The simplest is getting us into a geography, business segment or product category we're not in."

The company hasn't had to look very far to find companies to acquire. As a result of its reputation, other dealerships come to them and ask to become part of the TriMark family. That eagerness to be part of the TriMark brand has enabled the company to be very selective, and has resulted in a senior management team that comprises strong, incredibly loyal believers in what TriMark stands for.

"Often, these companies are run by second-, third-, even fourth-generation owners," Hyman says. "They reinvest a significant portion of the proceeds from the buy-out in Tri-Mark. Why would they do that? First of all, these are owners who often didn't need the money. These are people who believe what TriMark is doing is game-changing for the industry, that we're leading the trends in distribution."

"I've known Jerry for 20 years," says Marty Monnat, CFSP, Executive V.P. of TriMark's southern division and President of TriMark Strategic, Lewisville, Texas. "When Strategic, the firm that owned ISI Refrigeration where I was recruited in 2003, agreed to be acquired by TriMark, it wasn't about being big. It was about what we could do for our customers, the level of service we could provide and the new kinds of service. The TriMark acquisition gave us opportunities for growth, and we've doubled the business since then."

TriMark's customer-centric view is promoted and shared by virtually everyone in the company. "I think our people are what set us apart," says Tom Wienclaw, Executive V.P., Midwest division, Cleveland. "They have a lot of accountability, and when you get the best people, it's easy to execute your strategy."

That strength also is one of the company's biggest challenges. The TriMark SS Kemp division, which Wienclaw has headed for several years, has grown from 110 employees to 300 since '04. "Hiring for certain positions such as foodservice designers and project managers is still difficult," he says, "because not many young people are training or going to school for them. We have to have the infrastructure in place to train these people while still keeping enough staff in place to service our customers."

"We're in the distribution/ design-build industry," says Kimberley Gill Rimsza, Executive V.P., TriMark western division, Phoenix, "so we need to do whatever it takes to satisfy the customer. We simply need people who understand that philosophy. We've brought in people from outside the industry; they bring knowledge and skills from their own industry, and we make sure they have the 'people' skill. What excites me is seeing the team come together as we grow and the positive impact it's having on both our people and our customers, and being the solution to their problems."

Everyone at TriMark agrees that solving problems is what brings value to the business. "We're really not in the business of selling equipment and supplies," says Joe Thibert, Executive V.P., TriMark eastern division, and until just recently, President, TriMark United East, South Attleboro, Mass. "We're in the business of helping our customers run their own businesses successfully. To do that, we rely on people, culture, and strategy. Put the right people in the right place; instill in them a culture that encourages and supports them and allows them to thrive; then implement strategies to help our customers."

Despite its tremendous growth and the addition of so many other companies to the business, TriMark hasn't made the mistake of trying to centralize operations too quickly. Even as a nearly $2 billion company, it's still entrepreneurial and nimble enough to pivot and change priorities when it has to because it has empowered its acquisitions to continue operating much the way they always have.

But it also sees the value of team planning at all levels of management. The company recently embarked on a project to develop an Enterprise Resource Planning program. "It's a $50 million state-of-the-art system that will really begin to pay dividends three years from now," Hyman says. "It will help us conduct business much the way Amazon and UPS do now, with real-time inventory management, online product suggestions based on purchasing history, and 3D design on the fly for customers."

Resources like that will help all of the TriMark divisions continue to deliver the high-value service they're known for. "There's nothing proprietary about what we do," Hyman says. "We simply have to work harder to do it better than anyone else. We'll never have the lowest price even though people expect that from the biggest companies. But it's in our DNA to give the best possible service. We have no way of giving 'B' service instead of 'A' service."


FER 2019 Management Excellence Awards Selection Advisory Board Members

Chains:
James Pool, TurboChef/Middleby; Mike Whiteley & Lou Anich, Hatco Corp.; Kris Gyori, Cal-Mil (formerly w/Cambro Mfg.); Dave Hinton, Electrolux; Jason Prondzinski, Boelter Cos.; Gerry Kenlon, Metro/Ali Group; Keith Kelly, Ice-O-Matic/ Ali Group; Rick Caron, Welbilt; Barb Campbell, Henny Penny; Kevin Clark, Scotsman/Ali Group; Tom Krisch, Antunes; Larry Deutsch, Vollrath Co.; Bud Ward, ITW FEG; Ursula Vermillion, Wasserstrom.

Dealers:
Dennis Park, Vollrath Co.; Mark Pumphret, Hatco Corp.; Penny Hutner, Advance Tabco; Todd Griffith, Alto-Shaam; Greg Fischer, Cambro Mfg.; Rich Packer, American Metalcraft; Chase McAllister, Eagle Group; Beth Hammer, Unified Brands; Jeff Duncan, American Panel; Michelle Wibel, Nemco Food Equipment; Kevin Woods, Globe Food Equipment/ Middleby; Peter Nordell, Edlund Co./Ali Group; Deb Hanson, Vulcan/ITW FEG; Chris Karssiens, Standex.

Noncommercial Operator/ Consultancy:
Rod Collins, Rod Collins Assoc.; Joe Carlson & Nancy Lane, Sandstone Group; Cliff Baggott, Cres Cor; Tom Szafranski, Heritage Foodservice Group; Steve Gill, ThermalRite/Everidge; John Frishman, J. Frishman Assoc.; Stephanie Gilbert, Hobart/ITW FEG; Kurt Eichmeyer, Wood Stone Corp.; Jack Scott, Alto-Shaam; Nancy Fera, Metro/Ali Group; Teri Brewer, Thermo-Kool/Mid-South Industries; Danielle McMiller, Structural Concepts; Bob McNamara, Power Soak/Unified Brands.

Service Agencies:
David Neidlinger & Frank Gorman, Welbilt; Gary Kramer, Hatco Corp.; Mike Orlando, T&S Brass & Bronze; Eddie Garmon, Aquion; James Broeker, Vulcan/ITW FEG; Rob Taylor, Southbend/Middleby; Mike Jones, Alto-Shaam; Patrick Walker, Electrolux; Tom Vanderbosch, Scotsman/ Ali Group.