Making the jump from full-service sports bar to fast-casual restaurant—all under the same brand name—requires delicate navigation and cutting-edge kitchen equipment. Such was the case for Tampa, Fla.-based Beef 'O' Brady's when it debuted its fast-casual prototype Beef's Express in August 2015 in Lakeland, Fla.
"Our goal was to take the best of Beef's and capture it in a fast-casual setting," says Chris Elliott, CEO of FSC Franchise, parent of Beef 'O' Brady's and The Brass Tap.
The Beef's Express prototype offers about half of the menu items of a full-scale Beef 'O' Brady's—about 80 items, down from 190 items. Size-wise, the prototype covers 2,800 sq. ft. with seating for 75, roughly a third smaller than typical Beef 'O' Brady's stores, which regulars refer to as Beef's. Features include a partially open kitchen, a bar serving wine and beer with seating for eight and space for a to-go area. True to the fast-casual format, guests order at the counter and get their own beverages; their food then is delivered to the table.
"Checks at the proto are averaging $11 per person, compared with $14 per person at Beef 'O' Brady's," Elliott says. "On the other hand, we expect a faster guest turnover at Beef's Express—people won't be coming to watch three-hour football games. We expect Beef's Express to do about $1.5 million in annual sales, about $30,000 per week."
As an added plus, the smaller venue likely will boost labor efficiency. "We'll need more time to study the metrics, but we think the percentage of labor and cost-of-goods will be lower at the Express store," Elliott says. "It'll be easier from an operations standpoint thanks to the smaller menu, better design and the higher-tech kitchen."
Speed, Variety, Value
The Beef's Express design team is notable for its collective foodservice industry experience. Elliott, with more than 35 years in the foodservice industry, guided the big-picture details. Beef's Director-Design and Construction Kris Kirkpatrick, who has worked on the development of close to 700 restaurants for 50 brands, coordinated store design and layout. Training V.P. Carol DeCanio planned the floor mockups. COO Joe Uhl and Chief Development Officer Peter Petrosian weighed in on the restaurant design. And franchisee team father Joe and son Ryan Bullara, along with Don Bosko, who own and operate the new concept, added an operator perspective.
The team identified three goals for Beef's Express: speed, variety and value.
"Production speed was crucial," Elliott says. "We're serving more lunch than dinner. Guests have limited time to get in and out." The team set an unofficial goal of a five-minute average ticket time.
To hit the five-minute ticket time, choosing the right kitchen equipment was critical. "We knew intuitively Beef's existing equipment would not be able to deliver," Elliott says. "But we had already been testing higher-efficiency equipment at our corporate kitchen."
As for variety, "we identified key menu items, such as wings, burgers, top-selling sandwiches—all of which could be fixed and served quickly," Kirkpatrick adds.
Beef's Express offers some 80 items, which represents about half of the menu used at Beef's sports bars, but still provides significantly more choices than typical fast-casual restaurants.
Beef's value component was played up two ways: by partially opening the kitchen and through the choice of finishes, colors and furnishings. The kitchen cooking area is positioned a few steps to the left of the order counter, set off by a decorative glass wall. "A counter with six high-top seats offers guests a front-row seat to culinary action—and at the same time gives cooks a view of the queue lines so they can guesstimate the number of orders coming up," Kirkpatrick says.
As for décor, Beef's Express designers opted for wooden tables, chairs and floor, highlighted by countertops of burnt orange Avonite—a nonporous solid surface material made from a blend of polyester and/or acrylic alloys and fillers that looks like stone, textured material or glass, but cuts like wood—and a combination of grass-green and orange seats. Glass pendant lights, also orange, suspended above a large community-seating table, add an upscale look. Large, flat-screen TVs can be found on key walls, but the number has been reduced from 23 screens at full-service Beef's locations to four.
The design team's experience and drive helped the final plans for Beef's Express come together in a matter of months. "We started working on the design the second week of January 2015, had architectural plans ready by April and permits by May," Kirkpatrick says. The store opened for business in August. The total cost to build the restaurant was about $620,000.
Beefing Up The Kitchen
Beef's kitchen design was slimmed down, flow patterns tweaked and equipment improved for the Express version. The prototype's total back-of-house covers about 830 sq. ft., compared with 1,300 sq. ft. at full-service Beef's locations.
The cooking area's four stations are laid out in a simple rectangle "with the fry and grill stations under the hood, and the sandwich and salad/pasta stations opposite," Elliott says. "All future Express restaurants will need to be new-builds rather than retrofits to meet our ticket-time speed parameters."
Food from the four stations flows to the expediter table as it becomes ready. Flat-screen monitors add to efficiency. "When an order is placed, whatever products are made at your station will show up on your screen," Elliott says. "Workers can start to assemble the order immediately and hand it off to the central coordinator."
Across-the-board kitchen-equipment upgrades proved key in hitting the five-minute target. Kirkpatrick comments on some of the biggest pieces:
Taylor clamshell griddles. "Since the clamshell griddle can cook both sides simultaneously, we can do eight burgers in 90 seconds, perfect each time, compared with the same amount in four to five minutes on a grill," Kirkpatrick says.
Henny Penny fryers. "We opted for units with built-in filtration and a compensating timer [that takes fluctuating oil temperatures into account when cooking each batch]," Kirkpatrick says. "We're considering these fryers for possible use in future stores."
Carter-Hoffmann holding cabinets. "We're testing the unit at our Express store as a way to get through the peak times. Our menu is fairly extensive compared with other fast-casual restaurants. The cabinet helps us execute our menu quickly."
Roundup/A.J. Antunes conveyor toaster. "The unit is fast and consistent, and we're no longer using space on the griddle to toast buns," Kirkpatrick says.
Roundup/A.J. Antunes pasta steamers are making their Beef's debut. "This unit gave us the best quality and speed in the least space," Kirkpatrick says. "We also looked into microwaves but didn't like the results, and a range but didn't have the space."
Hatco dump stations. "These circulate air to hold product better," Kirkpatrick says.
A Look Ahead
A month into operations, Beef's Express is off to a promising start. "We've been receiving inquiries about it from other Beef's franchisees since shortly after it opened," Elliott says.
When asked about future Express locations, Elliott says, "The plan is to learn from the first unit and figure out design features or errors to exploit or fix. We'll build a corporate prototype in Tampa next year, perfect it, then we'll start to franchise it."
SPECS
MENU/SEGMENT: Fast-casual
HEADQUARTERS: Tampa, Fla.
FOUNDED: 1985
NUMBER OF BEEF 'O' BRADY'S UNITS: 209 locations in 23 states
NUMBER OF BEEF'S EXPRESS UNITS: 1
CHECK AVERAGE: $11
PROTOTYPE SIZE: 2,729 sq. ft.
PROTOTYPE SEATS: 75 seats plus 40 patio seats
EQUIPMENT PACKAGE: $137,000
PLANS: 1 corporate Beef's Express in 2016 and 10 Beef 'O' Brady's in 2016
DESIGN TEAM: Chris Elliott, CEO; Kris Kirkpatrick, Director-Design and Construction; Carol DeCanio, Training V.P.; Joe Uhl, COO; Peter Petrosian, Chief Development Offi cer, FSC Franchise Co., (parent company of Beef 'O' Brady's and The Brass Tap), Tampa, Fla.; Joe and Ryan Bullara and Don Bosko, Beef 'O' Brady's legacy franchisees
DEALER: Jon Harrell, Chain Accounts Manager, TriMark Strategic, Albany, Ga.
CONTRACTOR: James Reash, Managing Member, Essex Building Group, Bradenton, Fla.
WEB: beefobradys.com
"""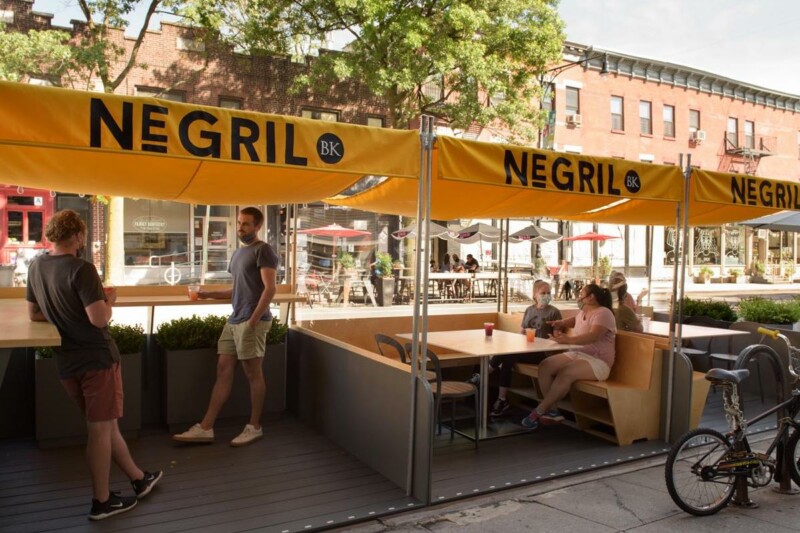 Design Trends
From outdoor dining setups to more virtual restaurants, industry watchers expect these trends to help restaurants bounce back post-pandemic.