When two restaurant concepts' synergies click, the pairing can launch both brands into a higher sales orbit. Case in point: Fatburger and Buffalo's Cafe.
Fatburger is an iconic Beverly Hills-based gourmet burgers-fries-milkshakes concept with 153 units in 11 states and 27 countries. And Buffalo's Cafe is a 25-unit, up-and-coming Southwest-themed full-service neighborhood eatery known for Buffalo-style chicken wings and signature sauces.
Fatburger parent company, Beverly Hills-based Fog Cutter Capital Group, bought Buffalo's Cafe in 2011 to power its growth in the Middle East. To showcase the wings concept to potential investors, Fatburger execs decided to add a Buffalo's Express element to an existing Fatburger shop on busy Santa Monica Boulevard in Los Angeles.
The 2,000-sq.-ft. co-branded restaurant, serving Fatburgers and Buffalo wings from almost the same cookline, opened in December 2012. Customers voted with their wallets. The dual-branded store's sales soon jumped 25% to 30% above typical Fatburger units, and franchisees began clamoring for their own Buffalo's Express makeover.
"From a menu standpoint, burgers and wings go well together—they're both hand-held, quick-casual-type meals," Newell says. The fact that wings make for better carryout meals than more delicate burgers and fries also helped boost unit volumes—especially on weekends with big sports events.
From an operational standpoint, burgers and wings, which use essentially the same set of cooking equipment, also are a good match.
Three New Pieces
The Fatburger/Buffalo's Express kitchen design team was led by Fatburger's longtime V.P. of Construction & Facilities Bentley Hetrick and Buffalo's Operations V.P. James Newell, working together with one of Fatburger's dealers, Preferred Marketing Group, Chatsworth, Calif.
Hetrick, who's lost count of the number of Fatburger shops he's designed and opened (hint: it's well over 100) has honed Fatburger's cookline to a lean, mean burger machine. Adding Buffalo's wings element, while keeping service times and storage requirements about the same, called for precise maneuvering of equipment and space.
"We couldn't subtract anything from Fatburger's cookline, and we didn't want to change the hood," Hetrick says. "And we needed to make sure wings, which we bring in fresh, cooked in about the same time as the burgers." Operators aim for wait times of 8-10 minutes for orders.
After consultation and much equipment testing at PMG's nearby test-kitchen facilities, the solution lay in adding three equipment pieces: an extra fryer, a cook-hold cabinet and a breading table.
Fryers first: The existing Fatburger store relied on two 50-lb. Pitco fryers. "We added a high-efficiency three-basket, 60-lb. fryer, which we chose in part because of its lane timers," Newell says. (Lane timers allow cook times and temperatures to be pre-programmed and activated at the touch of a button.) The new three-basket unit was dedicated to fries, while the two original fryers handled wings and breaded products.
In new-build Fatburger/Buffalo's units—such as the San Jose, Calif., store (its floorplan is shown above)—equipment specifications call for four, two-basket fryers. ("That's not set in stone," Hetrick says. "We're still analyzing data from our first year of co-branding to determine the ideal fryer configuration.")
The team made room next to the fryer bank for Buffalo's breading table by moving the bun toaster and bun rack to a spot outside of the hood. They saved valuable inches by specifying a breading table that uses third-size pans rather than larger half-size pans.
The last—but arguably most important—piece of the cobranding puzzle was the Winston cook-hold oven, a solution suggested by PMG. When raw chicken wings spend 45 minutes in the cook-hold oven, their internal temperature rises to about 130°F and their frying time drops to 5 minutes. By contrast, cooking raw wings straight out of the refrigerator takes 10-14 minutes. Another alternative—pre-cooking the wings and holding them at temperature until ordered—causes wings to dry out too much.
"This lets us cook the wings partially in the oven and finish them in the fryer," Newell says. "They come out perfectly—crispy on the outside and juicy on the inside."
Hetrick nods, and adds, "The cook-hold oven was the reason we can get by with fewer fryers than you might see at other wing restaurants. Cooking time was critical for us. If someone orders a burger and wings, we have to be able to deliver the complete order all at once."
"When everything is made to order, service times are crucial," Newell says.
Sauciness
Integrating Buffalo's signature housemade sauces (13 in all) was another initial challenge. "Fatburger restaurants are designed for cooking burgers, not making sauces," Hetrick says. "We didn't have the prep space that you'd find in full-service Buffalo's Cafe restaurants."
The team solved the sauce challenge by expanding prep-time hours at the first co-branded store. But to streamline labor, Buffalo's has been working with a supplier who will make the sauces off-site.
Other Smarter Equipment
The Fatburger/Buffalo's Express also benefits from a few other time- or labor-saving pieces of equipment. These include thermo-electric milk dispensers, quieter blenders and upgraded bun toasters.
The thermo-electric milk dispensers, specified in new Fatburger units, win approval from Hetrick for their ease of use and all-around practicality. "These countertop units can be refilled by pouring in milk, so you don't have to worry about delivery-container size. Employees can quickly pump a pre-measured amount, saving them time when making milkshakes. And no one has to lift heavy bags of milk into wall-mounted units," says Hetrick, who spotted the devices at a NAFEM Show.
He's added similar thermo-electric units to keep lemon slices cold on the condiments counter.
Vitamix blenders with more efficient noise-reducing covers are the second recent upgrade being rolled out to Fatburger operators. "Our shake station is always located right behind the cashiers, so keeping noise under control is critical," Hetrick says.
Fatburger's vertical contact toasters have been the focus of a third upgrade. "We've been retrofitting them with damper-kit assemblies," Hetrick says. The damper kit, easily installed at the top, helps contain much of the toasters' heat, saving on utility bills and releasing less heat into the surrounding area.
A Look Ahead
Fast forward one year to December 2013. Fatburger has opened eight co-branded units with an additional 30 Fatburger/Buffalo's Express stores slated to open worldwide this year.
The collaboration between Fatburger and Buffalo's Cafe continues beyond Buffalo's Express. The team's next project will be upgrading and revamping Buffalo's Cafe's full-service restaurant kitchen design, in preparation for expansion overseas.
"Layout, technology, equipment specifications, design and development—we're looking at every aspect of Buffalo's Cafe," Newell says. "We see some major opportunities."
Specs
MENU/SEGMENT: Quick-casual
HEADQUARTERS: Beverly Hills, Calif.
NUMBER OF UNITS: 153 Fatburger units; 25 Buffalo's Cafe units
SIZE OF CO-BRAND STORE: 2,300 sq. ft.
SEATING: 50 seats
EQUIPMENT PACKAGE: $130,000
PLANS: 30 co-branded openings in 2014
DESIGN: TriMark Robert Clark, Irvine, Calif., Interactive Restaurant Consulting, Thousand Oaks, Calif., and Preferred Marketing Group, Chatsworth, Calif.
WEB: fatburger.com and buffalos.com
"""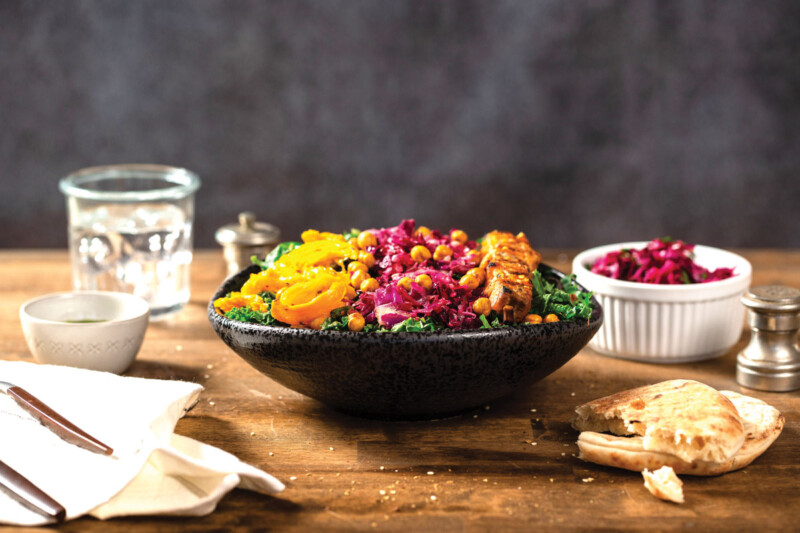 Kitchen Design
Roti Modern Mediterranean's new prototype centers around improved off-premise services and a reimagined customer-facing makeline.