When the 3,100 students at Coppell High School, Coppell, Texas, arrived at school for their first day of classes in August 2015, they found that an all-new cafeteria had appeared, like magic, during their two-month summer break.
The new servery practically sparkles. Sliding glass doors open on to a wide-open servery spacious enough to handle up to 1,000 students during each of the three, 30-minute lunch periods. The counters showcase food behind tempered-glass food shields. The servery is colorful and lively with stations tiled in bright red with stone countertops, a tiled accent strip in CHS colors of red, black and gray on the walls, and flat-panel menu display screens throughout. Employees make food from scratch on in-view production equipment. Behind scenes is a new kitchen—nearly double the size of the prior facility. In addition to the servery and kitchen, a remodeled c-store delivers another dining option to students.
For CHS staff and students alike, the renovation is a game-changer. Not only has the makeover nearly doubled the school's previous foodservice footprint, it's boosted food quality, variety and morale. And best of all, the new facilities have cut queueing times in half and increased student meal participation by 15%.
The path to the new servery was a bumpy one. For starters, the fast-growing town of Coppell, located in the center of the Dallas/Fort Worth Metroplex just north of the DFW Airport, has seen its population grow each year—growth reflected in the high school's burgeoning head count.
In addition, the previous cafeteria was 25 years old. Its three traditional serving lines led to 20-minute queues. Adding mobile kiosks serving pre-packaged heat-and-serve items to the dining area helped a little. But students were still stacked up in the hallway and unhappy with food choices.
"Student focus groups indicated they wanted more from-scratch cooking, Mexican items, build-your-own foods (like Chipotle), more pizza and even more fruits and vegetables," says Director of Child Nutrition Jean Mosley, who has led foodservice for more than 25 years for the 15 locations in the Coppell Independent School District. "None of those foods could be served from the existing kitchen."
"We had added equipment and stations to the kitchen until we had no space to add anything more," Mosley says.
Caught between the proverbial rock and a hard place, Coppell ISD leaders finally acted. In fall '14, the school district decided to raise funds for the new servery through a bond. "That's when we reached out to our architect Lance Brooks, Principal at Foodservice Design Professionals, to start working on ideas," says Mosley, who had worked with Brooks' Dallas-based design firm for other Coppell ISD school kitchen overhauls. The project was put on ice until early '15. In February that year, Brooks and the general contractor were suddenly given a green light—and a hard deadline for the new kitchen and servery renovation of August '15, less than six months out.
"The day school ended for summer that June is when we started moving things out," Mosley recalls of the tight project deadline. "The kitchen equipment and supplies were transferred into three storage units in the parking lot. Walls started coming down the next day."
Prolonged rains that summer slowed construction nearly to a halt. "I remember visiting the kitchen part of the building site in July," Mosley says. "Water was pouring through the open roof, welders were up above working and the kitchen was still just a concrete slab. I just couldn't believe it would be ready to go by August."
Thanks to some mega-hard work, including 24/7 work shifts near the end, the project was indeed completed on time.
Touring The CHS Servery & Kitchen
The design team included Brooks and Project Manager Cindy Bennett from Foodservice Design Professionals, working closely with CHS's Mosley, Sid Grant, Assistant Superintendent for Operations, and Louis Macias, Facilities Director.
Layout plans were complicated by a firewall in the space designated for the foodservice expansion. Designers had to organize the new servery and kitchen around the structural feature, which effectively ended any ideas about an open kitchen or pass-through elements.
Planners came up with a neat solution by designing a 3,500-sq.-ft. servery (combining the previous kitchen and straight-line servery) on one side of the firewall, and then adding a 4,500-sq.-ft. kitchen—built from the ground up—on the opposite side. The new servery includes a wide, open center to allow room for students to circulate and queue. Designers were able to maintain circulation through the servery and kitchen via strategically placed openings. The c-store kept its same location and size.
The servery earned special attention in terms of station choices, layout and finishes to meet goals of making it more student-friendly and appealing with faster, shorter queuing.
Seven stations offer plenty of student-approved choices: Chick-fil-A and Cici's Pizza, sub sandwiches, grill, Italian, house-made pizza, Mexican, noodles and, in an unusual move, a second Chick-fil-A/Cici's station.
"Chick-fil-A and Cici's are so popular with CHS students that Jean asked for duplicate stations at either end to shorten wait times," Brooks says. The school buys directly from the chains (the menu slightly tweaked to meet nutritional guidelines). The items are delivered daily, pre-wrapped, and served from heated "hot-slide" merchandisers.
The other stations serve made-from-scratch foods, configured so students can see cooking action: Italian (featuring a Lincoln conveyor oven for from-scratch pizzas, and a pasta cooker), Asian noodles, subs and a grill (with an attention-getting Nieco chain broiler that saves on labor and adds speed and consistency).
Each station also is equipped with hot food wells and cold wells, as well as adjustable food shields. Plenty of cold and hot storage at each station minimizes re-stocking trips between kitchen and servery during meal service.
"Regardless of menu, the stations are equipped so that there will always be a way to serve," Brooks says about the stations' built-in flexibility.
Lines move faster thanks to more queuing points (seven versus the previous three), longer counters and railings in front of each station that indicate queue direction. Each station has its own cashier where students pay with debit cards.
As for servery finishing touches, the school went all out. "One of the trends we're seeing in high school dining—and implemented at CHS—is a move toward using more upscale elements such as stone countertops, display cooking, retail-style beverage display cases, and no tray slides anywhere," Brooks says.
The CHS servery's fixtures were chosen for looks, flexibility and longevity, including:
• Digital signage indicating menus and daily specials at each station.
• Adjustable food shields, made by CounterCraft, that combine moveable tempered glass panels with stainless posts. "They're easy to switch between full-service or self-service, depending on the menu," Brooks says.
• Small-batch, elegant stainless serving pans made by TableCraft replace the institutional drop-in pans. "The pans sit atop the hot stone surface for a nicer presentation," Brooks says. "It's more work for the operator since they now have to produce, move, then wash six of the smaller pans rather than a single large hotel pan. But students love the new look."
CHS's new kitchen was created to minimize steps for workers. "The previous kitchen was built without much owner input," Brooks notes. "With this kitchen, we worked closely with Coppell's foodservice director, and based stations and layout according to menu needs."
Two large walk-ins and dry storage anchor the back of the kitchen, while six island stations ranging from warewashing to cold prep, hot prep and baking are lined up in a row.
"All back-of-house stations are adjacent to matching storage and supply areas," Brooks says. "The bakery is near dry storage, hot production and vegetable prep near walk-in coolers and freezers, etc. And throughout, you'll find plenty of prep tables and prep space."
Key pieces of kitchen equipment include a blast chiller, two combi ovens and a tilt skillet. The tilt skillet is the favorite piece of kitchen equipment for Coppell ISD Head Chef Helen Duran. "It's so versatile," Duran says. "The skillet lets us create food [spinach quesadillas, Asian dishes with sauces and noodles, stir-fried rice] that works with the upscale feel of the entire cafeteria. We know students want the look and taste that they see outside the school." Duran now creates recipes with the tilt skillet in mind—and has requested that tilt skillets be added to the district's other school kitchens.
"Our staff loves the new kitchen, especially not having to walk as far to procure needed items," Mosley says. "They tell me it's a 100% improvement in efficiency compared to before."
Coppell C-Store
The CHS convenience store had always been a popular spot and strong revenue generator, to the tune of about $100,000 per year. Mosley and her team wanted to make sure the new version would be even better than before.
For starters, designers flipped the entrance and exit to improve flow in relation to the cashier station. Then they added adjustable shelving and peg-type racks to display product. "We wanted the look and feel to be similar to a c-store the kids might find in town," Mosley says.
The CHS c-store features a coffee bar, frozen drinks, snacks and candy, a cold, airscreen merchandiser offering grab-and-go sandwiches, salads and yogurt parfaits.
The center shelving unit is positioned perpendicular to the check-out counter so the cashier can maintain a clear line of sight on either side to reduce pilferage. A security camera at the back plus shelves at the entrance for backpacks and purses also discourage pilferage.
From an efficiency standpoint, the c-store's biggest equipment upgrade can be found in the beverage section. The c-store's walk-in cooler was repurposed into a display unit of sorts. Its back wall has been converted to a series of glass doors, each opening to a beverage display rack. "Now we can load racks from the back," Mosley says.
A Look Ahead
Mosley is still going full speed on district renovation plans. "At CHS, we'll be expanding our morning offerings by using one station for hot breakfasts. Next year we'll add smoothies and a juice bar as well. We're hoping to see an additional 10% increase in participation over last year," she says.
And Mosley's collaborations with Brooks also will continue. "This summer we updated an elementary school serving area," Mosley says. "We're currently working on a middle school kitchen renovation, slated to open in the '17-'18 school year—and we have eight renovations planned for the next five years."
SPECS
MENU/SEGMENT: High school foodservice
LOCATION: Coppell, Texas
FOUNDED: 1989
NUMBER OF STUDENTS: 3,100
KITCHEN SIZE: about 4,500 sq. ft.
SERVERY SIZE: about 3,500 sq. ft.
C-STORE SIZE: about 1,000 sq. ft.
FF&E PACKAGE: $1.2 million (including existing equipment) COPPELL ISD: Jean Mosley, Director of Child Nutrition; Sid Grant, Asst. Superintendent for Operations; and Louis Macias, Facilities Director
CONSULTANT/DESIGN: Lance Brooks, Principal & Cindy Bennett, Project Manager, Foodservice Design Professionals, Dallas
CONSTRUCTION: Mike Elmore, Principal in Charge & Lorenzo Navarrete, Project Manager, Stantec, Plano, Texas
WEB: coppellisd.com/chs
EQUIPMENT
Kitchen
Blodgett/Middleby convection oven
Cleveland Range/Manitowoc steamer, tilt skillet
Traulsen/ITW FEG refrigs., freezers, heated cabinet
Groen/Unified Brands tilting kettle
MEIKO dish machine
Carlisle dish racks
T&S Brass faucets
Chicago faucets
ThermalRite walk-in cooler
RDT cold storage refrig. system
New Age Industrial can racks
InSinkErator disposers
Renfro Ind. utility cart
Custom-fabricated work tables
Rubbermaid ingredient bin Cres Cor pan rack
Alto-Shaam combi ovens, holding cabinet
Randell/Unified Brands blast chiller, pizza prep table, prep work station
Ansul fire suppression system
Mod-U-Serve exhaust hoods
Servery
CounterCraft serving counters, hot wells, cold wells, food shields
Lincoln/Manitowoc conveyor oven
TableCraft serving pans
Hatco display merchandisers, heated decorative lamps, booster heater
RPI Ind. refrig. merchandiser
Shopco c-store counters
Richlite sink covers
Nieco broiler
Frymaster/Manitowoc pasta cooker
Advance Tabco hand sinks
C-Store
Thermo-Kool/Mid-South Ind. walk-in cooler, c-store rack modification
Structural Concepts self-service refrig. case
Shopco c-store slat wall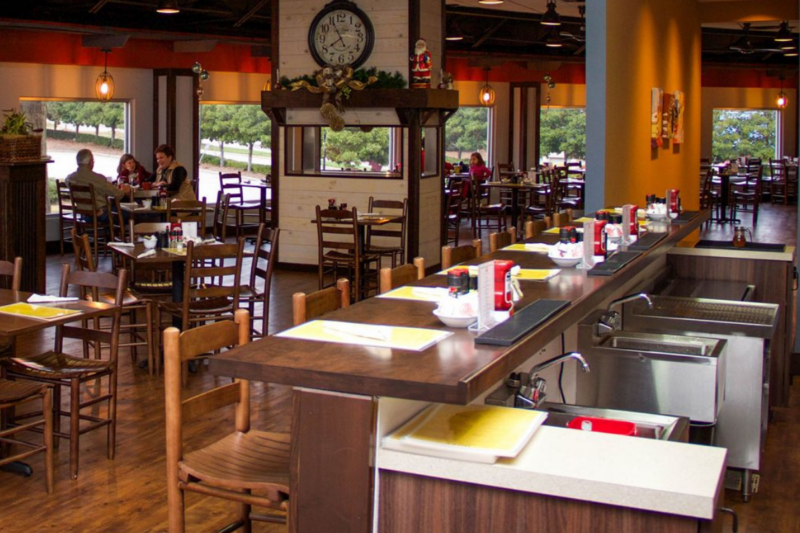 Company News
Having the right equipment and a kitchen built for quick maneuvering are key to operating a made-from-scratch kitchen with quick ticket times.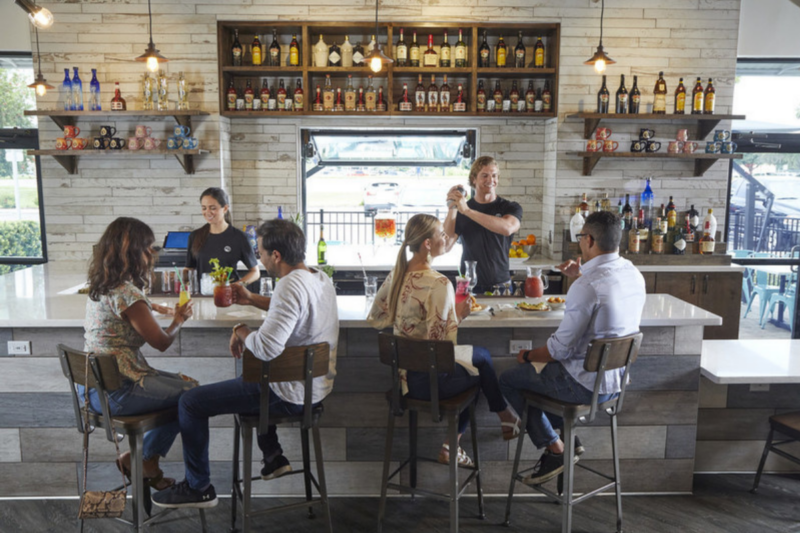 Company News
Another Broken Egg Cafe's new design is scrambling the restaurant's layout by creating a kitchen that can handle higher volumes and moving the bar up front with added seating.