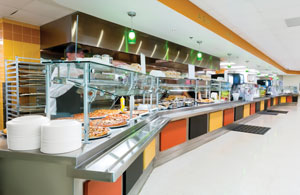 When the time came for St. Xavier High School, an all-boys private school in Louisville, Ky., to renovate its hard-used 25-year-old servery and kitchen, administrators' goals were simple: enhance current and future students' dining experiences, modernize the space to boost production—and build it to last.
In late 2014, the school began the process of a complete overhaul. School leaders engaged the services of JRA Architects, Louisville, Ky., DRS Foodservice Design, Brentwood, Tenn., and Dykes Foodservice Solutions, Huntsville, Ala. Input in the form of station needs, volume and operations was supplied by contract foodservice provider Flik Independent School Dining, Rye Brook, N.Y., a division of Compass Group, which runs foodservice operations at St. Xavier.
After two years of prep work and planning, construction began as soon as the term ended in May '16. The renovated kitchen and servery opened for business three short months later in August '16.
Without advances in foodservice equipment, designers would not have had a proverbial prayer of providing the flexibility and volume required by St. Xavier. "Today's equipment technology benefi ts old facilities especially well. High-volume equipment lets us do more with less space while saving on construction costs," says Greg Gorgone, Culinary Design Consultant for DRS Foodservice Design and the lead designer for the project.
Fast And Durable
Speeding throughput topped the list of goals. "One of the administration's main objectives was to speed up the process of serving 1,400 students during the four 45-minute meal periods," he adds. "With the old servery, it took 20 to 25 minutes to get the students through the line." Since the new servery opened, students are in and out in seven to eight minutes, leaving them much more time to enjoy their lunches.
Durability also was key, for both the front- and back-of-house. "Steve Crider, head of facilities at St. Xavier, made it clear from the beginning that this is an all-boys school, a high-traffic place, where the students are like bulls in a china shop," Gorgone laughs.
"In an early design, we had sketched in built-in millwork for the servery," Gorgone says. But upon further reflection, "we shifted to heavy-duty stainless so it would last. Since renovation opportunities come around only every 20 years or so, typically, schools always design for the long-term." At St. Xavier, everything from flooring to finishes to corner guards (stainless) is heavy duty, ready to handle up to 1,400 boys coming through the line each day.
Crider also asked for equipment that would last. "The school opted for units with excellent service records, extended warranties and also those that could be serviced by local service agents with access to parts," Gorgone says. "The foodservice department had been working in a 25-year-old kitchen, coping with constant breakdowns and repeated maintenance calls, so service was a key issue."
Kitchen Update
Flow and function took giant leaps forward in St. Xavier's new 3,700-sq.-ft. kitchen and servery.
For starters, designers and architects pushed out the kitchen's back wall 13 ft. The change added 430 sq. ft. of much-needed extra cold storage and high-density dry storage space. In addition, Gorgone relocated the delivery door away from the foodservice office to prevent delivery-time traffic jams that routinely occurred with the old layout. The new kitchen's smooth inclines and ramps into walk-ins mean supplies can now be wheeled directly to designated spots without blocking kitchen operations.
Back-of-house technology upgrades and consolidations—the utility distribution system, a double-sided cookline, and various equipment items—save space and improve flexibility.
The kitchen's UDS, made by CaptiveAire, bundles gas, water and electric lines—complete with outlets and hookups—in one low stainless-enclosed raceway serving the two cooklines. "The UDS is positioned well above the floor, which makes cleaning very easy," Gorgone says. The UDS also saved on construction costs thanks to a single access point for rough-ins.
Designers consolidated cooking into two back-to-back cooklines under one CaptiveAire hood. (The old kitchen relied on two cooklines under two hoods). Servery-side equipment includes a Lincoln double-stacked impinger pizza oven, a Vulcan infrared chargrill and chrome-plated griddle, and Dean fryers supported by a nearby reach-in freezer.
On the kitchen side, bulk food prep is handled by Vulcan double-stacked convection ovens, a double-stacked Alto-Shaam combi oven/smoker, a range, tilt skillet, tilt kettle and a second fryer bank.
The combi/smoker is a game-changer for St. Xavier's foodservice operation. "The staff used to rely on a residential-quality, electric-powered smoker that was outside near the loading dock," Gorgone says. "But as soon as the new kitchen opened, the chef got busy smoking pork butt for sandwiches in the new unit. They're a big hit."
According to Flik stats, St. Xavier boys put away 300 lb. of fries daily and 180 lb. of chicken. "We created an area solely for chicken production to better handle volume, throughput, quality and sanitation," Gorgone says about the kitchen's two fry stations. The back-of-house fryers are dedicated to chicken, while the servery-side fryers mainly handle French fries.
Stations Of The Servery
For the St. Xavier servery, goals included improving flow, throughput and the ability to deliver quality food, at temp, at each station.
Flik requested stations include Pizza, Regional Favorites, Salad and an Action Station. Each station is equipped with Hatco heated shelves. VersaGuard glass and stainless food shields fitted with LED lighting show off food offerings, which are held in platters, crocks, pots or sauté pans. "No hotel pans allowed anywhere," Gorgone says.
Undercounter food warmers hold extra pans of food. Extra outlets along the serving line can be used for induction cooktops or other equipment so menu concepts can be updated or produce specialty menus as needed for years to come.
Across the dining room, a stand-alone Deli increases choices and speeds food delivery during the busy 45-minute lunch periods. Generous amounts of refrigeration, production equipment, display cases and an accelerated oven save time and steps for workers during lunch rush.
Upgrading cashier stations from one-sided to two-sided yielded big efficiencies, as well. "We interviewed the cashiers and spent several days on-site just watching," Gorgone recalls of the planning phases. "Each kid would approach the cashier with his hands full. He would have to put down the food, get out his wallet and then pay. It was slow."
The new double-sided cashier stations are still staffed by a single person—but now include landing spots on each side for one student to put down his food and get ready to pay while the student on the other side completes his transaction. "I've read studies reporting that the doublesided configuration speeds transactions up to 30%," Gorgone says.
Train And Maintain
Crider, who oversaw the many maintenance calls for the old kitchen's failing equipment, asked for foodservice equipment sturdy enough to last and flexible enough to be able to adapt to changing menu needs.
"We made sure to bring in factory reps to teach the school's foodservice staff about how to operate the equipment, and also to provide information on preventative maintenance needed weekly, monthly and annually for key pieces of equipment," Gorgone says. The project's rep group, Zink Foodservice, led by Louisville Territory Manager Bob Stefka, facilitated training. "Stefka followed up during the design phase by getting us specs and maintenance requirements. He also came in during installation and start-up to make sure things were done right, then he did follow-up visits to train kitchen staff in August before the kitchen opened for the new school year."
Stefka also made a point of re-training. The project was completed over the summer months; the kitchen staff had to begin operations at a dead run. The re-training sessions were made available to people who may have missed the first session or needed follow up.
SPECS
MENU/SEGMENT: High school foodservice
LOCATION: Louisville, Ky.
FOUNDED: 1864
NUMBER OF STUDENTS: 1,400
KITCHEN & SERVERY SIZE: 4,400 sq. ft. (including Deli)
SEATS: Approx. 400
EQUIPMENT PACKAGE: $675,000
ST. XAVIER HIGH SCHOOL: Larry Bergamini, Finance V.P.; Steve Crider, Director of Plant Operations
FOODSERVICE CONTRACTOR: Flik Independent School Dining, Rye Brook, N.Y.
ARCHITECT: JRA Architects, Louisville, Ky.—Mark Trier, AIA, LEED AP, President
FOODSERVICE DESIGN: DRS Foodservice Design, Brentwood, Tenn.—Brock Bodart, Principal; Chris Dyer, Foodservice Designer; Greg Gorgone, CDM, CFPP, Culinary Design Consultant
DEALER: Dykes Foodservice Solutions, Huntsville, Ala.—Kevin Wagner, V.P.
MANUFACTURERS' REP: Zink Foodservice, Westerville, Ohio—Bob Stefka, Territory Manager
EQUIPMENT
Kitchen/Back-Of-House
Randell/Unified Brands reach-in freezer, equipment stand, refrig. base, roll-in refrig., reach-in refrig.
Alto-Shaam cook & hold oven, combi ovens
Planetary mixer w/stand (existing)
Dean/Manitowoc fryer batteries
Vulcan/ITW FEG countertop griddle, charbroiler
Lincoln/Manitowoc conveyor oven (existing)
Star Mfg./Middleby countertop hotplate
Convection oven (existing)
Groen/Unified Brands tilt skillet, countertop kettle
Garland/Manitowoc 8-burner range
Kolpak/Manitowoc walk-in cooler/freezer, walk-in cooler
CaptiveAire exhaust hood, utility distribution system
Salvajor disposer
Jackson conveyor-type dishmachine
Serving Line
VersaGuard food shields
Hatco heated cabinet, mobile; heated shelf food warmer
Turbo Air refrig. counter, pizza prep table
Randell/Unified Brands refrig. worktop
Stainless Innovations custom serving line
Deli Area
Beverage-Air/Ali Group refrig. display case
Merrychef/Manitowoc accelerated oven
Randell/Unified Brands reach-in undercounter refrig.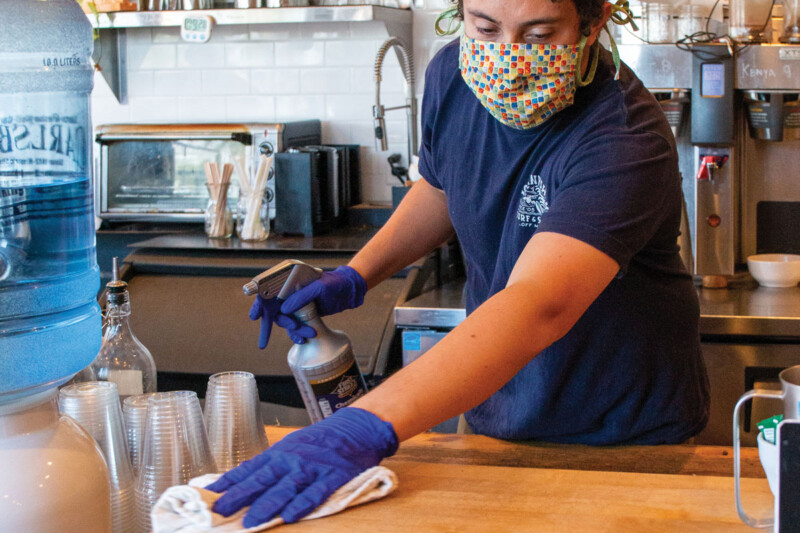 Design
Guests are extremely watchful of restaurant practices related to ensuring cleanliness and safety, says data and insight provider Black Box Intelligence.