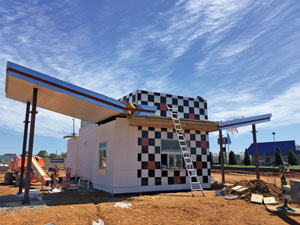 For Tampa, Fla.-based Checkers and Rally's, modular is the new black.
The 850-unit drive-thru burger chain in October 2016 unveiled a new prototype, dubbed 4.0. With it, Checkers and Rally's franchisees can choose from three ways to develop new units: traditional on-site build-out, a modular construction, or a shipping container build.
Of the three options, however, the modular 4.0 version generates the most excitement.
"Modular units cost about $100,000 less to design and build compared to stick-built, and can be up and running in weeks rather than months," says Jennifer Durham, Senior V.P. & Chief Development Officer for the sister drive-thru concepts that share the same building design but different branding. Crews construct and equip modular restaurants at a manufacturing facility, then truck them in segments to the restaurant location for assembly and start-up. In the 1980s and '90s, Checkers was known for its modular units, but in the 2000s, the company shifted toward stick-built restaurants.
What's more, modular units can relocate if necessary, and guarantee quality and consistency since each unit is identical and comes complete with all equipment (appliances, fixtures, grills, and computerized sales systems). Start-up costs for a new Checkers restaurant, less land and franchise fees, average about $500,000.
Compact & Ready To Roll
Checkers and Rally's design team, led by Durham and Director of Design & Construction Bret Cunningham, with input from franchisees, began working on a value engineered 4.0 proto in January '16. The team finalized drawings four months later, having shaved off nearly 200 sq. ft. from the already lean 1,000 sq. ft. The updated version keeps the same cookline (including an upgraded hood that creates its own "air curtain" to better capture effluent), prep area and drive-thru arrangement. Space savings were found by dropping the number of restrooms from three to two, and repositioning the back-of-house storage area.
In May, the team began working with Valiant Modular, Ormond Beach, Fla., to develop a modular version. The first modular 4.0 Checkers opened for business in June '17 in Smyrna, Tenn.
Initial figures from stick-built 4.0 locations show a 20% increase in sales. "We expect the same results from modular units as well," says Durham.
Modular Benefits
Modular units have a distinct edge over stick-built restaurants in terms of speed of development, sturdiness, turnkey aspects and even depreciation.
Speedier development times—to the tune of about two months for modular units vs. three to six months for traditional units—prove a big part of their appeal.
"With traditional build-outs, you can't start building until you receive the permit," Durham says. Going modular gives operators a jump start—the new restaurant is already being built at the same time the owner is working through the site permitting and prep.
"Valiant needs four to six weeks from the time an order is placed to the time a completed restaurant is ready to ship. By contrast, a ground-up building requires six to 10 weeks to construct. By starting to build while the permitting is still being worked on, we have removed a critical path element (the structure) out of the process," Durham says.
State-level pre-approvals also save time. "We submit plans directly to the state, which sends an engineer to our factory to confirm units are being properly built and tested," Cunningham says. Since states vary in their requirements, "we've developed slightly modified versions for Florida, for Ohio, for Tennessee, etc., to accommodate each state's needs."
When the delivery trucks finally roll on site with the building, each component already carries a state seal affirming the building is up to code. Local officials need only approve the site work and connections.
Each modular unit is as turnkey as possible. By the time crews complete each unit at the manufacturing facility, they've installed, "all the low-voltage wiring for registers and the alarms, and high-voltage wiring for equipment, as well as all the plumbing and mechanical systems," Durham says.
The modular units' steel frame and concrete construction make them far stronger than stick-built structures. "Our modular restaurants on the Outer Banks in North Carolina have survived hurricanes when everything around them has been flattened. They're ready to serve food the next day with the help of a generator," says Valiant V.P. of Modular Sales Bill Starcevic.
Modular units enjoy a tax advantage, too, since the building itself counts as part of the equipment package. "It qualifies for a seven-year depreciation schedule," Durham says. That way owners can gain tax benefits from depreciation quickly, vs. the 39.5-year depreciation time for buildings.
The only limitation for modular units is freight costs to transport them from Florida. At press time, however, Checkers had put out a RFP to four additional modular restaurant manufacturers with plans to select two by July.
A Peek Behind The Modular Curtain
Checkers and Rally's modular stores get their start at Valiant's large manufacturing facility in Ormond Beach.
"We start with the steel frame, then we pour the concrete floor and add walls," says Starcevic. Cooking equipment comes from Wasserstrom, which takes care of preassembling the appropriate equipment package to meet a given state's building codes. Wasserstrom delivers even the smallwares package so it's ready for use when the store is placed.
"Because everything is under a roof, we're never slowed down by bad weather. We've got a team of technicians who know exactly how to install the hood and cooking equipment, which means the franchisee doesn't have to oversee new installers for every unit. The only things we don't supply are the food and the disposables," Starcevic says.
Crews need four semi-trucks and a crane to deliver and unpack a Checkers restaurant. The first truck holds the main building—39 ft. long by 16 ft. wide—with hood and cooking equipment pre-installed, and smallwares ready to be set in place. The second truck carries the restrooms, air-conditioning unit and part of the roof panels. The third hauls the walk-in cooler assembly and drive-thru. And the last transports the restaurant's signature "wings" and the remaining roof panels.
"We start construction at 8 a.m. By noon, all the parts will be in place on the foundation," Starcevic says. "Next, we install the canopies, the roof, the odds and ends. By the end of the third day, the restaurant is ready to go."
"Checkers and Rally's franchisees are in the business of selling burgers," Starcevic says. "They're not contractors or equipment people. We take care of finding the contractors, unpacking and installing the equipment, the plumbing and electric and gas. It's really turnkey—that's what Checkers loves."
Meanwhile, Shipping Containers…
Shipping containers come in as a distant third building option for Checkers and Rally's franchisees. High demand for the steel boxes and the extra logistics (sourcing, transporting to a manufacturer, reinforcing and equipping) make this option pricier than modular construction by as much as $30,000.
"There's limited supply and a lot of demand these days for repurposed shipping containers," Durham says. "They are a bit of a novelty, but if a franchisee requests, we will entertain the option." Some franchisees appreciate the environmentally-friendly aspect of shipping containers; going green is also a great marketing tool. Plus, the containers offer tax advantages.
Down The Road
As of June, Checkers and Rally's have about 150 restaurants in the development queue, ranging from lease negotiations to construction. Of those, about 30% are new modular units, 10% are renovating existing modular units to the 4.0 design, and the remaining 60% is stick-build and conversions of existing restaurants. Franchisees have signed on for modular and container sites across the country, as far away as Los Angeles and Houston, as well as Nashville, Tenn., Columbus, Ohio, and South Florida.
SPECS
MENU/SEGMENT: Quick-service burgers
HEADQUARTERS: Tampa, Fla.
FOUNDED: Checkers, 1986; Rally's, 1985; merged in 1999
NUMBER OF UNITS: 860-plus
SIZE: 810 sq. ft.
SEATING: 20-30 patio seats
FF&E PACKAGE: $229,000 (including patio furnishings)
2017 PLANS: About 60 openings
CHECKERS: Bret Cunningham, Director of Design & Construction; Jennifer Durham, Senior V.P. & Chief Development Officer; Matthew Keys, Corporate Architect
DEALER: Wasserstrom, Columbus, Ohio
ARCHITECT: Shremshock, New Albany, Ohio
MODULAR SUPPLIER: Valiant Modular, Ormond Beach, Fla.
WEB: checkers.com
EQUIPMENT
Valiant modular building
Radiant Systems point-of-purchase equipment
Electro Freeze/Ali Group shake machine, soft-serve machine
Blendtec blender, rinsing station
Vitamix milkshake mixer
Hoshizaki undercounter refrig.
CaptiveAire hood Carter-Hoffmann/Middleby vertical Crisp 'N Hold station, modular holding cabinet
Pitco/Middleby fryers
Traulsen/ITW FEG reach-in freezer
Southbend/Middleby gas countertop griddle
Ametek cooking timer
Ameco hand sink
Panasonic microwave
3M water filtration system
Wasserstrom custom stainless tables, counters, centerline work station, meat freezer, utensil rack, 4-comp. sink
Wells/Middleby hot food wells
Hatco portable food warmer, infrared warmer
Antunes vertical contact toaster
Scotsman/Ali Group cuber machine, ice bin
Rinnai tankless water heater
T&S Brass pre-rinse assembly, wall splash faucet
Metro/Ali Group shelving
Arctic walk-in cooler
New Age dunnage rack
Focus shelving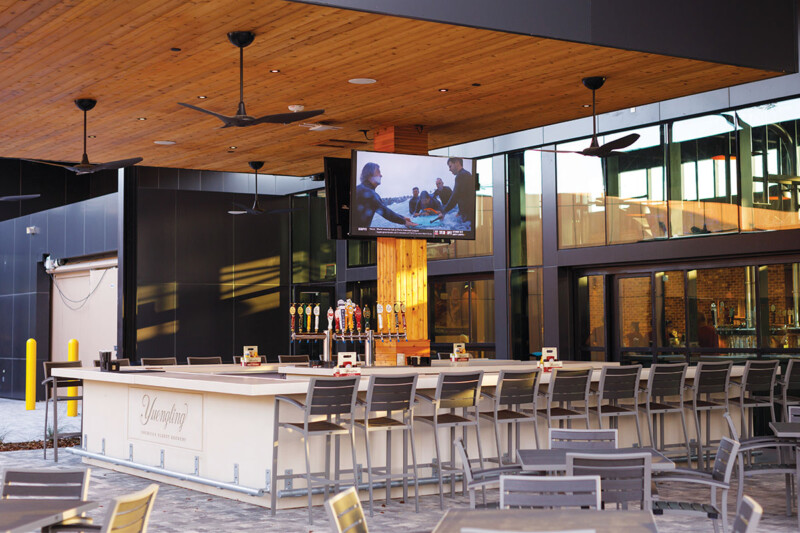 Kitchen Design
Designing a 42,000-square-foot, 800-seat entertainment and dining space centered around beer posed challenges and opportunities.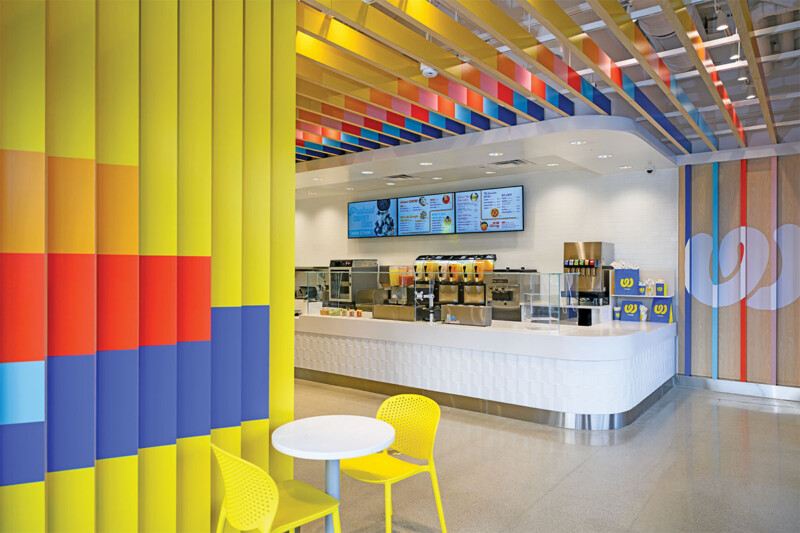 Kitchen Design
Wetzel's Pretzels, the multiunit bakery of shopping mall fame, now offers its soft pretzels and more at street-side through its latest concept.