Kitchen Design
Kitchen Design: The Oasis by Moe's Southwest Grill
The prototype's larger production area telegraphs a "fresh" message while boosting efficiency for on- and off-site sales.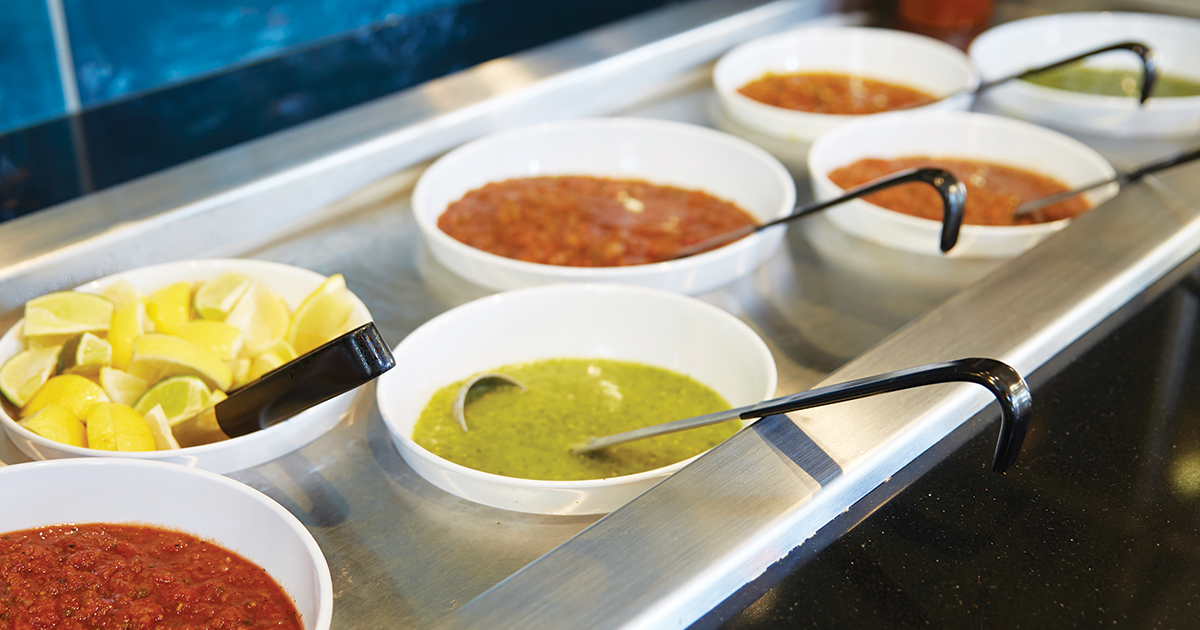 In a time where many multiunit chains are shrinking kitchens, Moe's has gone in the opposite direction. Its prototype and test restaurant, The Oasis, which opened November 2018 in Kennesaw, Ga., features a display kitchen that's about 14% larger than the display kitchen of the previous prototype. In addition, the prototype sports a second makeline dedicated to carryout and online orders, a double-wide queue line and fewer seats. That, plus an expanded self-serve chips-and-salsa bar and a colorful interior design package, dubbed "Untamed Southwest," aim to capture the attention of Moe's guests and franchisees alike.
In the early months of operation, the Kennesaw prototype is holding its own. "We are pleased with the results we've seen so far from the prototype," says Sunny Ashman, Moe's Director of Strategic Initiatives. "We are continuing to test several elements from an operations, design and menu perspective and after evaluating, will make any additional changes based on results."
The Atlanta-based fast-casual chain, a division of Focus Brands, plans to add about 10 to 15 of the Oasis prototype restaurants to its 720-plus units this year. It will remodel about 25 existing Moe's restaurants in the same time period. (Its remodeled Sandy Springs, Ga., store is pictured throughout this story along with the Kennesaw prototype.)
The path to Moe's Oasis prototype started with in-depth conversations and suggestions from customer focus group studies conducted in '17. Focus group feedback became the launching point to establishing design goals. These included, Ashman says, "a new emphasis on our middle name—'Southwest'—plus heightened convenience for guests, a visual emphasis on our menu's freshness, and improved throughput and kitchen efficiency, especially regarding online orders."
Moe's design team included Ashman as project lead, Lauren Taliaferro, Director of Design, and Karen Bustios, Director of Operations. The Moe's team worked with Sterling-Rice Group, Boulder, Colo., to develop a marketing direction, and GPD Group, Atlanta, for architectural plans.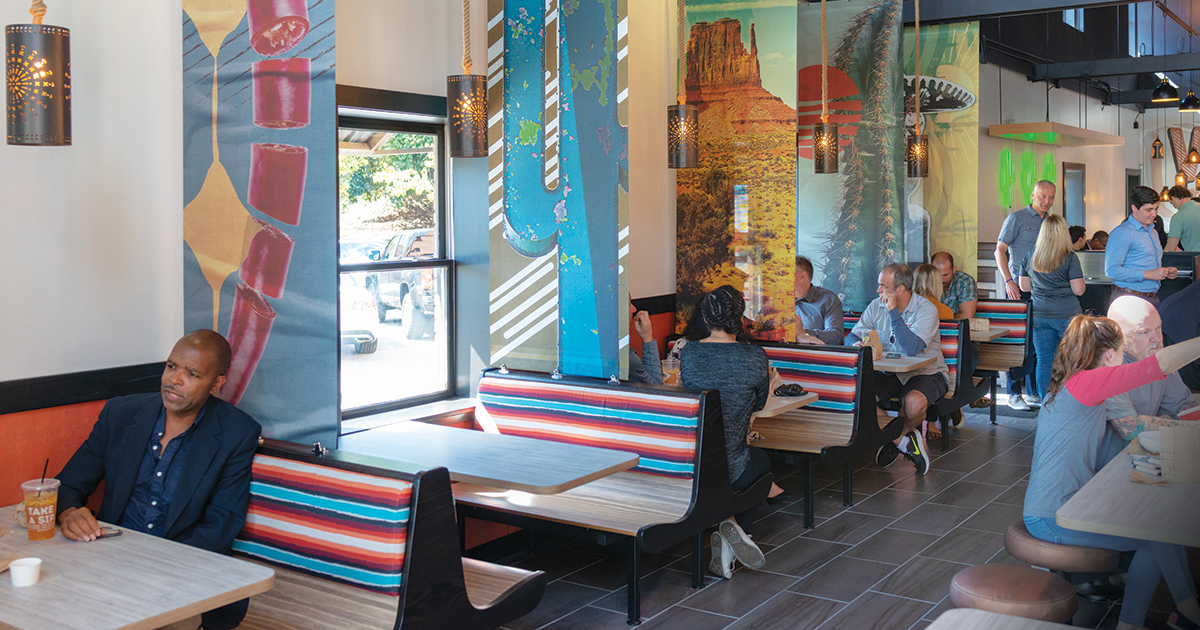 A More Efficient Flow
Covering 354 sq. ft., The Oasis kitchen is larger than the 311-sq.-ft. display kitchen in previous prototypes. A slanted section of the serving line gives the space a triangular footprint compared with the rectangular layout found in existing Moe's stores. "We made the production space larger initially to accommodate the enhanced linebacker position," Taliaferro says. "However, we needed more counter length on the front line than on the back. Hence the angled counter."

Moe's has seen double-digit growth in delivery orders over the past three years, Ashman says. This rise in carryout volume led the chain to add a second makeline to The Oasis prototype. The change required considerable juggling. "We removed a 48-in. counter that was once used for online orders, reduced the size of the make table next to the fryer, and removed the chicken cutting station," says Taliaferro. "We also added 24 in. to the length of that area. This is the layout we are moving forward with."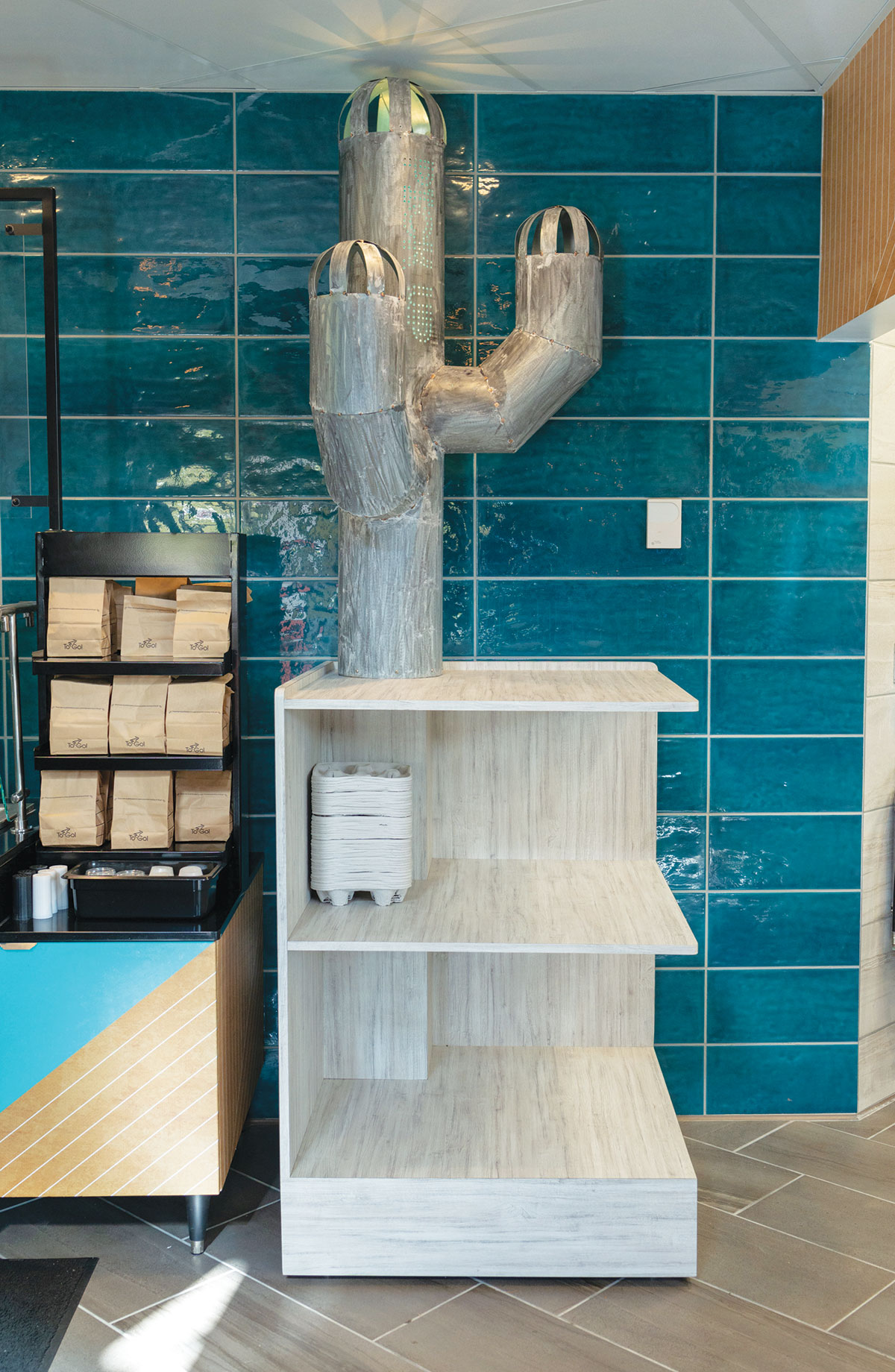 Designers added a pickup station at the end of the makeline and at the front of the restaurant. "It keeps those picking up online orders from walking through or waiting in the dining area, which makes for a better experience for in-store guests," Taliaferro says. Employees bag, label and stow completed to-go orders in a pickup cabinet adorned with a metallic cactus sculpture ("just for fun," Ashman says). The cabinet can hold about 22 orders.
Additionally, the team doubled the width of the queue line, then divided it with a narrow railing to accommodate twice as many guests. "The advantage of the double line is that guests new to Moe's have time to review menu items, which are displayed on the soffit above, while they wait their turn," Ashman says. "This saves time at the register."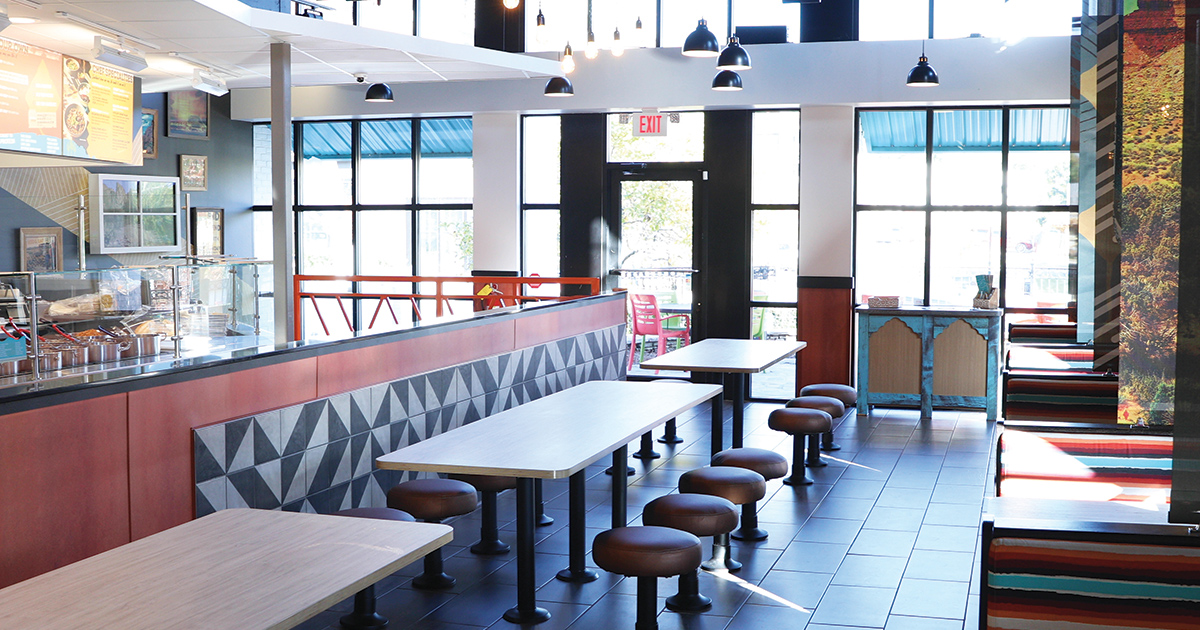 Designers tweaked Moe's equipment package to enhance both appearance and efficiency. "We've seen about a 5% uptick in service speeds at our remodeled store," Ashman says.
Equipped For Change
Along the front makeline, the Queso Cantina area has a new "home on the range" look. Instead of drop-in hot wells, hot toppings are displayed in pots of varying sizes atop a heated shelf.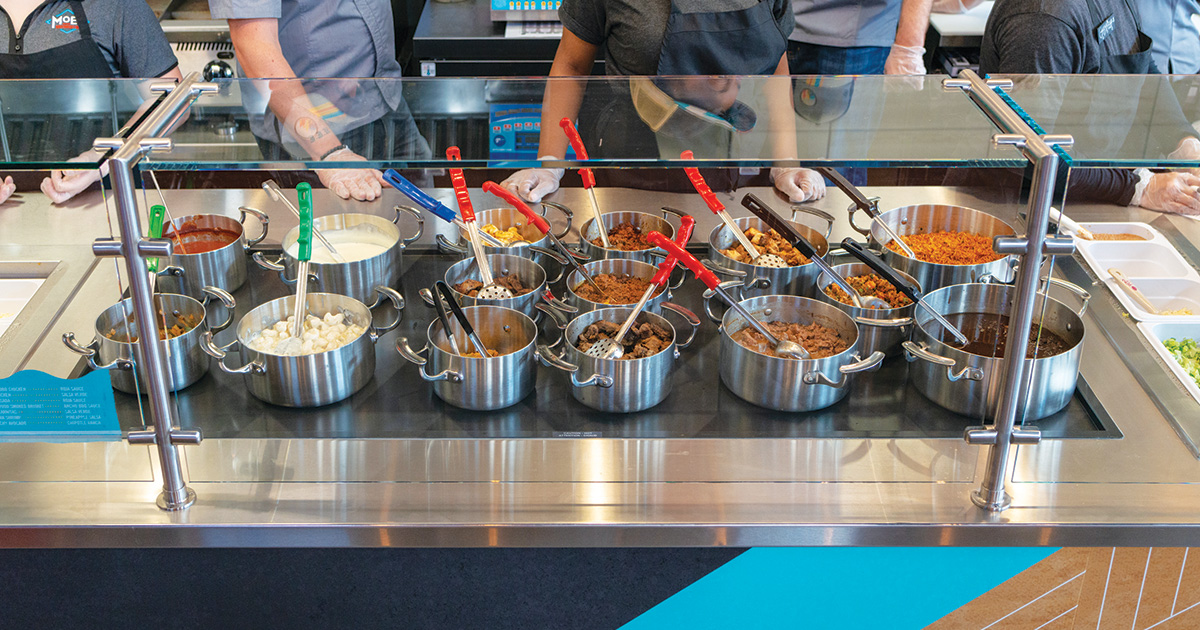 The team also added a tortilla press and a torta (hot sandwich) press. "These are new to the line," Ashman says. "Currently we grill quesadillas and stacks on the grill. The staff has to physically turn around, which can interrupt the flow of the line. By adding these presses, food and customers can move along the line without interruption. Additionally, our burrito lovers have asked us for years to grill their burritos. Now we have the ability to easily honor these requests."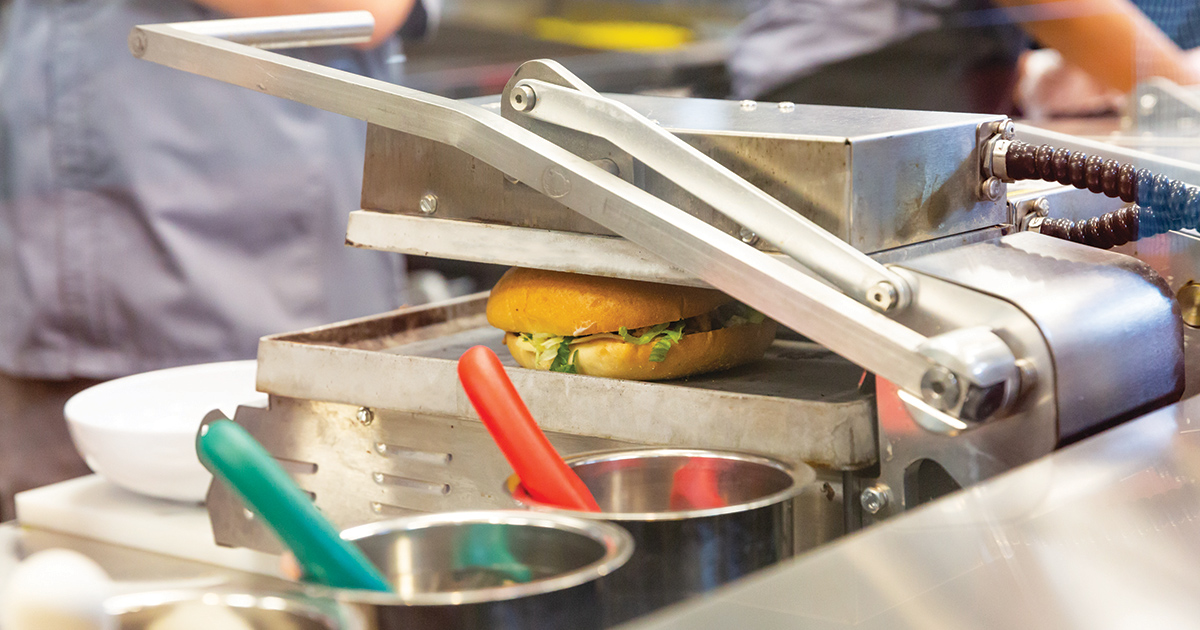 The self-serve salsa bar, dubbed "Land of the Free," gained shelving for pre-bagged chips on either side. This change has helped Moe's earn credit from guests for freshness. The change also boosts throughput now that workers no longer have to bag and place chips with each order. And its location close to the serving line makes it easier and faster for workers to service.
Back-of-house changes include the addition of a reach-in freezer as well as a warewashing area to handle the new-to-Moe's reusable melamine servingware.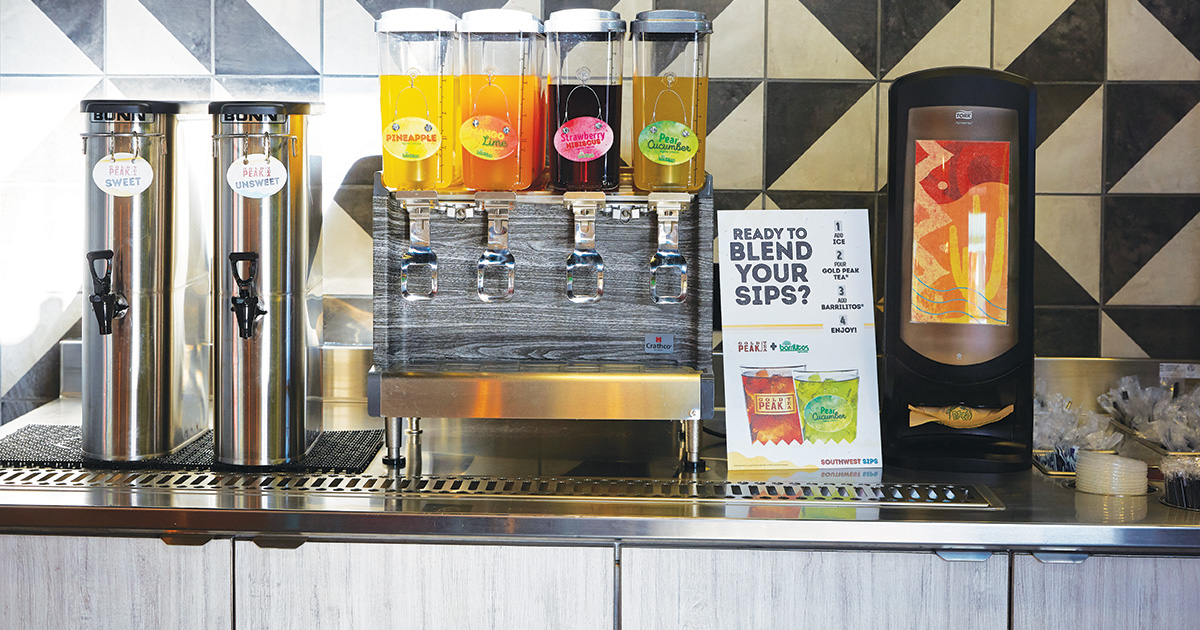 Although the building's 2,600-sq.-ft. footprint is about the same as earlier stores, the larger production area left less space for seating. The Oasis can seat 70, compared to up to 90 seats at existing restaurants. "Since the trend is toward online, we were comfortable losing some seats to allow for a better experience for both the in-store guest and online customer," Ashman says.
The Great Southwest Look
Moe's branding, with its color palette in shades of white, turquoise, orange and rust, resulted from a partnership with Sterling-Rice Group. The look captures the essence of the Southwest's textures and experiences. On an accent wall near the entrance, interspersed with other framed artwork and brand messages, a flat-screen monitor—decked out to resemble a wood-framed window—airs video snippets of Southwestern scenes.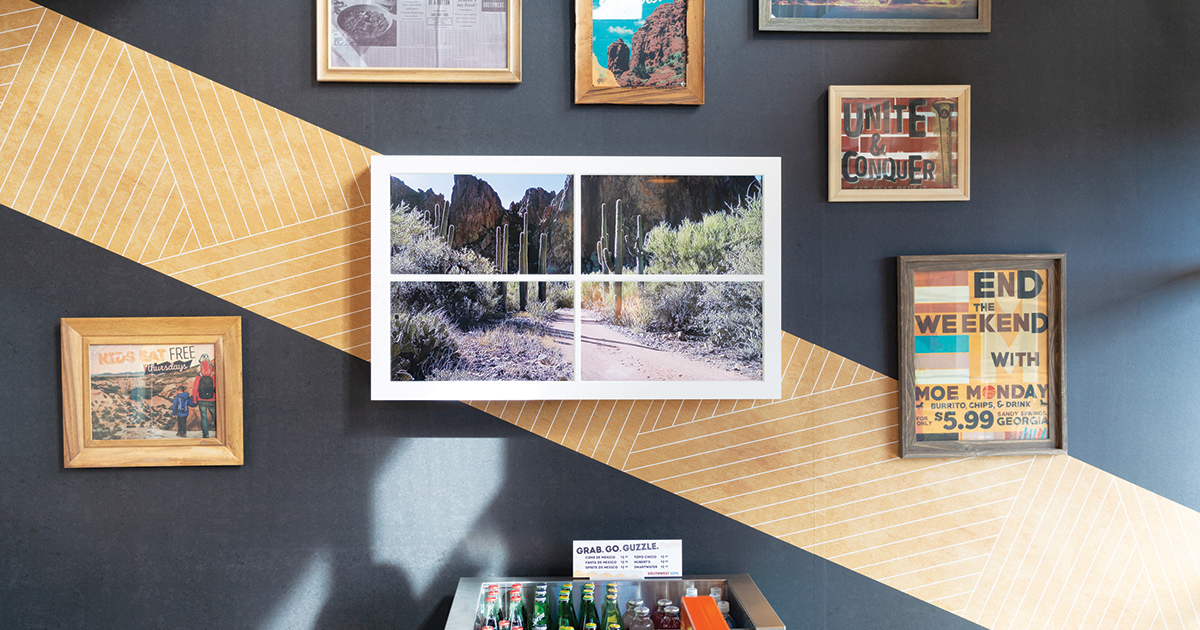 The seating area is a mix of banquettes, two-tops and a community table with bolted-in stools. Designers seemed to have extra fun with the banquettes. The seat backs boast fabric that evokes Native American blankets. Adding visual separation between booths are printed fabric panels, with artwork of stylized cacti or other Southwest scenes.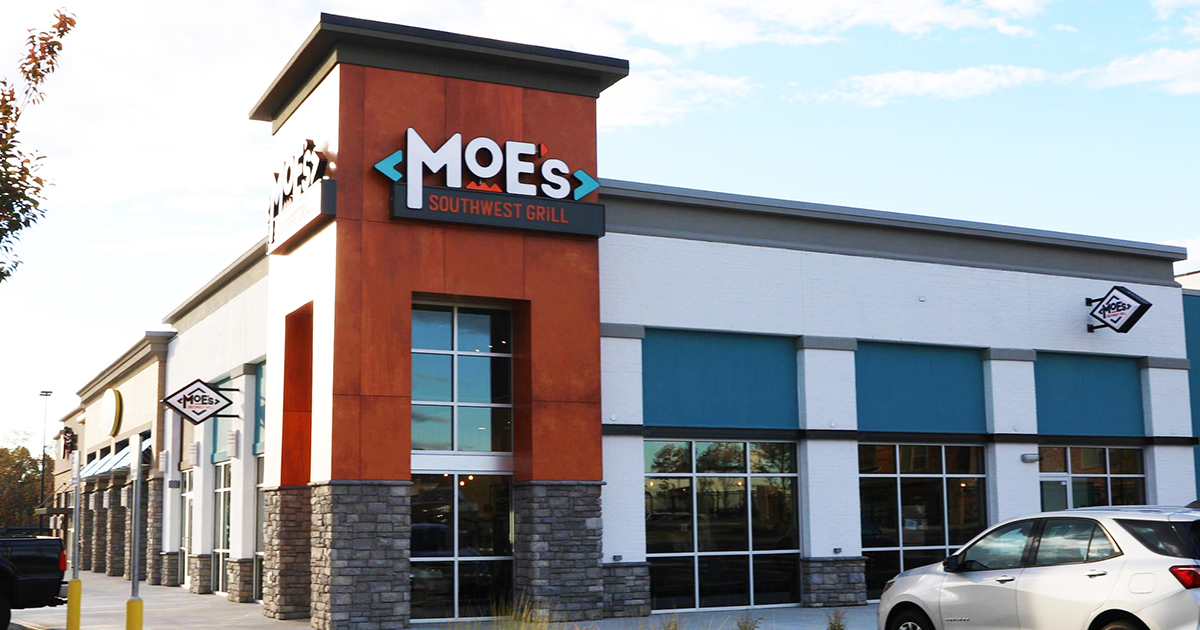 The building's exterior features a tower finished in rust-colored Corten steel. Stone look-alike cladding surrounds the tower's base, while turquoise-colored panels above windows complete the look. Moe's and Sterling-Rice Group collaborated on a "kit of parts" that allows franchisees to choose finishes and fixtures that best meet their individual budgets.
SPECS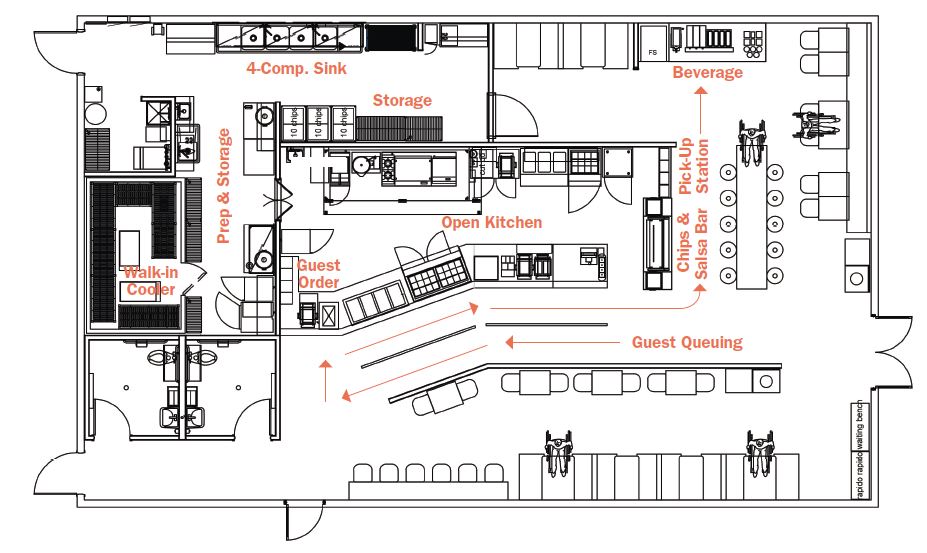 MENU/SEGMENT: Southwest fast-casual
HEADQUARTERS: Atlanta
FOUNDED: 2000
NUMBER OF UNITS: 720+ locations
PROTOTYPE SIZE: 2,600 sq. ft.
SEATING: 60 seats
2019 PLANS: 10-15 prototype openings
CONSULTANT/DESIGN FIRM: Sterling-Rice Group, Boulder, Colo.
ARCHITECT: GPD Group, Atlanta
DEALER: TriMark Strategic, Lewisville, Texas
WEB: moes.com


EQUIPMENT
Kitchen
Star/Middleby tortilla press, torta press, flattop grill, 2-top range
Hamilton Beach rice cooker
Texican chip warmer
Server soup tureen
Hoshizaki u/c refrig., worktop refrig.
Advance Tabco prep table, equipment stand, dunnage rack, work table, shelves, drop-in hot wells, hand sink
CaptiveAire hood
Pitco/Middleby fryer
Miroil oil filter and holder frame
Antunes solar timer
Blodgett/Middleby tilt kettle
T&S Brass kettle faucet
Wells/Middleby drop-in cold wells
Randell/Unified Brands cold prep table
Traulsen/ITW FEG cold prep table
Alto-Shaam food warmers
Back-Of-House
Advance Tabco 4-comp. sink, dunnage racks, shelving
Nexel shelving, racks
Hoshizaki ice machine, storage bin, worktop refrig.
Kolpak/Welbilt walk-in cooler
Cambro shelving
Metro/Ali Group beverage security unit, racks
Traulsen/ITW FEG reach-in refrig., reach-in freezer
Edlund/Ali Group can opener
Alto-Shaam food warmers
Waring hand mixer
Hamilton Beach rice cooker
Worcester Shortening Shuttle
Rinnai tankless water heater
Ecolab warewasher
Chips & Salsa Bar/Beverage
Commercial Stainless food shield
Randell/Unified Brands drop-in cold pan
Crathco beverage dispenser
BUNN tea brewer, dispensers
Eagle, a broadline manufacturer of commercial foodservice equipment, is pleased to sponsor FER's Kitchen Design feature. To learn more about us visit eaglegrp.com.