Kitchen Design
Inside Caltech's Ventless Red Door Marketplace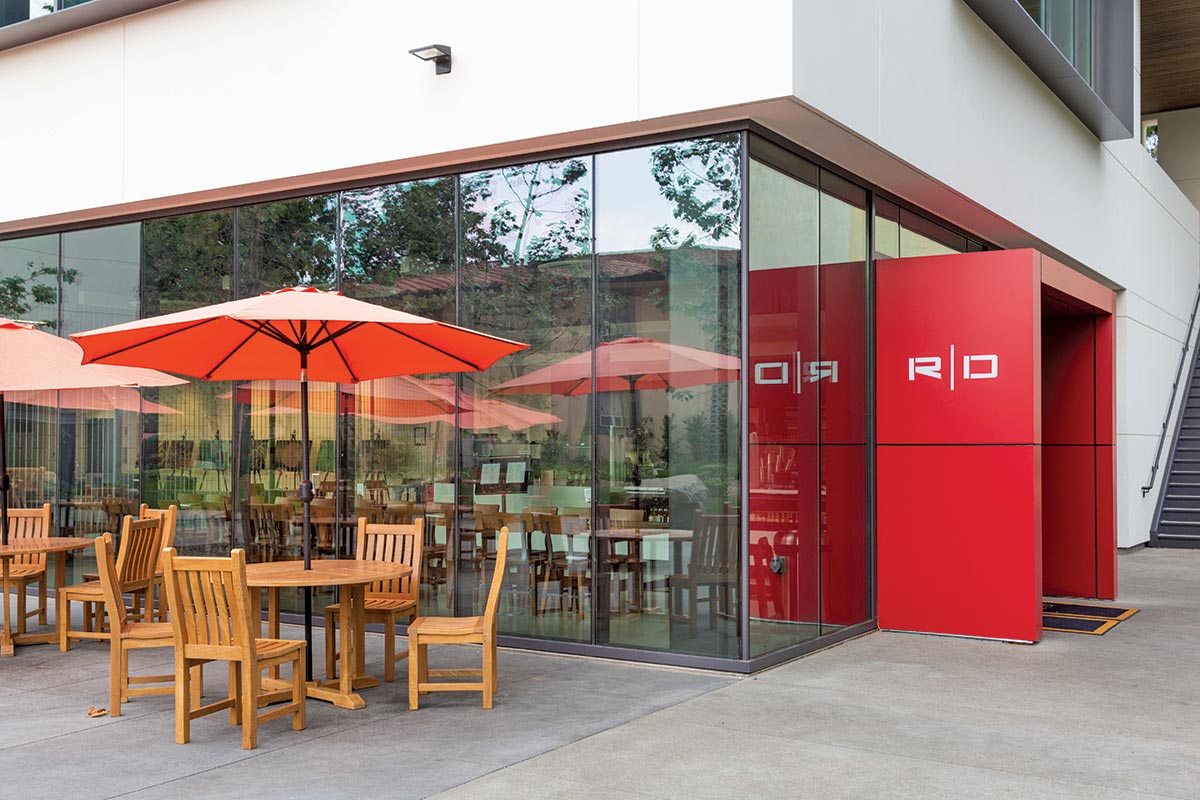 When plans began brewing to rebuild the 50-year-old Winnett Student Center at the California Institute of Technology in Pasadena, Calif., school leaders also saw an opportunity to improve its popular gathering spot and go-to caffeine source, the Red Door Marketplace. The goal: to make it bigger, better and even more of a hub for students and faculty than before.
The revamped Red Door would be located in the new Hameetman Center, a 24,000-sq.ft., open floor plan, #15.1 million ground-up building project. "The idea behind Hameetman was to create a massive lounge where students could gather, with Red Door as one of its top draws," says Jon Webster, former senior director of foodservice at Caltech and part of the team that helped shape the new Red Door. "I have preached for years about creating community through food.
"We knew how much coffee and smoothies we could sell thanks to the previous Red Door sales figures," Webster continues. "But we needed a food component to really drive traffic, something along the lines of a Corner Bakery, where people sit down to wait and chat with each other."
The menu, created by Caltech Executive Chef Zach Chambers, was designed for fast pick-ups, made from scratch.
All the equipment at the new Red Door is self-contained. "There's no smoke or flame or gas," Chambers says. "Operationally, it's impressive what we are able to pull off."
When the Hameetman Center and Red Door opened in February, initial sales exceeded expectations. "Our estimates were about 1,100 to 1,200 covers per day, but we're averaging 1,400 to 1,500 covers daily," Chambers says.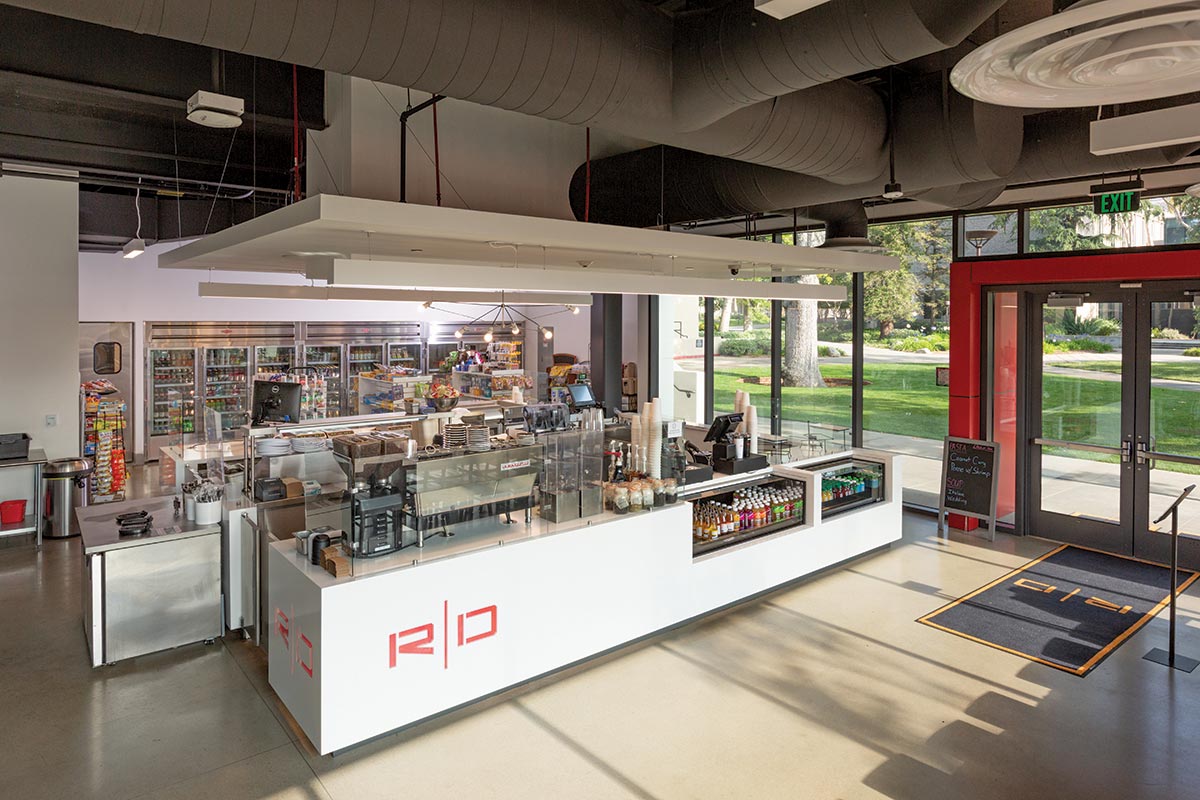 Ventless Cooking
Adding made-to-order hot food options to the coffee shop menu was a key goal of the new Red Door concept. There was just one small catch. Budget constraints plus Hameetman's high ceilings and open floor plan nixed exhaust hoods for cooking equipment from the start.
To address the challenge, the project's lead foodservice designer Gregg Golem, president of Interactive Restaurant Consulting, applied the same solution he'd employed for an earlier Caltech renovation: ventless cooking.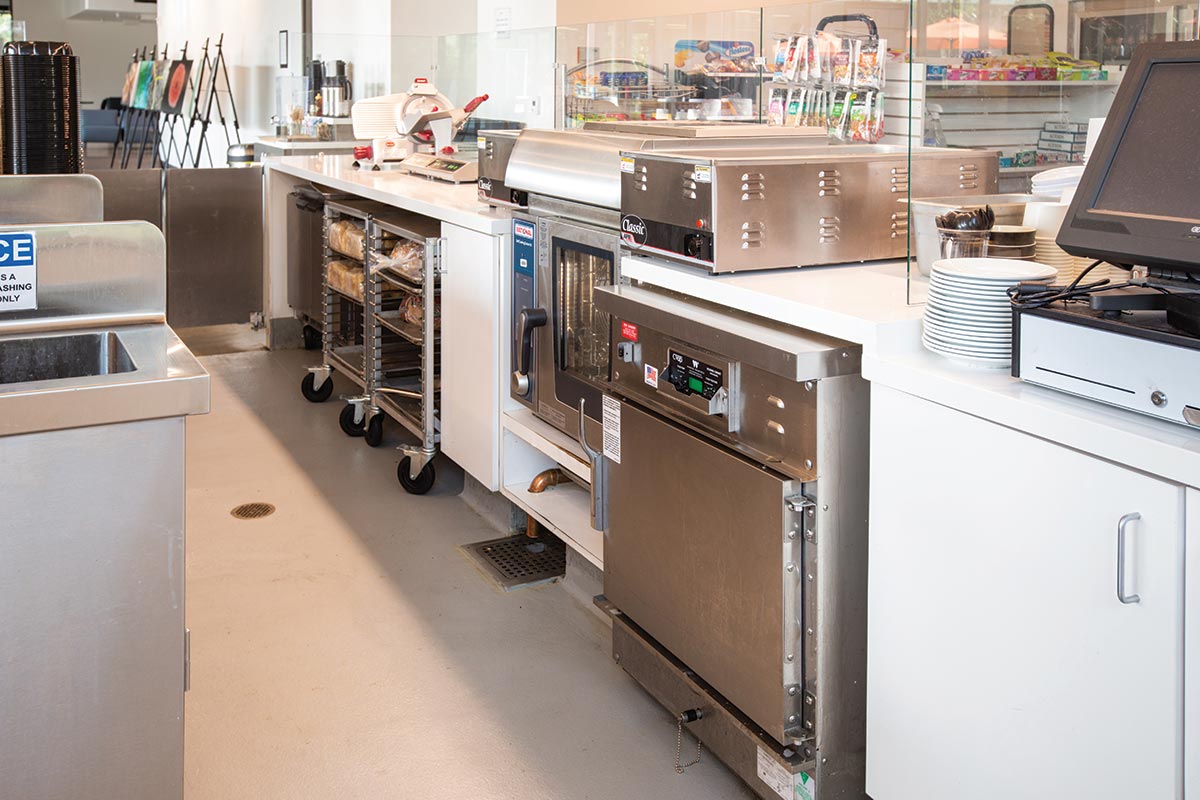 When we redesigned Caltech's main Chandler Dining Hall in 2015-2016, we brought in ventless speed ovens," Golem says. "Hot sandwich cooking times went from four to six minutes using panini presses, down to one minute with the speed ovens." At about the same time as that redesign, Golem had learned about a then-new ventless combi oven, which he also shared with his Caltech clients.
The ventless combi relies on a built-in condensation hood. The hood, which is less than 10-in. H and sits directly atop the combi, works by capturing steam and cooling it into condensate that trickles through the drain.
Adding a cooking component to Hameetman's Red Door proved relatively easy. "If we combined the speed oven with the ventless combi, plus a hot holding unit, we would be able to prepare and hold food, while assuring food quality," Golem says.
A month into operations, the high volumes at Red Door led Chambers to add induction burners, two countertop steam tables for sauces and soups and an extra prep table in the back-of-house for more counter space.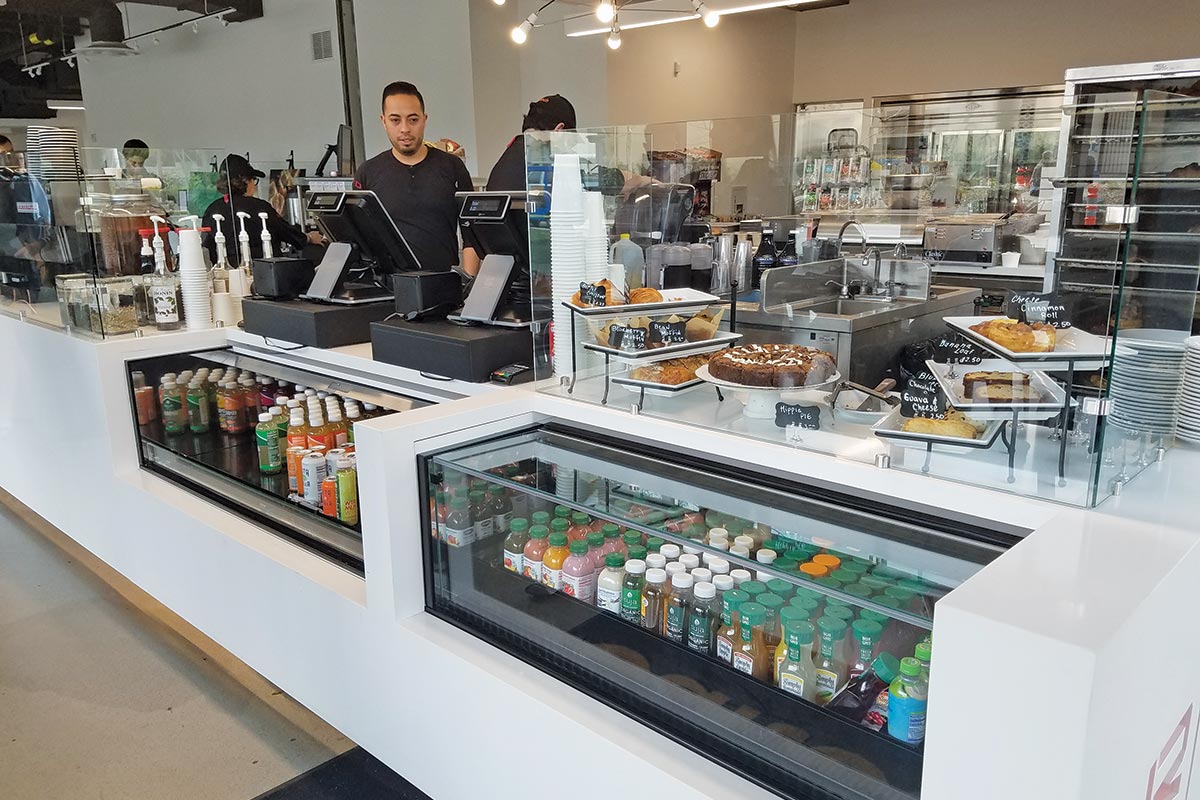 Island Operations
The Red Door cafe's working area covers 262 sq. ft. Surrounded on four sides by a 2-ft.H nearly invisible food shields, creating a glass cube within the student lounge. Inside the cube, the Red Door's layout consists of three parallel counters, with space for up to three workers in the front aisle and three in the back. "Entrance points on one side allow for runners as well," Golem says.
Guests queue up to order at the front counter, which is equipped for quick service of drinks and pastries; there's a pastry display case, self-serve reach-in beverage merchandisers, two POS stations, espresso machine, an iced tea dispenser and an undercounted refrigerator. "Completed beverage orders are placed at the far corner for customer pick-up," Webster says. "For made-to-order food, guests get a stand with a plastic number, and servers deliver the food to tables."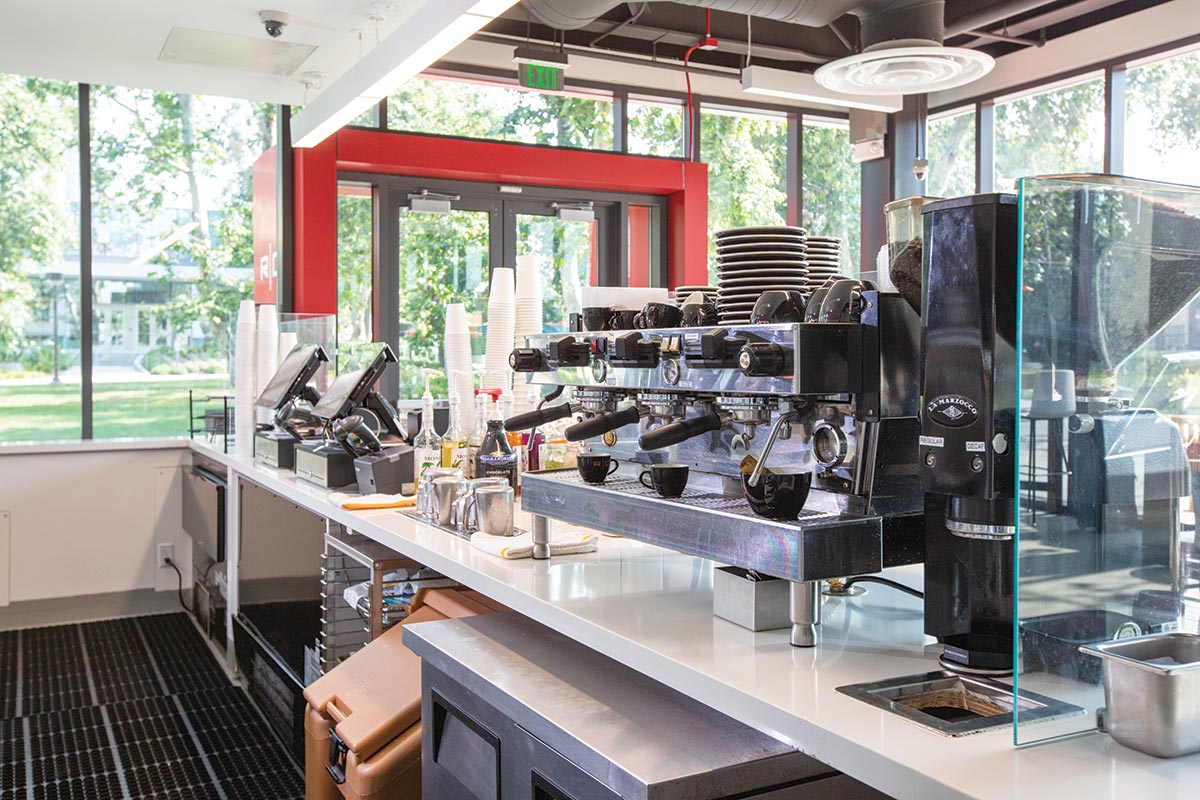 The middle section of the cube is the service area, home to the ice station, sinks (hand and prep), blenders, ice cream case, sandwich prep table and microwave/convection oven. The back counter is the production area, equipped with the half-size combi oven, the holding cabinet, an undercounted refrigerator and a food slicer. After the cafe opened and sales ramped up, the staff brought in a portable pastry rack at the end of the middle line to help get through peak serving times.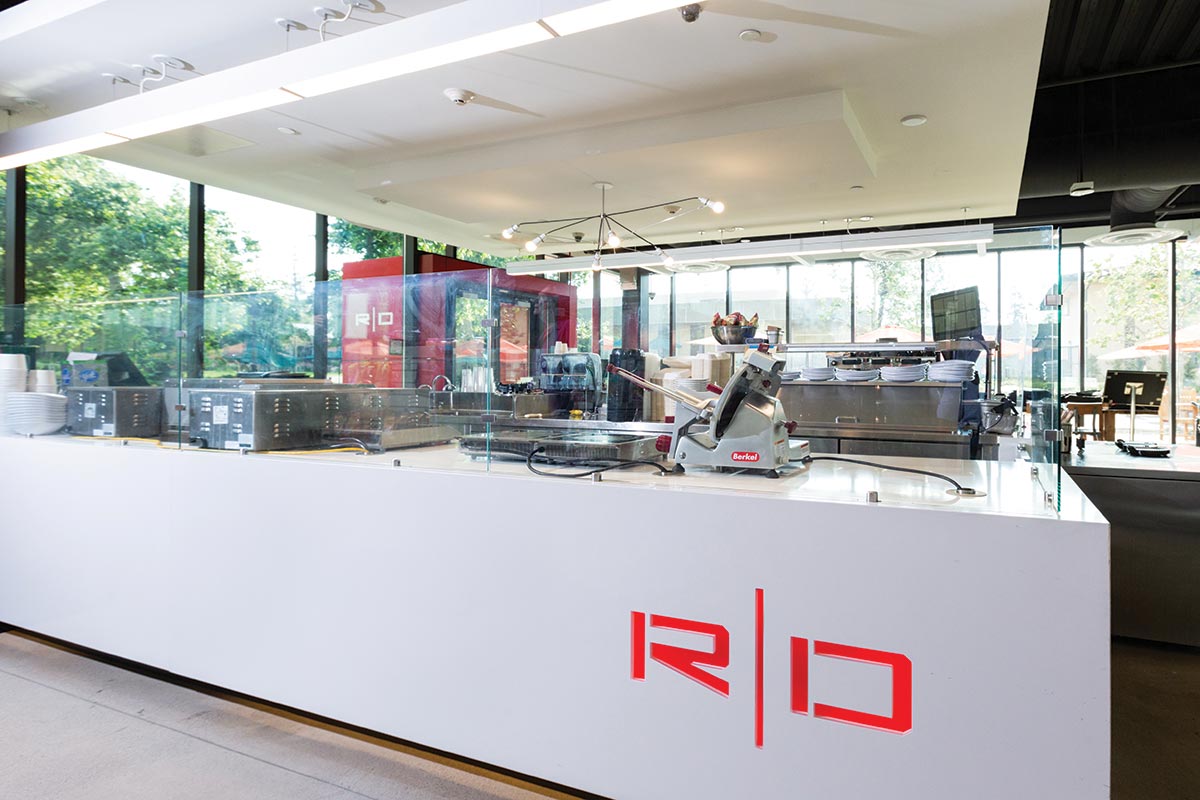 While the espresso machine is along the serving line, Red Door's coffee brewing machines were assigned a back-of-house location, to preserve sightlines. Also, out of sight is the dry storage area and scullery/prep kitchen. Floor track shelving maximizes dry storage space in the smallest possible footprint. "California health department code requires 96 linear feet of shelving regardless of the operation's size," Golem says. "With sliding shelving units, we can meet that requirement."
Behind the cafe area is a small c-store, its back wall made up of dual-sided refrigerators that can be stocked from behind. The store shelves are aligned perpendicular to the cafe's back counter so workers can see down the aisles to help reduce pilferage. A third POS at the back of the Red Door cafe serves the c-store customers.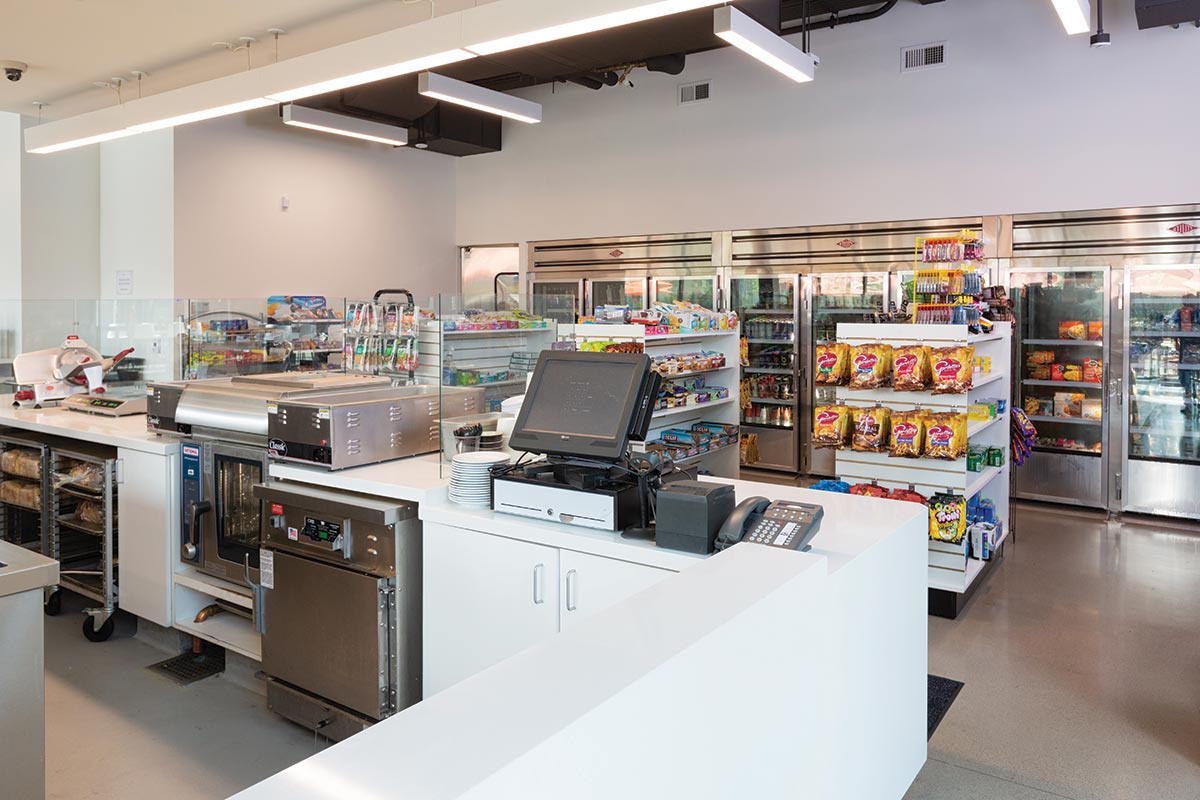 Out of Sight, Out of Mind
To preserve sightlines, the combi oven's top is even with the counter. Only its compact condensation hood stands above counter height. "The oven is still easy to use, but by keeping the top of its hood below the level of the food shields, it does not visually overwhelm the space," Golem says.
In the center part of the island, doors on below-counter storage help keep the production area looking neat. The less-visible shelving along the island's perimeters was left open for greater flexibility.
An all-white drop ceiling provides a cleanable ceiling surface above the island kitchen, as required by the health department. No menu boards hang from the ceiling however, to avoid obstructing the completely open look. Instead, daily specials are displayed on freestanding signboards near the POS stations. The menu also is shared via printouts in the queue line, and on the Red Door website.
The Red Door's nearly round-the-clock-hours—7 a.m. to 2 a.m. on weekdays, and 3 p.m. to 2 a.m. on weekends—plus its open-concept design, require extra vigilance in terms of maintenance and cleaning. "It takes constant attention to keep the space looking neat," Chambers says.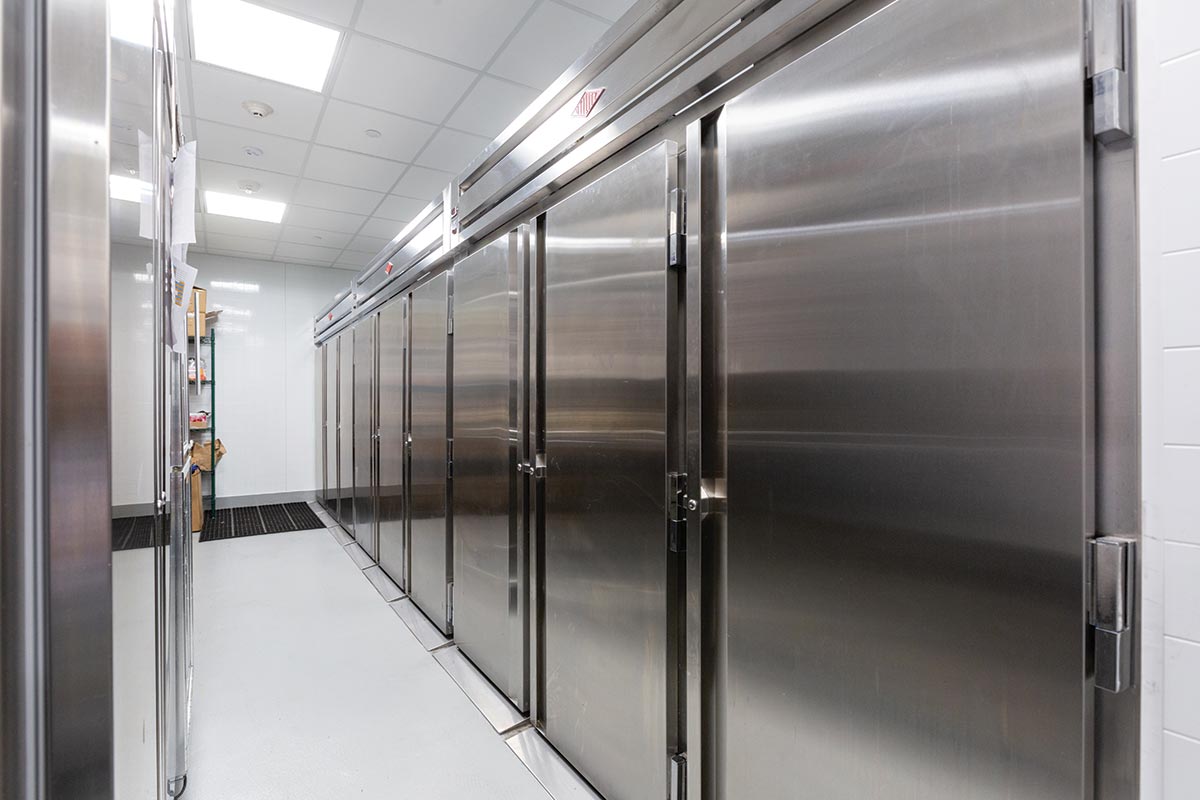 ---
Specs
---
SEGMENT: Campus Dining
LOCATION: California Institute of Technology, Pasadena, Calif.
OPENED: February 2019
SIZE:2,116 sq. ft. (cafe, c-store, back-of-house)
HOURS: 7 a.m.-2 a.m., M-F; 3 p.m.-2 a.m., S-S
SEATING: 148 seats (88 seats inside, 60 patio seats)
CAMPUS POPULATION: 5,200 (1,000 undergraduates, 1,200 graduate students, 3,000 faculty and staff )
CALTECH: Dimitris Sakellariou, assistant vice president for student affairs operations; Jaime Reyes, acting director of dining services; Zach Chambers, executive chef
FF&E $212,000
FOODSERVICE DESIGN FIRM: Gregg Golem, CFSP, president; Louis "Butch" Cummings, CFSP, senior designer, Interactive Restaurant Consulting, Thousand Oaks, Calif.
INTERIOR DESIGN: Dean Gerrie, principal, Dean Gerrie Design, Orange County, Calif.
DEALER: Raulie Treadway, regional manager; Cruz Ibarra, sales consultant, Chefs' Toys, Fountain Valley, Calif.
ARCHITECT: Gonzalez Goodale Architects, Pasadena, Calif.
CONTRACTOR: Pankow Builders, Pasadena, Calif.
WEB: dining.sites.caltech.edu/locations/reddoor
---
Equipment
---
BOH
Mars air curtain
Eagle Group/Metal Masters mop sink, 3-comp. sink, shelving, dish rack, work tables, track shelving system
Fisher pre-rinse faucet, faucets
CMA/Ali Group u/c warewasher
Turbo Air prep sink
Fetco coffee brewer, grinder
Ice-O-Matic/Ali Group flake-style ice machine, filter system
BUNN coffee/tea maker
Utility refrigs.
True reach-in refrig.
BK Resources nesting bun pan racks
FOH
Berkel/ITW FEG slicer
True u/c refrigs., sandwich prep refrig.
Curtis airpot coffee maker
BUNN airpots, ice tea/coffee dispenser
Cambro ice transport
SPG Kelmax pan rack
RATIONAL combi oven w/ventless recirculating condensation hood
Winston holding cabinet
Hatco toaster
DispenseRite napkin dispenser
F&O La Marzocco espresso machine, coffee grinder
Glastender drop-in rinser faucet drain tray
Delfield/Welbilt drop-in ice station, ice station
Advance Tabco drop-in hand sink, dump sink
Vitamix blenders
Perlick drop-in ice cream freezer
Server dipper well
Hud pass shelf
ACP/Ali Group microwave/ convection oven
Structural Concepts refrig. self-service counter cases
Vollrath induction burners
APW Wyott/Standex steam tables
---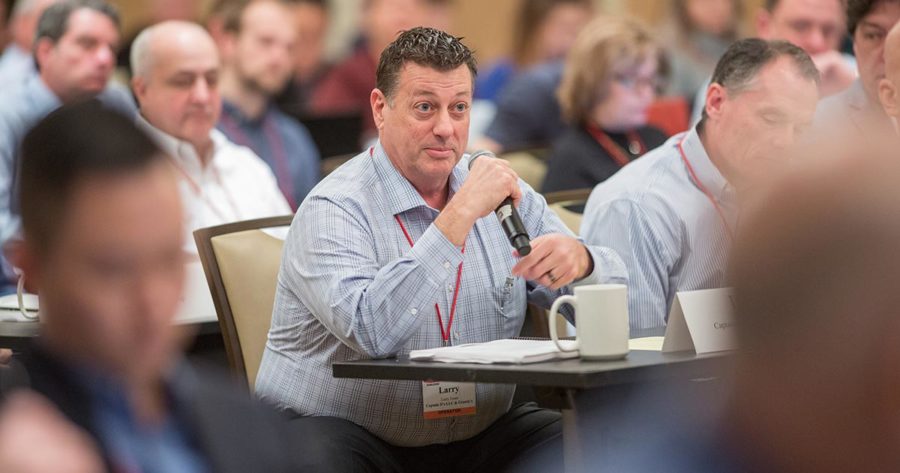 Advance Your Knowledge of Foodservice Equipment Technologies at MUFES
MUFES is a one-of-a-kind event for foodservice equipment decision makers from multiunit chains and noncommercial facilities.