Healthcare
Ahead of the Curve at Porter Adventist Hospital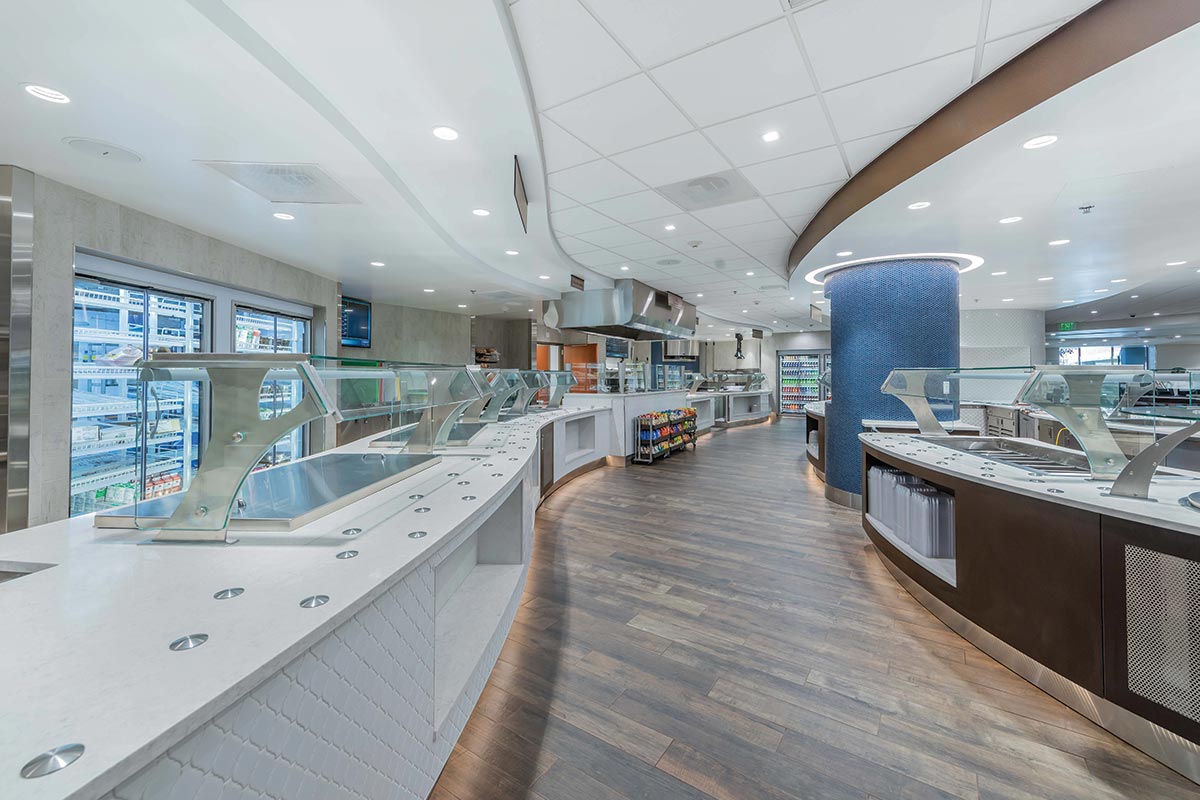 Porter Adventist Hospital in Denver resides in a building first constructed in 1930 and later expanded. While dining inside the hospital's cafe, though—with its undulating white counters mirrored by curving soffi ts and round columns—you wouldn't have any inkling that much of the building was approaching 90 years old.
The new cafe's $9.6 million makeover was part of a larger, hospital-wide $30 million renovation that kicked off with the design phase in 2016 and wrapped up construction in 2018. "We were just growing out of our current cafe, and we were due for a bigger space," Foodservice Manager Celina Nicholson says. "Our grill station in the old cafe was always slammed, and there was not a lot of space for people to walk around. Sometimes you'd walk into the cafe in the middle of lunch and you couldn't even move."
Operations also were disjointed, with the kitchen on the ground floor and two dining spaces—a full-service cafe and agrab-and-go bistro—across the hall from one another a floor above.
This meant foodservice employees prepared the cafe's full menu in the downstairs kitchen and sent items upstairs via a dumbwaiter that was known to malfunction, holding food hostage inside while staff waited for maintenance to arrive. "We would have to either make more food, or take whatever food they still had [prepared in the kitchen] and put it on a cart, take it up the elevator and around the long way to get it to the cafe," Nicholson says.
A modern and clever design by Systems Design Int'l. not only gave the 5,150-sq.-ft. cafe an additional, dedicated 4,000-sq.-ft. kitchen on the same floor, but it also incorporated $1.8 million in new equipment that has increased cooking efficiency substantially.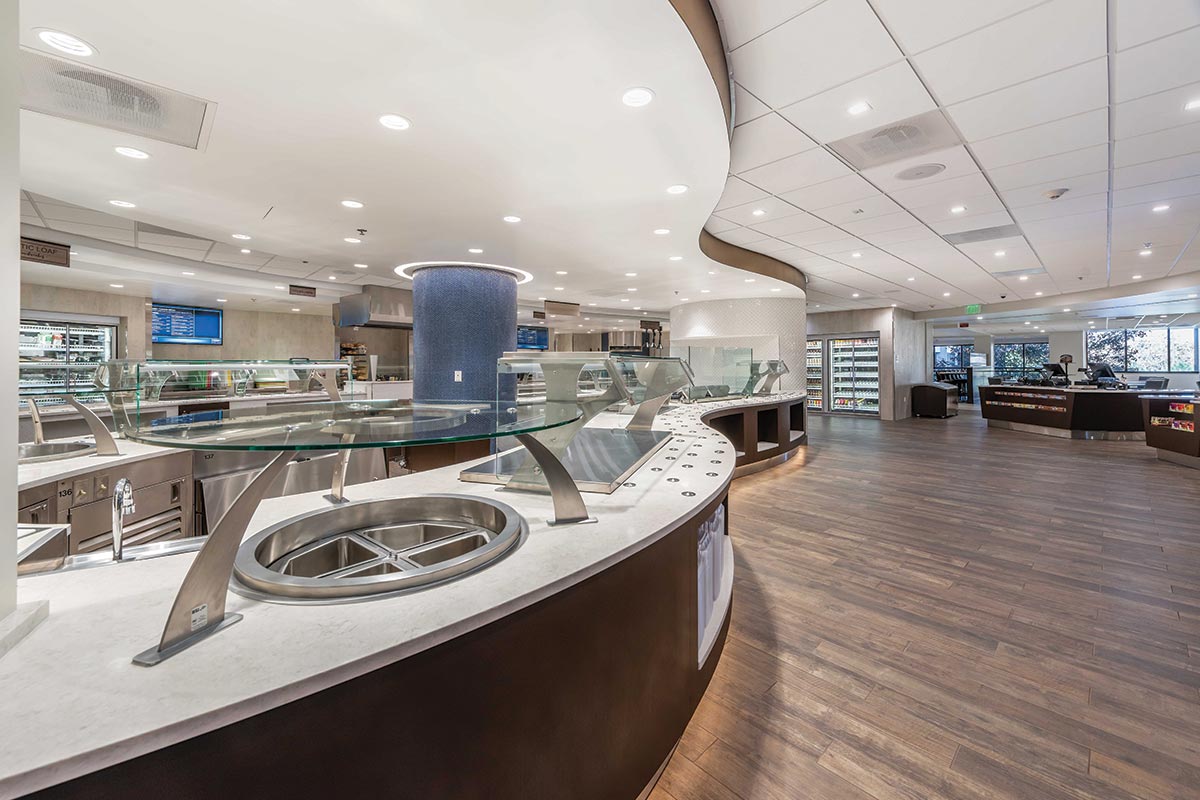 Room to Roam
The redesign maintained the ground-floor kitchen, but reserved it entirely for patient meals. It also eliminated the bistro and added a second kitchen upstairs to serve a doctor's lounge and the new, larger cafe.
"They had a very congested cafeteria area and they wanted to uncork it, which meant creating a much easier, faster flow from the beginning to end," says Eli Osatinski, president of Systems Design Int'l. "Employees have a very limited amount of time for lunch, so our goal was to maximize their lunch break, which means we don't want them to waste all their time in line instead of sitting down and relaxing."
The cafe's design gives breathing room to an array of food stations—sandwiches, grill, pizza—and positions them strategically to avoid crowding. "Usually people are pretty polite; for a cup of coffee, they'll stand behind five people that want to have a major meal," Osatinski says. "We divided the quick-serve stuff on one side and cooked food on the other side to expedite that process."
Curved countertops help to guide diners along each station smoothly. "There is nothing straight in the cafe; they are all curved lines," Osatinski says. "You don't have a 90° turn; you have a curve. It's more accommodating." Countertops also are lined with SDI-designed circular sliders that Osatinski calls pucks. Their flush adherence and rounded shape make them easier to keep clean than traditional tray slides, and they also jive with the cafe's overall curvy design.
The new design doubled the size of the popular grill station by upgrading from one to two 3-ft. flattop grills. Nicholson and her team also wanted more communication between foodservice staff and customers, so they reoriented the station so that staff face the customer. "In the old cafe, our grill was on the back side of the wall with the hood above you, so [staff] couldn't hear the customer behind them and they thought [the staff] were ignoring them."
The biggest challenge in achieving an ideal flow was structural columns in two different lines, a result of the cafe's location straddling the hospital's original building and later addition. "To work around it, we embedded those columns into the counters, and therefore they are not impinging on the traffic flow and the movement of people holding trays in their hands," Osatinski says. "You will never face a column anywhere in the facility if you are a guest."
In the former space, staff would have to squeeze in front of customers to restock the beverage coolers and salad bar during the busy lunch hour. The solution? A backfill beverage cooler and a ringshaped salad bar with space for staff to refill wells from undercounter coolers on the interior while diners selfserve around the exterior.
The old cafe's seating area didn't accommodate the demand for larger parties, Nicholson says, so the new space features larger booths as well as family-style tables. The cafe also is equipped with gates to close off the back half of the space and keep the front area running as a smaller, 24-hour market with a barista and grab-and-go options. "We have that ability to shrink the space to make it not look like nothing's open [after daytime hours]," Nicholson says.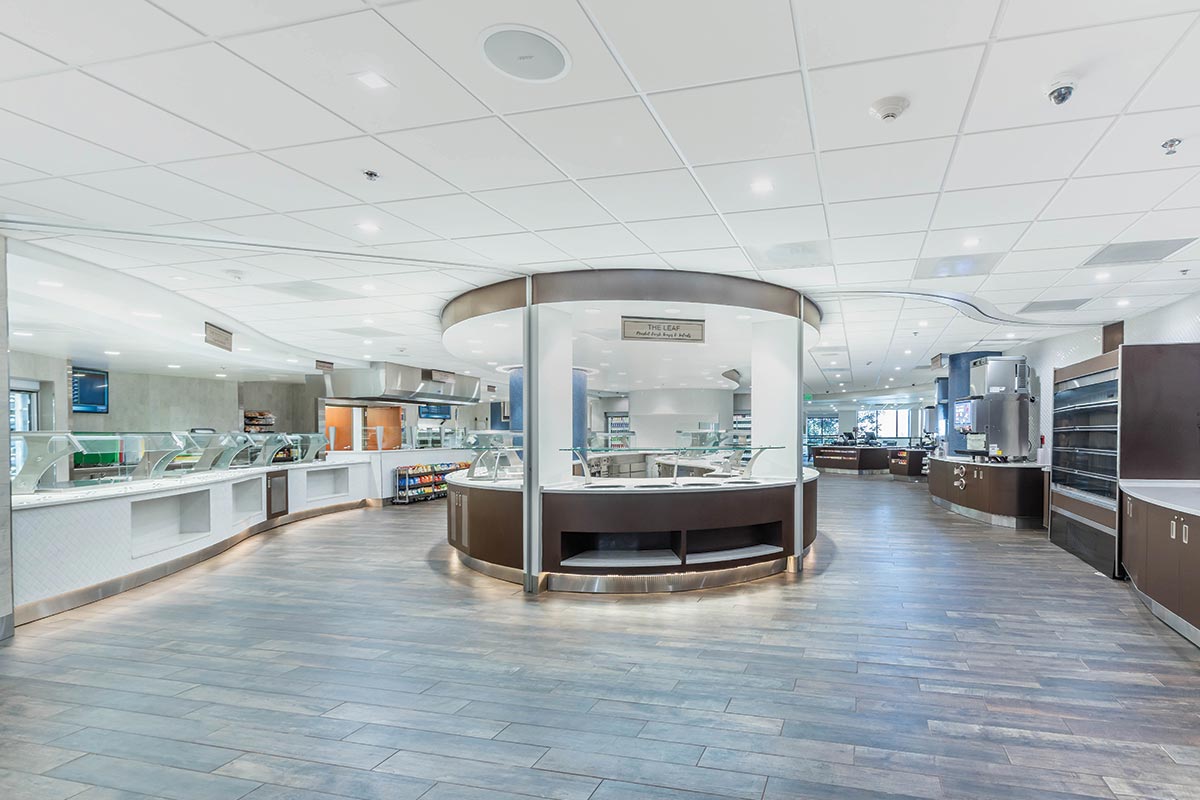 The Need for Speed
More—and more efficient—cooking equipment better enables kitchen staff to keep up with daily service as well as high-volume events. "For Thanksgiving, all the ovens would be full with turkeys, or we'd do a corn roast, which is our annual community picnic," says Nicholson. "It was a struggle cooking for 2,000 people with only four ovens." The new kitchen has six ovens for more roasting capacity.
Healthier preparations also have landed on the menu thanks to new combi ovens. "We can do chicken wings in there and they come out just as if we had put them in the fryer," Nicholson says. "We just change the settings so there is no humidity and full heat and they get that crispy outside."
A pressurized tilt skillet allows for speedier cooking. "We are able to cook beans in half the amount of time it took before," Nicholson says. "We can braise meats that would usually take four to six hours, now it will take an hour and a half."
A blast chiller allows staff to batch cook and cool soups quickly and safely. "We also are able to cut down on food waste … [by cooling] down leftovers faster so there's no potential hazard for foodborne illness,"" she says. "We [package them] and call them heat-and-eats; they're little to-go meals."
Nicholson also hopes the addition of a sous vide cooking system will help control costs and food quality. "With proteins, you can get a more consistent cook out of it and it's going to be moist every time," she says.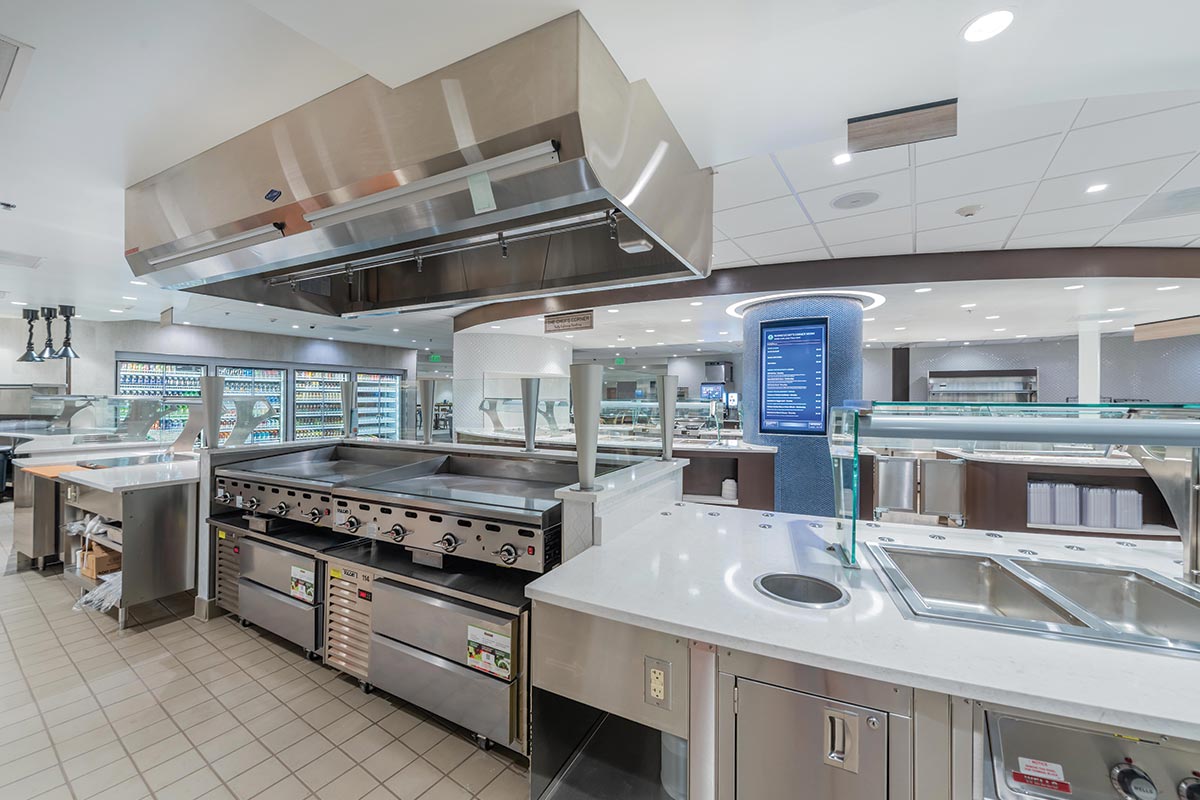 Haul in One
Having two walk-in coolers in the upstairs kitchen has made prep more efficient for cafe employees. "Before, we would have to make a grocery list and go grocery shopping downstairs and bring it upstairs," Nicholson says.
There is one person, however, who considers his job to be harder now with cooler and freezer space on both floors. "My grocery guy will tell you that it's more work now than it was before!" Nicholson says.
After deliveries—typically eight to 10 pallets of food—arrive at the loading dock on Tuesdays and Fridays, Nicholson's stockroom employee uses a motorized hydraulic cart to deliver supplies to the main freezer and two walk-in coolers in the downstairs kitchen as well as the walk-in coolers and undercounter freezers upstairs. "He can load [the cart] up to 1,000 lb. and when he gets to the bottom of it, he raises it up so he doesn't have to bend over, and then he's able to carry the heavy stuff and not strain himself."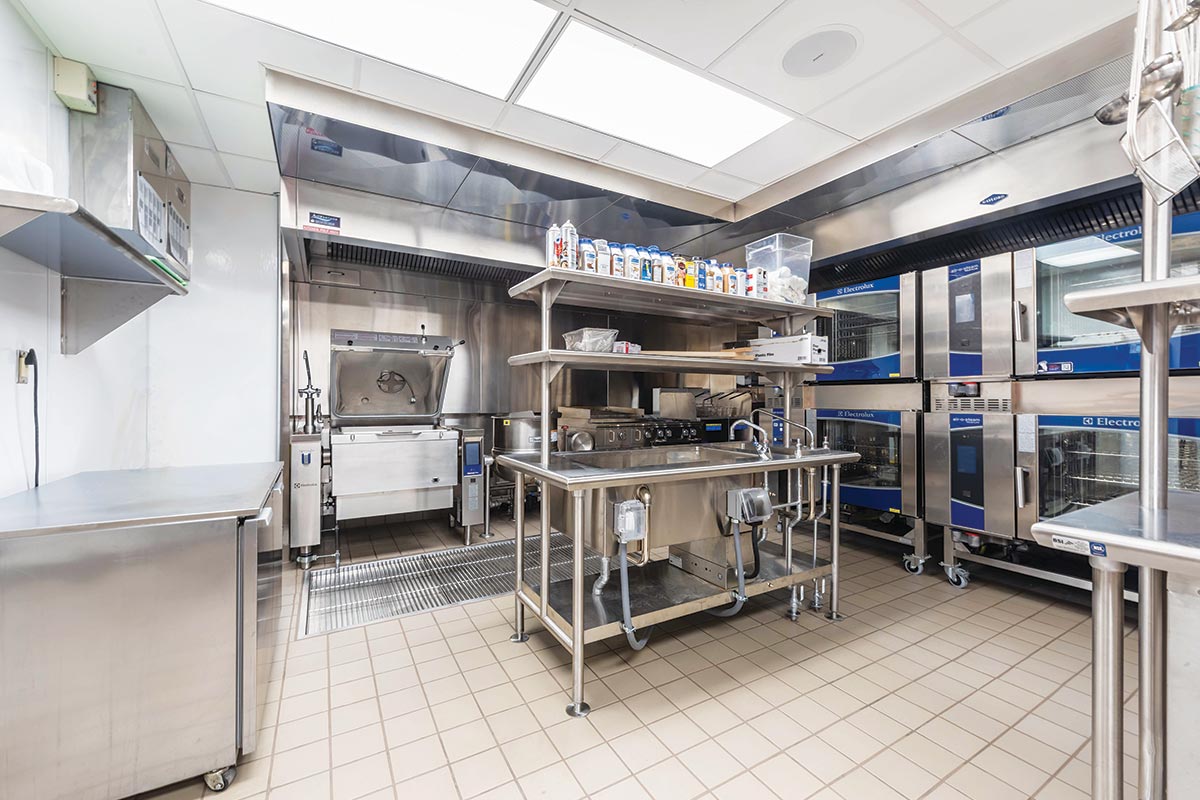 Remedy for a Doctor's Lounge
The renovations also included an overhaul of the doctor's lounge, which wasn't the most appealing place for relaxation in its previous incarnation, as a result of tired equipment and no natural light, says Nicholson.
"[The original space] had a portable salad bar and portable steam table that almost looked like it was from 1980," she says. "A lot of the equipment was outdated, didn't work anymore, and they didn't even make parts for what we needed to have fixed."
The new 1,680-sq.-ft. lounge features built-in cold and hot wells for salad bar and hot meal service as well as reach-in coolers for grab-and-go items. Relocating the lounge to the hospital's north side also allowed for a full wall of windows. The project took about five months to complete, with the lounge making its debut in March 2018 to glowing reviews. "We have doctors from other facilities say, 'Oh, I love going over to Porter!'" Nicholson says. "Customers [also] love the cafe, and we get compliments all the time." And above all else, she says, "Nobody misses the dumbwaiter."
---
Specs
---
Facility name: South Downing Cafe
Location:Porter Adventist Hospital, Denver
No. of beds: 368
Opened: December 2018
No. of seats: 215
Hours of operation: 6:30 a.m.-7 p.m. Monday-Friday; 7 a.m.-2 p.m. Saturday-Sunday
Station sampler: Hot/Cold Sandwiches, Grill, Pizza, Action Cooking, Soup & Salad Bar, Beverages, 24-Hour Cafe
Average check: $8
Cost of project: $9.6 million for kitchen and dining area renovations, approximately 11,500 sq. ft. total
Annual sales: $1.5 million
Foodservice manager: Celina Nicholson
Foodservice design: Eli Osatinski, president; Jason Clarke, project manager/director of production, Systems Design Int'l., Greenwood Village, Colo.
Architect: Boulder Associates, Boulder, Colo
Kitchen equipment contractor: Tom Schneider and Rene Zurn, Great Lakes Hotel Supply Co., Westminster, Colo.
General contractor: Andy Kelly, Saunders Construction, Centennial, Colo.
Custom fabrication: Scot Holley, John Lewis and Vicen Alvarez, BSI LLC, Denver
---
Equipment
---
Dishroom
Strahman hose station
Salvajor disposer (existing)
Power Soak/Unifi ed Brands sink
T&S Brass hose reel, control panel (existing)
Hobart/ITW FEG pot/pan washer
Fisher pre-rinse unit with faucet
Metro/Ali Group pot/tray drying racks
Prep Kitchen
McCall u/c refrig. (existing)
Electrolux pressure tilt skillet w/faucet, charbroiler, 4-burner range, double convection oven, double combi ovens, roll-in blast chiller
Gaylord exhaust hood
Cleveland/Welbilt tilt steam kettle (existing)
Randell/Unified Brands refrig. freezer base
ARC Specialties oven racks (existing)
Metro/Ali Group proofer cabinet (existing)
Doyon/Middleby rotating rack oven (existing)
Pitco/Middleby gas fryers
Hatco bain marie heater
Globe/Middleby 20-qt. mixer, automatic slicer
Edlund/Ali Group can opener
Berkel/ITW FEG vacuum packing machine
CookSpec RO water filtration system for combi ovens, RO water storage tanks
Catering
Victory/Ali Group roll-in refrig
Traulsen/ITW FEG reach-in freezer (existing)
BUNN hot water dispenser
Curtis water filtration system (existing)
RDT compressor rack
Larien Products bagel cutter (existing)
Waring pop-up toaster (existing)
Scotsman/Ali Group ice bin, ice machine (existing)