Features
Healthcare
Kitchen Design: Intermountain Hospital's Efficient Kitchen and Bistro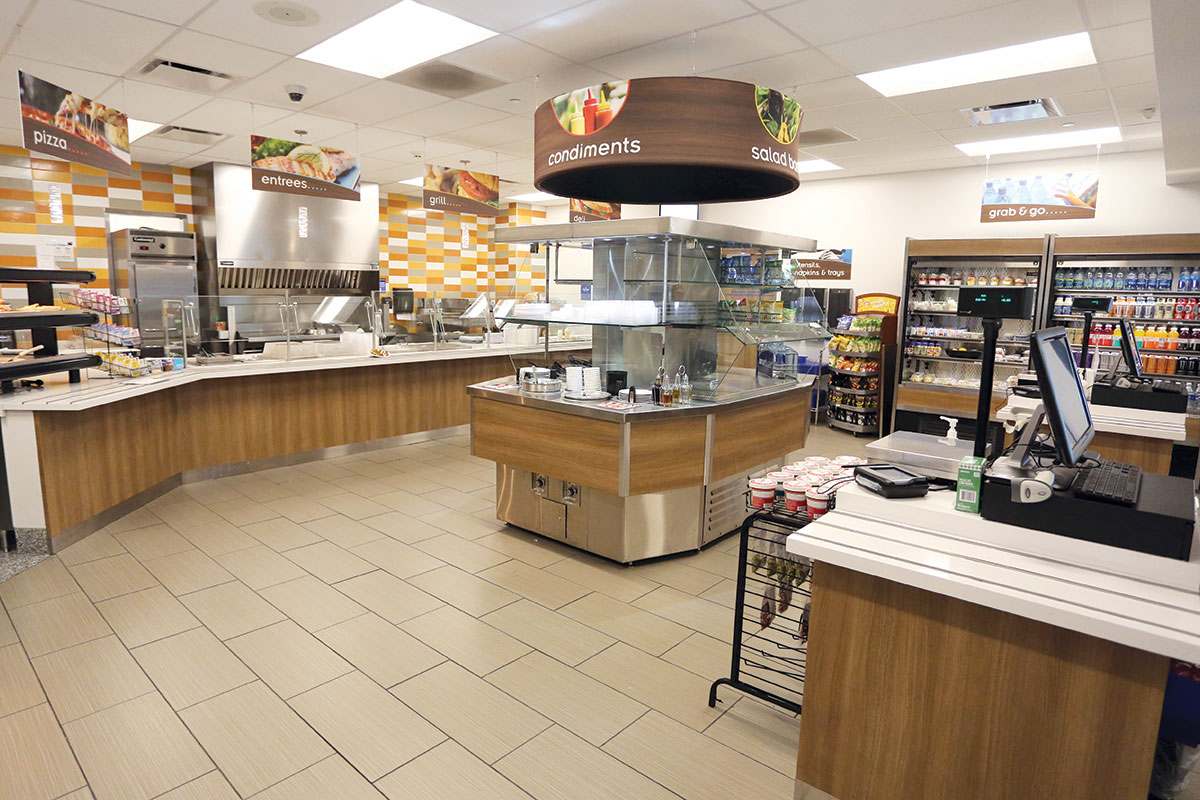 "Everything." That's the answer Foodservice Manager Jose Palacio gives when you ask what he likes about the kitchen and Neighborhood Bistro at the 50-bed Intermountain Layton Hospital in Layton, Utah, opened in October 2018.
"The flow is wonderful, the equipment is the best technology in the business right now and everything is centralized for our kitchen employees," says Palacio.
Sous chef Josh Broadbent agrees. "From a cook's perspective, it really is dialed down to everything being where you need it to be," he says. "You don't need to run or walk anywhere to find what you're looking for."
John Egnor, FCSI, principal of foodservice design and consulting firm JME Hospitality, says that the focus on functionality was there from the beginning as the hospital was being planned. "The architect and owner wanted the foodservice space to be as functional as possible, and designated just the right size of 5,000 sq. ft. to it," he says.
The bistro seats nearly 50 customers and completes approximately 250 transactions a day with an average check of $6.50, says Palacio. Additionally, Egnor estimates the facility serves 90 patient meals a day spread over three dayparts.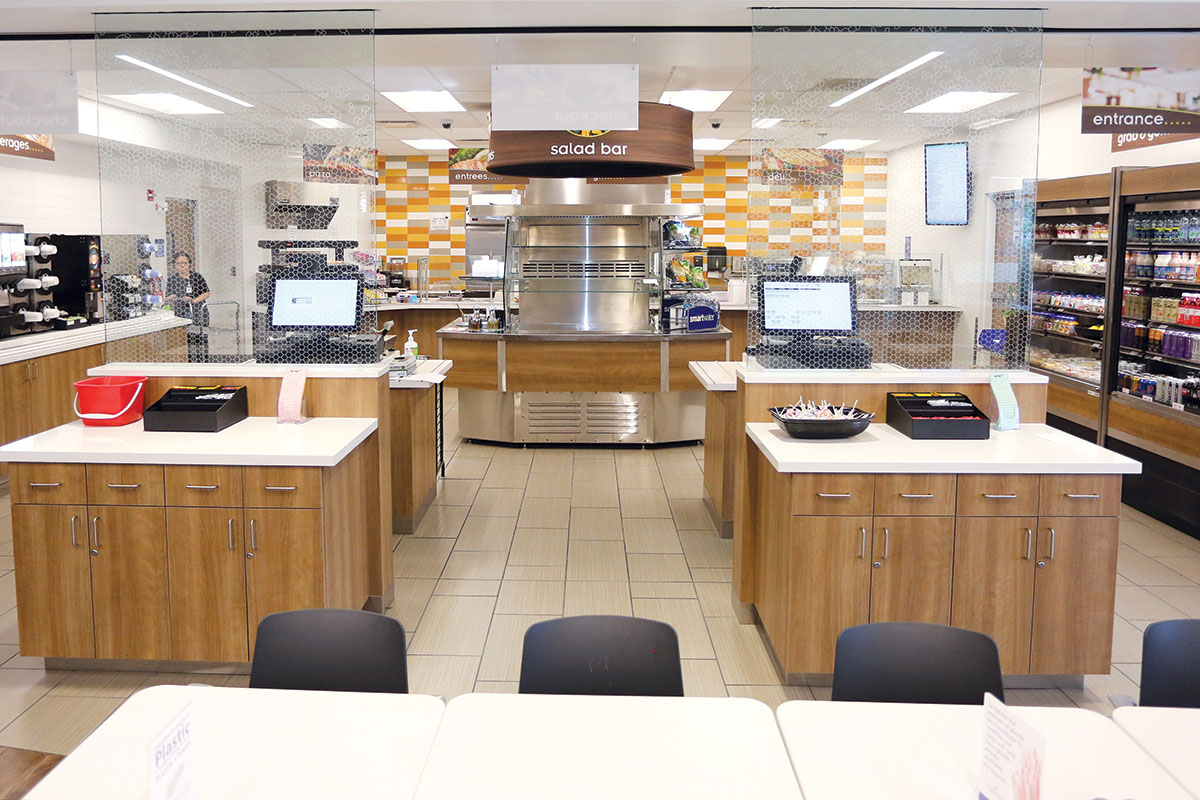 Efficiency Behind Everything
"Intermountain is a huge proponent of making everything as efficient as possible," Egnor says. "We designed function and flow into every area. There is nothing circuitous about the design; food and supplies come into the kitchen at one end and go out the other with no redundant operational flow." Food flows from the loading dock to the storage area to the prep area to the kitchen to the serving line to the customers, who then deliver their dirty trays to the warewashing/waste treatment area at the far end of the facility.
As for the equipment selection, designers noted that the culinary team wanted the ability to prepare any menu item they might come up with. "The equipment had to be fairly robust yet functional and able to perform multiple tasks," says Egnor.
Egnor points to a cluster of Montague equipment that includes a griddle, countertop underfired broiler, open top range and salamander. Maintaining the same family of equipment not only allowed purchasing at a better price, he says, it gives Layton consistency when it comes to service calls. "One service company can repair it all, rather than having to pick up the phone and call several companies," he says.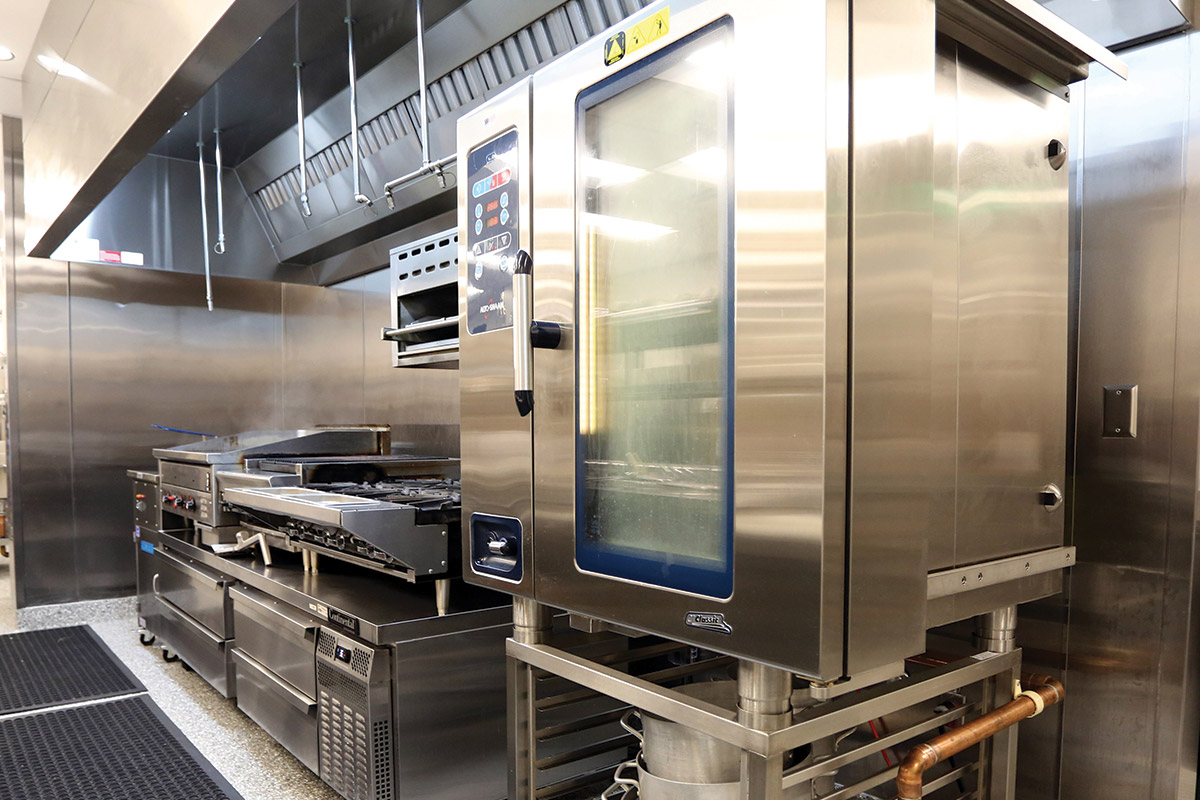 Matching Menu With Technology
To provide a healthful menu, Layton doesn't offer fried foods to the hospital's patients and bistro customers. Instead, it relies on two Ovention Matchbox ventless ovens for French fries, chicken nuggets and other traditionally fried foods.
Using an impingement cooking system, the ovens move product into a sealed chamber rather than transporting it on a continuous chain belt. One of the units at Layton features circular racks. One meal is placed on one side of the divided rack, another meal on the other side. The oven moves one meal into the heating chamber; when the meal is cooked, it rotates out as the other meal rotates in. Controls allow employees to program the oven to cook the first meal, say a protein for finishing, for a certain time and temperature and enter a different program for the second dish, say grilled vegetables. The oven cooks each dish to its own recipe specifications.
"The automatic handling of two meals lets the employee do other things at the same time. You can still keep making an omelet without having to go to the oven for the second task," says Egnor. "It makes employees more efficient and productive."
"The food tastes great and isn't overcooked," says Palacio. "We also use these ovens for reheating certain items like chicken. They work better than a microwave and food doesn't come out rubbery."
Another equipment highlight in the bistro includes the Wood Stone stone hearth oven, which employees use to cook pizza. "Intermountain wanted a retail side that had something different that would create visual impact and turn out pies that looked fresh and not from a chain," says Egnor.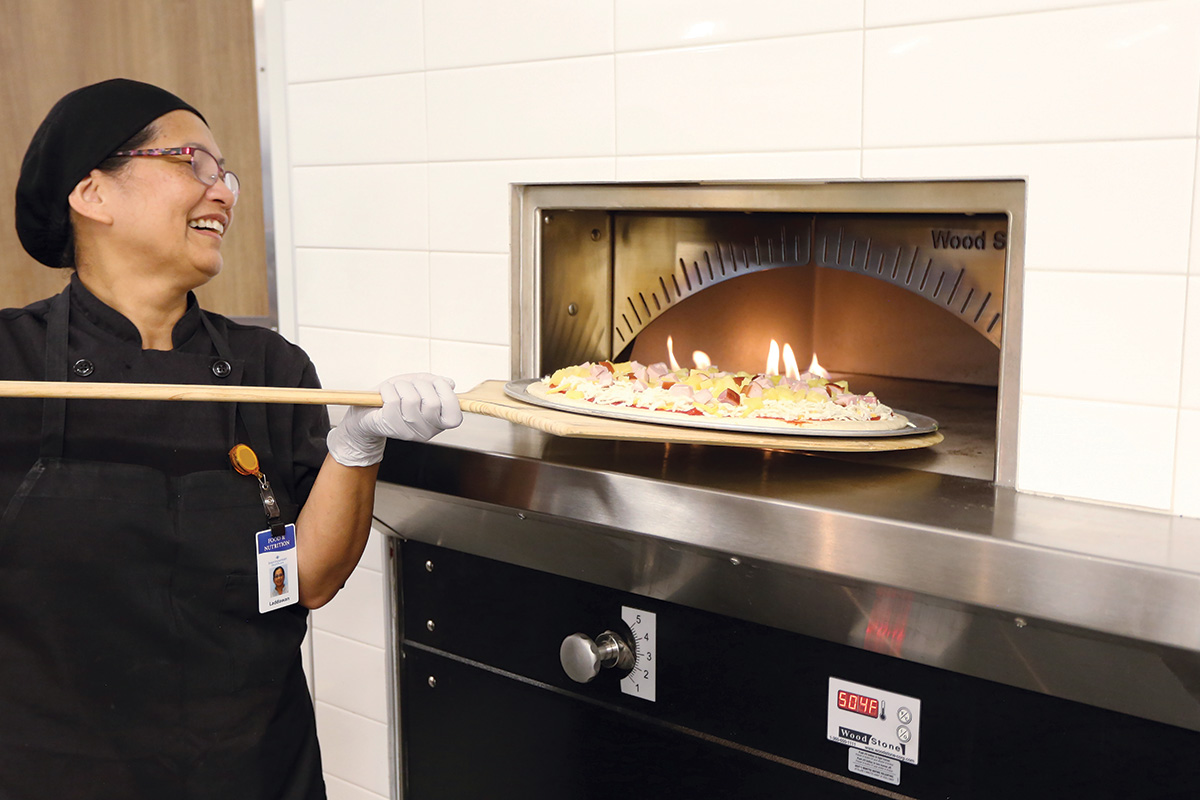 Waste Away
The use of innovative technology in the project doesn't end at the Neighborhood Bistro's cookline. All protein and vegetable food waste is weighed using Leanpath technology and then goes in a Power Knot LFC-200 biodigester where it is turned into liquid that drains with the rest of the operation's wastewater. Using enzymes, the device breaks the food down through an aerobic process and diverts tons of food waste from the landfill.
The kitchen staff weighs all wasted food using the Leanpath system to track how much food is wasted and when during the day to get a picture of what's popular and what's not. The food waste then goes into the biodigester where it drains after it liquifies. "We don't have a full year of data yet, but so far we've been able to modify our side dish offerings based on how much is wasted," Broadbent says.
The biodigester also tracks the total weight of the food it liquifies, providing daily, weekly and monthly updates. "Those reports give us an idea of how our environmental impact has decreased," says Broadbent. "Last month we diverted almost 2,000 lb. of waste from the landfill. It's incredible to see how we're impacting the environment and saving money in waste disposal costs in the long run."
From the food and supplies coming in at the loading dock to the liquid waste draining away from the landfill, it seems like the "everything" that Palacio likes about the hospital's foodservice operation is flowing just fine.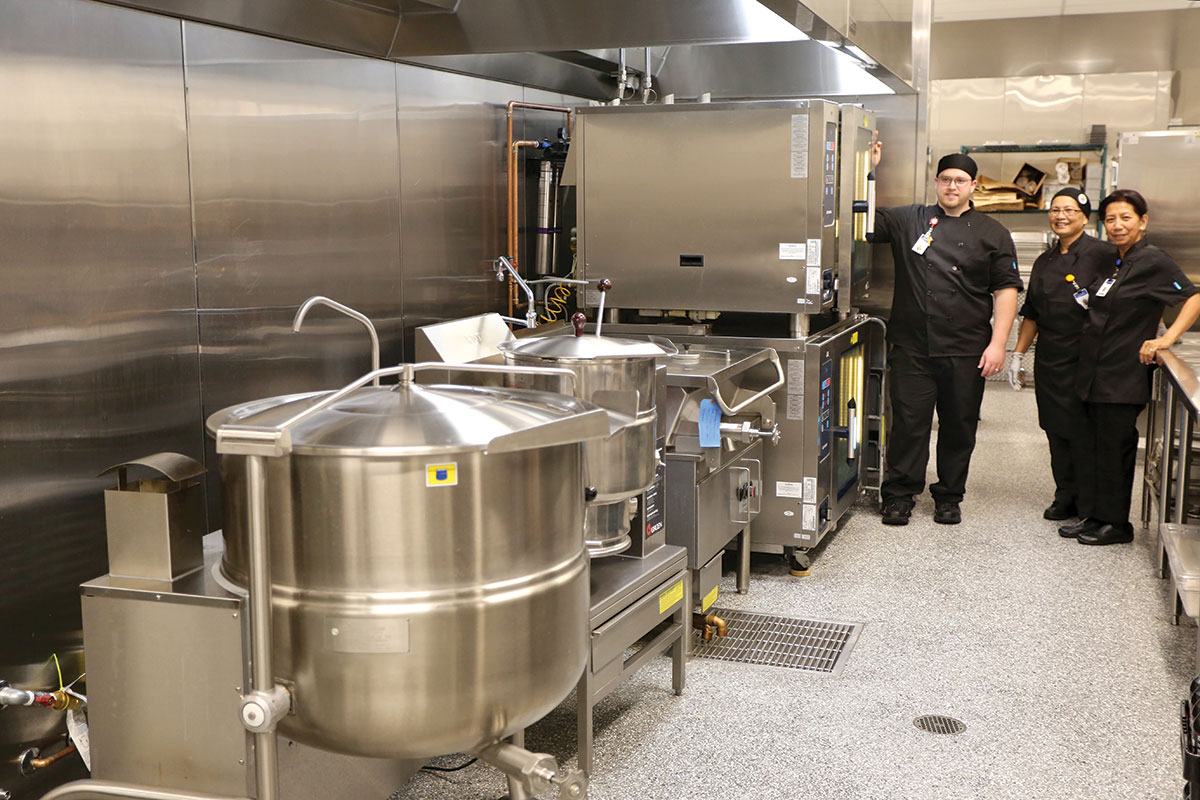 SPECS
---
Project: Bistro, patient-feeding and catering kitchen
Opened: October 2018
No. of Seats: 50 (Bistro)
Hours of Operation: 6 a.m.-9 p.m. (Bistro)
Average Check: $6.50 (Bistro)
Design Consultant: John Egnor, FCSI, principal, JME Hospitality, Pleasantville, N.J.
Total Budget: $270 million
Foodservice Design/Equipment Portion: $605,000
Architects/Interior Designer: Cortney Roundy, AIA, CCCA, LEED AP, HKS Architects, Salt Lake City
Dealer/Foodservice Equipment Contractor: Commercial Kitchen Supply, Centerville, Utah
Equipment
---
CATERING
Advance Tabco work table
Continental reach-in refrig.
Metro/Ali Group utility cart
PREP AREA/COLD & DRY STORAGE
Eagle Group ceiling-mounted rack
Cambro ingredient bin
Hobart/ITW FEG 5-qt. mixer, 30-qt. mixer, slicer
Cres Cor insulated radiant hot cabinet
Baxter/ITW FEG proof box
Thermo-Kool walk-in cooler, blast chiller/freezer
Channel Mfg. adjustable mobile shelving, steamable racks
MAIN PRODUCTION
Alto-Shaam cook/hold oven, combis, combi stand w/pan slide
Follett/Middleby ice storage bin, ice diverter, water filter, ice maker
Cleveland/Welbilt tilt kettle, tilt skillet, equipment stand
Eagle Group floor trough, worktable w/undershelf
Groen/Unified Brands tabletop kettles
Caddy exhaust hood
Ultrafryer/Standex gas fryer
Montague griddle, underfired broiler, range, salamander
Continental griddle stand, refrigs., sandwich prep table
Wells/Middleby built-in modular warmers
Panasonic microwave
Ovention oven
APW Wyott heated drop-in dish dispensers
Custom chef's table
Marshall Air Systems electric food warmer
Cambro dish/tray cart
Easy-Roll mobile roller sections, mobile bridge section, starter section
Aladdin Temp-Rite/Ali Group heat on-demand advantage activator, air-curtain refrig., dome racks
Cambro dish/tray carts
Ansul cabinets
Advance Tabco work table
WAREWASHING
Eagle Group wall-mounted pot/pan rack
Hobart/ITW FEG pot/pan warewasher,rack-conveyor dishmachine
Salvajor scrap basin, trough collector
Traycon soiled dishtable/tray belt conveyor
T&S Brass hose reel
Power Knot biodigester
Leanpath 360
BISTRO
Continental sandwich prep refrigs., worktop refrig., refrig. griddle stand, heated pass-thru cabinet
Ovention oven
Montague griddle, gas range
Caddy exhaust hoods
Wood Stone stone hearth oven
Wells/Middleby built-in modular warmers
Premier Metal & Glass food shields
Hatco merchandising warmers
Antunes cup dispenser
Follett/Middleby ice/beverage dispensers
CHAR Products open refrig. display case
Server Products condiment dispenser
Panasonic microwave
Structural Concepts refrig. cases
THROUGHOUT
Eagle Group hand sinks w/foot pedals
Metro/Ali Group shelving
Advance Tabco meal delivery carts
---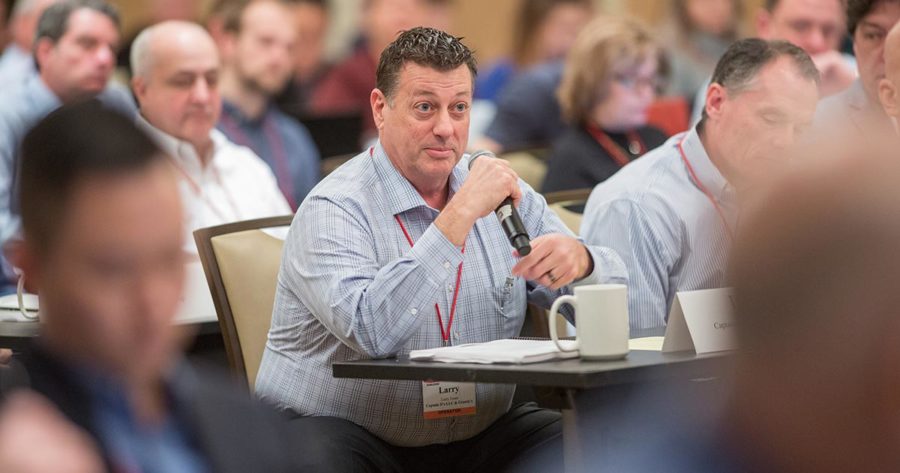 Advance Your Knowledge of Foodservice Equipment Technologies at MUFES
MUFES is a one-of-a-kind event for foodservice equipment decision makers from multiunit chains and noncommercial facilities.