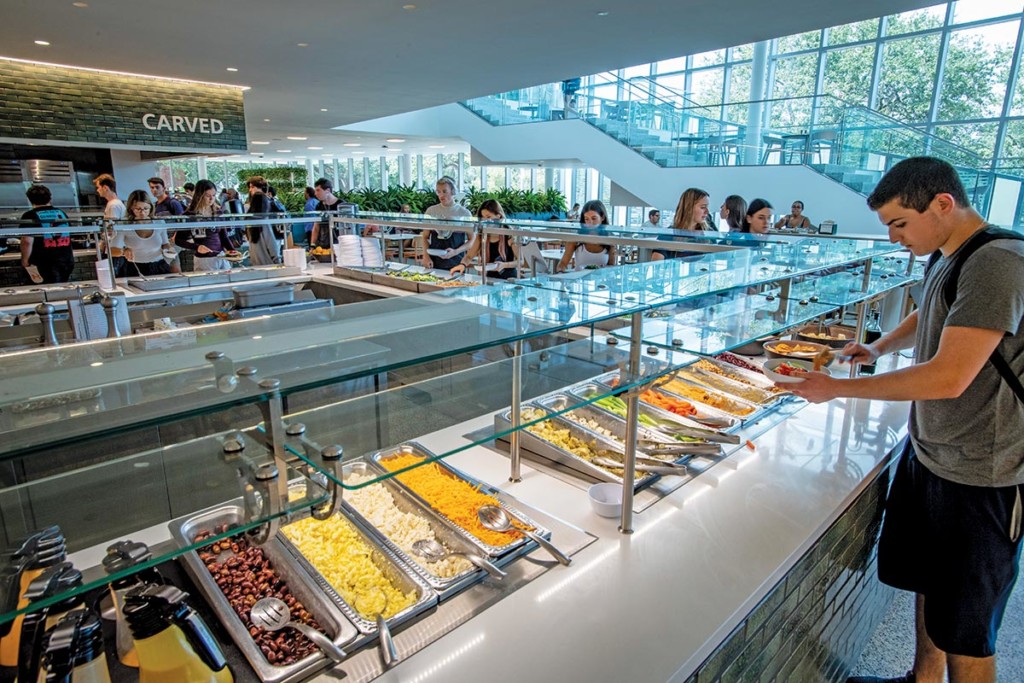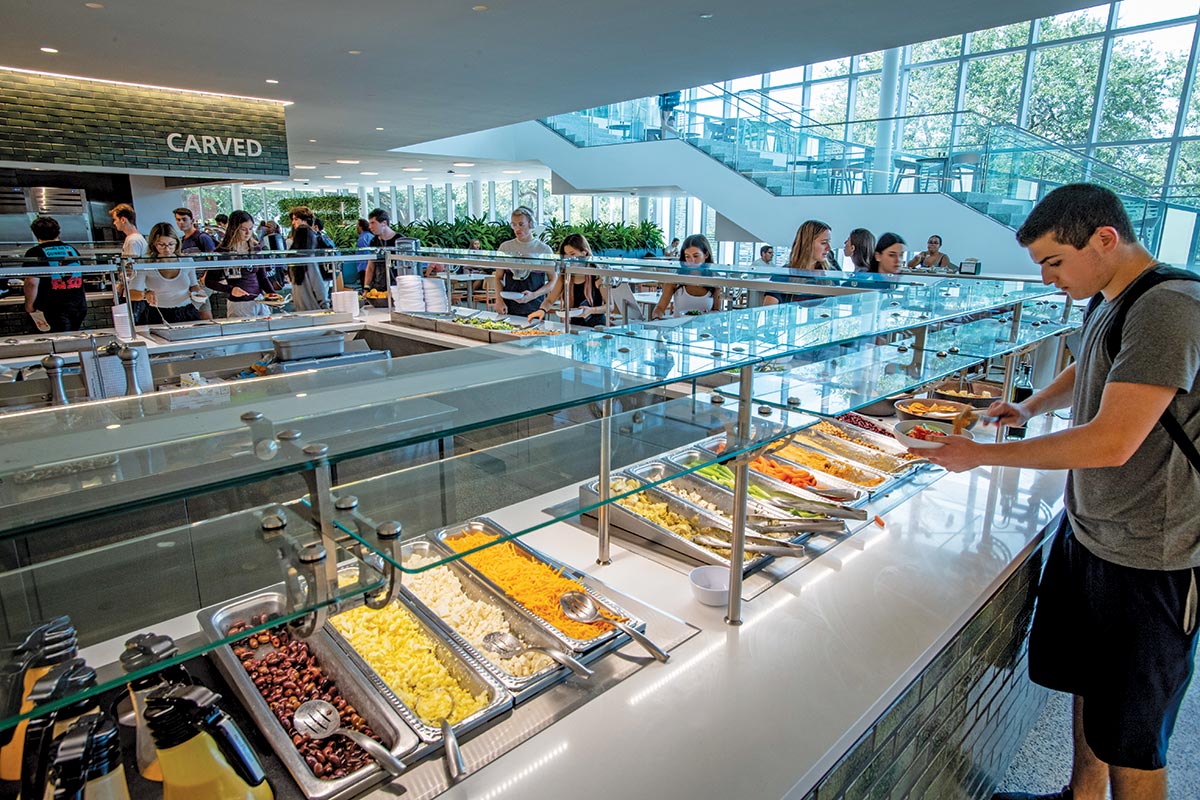 After the final meal was served at Tulane University's longtime Bruff Commons Dining Hall, the school marching band played a dirge befitting any jazz New Orleans funeral. The next day, a new facility opened two blocks away. As students poured into The Commons, they discovered a two-level servery featuring display cooking at nine well-appointed stations, and filled with natural light and plenty of places to sit, hang out and create community. The Commons almost overnight has become the new hub at Tulane.
Designed by the New York-based architecture firm Weiss/Manfredi, The Commons is a $55-million, three-story building with angular lines and contemporary glass walls that make it a can't-miss landmark on Tulane's Central Quad. Two full floors are devoted to foodservice, lounges, and table and bar-style seating. The building's top floor houses the Newcomb College Institute, an undergraduate college for women's leadership. The street-access mezzanine level holds a marketplace/convenience store, bakery and kitchen support storage.
"The sheer vastness of the space and number of offerings never fail to impress," says Tulane's Senior Vice President and COO Patrick Norton. "We've got 77,000 sq. ft. with floor-to-ceiling windows, and stations serving made-to-order food options featuring international cuisine, 'only at Tulane' menu items and a chef's table [showcasing] celebrity chefs throughout the semester. There's something for everyone."
Many Goals, One Building
Planning for The Commons began in 2015. Among Tulane's main goals for the facility were to offer a New Orleans-worthy dining experience via open kitchens, to maximize capacity and seating to serve the school's growing population and to boost platform versatility to carry The Commons into the future. Hurricane readiness too was a priority.
Concept ideas started with food, naturally. "We went for the low-hanging fruit for a food city like New Orleans," says James Davella, FCSI, president of New York-based foodservice consulting firm Davella Studios. "Red beans and rice, fried chicken and gumbo. Then we challenged the clients with new areas—allergen-free, vegan, chef showcase and various cooking styles. All this was a huge departure from Tulane's decades-old existing food hall, Bruff Commons."
As for space and capacity, "initial building plans called for four floors," Davella says. "This was compressed to three floors in a move to better build community. Our challenge was how to fit 1,000 seats into a space that was expected to serve up to 4,500 meals per day, without expanding to a three-floor foodservice operation."
Disaster planning factored into the broader building design. "Every decision was informed by how it played into hurricane readiness," Davella recalls. As a result, The Commons exceeds FEMA guidelines with its main floor some 14 ft. above sea level.
"It's almost as if the building is on a pedestal, standing higher than surrounding buildings," Davella says. The foundation rests on pylons that reach down to the bedrock. And most of all, a massive generator fueled by natural gas can power the building.