Taking Flight: Choosing Flight-Type Dishmachines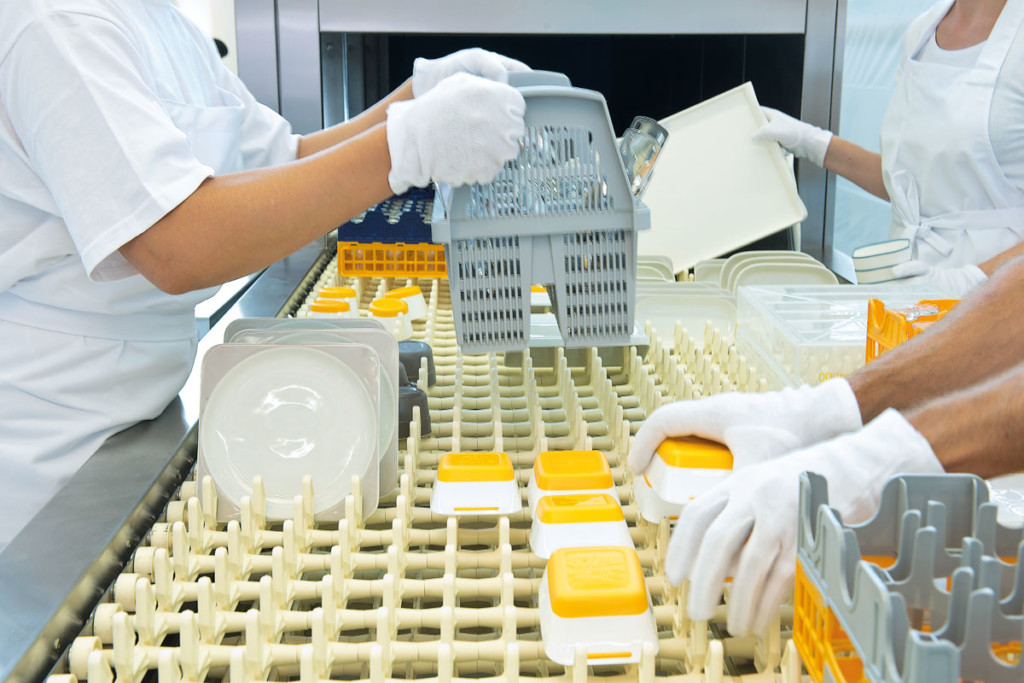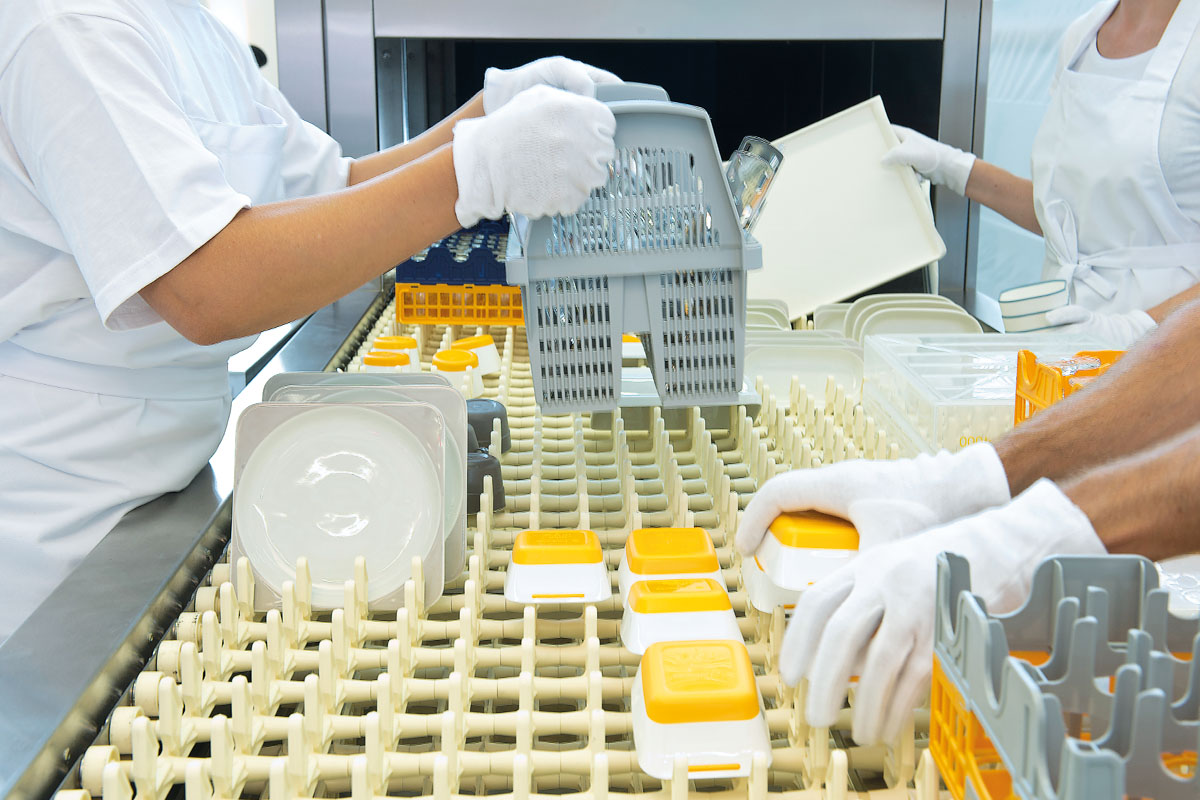 As shelter-in-place orders lift, rearranging dining rooms or boosting takeout and delivery offerings may get a fair share of attention, but safety and sanitization also are top of mind. Dishrooms are a crucial place where those concerns come together, and for high-volume foodservice operations, flight-type dishmachines are the engine.
Manufacturers have spent years making these behemoths of the dishroom more water and energy efficient. Now, with water consumption for flight-types at an all-time low, makers continue to work on improving energy efficiency through heat reclamation and upgrades to certain components. They also are looking at connectivity, to wirelessly transfer machine data and operating logs. All of these features aim to meet operators' growing need for a more efficient workflow and reduced operating costs.
Boosting Efficiency
While some flight-type dishmachines offer heat recovery through steam capture, at least one manufacturer now uses an airflow management system instead that retains and redirects warm air inside the machine, improving heating efficiency and reducing exhaust emissions. Ventless flight-types also are available and these models remove as much steam as possible before it hits the dishroom, reducing the amount of latent heat and making for a more comfortable work environment, and lowering HVAC costs.
Other manufacturers have improved efficiency through insulated doors, or by adding additional strip curtains to help keep heat inside the machine.
New features, including an automatic drain in the wash tank that empties water at the push of a button (versus manually removing the pipe), hinged doors that open wide and interior lights, all help operators get the inside of a machine as clean as possible.
For extra-hard-to-reach places, one manufacturer plans to introduce a self-cleaning mode with a set of dedicated nozzles directed at the dead zones of the machine. "The cleaner a machine is the more efficient it is, but also the more hygienic it is, which is more of an issue now than ever before," says one manufacturer.
Making Connections
Smart kitchens are the way of the future, and flight-type dishmachines are getting on board with user-friendly control panels, internal 1 sensors to improve operations and connectivity advancements.
"It's important to remember the person operating the machine is often very different than the engineers and administrators making the purchase," says one manufacturer. "Therefore, our goal is to make a machine that's durable and easy to use for anyone."
One way manufacturers are making flight-types more user-friendly is by installing touch-screen control panels. Changing the old circuit board to a programmable logic controller allows operators the ability to see in real time things such as water temperature and cycle times. It also allows for automated service and maintenance alerts and provides built-in diagnostics to save time and money on service calls.
"The cleaner a machine is the more efficient it is, but also the more hygienic it is, which is more of an issue now than ever before."
Connectivity through Bluetooth technology also is available on flight-types from at least one manufacturer, with another planning to launch a similar feature by the end of 2020. Connectivity allows operators to monitor performance on one or multiple machines through a single portal. Smart machines can track and collect data on:
• Water and energy consumption
• Chemical and detergent use
• Water temperatures
• Number of cycles run
• Number of times a door opens
• Operations of components such as nozzles and booster heaters
• Service and maintenance duties.
Collecting data is one thing, but using it to make improvements is where operators reap the benefits. Analyzing water and energy use can show a headquarters team where some facility managers do things efficiently, and then they can share those best practices throughout the organization. Data on water temperatures could help with food safety compliance. Connected dishmachines also provide the option of remote access capabilities, which can give a manufacturer the ability to dial in and walk an operator through simple diagnostic and service issues. This ability in turn reduces the machine's downtime, improves efficiency and helps lengthen its life.
Improving Operation
One big mistake operators make when purchasing a flight-type dishmachine is simply swapping out an old unit with a new one. In many instances, the existing flight-type had run for as long as 20 years. A lot can change in that time. Take the opportunity of having the machine out of the room to do some renovations, replace the flooring and check the pipes and ductwork to make sure everything is in good repair.
Look at the airflow in the room and the load put on the HVAC. This is a good time to make improvements in ventilation that could help support a comfortable work environment and boost energy efficiency.
In addition to the physical aspects of the dishroom, take time to assess the workflow. "At the end of the day, dishwashing is a logistical process," says one manufacturer. "Planning for a new machine is a good time to optimize your process." Use your volume to plan for adequate space on the accumulation side, and on the other end make sure to have enough shelving or carts for clean dishes. Work with designers to set up the room for maximum efficiency for employees, so they spend more time working and less time running from one end to the other.
Consider sanitation as well. Rather than having the same employees load and unload, maybe designate different people for those areas. Some places might even put a wall between the load end of a flight-type, and the unload end, for added separation. Keep dirty carts separate from clean ones.
Finally, make sure to choose a flight-type that accommodates the type of wares used in the facility. Most manufacturers recommend sending samples to ensure the right door height and conveyor type for optimum efficiency.
Comparing Costs
Budgeting considerations for a flight-type dishmachine include more than just the initial purchase cost. Manufacturers help with cost comparisons that take into account energy use and water consumption over the life of the machine. Remember these numbers are like looking at the gas mileage calculations on a newcar sticker; they represent optimum conditions. Make adjustments for water and energy costs in the area where the flight-type will operate. Other things to include in the budget:
• Installation costs
• Service contracts
• Four to seven days of disposable ware to keep operations running during installation
• Renovation costs
• HVAC costs for the dishroom above and beyond the energy use of the machine.
"It's important to remember the person operating the machine is often very different than the engineers and administrators making the purchase."
Purchasing a new flight-type dishmachine is a team effort. Make sure to talk with consultants, go tour the plants if possible, and include the maintenance department as well as kitchen managers in pre-installation meetings. With proper planning, a new flight-type can improve productivity and reduce utility costs, giving a greater return on investment.
A Glimpse Into the Future
What's next for flight-types?
In the next few years manufacturers say operators could see:
• More cloud-based platforms, for smart kitchens to store, exchange and analyze data.
• Robotic arms with the ability to preprogram them to put dishes on a rack and even prescrap them.
• Ergonomic advances, such as changes in belt height to improve operator comfort.
---
Flight-Type Workbook
Ready to research a new flight-type dishmachine? Start here by reviewing specifications of recent models from seven suppliers.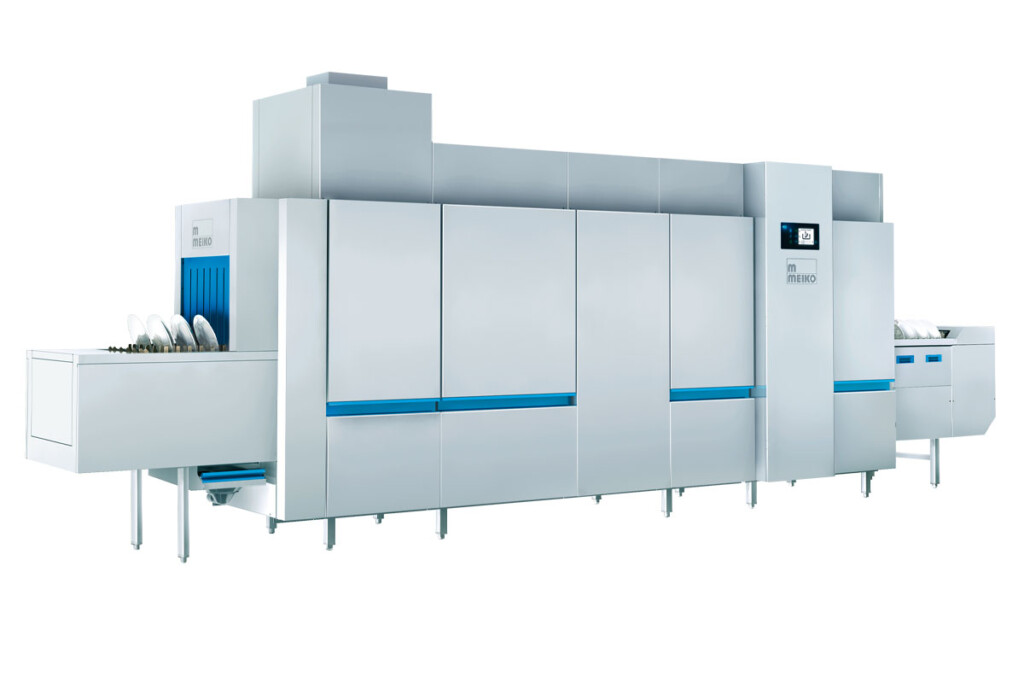 MEIKO
MODEL: M-iQ B-M74 Series
CAPACITY: Up to 10,828 dishes/hr.
WATER CONSUMPTION: 57 gal./hr.
BELT WIDTH: 29½ in.
FEATURES: Connectivity capabilities; retains and redirects hot air within the machine, improving heating efficiency and reducing emissions.
ENERGY STAR-RATED: Y
WEBSITE: meiko.us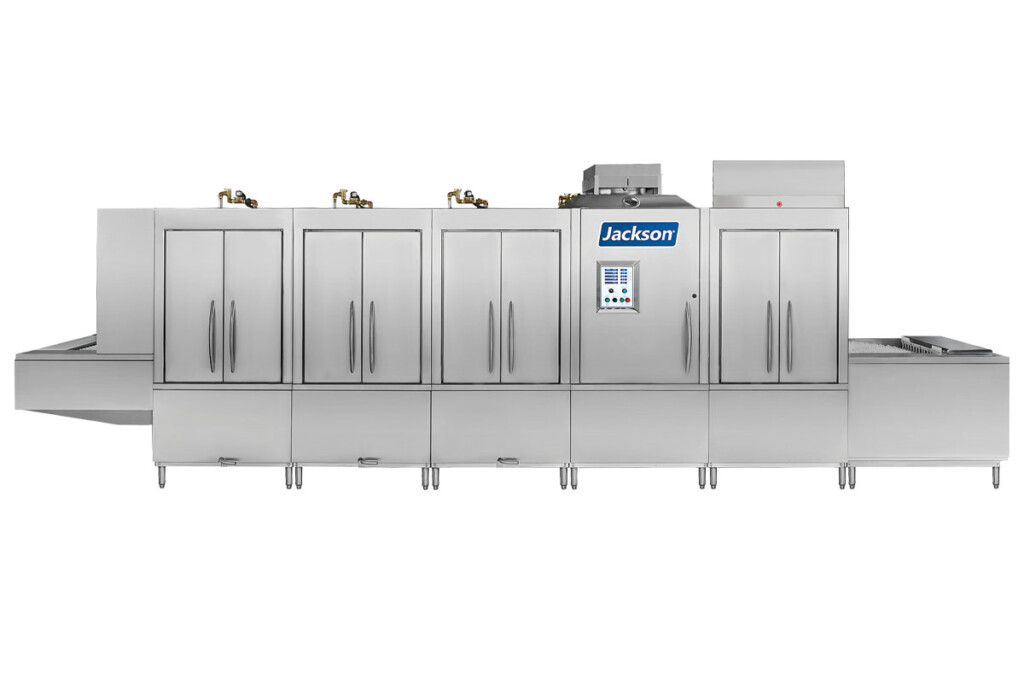 Jackson
MODEL: FlightStar
CAPACITY: Up to 14,964 dishes/hr.
WATER CONSUMPTION: 53 gal./hr. (Econo Rinse); 123 gal./hr. (Turbo Rinse)
BELT WIDTH: 29 in.
FEATURES: Adjustable rinse options; LED digital readout displays water temperature; Rainbow Rinse for optimal rinse action while reducing water consumption.
ENERGY STAR-RATED: N
WEBSITE: jacksonwws.com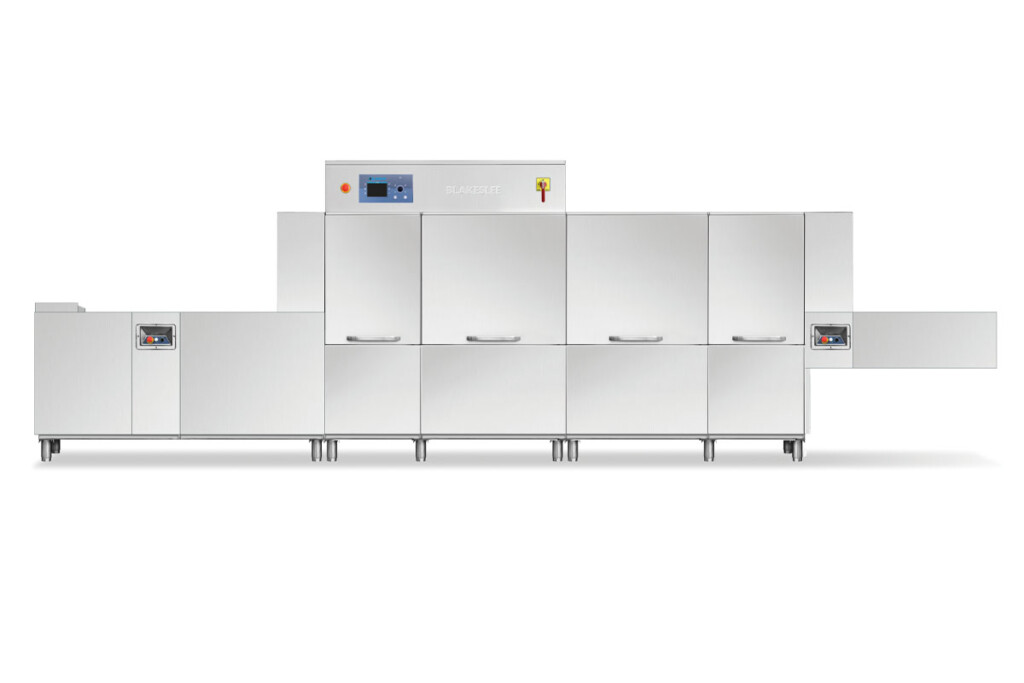 Blakeslee
MODEL: QX PRO 536
CAPACITY: Up to 15,300 dishes/hr.
WATER CONSUMPTION: 57 gal./hr.
BELT WIDTH: 28 in.
FEATURES: A 5-speed conveyor system with built-in clutch that stops belt if it senses excessive strain; 5 7/10 -in. display and electronic soft-touch keyboard; dual-rinse technology.
ENERGY STAR-RATED: N
WEBSITE: blakesleeinc.com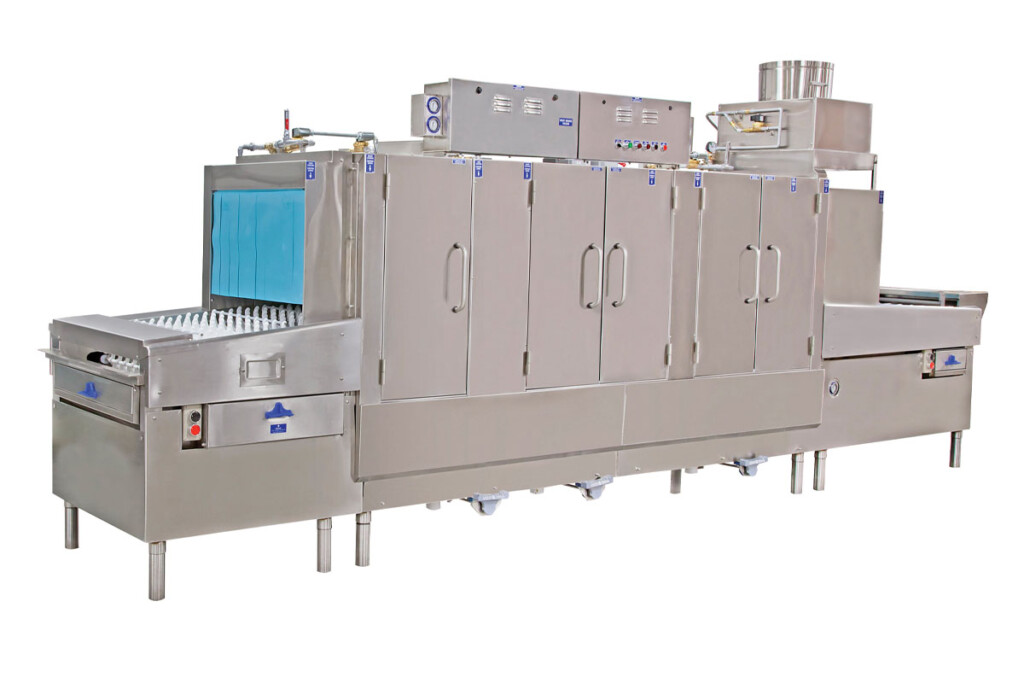 Stero
MODEL: STPCW-ER3T
CAPACITY: 13,689 dishes/hr.
WATER CONSUMPTION: 58 gal./hr.
BELT WIDTH: 31 in.
FEATURES: A 7-gauge, full-perimeter welded stainless frame; 16-gauge, 304-stainless welded tanks and hoods; variable speed conveyor; heat recovery optional.
ENERGY STAR-RATED: Y
WEBSITE: stero.com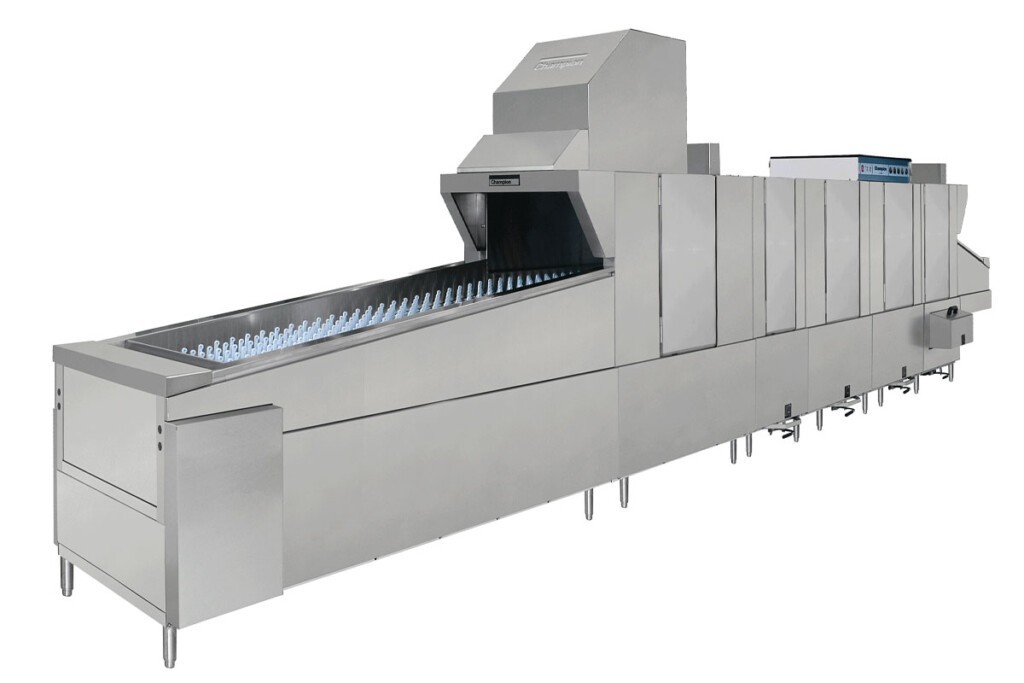 Champion
MODEL: EUCCW Series
CAPACITY: Up to 15,027 dishes/hr.
WATER CONSUMPTION: Up to 58 gal./hr.
BELT WIDTH: 29 in.
FEATURES: Factory authorized startup; dual-rinse technology; heat recovery optional.
ENERGY STAR-RATED: Y
WEBSITE: championindustries.com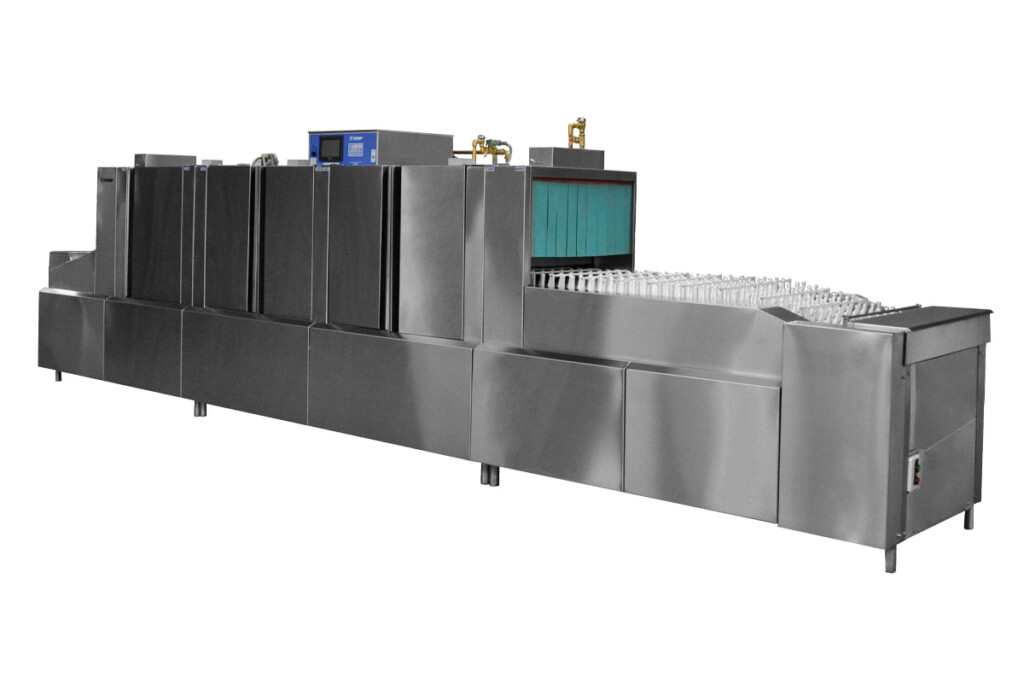 Insinger
MODEL: Master RC (Four Tank)
CAPACITY: 18,302 dishes/hr.
WATER CONSUMPTION: 100 gal./hr.
BELT WIDTH: 26 in.
FEATURES: CrossFire Wash System for optimal cleaning; wide, insulated swing-out doors; interior work lights.
ENERGY STAR-RATED: N
WEBSITE: insingermachine.com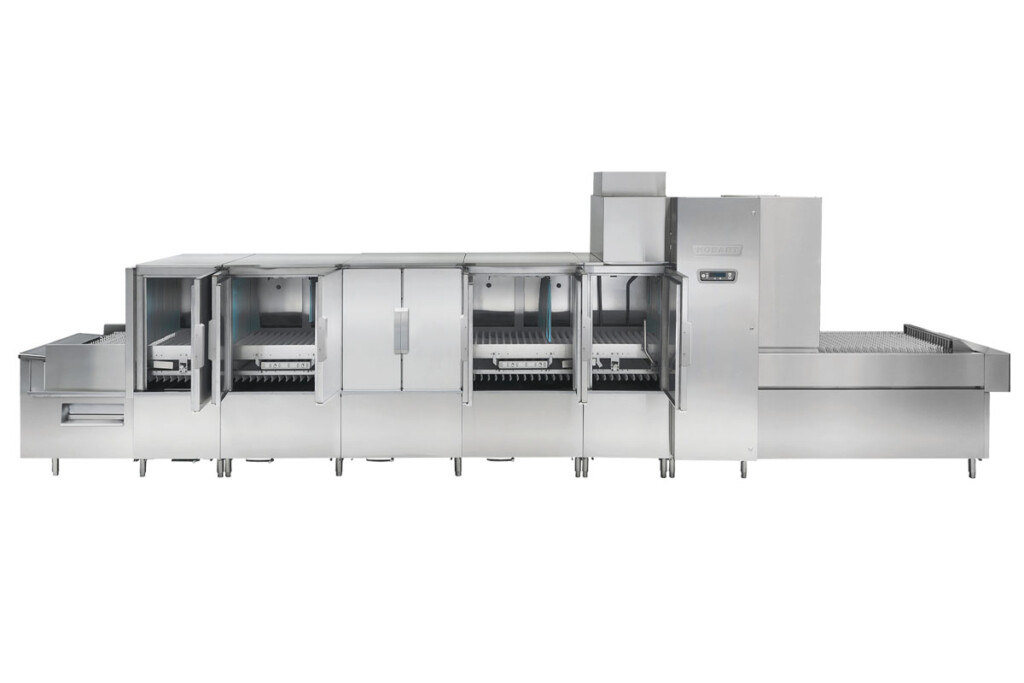 Hobart
MODEL: FT1000e Advansys Electric
CAPACITY: 14,316 dishes/hr.
WATER CONSUMPTION: 58 gal./hr.
BELT WIDTH: 30 in.
FEATURES: Ventless; recycles energy to heat incoming water to booster; digital controls with diagnostics; hinged, insulated doors.
ENERGY STAR-RATED: Y
WEBSITE: hobartcorp.com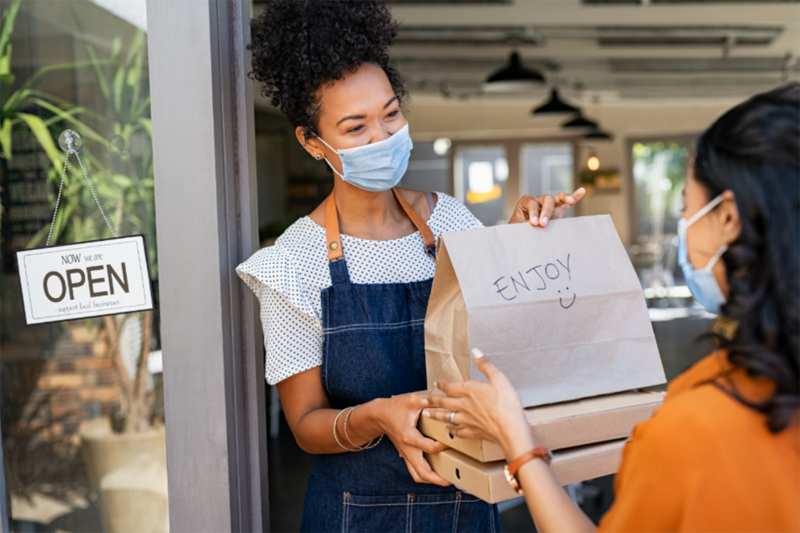 Equipment
For restaurant operators, 2022 will be a pivotal year filled with promise, challenges, and change. As coronavirus cases continue to decline, medical experts believe the pandemic phase of COVID-19 is…