Becker College, with campuses in Leicester and Worcester, Mass., has a history that dates back to the 1700s. So when Becker administrators decided to build a new student center on its Leicester campus, they requested a building whose architecture matched existing stately red-brick campus structures—but with an interior as contemporary as befitting the school's forward-thinking educational mission. And that included the all-important foodservice operations.
The result: Boutin Dining Hall, located on the main floor of the 35,700-sq.-ft., $9.5 million George F. and Sybil H. Fuller Campus Center. The dining hall now serves as the culinary heart of the two campuses, serving 2,100 students.
Boutin's design, featuring a 2,800-sq.-ft. front-of-house and a 2,400-sq.-ft. back-of-house, uses an equipment-forward layout that keeps the kitchen footprint to a minimum while maximizing display-cooking action for customers at its various stations. Additionally, flexibility in the form of double-sided access was used at key points in both the front- and back-of-house.
Most of all, however, planners aimed for a place where people can eat, relax and interact. "Our goal was to bring a warm, modern feel to the new dining-services operation," says Sr. Dir. of Dining Services Robert Wilder, Chartwells/Compass Group, Charlotte, N.C.
Becker College leaders involved in creating the Fuller Campus Center included CFO David Ellis and former Student Affairs V.P. Ken Cameron as well as Wilder. The architectural firm overseeing building design details was William J. Masiello Architect, Boylston, Mass. The foodservice design firm responsible for kitchen and servery layouts was Colburn & Guyette Foodservice Designers/Consultants, Rockland, Mass., including Principal Todd Guyette, FCSI; Senior Associate and Project Manager Edward Arons, FCSI; and Assistant Project Manager Joshua Labrecque.
"Our design team worked with Chartwells in the development process to provide all necessary platforms and equipment for the new operation," Arons says.
Touring Boutin
From the main doors of the Fuller Campus Center, a gently curving passageway leads visitors straight to Boutin's doors. A long line of windows showcases Boutin's servery and seating area. A well-equipped snack bar, immediately to the left of the entrance, lets Chartwells extend service hours late into the night.
Boutin's design combines curves and colors (deep blue, lime green and earth tones) to guide guests to the serving point of their choice. The servery's main stations are the Grill, Pizza/Pasta (anchored by a Wood Stone pizza oven with an attention grabbing flame-filled opening) and Exhibition. A Grab-and-Go cold display case, Deli station and free-standing Soup/Salad island round out the offerings.
An open counter to the right of the Pizza/Pasta station visually links the kitchen with the front-of-house, giving guests a look into behind-scenes kitchen action.
"The pizza oven's make station, cutting station and product display area are within steps of each other, making it an efficient, interactive focal point within the servery," Arons says.
The Grill station has its own flat-top grill, charbroiler and double fryer, one side of which is dedicated to the Grill station while the other side supports a nearby station's frying needs. From the Grill, a passageway to the kitchen lets workers move back and forth as needed.
The Deli has space for two workers during peak times. "Placing the panini press on the front counter rather than the back helps reduce unnecessary steps," Arons says. Ample workspace, backup refrigeration and slicing equipment allow most of the Deli's prep work to be done on the spot and in view.
Boutin's seating area feels far bigger than its 254-seat capacity thanks to a wall of windows providing a view of the campus down a hill below, including an almost bird's-eye view of Becker's football field.
As designers worked out plans for the servery and kitchen, goals included maximizing equipment flexibility and minimizing steps needed for supply runs during peak serving hours.
Equipment flexibility comes from equipment choice and installation. Countertop equipment—such as the panini press in the Deli station or the countertop range in the Exhibition station—can be swapped out easily when changing food trends call for different equipment. Other equipment has built-in flexibility: "All serving wells can operate as hot or cold units, depending on that day's menu," Wilder says.
For larger cooking pieces, designers specified mobile units with quick-disconnect hookups. In the Exhibition area, a mobile refrigerated base supports three open burners plus a condiment rail.
"The burners are a visual draw for today's customers, but thanks to its quick-disconnect gas attachment and casters, in a year or two or five, if the operator wants to revamp the station, the piece can be easily wheeled out to accommodate new equipment," Arons says.
Smart equipment placement helps reduce excess steps by staff. "Each station has its own refrigeration and prep area, so staff can prep food while continuing to serve customers," Wilder says. Additionally, full-height and undercounter refrigeration and heated cabinets hold product at the ready during service hours. A refrigerated pass-through unit lets the kitchen feed a steady stream of prepped product to servery stations.
Functional Flow And Dual Access
A well-placed layout paired with dual-access elements boosts Boutin's efficiency.
The product flow path starts at the receiving dock, positioned conveniently close to and on the same level as the walk-in cooler. A prep area sits opposite the cooler, positioned to supply both the cookline and servery stations. The freezer and dry storage anchor the far back, while warewashing holds a central spot accessible to the prep area, kitchen and servery stations.
Dual-access elements can be found in the Coffee Bar and dishroom. The Coffee Bar, positioned at the entrance to the servery, is built with one side facing the building's commons and library and the other into the servery. The 200-sq.-ft. station is equipped with its own POS, specialty coffee equipment, juice dispensers, undercounter refrigeration and ice caddy, air pots, an airscreen display case for grab-and-go items and a TurboChef oven.
"The Coffee Bar can be run by one person," Arons says, "and its late-night hours [until 11 p.m.] make it handy for students and staff."
Another dual-access station can be found in the dishroom's no-tech, cost-effective system for dirty dish and tray collection. Instead of a tray accumulator station or full-height window to collect customers' soiled dishes, the design team opted to install a simple millwork counter lined with a sequence of cutouts. Labels indicate what item goes where, such as dishes, silverware, glasses, garbage and recyclables.
"Students scrap their own plates [made of sturdy melamine] and place their wares into the appropriate cutouts. On the dishroom side, workers place bussing tubs under each cutout to collect the various, nicely separated items. They collect the tubs, which are then placed into queues for loading into the warewasher," Arons says. "The result is more visually pleasing than a tray-collection window, far less expensive than a tray accumulator would have been and requires minimal space to implement."
The cutout-and-bin system has worked so well that the foodservice director from another New England college toured Boutin and later implemented a similar dish-collection arrangement at that college's servery.
Fuller's Green Elements
Boutin's energy-saving kitchen elements include on-demand, variable-speed kitchen ventilation hoods and the latest technology in walk-in coolers and freezers. "Rooftop condensers aid in cooling, while a smart-defrost mode only cycles on when needed, making the refrigeration equipment more efficient than timer-based units," Arons says.
Other green elements installed at the Fuller Campus Center include:
• Carpets, windows and ceilings made from recycled materials
• Energy-efficient cool flat roofs
• High-efficiency HVAC systems
• Heat-recovery systems on equipment
• Low-flow plumbing fixtures, such as pre-rinse nozzles
• LED lighting
• Natural daylight provided by bays of windows to capture sunlight, reducing electrical use
• High-performance window glazing to reduce air conditioning demand
Fuller Campus Center and Boutin Dining Hall were awarded an Outstanding Design Award for Post-Secondary Educational Facilities in American School & University's 2013 Architectural Portfolio.
SPECS
MENU/SEGMENT: College/university
LOCATION: Becker College, George F. & Sybil H. Fuller Campus Center, Leicester, Mass.
HOURS: Monday-Friday, 7 a.m.-7 p.m.; Saturday-Sunday, 10:30 a.m.-6 p.m.
SERVERY AND KITCHEN SIZE: 5,200 sq. ft.
SEATING: 254
MEALS PER DAY: 750
STUDENT POPULATION: 2,100 (Worcester and Leicester campuses)
KITCHEN DESIGN & EQUIPMENT BUDGET: $700,000
FOODSERVICE OPERATOR: Senior Director of Dining Services Robert Wilder, Chartwells/Compass Group, Charlotte, N.C.
KEY DESIGN PARTNERS:
Becker College Contacts: CFO David Ellis and former Student Affairs V.P. Ken Cameron
Foodservice Consultants: Principal R. Todd Guyette, FCSI; Senior Associate & Project Manager Edward Arons, FCSI; and Assistant Project Manager Joshua Labrecque; Colburn & Guyette Foodservice Designers/Consultants, Rockland, Mass.
Architectural Designers: William J. Masiello Architect, Boylston, Mass.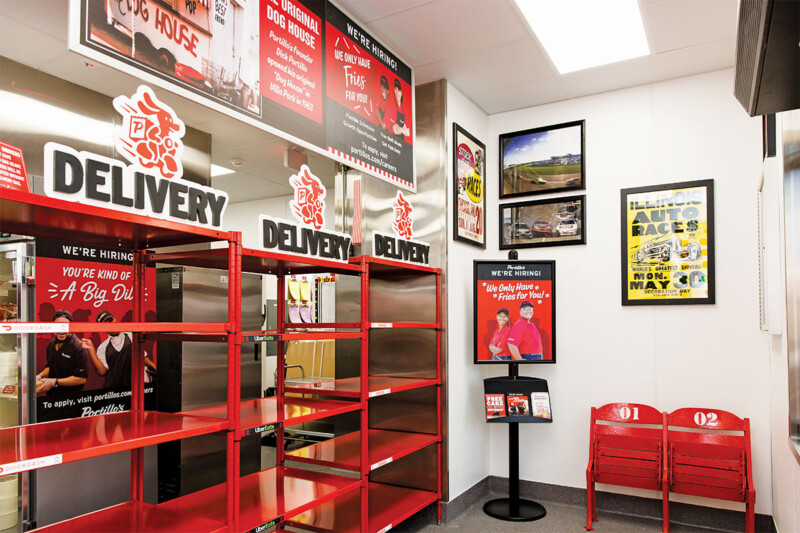 Design
With three drive-thru lanes and no dining room, the Chicago-born brand covers new ground in Joliet, Ill.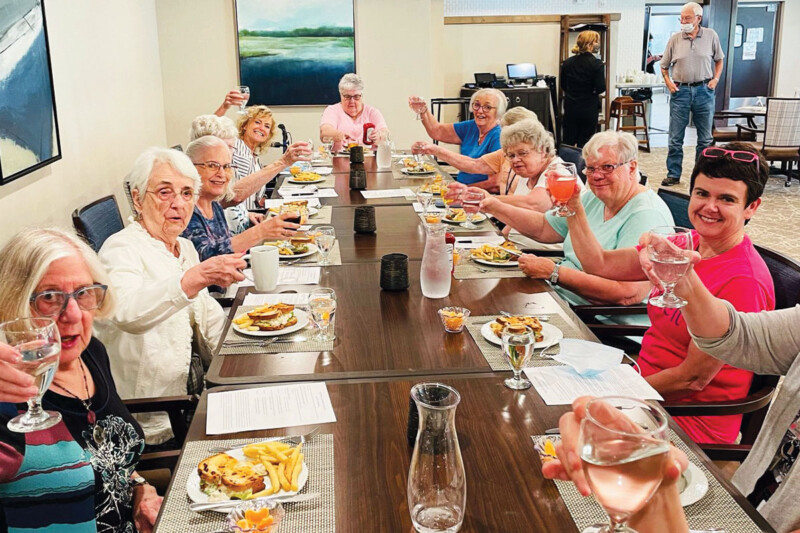 Design
Everything from the preferences of baby boomers to staffing shortages are driving innovation in this segment.