Kitchen Design
Rock-Solid Sbarro
It ain't your mama's shopping mall Sbarro anymore. The 850-unit, Columbus, Ohio-based chain's edgy new prototype puts the spotlight squarely on pizza by stripping away distractions (goodbye, red and green Italian flag accents, wordy menu board, and steam tables of pasta) and focusing attention on the pizza-making action and its mouthwatering pies.
The new prototype, which debuted in Columbus last April, features a bold, black subway-tiled wall featuring a tone-on-tone version of its new logo, a pared-down menu board, European-style food displays and a tempting selection of new hand-held menu items. The equipment-forward layout gives customers a close-up view of pizza-making action while selling Sbarro's "made-by-hand" message.
As of this month, six Sbarro stores have undergone the makeover—and have enjoyed "double-digit sales growth and a 2% improvement in food costs compared to a control group of about 30 existing stores," says Sbarro Chief Design and U.S. Development Officer Paul Gresham, who previously led design for Chick-fil-A and Yum! Brands' KFC. He adds that improved food costs are mainly due to new equipment and cooking processes, and to menu updates that dramatically lowered food waste.
As a result, all of Sbarro's approximately 200 company-owned locations will receive some level of retrofit this year. "The retrofit cost ranges from $30,000 up to $200,000 depending on the size and condition of the existing restaurant," Gresham says. "To minimize downtime, we typically have five nights of on-site preparation and one day of shutdown. The cost to build a new prototype model is about $335,000—about the same as our prior design."
Sbarro's makeover relied on emerging 3D design technology that let the team fine-tune every detail—while sidestepping the expense and time needed to build full-scale models.
The Big Rethink: Edit To Amplify
"We had previously positioned ourselves in the vague space of 'Italian eatery,' and had a history of adding layers and layers of product," Gresham says. "Customer-insight studies made it clear that we're known for our pizza, which also happens to be the fastest growing QSR segment and the largest overall segment other than burgers. But Sbarro had failed to stay relevant in the marketplace over time." The "relevancy deficit"—along with a nationwide downturn in shopping mall traffic over the years—were significant contributors to Sbarro's bankruptcy in early '13.
Work on Sbarro's mega-makeover started in summer that year. The new management team was headed by Sbarro President and CEO David Karam, formerly of Wendy's, along with Gresham, Chief Concept Officer Gerard Lewis, Chief Marketing Officer Anne Pritz and Culinary V.P. Dwayne Adams. The company partnered with Chipman Design Architecture and its Blue Marble 3D division, Des Plaines, Ill.
The first step in rethinking Sbarro was to simplify its design and menu boards so that the pizza-centric message came across loud and clear.
"Customers make snap decisions as to which brand they choose. And yet, so many brands—including Sbarro—put out so many messages with their design, it's hard to figure out what they're offering," Gresham says of the typically 900-sq.-ft. mall concept. "We really needed to edit [the brand] to amplify the message we want them to hear."
Sbarro's second goal was to signal a bold change, "rather than make incremental changes customers would overlook," Gresham says. The team aimed for a "timeless, modern Italian design marked by the bold use of black and white, strong architectural moves and a focus on simplicity," Gresham says. "It's a flexible, universal design philosophy that will apply easily in countries around the world."
Equipping The New Sbarro
Equipment and layout changes to the Sbarro front-of-house all broadcast the new message: pizzas made on site, fresh, constantly.
"We tried to optimize the customers' experience," says Matt Raasakka, Chipman's senior account manager on the Sbarro team. "We tested various layouts along the front counter. With a front-facing pizza prep line, guests see workers stretching and throwing the dough, shredding mozzarella and spreading the sauce."
Sbarro's mainstay, the Marsal deck oven, continues to anchor the prototype—but now it gets an assist from a TurboChef conveyor oven. In the existing locations, the Marsal oven was used for both the initial and the final bake of slices. "It's crucial that the pizza be served at the perfect temperature, which can be a challenge at busy times," Gresham says. "Typically Sbarro operators would finish slices in the deck oven, where it's easy to burn the slice, or not boost it enough. The TurboChef was an easy way to make that final service step foolproof and easy-to-execute at high volumes."
Rounding out Sbarro's front-of-house equipment is a pizza prep table positioned front-and-center for dough action, pizza building and for making Sbarro's new hand-held menu items. A work table next to the deck oven serves as a pizza cutting and holding spot. Near the POS station are two hot wells (reduced from the four to six hot wells of older stores), a salad bin and beverage equipment. The back-of-house is relatively unchanged—its lineup includes an Imperial four-burner oven/range, an AccuTemp pressure cooker, Precision dough mixer plus walk-in, warewashing equipment/area and ice maker.
The 3D Advantage
Using Chipman's Blue Marble 3D technology in Sbarro's makeover was an easy decision for Gresham, who had worked with the design firm during his time with Chick-fil-A and Yum! Brands. Chipman offers an immersive 3D virtual design experience via a 10-ft. x 10-ft. x 10-ft., green-screen room called the Cube.
"You step into the Cube wearing special sensor-equipped 3D glasses and you're suddenly able to walk through and explore your new concept at full scale," Gresham says. It's almost a 360° experience, with spatial awareness and configurability vs. the small-scale, static experience you have looking at 2D renderings, he adds. "We're able to walk through both the front and back of the house, test counter heights, count steps from one station to another, check if there's space for people to turn around—everything we need to analyze."
The Sbarro team appreciated the 3D design capability because it enabled them to make decisions in a reality-based scale model, helped the team see and avoid design mistakes and cost a fraction of what a "live" concept model would be.
"With Revit, every element in the drawing has data associated with it," Raasakka notes. "As you build the space in your computer, you can push a button at any point to get an accurate equipment and construction materials list, down to the number of square feet of tile you'll use on the walls."
The technology also generates 3D-style renderings. Color images done in 3D are much easier than 2D drawings to analyze, Gresham says. The ability to understand the design quickly in turn leads to faster turnarounds on approvals by all parties involved.
Cost savings of virtual-reality design have been significant. "When you work with malls, you have to send 3D renderings to the landlord for approval," Gresham says. "There's a $3,000-$4,000 fee every time you translate a 2D drawing into 3D. But with Revit, you generate 3D images at every step of the process."
Another 3D advantage involves catching costly mistakes before the build-out or mock-up. "Our design review sessions with the Operations department have become much more effective. Some items—those that go under or over a counter, for example—may be difficult to visualize on 2D plans. Now operators can make adjustments before we start final drawings," Gresham says.
SPECS
MENU/SEGMENT: Quick-service pizza
HEADQUARTERS: Columbus, Ohio
NUMBER OF UNITS: 850 (400 in 35 states; 450 international, including Russia, Turkey, Philippines and India)
SIZE: 900 sq. ft. (mall locations); 1,400 sq. ft. (in-line locations)
EQUIPMENT PACKAGE: $80,000+
FURNITURE & FIXTURES: $255,000+
PLANS: 65 (domestic and international) in 2015
DESIGNERS: Sterling Rice Group, Boulder, Colo., for initial branding design; and Chipman Design Architecture/Blue Marble 3D, Des Plaines, Ill.
ARCHITECT: Chipman Design Architecture, Des Plaines, Ill.
WEB:
sbarro.com
---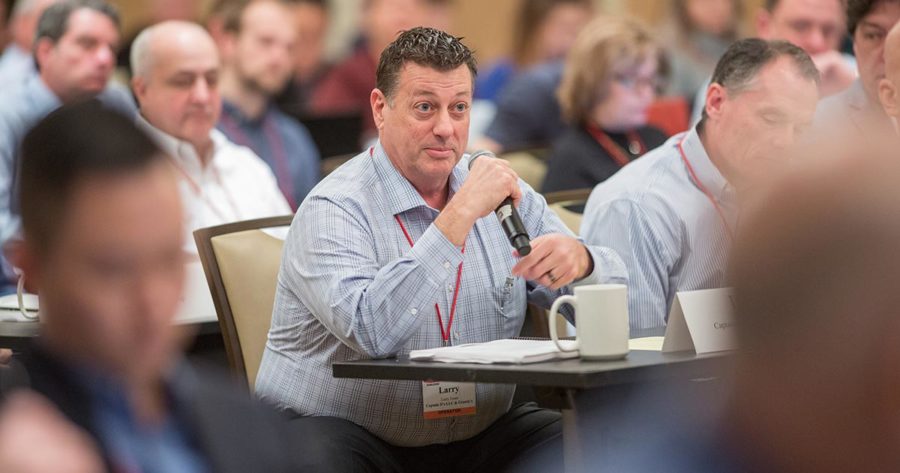 Advance Your Knowledge of Foodservice Equipment Technologies at MUFES
MUFES is a one-of-a-kind event for foodservice equipment decision makers from multiunit chains and noncommercial facilities.