The Dan Abraham Healthy Living Center, part of the world-renowned Mayo Clinic in Rochester, Minn., probably is one of the few places a person can go for daily workouts followed by hands-on culinary classes in a state-of-the-art teaching kitchen a few floors up.
The center, whose namesake and benefactor Daniel Abraham made his fortune with the invention of dietary supplement Slim-Fast back in the 1970s, opened a five-story vertical expansion in May 2014. Dining services—including a culinary classroom, production kitchen and small servery/dining area—reside on the top floor of the seven-story facility.
"We were asked to come up with a foodservice program that would not only offer a servery for people taking part in the center's Healthy Living Program, but also feature a teaching kitchen complete with workstations," says Connie Dickson, FCSI, Principal with Minneapolis-based foodservice design firm Robert Rippe & Associates. The lower floors of the Healthy Living Center are devoted to fitness; employees and others associated with the Mayo Clinic can become members. The top floors include educational facilities, including lecture halls and the teaching kitchen. Front-of-house project goals revolved around nutrition education and enhancing participants' mealtime experiences, while back-of-house goals targeted efficient, unobtrusive support to supply foodservice—as an amenity—to the center's members, staff and patients.
"In addition, the foodservice had to be self-contained since we're in a stand-alone building a considerable distance from Mayo's main foodservice area," Dickson says.
And the facility had to be beautiful. "The floor features windows overlooking the city," Dickson says. Additional floor-to-ceiling windows between the culinary teaching area and hallway invite passersby to watch classes in session. A living herb wall in the vestibule leading into the culinary areas adds a note of green.
Other key movers and shakers in the project included Mayo Clinic Project Manager Jodi Larson and Mayo's former foodservice director J.D. Purl.
"Larson and Purl had a clear vision for the teaching area—a demo area for the chef instructor that included the ability to record and project chef demos onto flat-screen displays, plus hands-on workstations for participants," Dickson says. The Mayo Clinic foodservice department team also knew it needed a small servery to feed members at the Center, supported by a production kitchen and storage facilities. The teaching area covers 1,700 sq. ft., while the servery and production kitchen occupy 1,730 sq. ft.
Project planning started in January 2012, and a dedication ceremony opened the Dan Abraham Healthy Living Center in April 2014.
Teaching Kitchen And Virtual Store
The teaching kitchen's demo station, reserved for the teaching chef, is anchored by a nearly 40-sq.-ft. composite-quartz work counter. Its curved front provides seating for up to eight people to gather for a front-row view of the culinary action. Overhead, above the food counter, five flat-screen video monitors (four facing out, one facing in) broadcast the chef's detailed moves to larger audiences.
The demo station is equipped with a six-burner range and a small charbroiler, plus a small sink. Two wall-mounted, double-stacked convection ovens along the back of the demo station add functionality. A counter between the ovens includes a second sink and space for countertop equipment, such as a stand-mixer and blender. Below-counter storage space holds serving plates and supplies, while a reclaimed-glass tile wall in vibrant greens and browns frames the space above.
Designers specified Halton hoods with Capture Jet technology for all of the cooking areas. "This allows reduced exhaust volumes and, as a result, reduced makeup-air needs," Dickson says. "As an added bonus, they're quieter than traditional hoods, which is very important in a teaching kitchen that can have up to six hoods running at once.
Five student workstations replicate the demo-station setup. At 10-ft. long by 4-ft. wide, each workstation can accommodate four people—two per side—during classes. The workstations are equipped with a range and charbroiler, a prep sink with spray nozzle, a food-waste disposer and an undercounter reach-in refrigerator. Countertop equipment includes a food processor, a 5-qt. stand-mixer and a blender, all of which can be stowed on shelves below.
"We needed equipment that was available for home kitchens, but it all had to be heavy-duty to hold up to the high volume of people we expected to be using the stations," Dickson says.
Smallwares reside in drawers. A raised shelf "gives people a place to keep their phone, recipe, spices, etc., out of the way," Dickson says. "It's wired with electrical outlets."
Supporting the culinary teaching area is a "virtual store"—in other words, a pantry with shelving and cold-airscreen display cases designed to look like a mini supermarket. "It stocks various products you'd find in the grocery store," Dickson says. "The idea here is to teach people how to shop, how to zero in on healthy products, read labels and identify ingredients."
Just outside the virtual-store door, three reach-ins—two refrigerators and a freezer—hold supplies needed for cooking classes.
Kitchen And Servery
During early planning stages, the design team didn't quite know how many guests would be using the facility each day, and it made finalizing the servery and kitchen portions of the layout a challenge.
"We decided on a continental-style breakfast for the mornings, but for lunch, we went round and round," Dickson recalls. "Would a buffet-style option, inviting self-service from platters, be best, or should we install cooking stations in which chefs prepare food to order?"
In the end, it was the nearby presence of a large auditorium and meeting room that led the team to opt for a simpler buffet-style layout. "When lecture programs let out, we needed to be able to move large numbers of people through the servery fast," Dickson says.
In the servery, twin serving lines feature hot and cold wells. A grab-and-go area sits close to the entrance, and the beverage station and kitchen entrance are situated near the exit. Because the foodservice program is offered as an amenity to the center's program participants, meal costs are covered, making POS stations unnecessary.
The support kitchen features a cold-prep area, conveniently close to the walk-in cooler/freezer. The hot line is compact yet efficient. Its lineup includes an oven, a charbroiler/range, a 40-qt. kettle and a boilerless steamer. The warewashing area was designed with an alcove between it and the meeting room to block noise. The alcove, with doors on each side, functions as a bussing station.
Breakfast and lunch production numbers are based on the facility's daily attendance tally. "On busy days, they'll offer the same food on both serving lines," Dickson says. "On slower days, however, they will either run a single line, or they might offer salads on one side and sandwiches on the other. It's a flexible solution to varying head counts" and an ideal solution for the multipurpose facility.
SPECS
MENU/SEGMENT: Healthcare
LOCATION: Rochester, Minn.
OPENED: May 2014
SERVERY AND PRODUCTION KITCHEN: 1,730 sq. ft.
TEACHING KITCHEN: 1,700 sq. ft.
COOKING STATIONS: 5 plus chef's demo counter
KITCHEN DESIGN & EQUIPMENT PACKAGE: $560,000
FOODSERVICE OPERATOR: J.D. Purl, former foodservice director, and Jodi Larson, Project Manager, Mayo Clinic, Rochester, Minn.
KEY DESIGN PARTNERS:
Foodservice Consultants: Connie Dickson, FCSI, Principal; Jessica Dengel, Assoc. FCSI, Project Manager; Megan Patterson, Assoc. FCSI, Operations Consultant; Robert Rippe & Associates, Minneapolis
Architects: Jennifer Stukenberg, LEED AP, and Steve Berg, AIA, LEED AP, BWBR, St. Paul, Minn.
Engineers: Keith L. Enevoldsen, PE, and Peter Potvin, PE, LEED AP, LKPB Engineers, St. Paul, Minn.
Interior Designer: Nan Langevin, IIDA, BWBR, St. Paul, Minn.
Fabricators: Albers Mechanical Contractors, St. Paul, Minn.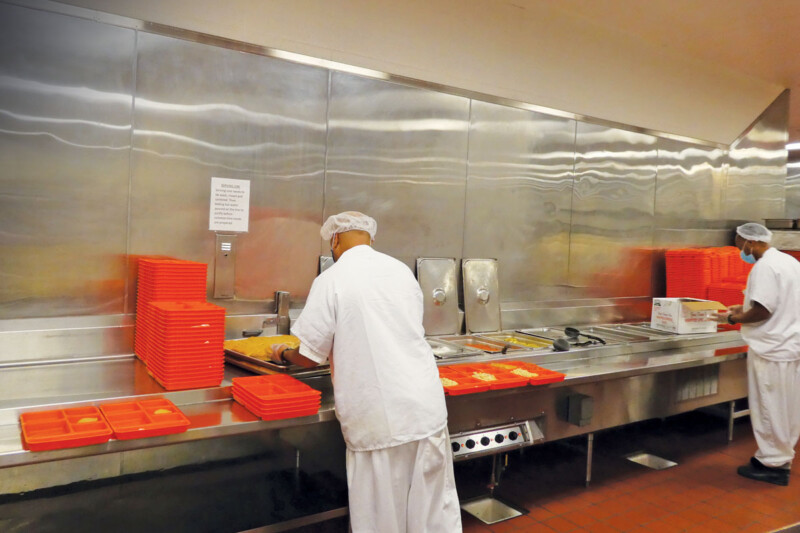 Design Trends
Despite steep and unique hurdles, this segment is finding ways to solve its challenges.