When Barneys New York in Beverly Hills, Calif., expanded its exclusive fifth-floor men's shoe department, which overlooked a soaring, oval atrium, the additional retail space had to come from somewhere. Because shoes trump salads where revenue is concerned—at Barneys, a pair of Saint Laurent studded-strap boots can set you back almost $2,500—the footwear emporium was carved directly out of the adjacent kitchen's midsection.
The kitchen previously had served the luxury specialty retailer's iconic see-and-be seen deli to the stars, Barney Greengrass. As part of the overhaul, the upscale department store closed Greengrass and made plans to open Barneys' own concept, Freds at Barneys, led by Executive Chef Mark Strausman.
"We knew the kitchen design would be tricky due to the reduced size and geometry," says Carri Sullens, Assoc. FCSI, Senior Associate at Cini-Little Int'l., Pasadena, Calif., and lead designer for the 200-seat restaurant project. Disconnected kitchen work areas, space constraints, curved walls and, above all, fragmented flow were just a few of the back-of-house challenges that lay ahead.
The Freds design team included Sullens James Little, FFCSI, Principal (now deceased), and Lily Gin, Project Coordinator, Cini-Little Int'l.; executive architects Ashok Vanmali, AIA, Partner, and Teresa Sanchez, AIA, Director-Construction Administration, Gruen Associates, Los Angeles; Steven Harris, Partner, and Andrea Mason, Designer, Steven Harris Architects, New York; and Gary Mayeda, Senior Associate and Project Manager, Infrastructure Factor Consulting, El Segundo, Calif.
Juggling Act
With the men's shoe sales area occupying nearly half of the foodservice space, the kitchen designers were left with 1,300 sq. ft. housed in two separate sections. Their first move was to plot out optimal product flow.
"Food is stored on the parking levels—on the third and fourth floors," Sullens says. "It's brought to the kitchen by a service elevator on the south end of the kitchen." Therefore, it made sense to position Freds' rough-prep area in a 200-sq.-ft. space just off of the elevator. The rough prep area includes a large spiral mixer, a humidity-controlled refrigerator, a 2-compartment sink, a wood-topped worktable and an ice machine. Prep is connected to the main kitchen via a service corridor.
Cooking On A Curve
The next step was assembling the puzzle pieces that comprised the core of Freds' culinary action, including a walk-in cooler, the garde manger and cookline as well as the warewashing areas.
"Chef Strausman wanted a lot of cooking equipment," Sullens says. "In order to give him the hood space he requested, we had to position the cookline along the kitchen's longest wall, which happens to be curved."
The restaurant's cooking lineup starts on one end with a double-deck pizza oven. A marble-top pizza prep table supports the oven; its raised ingredient rail maximizes worktop surface area. Next come a pasta cooker, 14-burner range, charbroiler with spreader shelf and a pair of fryers. A combi oven anchors the end of the line.
Opposite the cookline, the chef's table is fitted with cold storage below and double shelves above to hold plates, smallwares and cooking tools. Pans and implements suspend from a sturdy rail above the top shelf.
Halton fabricated a 30-ft.-long custom-built hood that not only had to follow the wall's curve, but also had to be whisper quiet so that cooks could communicate throughout the kitchen.
"The [project] involved multiple wall-mounted hood sections mounted end-to-end, where the wall structure included both concave and convex turns," a Halton representative says. "The wall-mounted hoods were listed for zero clearance to the walls to provide maximum capture and containment. Since the hoods were located in an area where it was essential to reduce sound levels, they were fitted with special filters that allowed for low-static resistance without compromising efficiency. Makeup-air noise also was quieted thanks to the use of low-velocity, high-volume fans."
The walk-in cooler posed its own set of challenges. Positioned in the far end of the kitchen, the Refrigerator Manufacturers Inc. (RMI) unit had to be built in place using modular panels shipped in pieces and joined together by positive camlocks.
"One side of the walk-in is at an angle; the front wall had to be built around a support column, and the back wall has a notch on one side," Sullens says. "This walk-in is truly an odd shape, but RMI made it work."
"We originally talked about putting the walk-in cooler where the rough prep area is now in order to gain more adjacent workspace," Sullens recalls. "In the end, that would have put the walk-in too far away from the cooking action. Another thought was to place the walk-in in the spot used by warewashing," but that would have required the design team to relocate it. The only other feasible warewashing space would have forced servers to walk through the kitchen to drop off soiled dishes. Ultimately, the walk-in was positioned at the end of the cookline.
Kitchen staff walks prepped food down the service corridor, passes through the pastry area (equipped with food processors, mixers, an ice-cream dipping cabinet and a two-burner range) and then arrives in the kitchen proper.
Also at the end of the service corridor, a miniature janitor's closet was compressed into an all-in-one Eagle Group unit. "It's a locker-style cabinet that's about 2 ft. x 2 ft. and 6-ft. high, with a mop sink built into the bottom, hangers for mops and shelving at the top," Sullens says. "We find it to be a great solution for tight spaces."
Servers 'Stay Out!'
It was the servers' work path that ultimately helped put the Freds kitchen puzzle pieces in the right order. "We wanted to keep servers out of the busy area of the kitchen as much as possible," Sullens says.
Planners realized that by placing the warewashing area to the immediate right of the entrance to the kitchen from the dining room and the expo station and salad stations opposite warewashing (see floor plan), servers could drop off dirty dishes at a pass-through window. Then they wash their hands at a nearby hand sink, turn, grab completed plates and head back out into the celebrity-studded dining room and veranda.
Well-equipped beverage wait stations also save steps. "We created three wait stations in all: two small ones and a full-function one that's 18-ft.-long," Sullens says. A decorative metal-surfaced wall discreetly hides the necessary but less glamorous side of foodservice: coffee and tea brewers, an espresso machine, soft-drink dispensers, sinks, trays and trash cans.
Bar None
As with the kitchen, planners spared no expense when it came to making Freds at Barneys' bar a Beverly Hills power destination. Interior design firm Steven Harris Architects relied on a series of faceted, ceiling-high mirrors placed behind the liquor-bottle collection and lining the wineglass shelves. The mirrors reflect segmented views of guests sitting at the bar as well as glimpses of the Hollywood Hills visible in the distance. The bar counter is made of a striated stone called greige onyx, which was (carefully) imported from China in a single, 20-ft.-long piece.
Counter adornment was kept to a minimum. "Our design directors looked long and hard for the right beer towers for the countertop," Sullens says. "They finally settled on a pair of high-polish, curved dispensers by Micro Matic."
The bar is equipped with standard items, including undercounter refrigeration, a backbar, a glass washer, a bar sink, dispensers and more from Perlick. A Kold-Draft ice-cube machine, located behind scenes next to the pastry area, creates big, crystal clear cubes of ice worthy of Hollywood's stars.
SPECS
MENU/SEGMENT: Fine dining
LOCATION: Freds Beverly Hills at Barneys New York, Beverly Hills, Calif.
KITCHEN SIZE: 1,300 sq. ft.
NO. OF SEATS: 200 seats
FOODSERVICE EQUIPMENT BUDGET: $534,000
PROJECT PROGRAMMING AND DESIGN: James Little, FFCSI, Principal (deceased); Carri Sullens, Assoc. FCSI, Senior Associate; Lily Gin, Project Coordinator; Cini-Little Int'l., Los Angeles
ARCHITECTS: Ashok Vanmali, AIA, Partner; Teresa Sanchez, AIA, Director-Construction Administration; Gruen Associates, Los Angeles
INTERIOR DESIGNERS: Steven Harris, Partner; Andrea Mason, Designer; Steven Harris Architects, New York
ENGINEER: Gary Mayeda, Senior Associate and Project Manager, Infrastructure Factor Consulting, El Segundo, Calif.
FABRICATORS: Pacific Stainless Products, Saint Helens, Ore.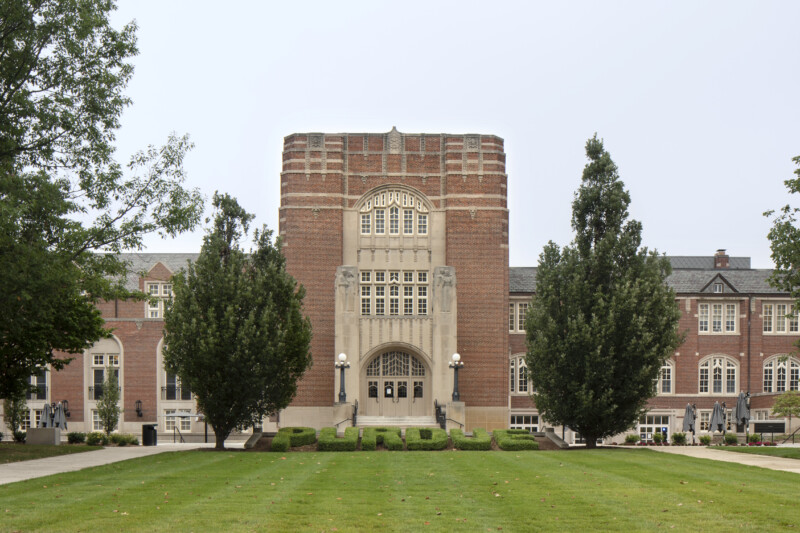 Kitchen Design
The hall gains new concepts, including a halal eatery and the campus' first full-service bar, while still preserving traditional elements.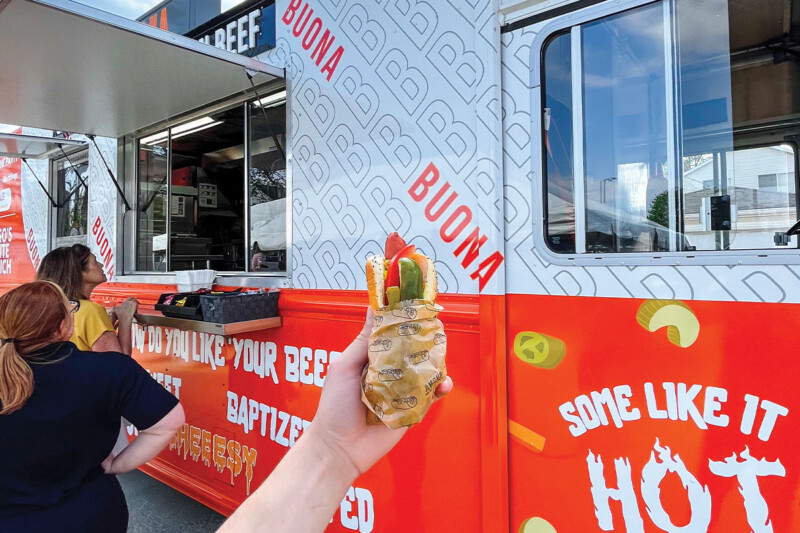 Design
Buona Beef takes made-to-order sandwiches and Chicago-style hot dogs to the streets.