When it comes to creating a home-away-from-home for college students, it's usually a safe bet to focus on food. Just ask planners at The Ohio State University, Columbus, Ohio, who have spent the past eight years and more than $370 million rebuilding and expanding the school's North Residential District. The initiative was launched in 2008 with the goal of requiring OSU freshmen and sophomores to live on campus as of fall '16 to better foster their sense of community. When the construction dust settles, the project will have added more than 3,200 beds, 11 new residential buildings and three additions to existing residential facilities.
The culinary heart of the North Residential District project can be found in two serveries. The larger one, covering nearly 72,780 sq. ft. across two levels with seating for 843 people, is Traditions at Scott, an all-you-care-to-eat operation for OSU students on meal plans. The smaller location, Curl Market, covers 8,000 sq. ft., seats 242, and operates as a retail marketplace. Bolstering the North Residential District's community mission is a coffee shop called Connecting Grounds plus a well-stocked convenience store. The final tab for the foodservice part of the project, including design, construction and kitchen equipment, came to $4.6 million.
Traditions at Scott has been running at full-speed since its August '15 debut. "We were serving nearly 8,000 meals a day to students from all across the campus—that's just about at capacity," recalls OSU Director of Dining Services Zia Ahmed. At press time, meal counts are down to a more manageable 6,000 to 6,500 per day as the newness has worn off.
Opening week business was so brisk that Ahmed donned an apron and worked the soup/sandwich station. "I personally prepped and grilled 1,400 grilled cheese sandwiches on one of the opening days," says Ahmed, who's known and loved by OSU's Dining Services staff for his hands-on approach to work. Ahmed was a '15 winner of FER's Young Lion Award and was president of the National Association of College and University Food Services from '14-'15.
Designing For Many Tastes
Creating the two serveries was a team effort. From OSU, planners included Ahmed and Dining Services Associate Directors Tim Keegstra and Abby Hertzfeld, plus Corp. Executive Chef Lesa Holford, working with Greenwood Village, Colo.-based Ricca Design Studio's Leonard Condenzio, Partner, and Principals Phil Landgraf and Tarah Schroeder. The team's marching orders as they mulled over food platforms were simple: variety, authenticity, flexibility and sustainability.
"The individual platforms at both Traditions at Scott and Curl Market had to be complementary to each other," Schroeder says. "Every station is essentially a miniature restaurant, with its own flow and function."
Equipment was specified based in part on its authenticity to the menu. "The Latin station, for example, makes its tortillas from scratch using a tortilla press. The Pan-Asian station cooks use Mongolian grills and Chinese woks," Schroeder says. Equipment flexible enough to be used in multiple ways was used throughout, such as drop-in serving pans that can switch from hot holding to cold holding.
Equipment choices also helped meet OSU sustainability goals. "Parallel refrigeration racks allowed us to use remote compressors for drop-in and undercounter refrigeration, which in turn reduces waste heat in the servery and lessens the load on the facility's HVAC system," Landgraf says. "Variable speed exhaust fans on the hoods, heat-recovery systems on dishmachines, oil recycling on fryers were some of the other sustainable equipment decisions." In the warewashing area and food prep area, an enzyme-based food waste digester, made by BioHiTech, converts bulky food waste into water and organic matter that can go down the sewer.
Traditions At Scott
Traditions at Scott wows guests with its open-kitchen, two-level concept featuring 10 food platforms – eight on the main level and two on the upper level. A staircase and elevator within the servery (just past the entry checkpoint) encourages guests to visit all platforms. A back-of-house elevator allows for discreet transport of food and supplies.
OSU's initial vision for Traditions at Scott was to place all the food stations on the main level, and all seating upstairs. But Ricca's Condenzio had other ideas. "We talked about destination dining, and decided to create compelling, Latin and Asian platforms upstairs that would provide complete meals and lure diners. Campus planners and architects came to accept the idea of upstairs/downstairs dining," Condenzio says. Another advantage of bi-level foodservices was that it allowed more space per platform, which in turn would alleviate crowding and queues during peak serving times. The design team added an upper-level dishroom to avoid the need to transport soiled wares between floors.
As guests enter through the checkpoint, the first station is the curved Greens & Grains salad bar. Beyond that you can see cooks at work in the open kitchen. "The salad bar, with its fresh-cut vegetables and fruits, sets the stage for the OSU Dining's strong messaging on the fresh-food story and the importance of healthy eating from the minute you walk in," Condenzio says. "Zia wanted to be sure the design supported the message."
Other first-level platforms include the eternally popular Endless Breakfast station, fitted with enough fire power (griddles, combi ovens, range, waffle makers, roll-in refrigerator, freezer) to service a small diner. The next four stops are the Buffet (anchored by a carving station), Fruits & Composed Salads, Soups & Grilled Cheese and Solutions (vegan and allergen-sensitive options, cooked on the spot by an expert via a range and combi ovens, and served from hot/cold drop-in pans). These four stations get their food supplies from the adjacent production area, where prep cooks work in view of guests. The production kitchen is fueled by tilting kettles, a large steamer, combi ovens, fryers, a range, and a series of cold-prep work tables. Four walk-ins store product on the spot.
"What's remarkable is how very little back-of-house there is at Traditions," Condenzio adds. "Everything is out in the open, and every platform has enough storage and cooking power to allow it to be self-contained. Even though exhibition cooking is becoming the norm, it's still rare in universities to put the production line in full view of guests."
Farthest from the entrance is the Local Grill, fitted with charbroilers, griddles, fryers and combi ovens, plus a dedicated, compact walk-in cooler and freezer. The dishdrop point, with the heavy-duty warewashing area and the biodigester tucked out of sight behind a wall, can be found in this area as well.
The all-important Desserts bar, with its pastry display and four soft-serve yogurt machines, is strategically placed near the center of the servery, handy to the stairs. "The trend has been to hide desserts as they're 'not healthy,'" Condenzio says. "But OSU is serving sweets in small portions. It encourages coming back to get a small bite after you've finished your meal to satisfy the sweet tooth, rather than take larger portions before you sit down."
Luring students upstairs is the promise of fresh-made tacos and tortillas at the Latin station, and stir-fried goodness from the Pan-Asian station. As with Endless Breakfast, both have enough cooking equipment, prep tables and cold storage to power a small restaurant. A churrasco grill, tortilla press and tortilla griddle anchor the Latin station, while a large, round Mongolian barbecue grill and two woks are used to prepare Asian orders with sizzle and flair.
"The two-level servery has proven to be a great option," Ahmed says. "The second level has become a 'restaurant within a restaurant.'"
Back In Fall
Every platform and every menu was created to get the most value for the proverbial buck out of each piece of equipment. "There's no real downtime for any station—every square inch of space stays in use throughout the meal period," Condenzio says. "Students, guests and every visitor will have plenty of choices."
SPECS
SIZE: OSU N. RESIDENTIAL DISTRICT: 1.27-plus million gross sq. ft.
TRADITIONS AT SCOTT: 72,000-plus sq. ft., 843 seats
CURL MARKET: 8,000-plus sq. ft., 242 seats
COMMISSARY & BAKERY: 10,700-plus sq. ft.
MEALS/DAY, TOTAL CAPACITY: Traditions at Scott, 8,000 meals/day; Curl Market, 4,000 transactions/day
PROJECT COST: $370 million (overall); $4.6 million (culinary)
STUDENT POPULATION: 58,322
KEY DESIGN PARTNERS:
OSU: Zia Ahmed, Dir. of Dining Services; Tim Keegstra, Assoc. Dir.; Abby Hertzfeld, Assoc. Dir.; Lesa Holford, Corp. Exec. Chef
FOODSERVICE CONSULTANTS: Ricca Design Studios, Greenwood Village, Colo.: Leonard Condenzio, Partner; Phil Landgraf, Principal; Tarah Schroeder, Principal
DESIGN CONSULTANTS: Envision Strategies, Greenwood Village, Colo.: Robert White, President
ARCHITECTURAL DESIGN: HKS Inc., Atlanta: Charles Poropatic, AIA, LEED AP, and Schooley Caldwell Associates, Columbus, Ohio
WEB: dining.osu.edu
"""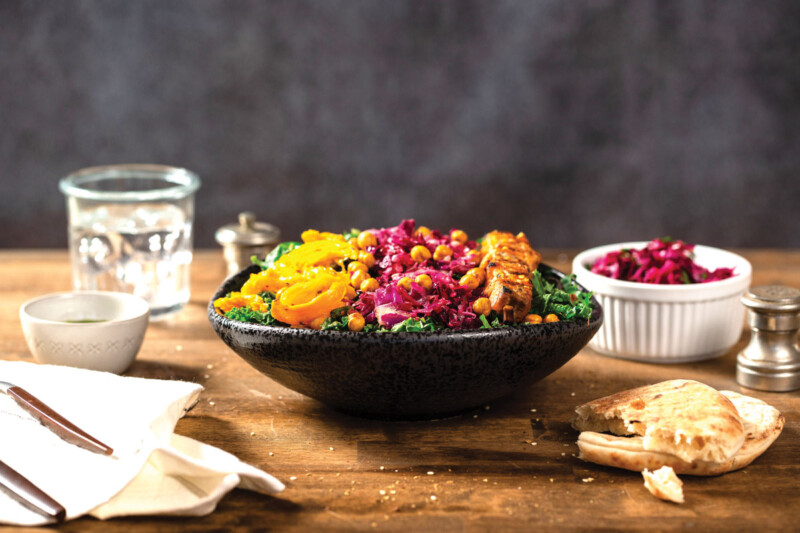 Kitchen Design
Roti Modern Mediterranean's new prototype centers around improved off-premise services and a reimagined customer-facing makeline.