When U.S. Army foodservice planners began working on the kitchen design for the 50,000-sq.-ft. Iron Mike Conference Center at Fort Bragg, N.C., they found the plans they had been given covered all bases—but some bases needed tweaking to better fit operational needs.
The $17.5 million project, part of Fort Bragg's Family and Morale, Welfare and Recreation Division (MWR), opened in March 2015. The facility replaced the falling-apart-at-the-seams Fort Bragg Officer's Club, which had been housed in a 1938-era building whose largest room could hold only 600 guests.
The new conference and catering center's core function can be found in the state-of-the-art commercial kitchen five times the size of its predecessor with mega amounts of production capacity and corresponding space for cold storage. Other highlights include a 152-seat lunchtime servery, a subdividable ballroom with seating for up to 1,200, three bar areas, a coffee shop that can be opened during large events and six conference rooms. The Center's potential customers come from both the base, home to 55,000 troops (including XVIII Airborne Corp., 82nd Airborne Division, U.S. Army Special Operations Command, Special Forces, U.S. Army Forces Command, U.S. Army Reserve Command and Womack Army Medical Center), and from nearby towns, such as Fayetteville, N.C.
"We handle lunch buffets, wedding receptions, military balls, conferences, expos and other functions for military members, local residents and retirees," says Fort Bragg's Family MWR Business Operations Officer Michelle Hagwood. "If someone's hosting a function that needs food and beverage, we'll supply it."
Eleven months into operations, the Iron Mike Conference Center has served 85,000 guests. "Our 7,700 covers-per-month average will continue to rise as the Center's reputation grows," Hagwood says.
All Systems Go
As with many MWR projects, design plans for Fort Bragg's Iron Mike Conference Center foodservice operations originated with the U.S. Army Installation Management Command (IMCOM) in Fort Sam Houston, Texas.
"IMCOM planners conducted a business case analysis for our site and then created a set of drawings for how the building should look and operate," Hagwood says. "The initial prototype covered the layout and design for the conference center's servery, banquet hall and support kitchen."
The prototype plans were used as a request for proposal (RFP), issued in mid-'11, to area design/build firms. "The RFP included a complete equipment schedule so Fort Bragg executives could better quantify and compare responses from prospective contractors," says John Barja, President of Foodesign, the Charlotte, N.C.-based firm that won the design portion of the bid. During his 37 years in foodservice design, Barja has created foodservice plans for nearly every branch of the military, both in the U.S. and overseas. "The challenge was to follow IMCOM's parameters while creating drawings that were adapted to the actual site, and were re-drawn to correct minor conflicts in scale," he adds.
As Barja and Hagwood began fine-tuning in early '13, they focused on spatial relationships, functionality and flow.
Some of the first adjustments involved moving work areas closer to where they were most needed. For example, "we shifted the dishroom (which had been originally drawn in the area now occupied by Bakery) to a spot between the banquet hall and servery," Barja says. "We moved the liquor storage room closer to the bar areas to shorten the beer supply lines."
Equipment choices were next to be scrutinized, on an area-by-area basis. "At our chef's request for more speed, we added some pressure fryers in addition to the open-vat fryers in the original plans. We also provided two sizes of vacuum sealers for lower volumes of cook-chill preparation, for example," Barja says. "The changes were made to best adapt the equipment for intended site usage and planned menus."
One piece of equipment in particular generated much discussion. "The prototype plans called for a huge cook tank, part of a cook-chill system," Hagwood says. "The idea was for us to produce large quantities of sauces, soups, etc., for the Food Bank (as one of the walk-in coolers had been labeled)."
"We took that cook tank out [of the drawings] and put it back in so many times that I lost track," Barja adds. "IMCOM designers thought it should be retained per the original concept, but Michelle really wanted more work space." In the end, budgetary constraints caused the cook tank to lose its spot to a series of prep tables and a large sink. Instead, the main kitchen's generous supply of tilt skillets, 40- and 60-gal. kettles prepare the large volumes required by daily service and event menus.
Work space function and flow also was examined and tweaked. Barja gives two examples.
"In the case of the largest bar, a two-faced area serving both the banquet hall and the entrance hall, the original design had left out a key piece of equipment—back-bar refrigerators," Barja says. "Our architect suggested a simple fix—we moved the two bar serving counters far enough apart to accommodate an island work-top refrigerator in between. Without the change, the work space would have been extremely tight [with the addition of the island]."
"And in the servery, which has two mirror-image serving lines, the line on the south side ended at the wall," Barja recalls. So he shortened the line slightly to enable workers to get in an out from behind the counter easily. "Not a major change, but one that will save workers some steps," he explains.
Touring Iron Mike's BOH
Foodservice operations at the Center revolve around the main kitchen, which supplies prepared food for the servery and for banquets and meetings.
The servery, covering 1,220 sq. ft., has the mirror-image serving lines to speed service; they share a center entry point. Lunch buffets ($9.50 for the all-you-care-to-eat menu) average about 140 meals per day. It's open from 11 a.m. to 1:30 p.m., Monday through Friday.
Staffers prep and cook lunch items in the main kitchen, then move them in bulk via carts through the service corridor which links the kitchen and servery. Hot and cold pass-through cabinets allow workers to efficiently transfer pans from carts in the corridor to staff working the serving line. The self-service food offerings are held in drop-in pans along the line, illuminated by a series of heat lamps.
Vegetables, fruits and meats are pre-prepped in a 50°F cold-prep room located behind servery operations. The Bakery area, anchored by a Baxter rotary rack oven, is also behind the servery.
The main kitchen consists of a robust cooking and hot-prep line, equipped with fryers, charbroiler, range, roll-in combis, and a roll-in blast chiller in addition to the tilting skillets and steam-jacket kettles.
With that amount of production capacity, planners made sure the facility would have plenty of cold storage in the form of walk-in coolers—nearly 1,300 sq. ft. of walk-in storage spread across six large and small compartments. The largest walk-in (behind the main kitchen) has doors on either end, plus a door at the back halfway point that accesses dry storage. The state-of-the-art units, made by Master-Bilt, feature LED lighting, structural flooring sturdy enough to accommodate heavy pallet-jack traffic, as well as temperature alarm systems.
"IMCOM made sure we would have enough cold storage to meet customer needs at the highest volume," Hagwood says. "Our many walk-ins mean we are able to accept food deliveries any day of the week, as well as prepare ahead."
SPECS
MENU/SEGMENT: Military conference and catering center
LOCATION: Fort Bragg, N.C.
OPENED: March 2015
BASE POPULATION: 55,000 troops
SIZE: Kitchen/BOH: 18,800 sq. ft.; Lunch buffet servery: 2,700 sq. ft.; 152 seats; Banquet hall: 17,000 sq. ft.; 1,200 seats
FF&E PACKAGE: $1.2 million
FORT BRAGG: Michelle Hagwood, Business Operations Officer; Olga Hester, F&B Director
KITCHEN DESIGN: U.S. Army Installation Management Command, Fort Sam Houston, Texas, and John Barja, President, Foodesign, Charlotte, N.C.
ARCHITECTURE & ENGINEERING: Dewberry, Fairfax, Va.
DEALER: Andrew O'Quinn, Contract Director and V.P., Thompson & Little, Fayetteville, N.C.
GENERAL CONTRACTOR: Centennial Contractors Enterprises, Reston, Va.
EQUIPMENT
BANQUET & PRODUCTION KITCHEN
Kitchen/BOH Area
Convotherm/Manitowoc combi ovens
Traulsen/ITW FEG blast chillers
True reach-in refrig., freezer
Vulcan/ITW FEG fryers, tilt skillet, 5- and 40-gal. kettles, 60-gal. tilt kettle
Henny Penny pressure fryer
Garland/Manitowoc charbroiler, 2-burner range
U.S. Range/Manitowoc range
CaptiveAire hoods
True mobile hot cabinet
Advance Tabco bain-marie table, food prep tables
Master-Bilt/Standex cold storage assembly, cold-prep, beer/beverage coolers
Bakery
Hobart/ITW FEG receiving scale, food mixer, 45-qt. vertical cutter/mixer, vegetable dryer, slicers
Doyon/Middleby dough sheeter
Taylor/Carrier ice cream batch freezer
Cambro ingredient bin
Master-Bilt/Standex ice cream hardening cabinet
Garland/Manitowoc 6-burner range
Southbend/Middleby convection oven
Baxter/ITW FEG rotary rack oven
CaptiveAire hood
Cold Prep
Hobart/ITW FEG receiving scale, food mixer, 45-qt. vertical cutter/mixer, vegetable dryer, slicers
Berkel/ITW FEG vacuum sealers
Warewashing/BOH Support
Hobart/ITW FEG flight-type dishmachine
Advance Tabco mobile soak sink, dish table, pre-scrap tables
Scotsman/Ali Group ice machine
Follett ice caddy, bin
Perlick remote beer system
Metro/Emerson beer keg rack
Eagle wine bottle racks
Servery
True pass-through refrig., hot cabinet
Eagle serving counter with food shields
Delfield/Manitowoc curved refrig. Salad pan, drop-in hot wells, display refrig., frost-top unit, display case
Duke drop-in carving station
Carlisle carving station lamps
Dispense-Rite/Diversified Metal Products cup dispenser, condiment bin
Servend/Manitowoc ice and beverage dispenser
Coffee Counter
Structural Concepts dual-zone merchandise case
Vitamix blender
True glass door refrig.
Verismo espresso machine
True undercounter refrig.
Cambro mobile ice bin
Bars/Beverage Station
Perlick back bar, refrig., ice bin with soda gun, underbar drainer cabinet, beer tap station
Lancer carbonated beverage system
Scotsman/Ali Group ice machine
BUNN coffee airpot brewer
FWE mobile bar counter
True roll-in refrig.
Eagle, a broadline manufacturer of commercial foodservice equipment, is pleased to sponsor FER's Design feature. To learn more about us visit eaglegrp.com.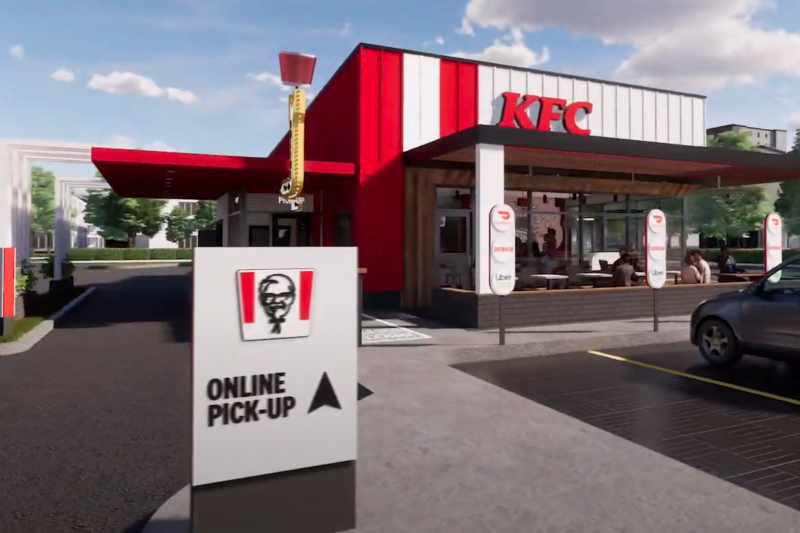 Company News
The fried chicken giant's newest restaurant designs amp up drive-thru and delivery while downplaying dine-in.