Multi-level operations, polish and quality sum up dining at the new 52,000-sq.-ft. McGauvran Student Center, University of Massachusetts/Lowell, Lowell, Mass. Opened in January 2016 after three years planning and construction, McGauvran's rebirth as a vibrant, culinary hub of South Campus student life evokes "wow!" from first-time and repeat visitors alike.
"The facility really has something for everyone," says Aaron Bennos, Aramark Director of Operations at UMass. "The right equipment at the right stations has allowed us to create a customized dining solution for a large campus population. The design allows for a welcoming environment that brings about interactions between the many different populations on campus, from residential students to commuters to faculty and staff. It's just a space you want to be in."
Meeting the goals of the project's many stakeholders—and fitting so many foodservice options so seamlessly into a narrow footprint—required some creative thinking and unusual solutions.
Many Goals, One Building
The UMass leadership team had many goals for the project. In addition to the All-You-Care-To-Eat (AYCE) campus dining facility, they wanted the design to give new life to the 1970s-era student center, serve as a focal point for South Campus, capture more retail sales customers, offer a space for meeting, studying and hanging out—and at the same time, weave in sufficient sustainable elements to qualify for (originally) LEED Silver certification.
Planning for the McGauvran renovation began in October 2013. Design team members who helped shape the building's foodservice operations included representatives from UMass Lowell project management, capital projects, student life and university relations; the UMass Building Authority; OPM firm Left Field LLC; Aramark; Ricca Design Studios; and architectural firm Bergmeyer Associates.
"Our target was for McGauvran to be able to serve about 2,800 lunch meals daily at peak capacity, about 20% of which would be carry-out meals," says Phil Landgraf, Principal at Ricca and one of the lead designers for the project's foodservice areas. The number includes 10-year population growth projections.
Bricks, Waffling & A Demolish Order
As with any project involving a 40-year-old structure, the university's old brick building presented plenty of upfront challenges.
"The original building had relied on windows and radiators for its heating and cooling, which meant no mechanically ducted air system and, as a result, very low floor-to-floor heights," says Matthew Hyatt, AIA, IIDA, LEED AP BD+C, Principal at Bergmeyer and the lead architect for the project.
In addition, the old student center's waffle slab structure, in which concrete "ribs" form a waffle-like pattern if viewed from below, limited the foodservice design team as to size and location of floor penetrations. To complicate matters further, the deteriorated main entry staircase had a "demolish" order imposed by the building department for public safety reasons. Other challenges: no loading dock, no accessible path along the green space in front of the building, and above all, not enough square footage for a foodservice program that would meet anticipated demand.
"We did consider razing the structure and starting over, but the cost would have been about the same as renovation," Hyatt says. "Renovation turned out to be faster and more sustainable, too." In the end, 97% of the original structure was able to be reused.
Smart Adjacencies Save The Day
The foodservice design team worked overtime in devising plans that would meet dining demand for both AYCE and retail in the space available. Stacking foodservice operations on four floors (from basement to third level) was a natural solution for the long, narrow building. Developing stations that could share equipment and supply surrounding outlets was another innovative solution to the space crunch.
Accordingly, foodservice operations at McGauvran start in the basement, home to a 7,148-sq.-ft. prep kitchen and main food storage area. A new service elevator connects the kitchen to the foodservice outlets on the first and second floors.
Directly above the kitchen on the main floor is the AYCE South Campus Dining area, covering nearly 15,000 sq. ft. with seating for 400. The area features entrées at Full Plate, pizza and pasta at Aroma, sandwiches from Broadway Deli, a salad bar at Wilder Farms and allergen-free options at Choices. Sharing space with the AYCE line-up is Grill Out, a retail outlet serving burgers. (More on this in a bit.)
McGauvran's second and third floors combined cover 23,600 sq. ft. Floor two is home to the bustling Merrimack Mrkt (letters dropped for impact) with its bakery/cafe, grab-and-go area and c-store offerings. Commercial chains Freshii and Subway, located on the opposite side of the staircase, add well-known brands to the campus setting. Floor three serves as a balcony/study area framing the retail foodservice action below.
One Grill Station, Two Concepts
One of the project's coolest design elements can be found in the first-floor grill station, which services both the retail burger outlet and the AYCE area. As the AYCE area's elements were being sketched into initial plans, planners kept noticing an unused area just outside the mealplan checkpoint entrance. In an "aha!" moment, the team realized that by adding a short wall, they would be able to create a retail burger outlet—now called Grill Out—using the AYCE's grill station equipment.
While the menu is essentially the same on either side of the wall, presentation is completely different. "On the retail side, you order signature burgers from a small window and a predetermined menu. On the AYCE side, it's a build-your-own-burger station," Landgraf says. "The shared grill station saves on equipment costs, saves labor by allowing one cook team to serve two stations, and saves on food costs, too, since both use essentially the same menu."
At night when the AYCE is closed, Grill Out serves as a popular late-night burger destination.
Last but hardly least, this bonus: "Pairing the retail grill with AYCE on the first floor freed up space for another concept on the second level," adds Leonard Condenzio, FCSI, COO/Executive Principal at Ricca. "Aramark was able to put Freshii in the spot that had initially been earmarked for a second-floor grill." Freshii's menu offers healthy salads, wraps and bowls.
Prepped Here, Shared There
The AYCE Wilder Farms salad station, Marketplace bakery and even the prep kitchen have proven so efficient in food prep that they are supplying multiple outlets.
The salad station is backed by a walk-in cooler lined with reach-in glass doors behind the serving line. Shelves filled with see-through storage containers display prepped fruits and vegetables available for use at the salad station and also the pizza, comfort food and burger stations.
"Our goal was to showcase fresh produce both in display and action," Landgraf says. "The messy prep work (washing, peeling, coring and so on) takes place out of sight in the prep area. The sexy work—slicing and dicing—is done in front of customers at the chop counter."
The second-floor bakery, modeled after European bakeries with equipment in full view of guests, is now supplying baked goods not only for McGauvran outlets but also other campus dining outlets.
"Our campus pastry chef oversees the bake shop and produces specialty goods for the retail locations across campus in addition to supplying the AYCE facility," Bennos adds. "With the bake shop being a customer-facing work area, it offers a fantastic sensory experience for our customers—the delicious smells fill the retail space."
And the basement prep kitchen, with its full cooking battery, now provides grab-and-go items for all campus foodservice venues, as well as a place for cooking classes.
By contrast, the Choices station has its own walk-in and full cooking battery to prevent allergen cross-contaminations. "Even though it's designated an allergen-free area, Aramark has expanded its appeal by naming it 'Choices' and making it inclusionary rather than exclusive," Condenzio notes. The fully equipped station can be easily changed in the future if demand warrants.
Nine months into operations, Bennos continues to applaud layout and design. "Stations that are self-sufficient with refrigeration, prep space and cooking equipment have eliminated unnecessary trips to the back-of-house and allowed our team to better interact with students," Bennos says. "When that same equipment also serves dual purposes, such as for our retail/residential grill, it lets us run a more sustainable and energy efficient operation."
Sustainable McGauvran Goes For Gold
Although initial goals aimed for LEED Silver certification, McGauvran's design includes so many sustainable elements that the team has applied for Gold instead. (It recently earned three-star certification from the Green Restaurant Association.) Some of the earth-friendly elements include:
• High-efficiency HVAC systems and kitchen equipment—with a special shout-out for Halton M.A.R.V.E.L. hoods, whose variable speed functions and ability to operate independently while being linked to a single roof fan system maximizes energy savings.
• Hobart/ITW FEG energy recovery warewashers that use captured steam to pre-heat cold water, as well as recycle water up to four times before it's sent down the drain.
• A Somat pulper/extractor system turns food and paper napkin waste into compost, which is used by farmers in the region, resulting in an 80%-90% reduction in waste.
• Used fryer oil is piped from the fryers directly to a holding tank in the parking lot, where it is picked up and then used as alternative fuel.
• LED lighting contributes to a 21% energy-use savings.
• Low-flow plumbing fixtures, including pint urinals and metering faucets, resulted in a 41% reduction in potable water use.
• The existing black EPDM roof was replaced with a highly-insulated, white TPO roof to minimize heat gain and loss.
• Daylighting strategies such as limiting the number of full-height interior walls and additional glazing bring light from the perimeter to the interior spaces.
• All paints and coatings, adhesives and sealants, and flooring materials had no or low VOC content.
• A green cleaning protocol is followed to ensure a safer and healthier environment for people who work in or visit the building.
SPECS
CAMPUS POPULATION: 18,334 students
OPENED: January 2016
SIZE: 52,000 sq. ft. total, including South Campus Dining (AYCE), 14,859 sq. ft. (1F); Marketplace, 23,608 sq. ft. (2F & 3F); and AYCE Support Kitchen: 7,148 sq. ft. (basement)
SEATING: South Campus Dining: 400 seats; Marketplace: 400 seats
MEALS/DAY: South Campus Dining: 1,985 daily covers; Marketplace: 575 daily covers
TOTAL PROJECT COST: $34 million
FOODSERVICE EQUIPMENT: $2.49 million
KEY DESIGN PARTNERS:
UMass Building Authority: Charles Paradie, AIA, Director of Pre-construction Project Planning
UMass Lowell: Fred Gavriel, Project Manager; Jean Robinson, Director of Capital Projects
Aramark: Bruce Perry, Residential District Manager; Frank Hurley, Campus Executive Chef
Owners Project Manager: Left Field LLC, Boston: Jim Rogers, Principal; Paul Gransaull
Foodservice Consultants: Leonard Condenzio, FCSI, COO/Executive Principal; Phil Landgraf, Principal; Ricca Design Studios, Greenwood Village, Colo.
Architectural & Interior Design: Matthew Hyatt, AIA, IIDA, LEED AP BD+C, Principal; Darryl Filippi, AIA, LEED AP, Principal; Jennifer Shiminsky, AIA, LEED AP BD+C, Associate; Krista Easterly, IIDA, NCIDQ, LEED AP ID+C, Designer; Dee Spiro, LEED AP BD+, O+M, Associate; Bergmeyer Associates, Boston
Design Consultants:
Cosentini (MEP/FP + code), Sladen Feinstein Integrated Lighting (lighting design), Green Int'l. (civil & landscape), LA Feuss (structural), Vermeulens (estimating)
Construction Manager: Shawmut Design & Construction, Boston
Dealer: Kittredge Equipment, Agwam, Mass.
WEB: umasslowell.campusdish.com
Equipment:
All-You-Care-To-Eat Servery
Grill Station
Pitco/Middleby fryers, dump station
Southbend/Middleby charbroiler, refrig. base
Keating griddle
Halton hood
Structural Concepts air screen case
BSI serving counters, bread tower, food shields
Follett/Middleby ice maker
Bally walk-in freezer
Metro/Ali Group shelving
Hatco heated drop-in shelves
Delfield/Manitowoc fried food holding station
Randell/Unified Brands drop-in cold pans
Perfection condiment dispenser
Salad Station
Bally walk-in cooler
Wells/Middleby drop-in soup wells
Randell/Unified Brands cold drop-in food pans
BSI serving counters, bread tower, food shields
Pizza/Pasta Station
Wood Stone hearth oven
John Boos wood-top work table
Halton hood
Cres Cor proofers
Pitco/Middleby pasta rinse cabinet, pasta cooker
Randell/Unified Brands pizza prep table, hot/cold drop-ins
Hatco drop-in heated shelf
BSI food shields
True roll-in refrig.
Comfort Food
Cookshack smoker
Wood Stone rotisserie
Pitco/Middleby fryers
Randell/Unified Brands hot/cold drop-ins
Jade/Middleby 3-burner range
Halton hood
Southbend/Middleby 4-burner range, charbroiler, spreader
Blodgett/Middleby double convection oven
True roll-in refrig.
Gluten-Free
Randell/Unified Brands hot/cold drop-ins
Blodgett/Middleby double convection oven
Southbend/Middleby charbroiler, range/oven
Pitco/Middleby fryers
Bally walk-in cooler
True reach-in refrig.
Toastmaster/Middleby pop-up toaster
BSI food shields
Deli
John Boos bread shelves
TurboChef/Middleby oven
Bally walk-in cooler
Globe slicers
Randell/Unified Brands hot/cold drop-ins
BSI food shields
Warewashing & Dock
Power Soak/Unified Brands power-wash sink
Hobart/ITW FEG flight-type warewasher, condensate hood
Traycon roller, dish conveyor
Metro/Ali Group shelving, dish dollies, glass rack dollies
Somat/ITW FEG pulper, extractor
Frontline grease tank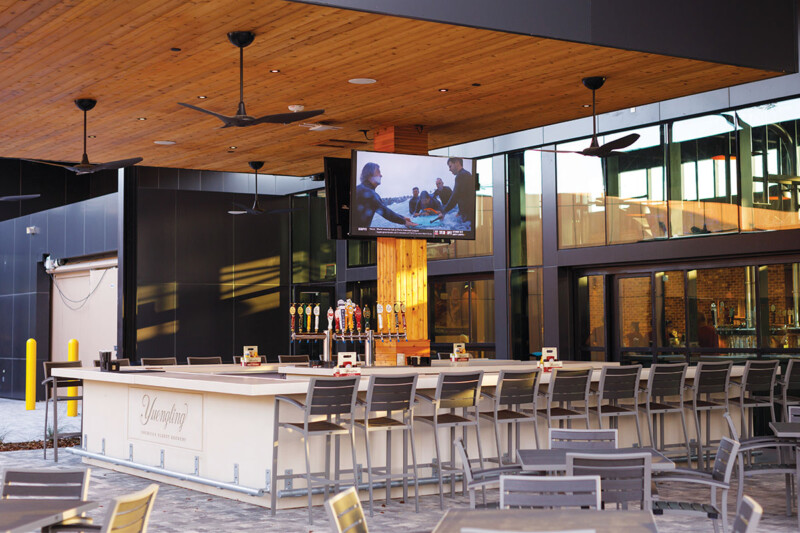 Kitchen Design
Designing a 42,000-square-foot, 800-seat entertainment and dining space centered around beer posed challenges and opportunities.