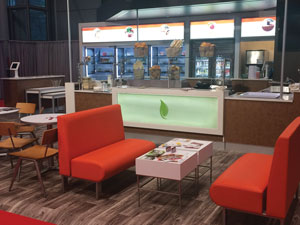 Now in its fifth year, the Foodservice Pioneering Concept Competition continues to draw innovative designs for concepts that can open in nontraditional spaces. Beginning with the call for entries in the first quarter of the year, the FPC invites foodservice design consultants and conceptualists to dream up a foodservice operation that's especially suited to a nontraditional location, such as a lobby, a courtyard, hallway, concourse or any high-traffic space not specifically outfitted to foodservice. They're challenged to use today's most innovative equipment and technologies to produce exceptional menus and service experiences. The concept can only run on electric, must require little water and must operate without the need for overhead ventilation, so designers are challenged to come up with viable, revenue-generating foodservice where no foodservice could go before.
The FPC is the brainchild of Program Director Marsha Diamond, who saw in the competition the potential to enhance the HX: The Hotel Experience Show for the attendees, operators, consultants and business partners. By staging equipment and supplies in a working model of the winning concept at the show, attendees understand how a clever selection of foodservice equipment and technology can equip them to open a foodservice venue in a smaller footprint and quicker timeframe than traditional foodservice and often at a fraction of the cost of construction, utilities and other such investments.
"This competition supports innovation and collaboration, which is a key ingredient to staying relevant in our industry," Diamond says. "Every year, we've received very creative and, more importantly, very feasible submissions."
A Flexible, Innovative Design
The 2016 winning concept, Refresh Eatery & Market, was created by Kris Morphis, FCSI, Sr. V.P., Foodesign Associates, and Erik Haviland, V.P./Group Creative Director, TheFUZE, Foodesign's graphic design and communications partner, both located in Charlotte, N.C. The concept provides a fresh, healthy, made-to-order alternative to fast-food options typically found in a food court or public space, and it uses the latest technology through iPad and mobile-app ordering, with food produced off of a flexible, ventless cooking platform. The concept provides a retail component for take-home, along with a made-to-order quick-service for customers who want to dine at the location.
"Refresh is a concept that brings three ingredients to the design table: flexibility, sustainability and technology," says Morphis. "This concept provides a merger of retail and foodservice to provide an exciting experience for any foodie. It's like going to the market and shopping for a meal, but you don't have to try and figure it out; everything is fresh, portioned and prepared for cooking onsite or at home."
Judges found the Refresh concept flexible and innovative, saying the design had lots of curb appeal and that the equipment selection was smart and labor-friendly. They especially praised the concept's menu versatility and adaptability to local and regional cuisine.
Refresh offers a selection of fresh, locally sourced and pre-portioned ingredients that mix and match into an assortment of upscale flatbreads, salads, sandwiches and entrées. Patrons can order and pay for their food using a mobile app or enter their orders and pay via iPads set up at an order-entry kiosk. Then, they collect their recipe ingredients, which are in packages along a refrigerated display wall labeled Starch, Protein and Vegetable. Packaged snacks and a full beverage counter can be included in the concept. Customers can either take ingredients home to prepare themselves or hand them off to the onsite chef who is equipped with a down-draft induction grill and undercounter refrigeration.
"This concept appeals to millennials, but also the business traveler and the corporate professional who might pass this foodservice space in high-traffic, under-used areas," adds Haviland. He and his team developed the menu, recipes and all graphic components for Refresh's onsite and mobile presences. "Technology and social networking is a critical part of their daily routine, and the Refresh concept we created meets them where they are already engaging—on their mobile devices," he says.
Live, From New York
Bringing the concept to "life" on the show fl oor took months of coordination, beginning with fi nding a fabricator. "Carts of Colorado stepped up and were incredibly talented and easy to work with," Diamond says. Before work started on the model, the winners along with the HX show team reached out to multiple manufacturers to ask them if they could use their equipment in a live, interactive booth that would enhance their tradeshow strategy.
Through this outreach, the team was able to equip Refresh with everything from an undercounter dishmachine and espresso maker to the grill and refrigerated wall displays (see Sponsor Thanks for a full listing).
"Hosting the Refresh Eatery & Market model at the show was a very worthwhile experience," Morphis says. "We received tons of leads not only to buy the concept or an adaption of it, but we also were approached by operators in need of foodservice consulting. The FPC program goes beyond the typical approach to exhibiting as the attending operators can see fi rst-hand not only the creativity displayed by our team, but they can walk through an interactive presentation of a foodservice operation. Carts of Colorado did an incredible job building the concept." The FPC provides great exposure for the manufacturers, as well, because potential buyers get to see equipment in a real operation; they can watch it being used, taste the food and walk through the concept. "It's a different exposure than that provided by a traditional exhibit booth," he adds.
More Kudos
Second place in the 2016 competition was awarded to Nightingale, designed by A.J. Barker, Principal, Concept Kitchen + Bar, Lynnwood, Wash. The judges deemed the glass-enclosed, egg-centrically menued concept a true original delivering unique, experiential dining. Third place was awarded to Make Station, an urban farm-stand concept designed by Peter Christensen, Principal, Christensen Consultants, San Jose, Calif. Special thanks go out to Phil Robinson, HX Show Director, for having the vision to finance the FPC and the insight to understand the benefits of hands-on engagement a live platform delivers to audiences at today's tradeshows. Thanks, too, go to the associations that support these initiatives for the foodservice and hotel industries including HX sponsors the American Hotel & Lodging Association, the Hotel Association of New York City, and the New York State Hospitality & Tourism Association. HX is managed by Hospitality Media Group.
Foodservice Equipment Reports is the official media partner of the HX: The Hotel Experience 2016 Foodservice Pioneering Concept Competition.
Judges And Judging Criteria
Many thanks go out to seven distinguished judges from the hospitality industry for the time and care they spent vetting this year's Foodservice Pioneering Concept entries. They used a very specific set of judging criteria to select the first, second and third place winners, including:
• Does the concept have the ability to generate revenue in a formerly empty space?
• Does it comprise a flexible, compact footprint?
• Does it appeal to multiple demographics, ages, cultures and professions?
• Does it deliver a local/regional menu?
• Does it use multifunctional equipment that's compact, easy to use, mobile, energy efficient and ventless?
• Does the concept embrace technology?
• Is the concept sustainable? In food? In its practicality over time? Energy?
• Does the concept enhance customers' perception of the host venue in which it's located?
Distinguished industry judges for the FPC in 2016 were Zia Ahmed, Sr. Dir., Dining Services, The Ohio State University; Michael Atanasio, Dir., Food & Nutrition Services, Overlook Hospital; Maura Doran, RDN, Dir., Food & Nutrition Services, New York Methodist Hospital; David M. Heymann, G.M., Sheraton Syracuse University Hotel and Conference Center; Tom Prykanowski, Dir. of Brand Strategy and F&B Innovation, Choice Hotels; Chef Michael Roddey, CEC, President and Principal, Gastronomic Services and Consulting; and Kirk Rodriguez, Dir., Hospitality Services, Texas Tech University.
Sponsor Thanks
The Foodservice Pioneering Concept and in particular Refresh Eatery & Market could not be realized without the generous help of business partners. Huge thanks go to Carts of Colorado for the actual build-out of the Refresh model at the HX: The Hotel Experience Show, which was held last November at the Jacob K. Javits Convention Center, New York. Many thanks also are due for equipment and supplies donated for use in the actual working model by the following companies: Featured sponsors: Carts of Colorado, ITW FEG, Traulsen/ITW FEG and Hobart/ITW FEG. Product Sponsors: Ali Group, Egro/Ali Group, Rancilio/Ali Group, Scotsman/Ali Group, Beverage-Air/Ali Group and Seating Concepts. Product Contributors: BSI LLC, Spring USA, Hatco, SmartPack and TheFUZE.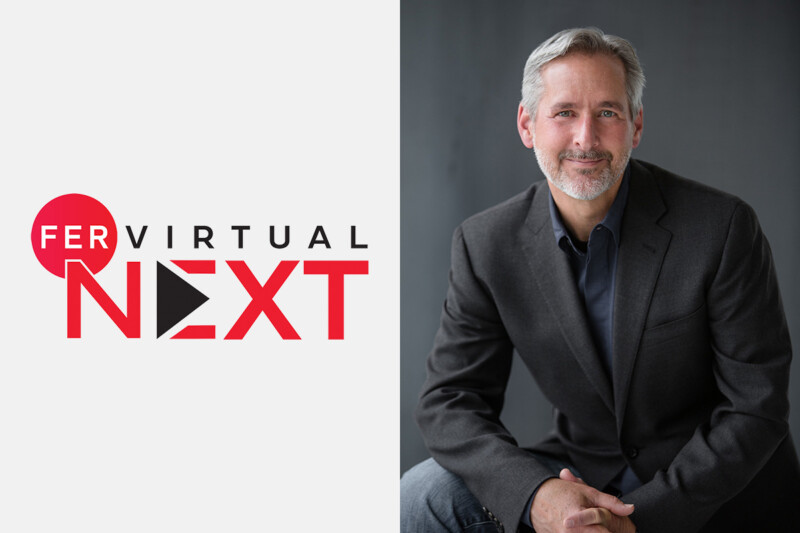 Event Coverage
Need to clear the air in your restaurants? Find out how to create safe, effective ventilation in the front- and back-of-house.