E&S Industry Event & Award Coverage
The NAFEM Show is Here!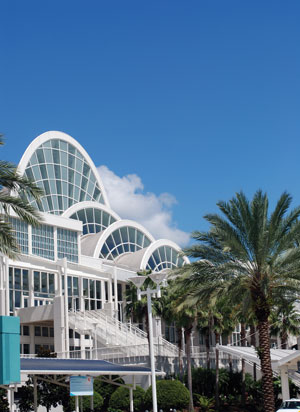 It's time to put on your walking shoes and explore the products and services on display at more than 560 exhibits set up across 372,000 sq. ft. of space at the Orange County Convention Center in Orlando, Fla. Set your step counters!

Before The Show
The NAFEM Show provides so many opportunities for channel partners to gather, meet, greet and learn. A few programs take place in advance of the show:

• National Equipment & Supply Association members will get together on Wednesday from 2-5 p.m. at the Double tree Hotel to go over strategies on how to make the most out of the time at The NAFEM Show. Association members also are permitted on the show floor from 8-9 a.m. before it officially opens on Friday and Saturday morning to give members time to meet with manufacturers.

• Foodservice Consultants Society Int'l.–The Americas' symposium, Breaking Bad Habits & Breaking Through, is Feb. 7-8. The event starts out with a private party at SeaWorld, Tuesday, Feb. 7, from 7-9:30 p.m. and continues the next day at the convention center with a breakfast starting at 7:30 a.m. and a full day of presentations. Visit fcsi.org/2017symposium for more information.

At The Show
Some events are happening during and after show hours as well:

• Members of the Foodservice Equipment Distributors Association are invited to attend the box lunch sales seminar, Feb. 10, 12-1:30 p.m. in Room S230 DEFGH at the Orange County Convention Center. The program, "Know More! Relationships," is led by Sam Richter.

• The Manufacturers' Agents Association for the Foodservice Industry is holding its 2017 Membership Meeting and Cocktail Party Feb. 10, 5-6:30 p.m. at the convention center.
Tools For The Show
Now is a great time to download The NAFEM Show app at thenafemshow.org/news-and-insights/download-nafem-show-app/ to access the following features:

• Express Reg Barcode to access a registration confirmation barcode for quick and easy badge pick-up.
• Activity Feed to stay up-to-date with happenings at the show.
• Floor Map to easily navigate the show floor by using the viewable map and advanced GPS functionality.
• Agenda Builder to create and manage a personalized itinerary of exhibitor appointments and activities during the show.
• Exhibitor Directory to search exhibitors by company name or product category, making it easy to find your specific purchasing needs.
• Networking to identify others in the industry you would like to connect with.
• Scan Exhibitors to scan your favorite exhibitors' QR codes for easy follow-up after the show.
• Featured Products to view details about the product showcase and What's Hot!, What's Cool! product gallery details.

Speaking of What's Hot!, What's Cool!, the pavilion is where you'll find some of the most innovative equipment and supplies debuting at the show. It's a place for attendees to get a taste of what's on the floor before visiting the exhibits to learn more. This year, Mike Colburn and Mary Esther Treat of Ideas Well Done, Winooski, Vt., will scour the show floor as well and report on noteworthy equipment highlights. They'll present on Friday and Saturday, twice each day from 11-11:30 a.m. and 2-2:30 p.m., in an informal Inspiration Station, a conversation area with seating set up for the purpose.

The NAFEM Show Buyer's Guide, available as a free download on the show's website, includes the new rules of foodservice E&S buying, with key considerations such as energy efficiency, how trends affect purchases and analyzing your menu for proper equipment choice.

While walking the show floor, be sure to stop by the FER booth 886 to visit with us and to share your favorite equipment finds.

Let's Party
Of course, a world of equipment and supplies wouldn't be very productive without professionals, and with more than 20,000 in attendance, the show is a great place for networking. Meet up with friends for a fun night of music and food at the Kick-Off Party on Wednesday at the Hilton Orlando. On Friday night join us at the FER Industry Excellence Awards Gala, a wonderful celebration where we gather to honor a select group of outstanding leaders in the industry. (See the sidebar for more details.) Everything wraps up with the After-Show Party on Saturday night, with dinner and a concert by The Killers. See you there!

The NAFEM Show
Orange County Convention Center
Orlando, Fla.
Thursday, Feb. 9, 9 a.m.-5 p.m.
Friday, Feb. 10, 9 a.m.-5 p.m.
Saturday, Feb. 11, 9 a.m.-3 p.m.
Attendees: 20,000 Exhibitors: 560
Events:
Kick-Off Party: Wednesday, Feb. 8, 6:30 p.m.-8:30 p.m., Hilton Orlando. Tickets: $30.
After-Show Party featuring The Killers: Saturday, Feb.11, 7 p.m.-11 p.m., Orange County Convention Center. Tickets: $150.
Registration: $100, thenafemshow.org.
FER's Industry Excellence Awards Gala Friday, Feb. 10!
Join friends and colleagues from every channel of the E&S industry for a night of great food, great cocktails and celebration as we honor the 2017 FER Industry Excellence Award winners:

• Young Lion Awards honoring rising stars age 40 or younger.
• Management Excellence Awards for multiunit operators, dealers and consultants.
• Industry Service Awards for individuals who have made extraordinary contributions to the E&S industry.

Festivities begin at 6:30 p.m. at the Hyatt Regency Orlando, across from the convention center. Contact Christine Palmer at cpalmer@fermag.com or 847/648-0059 to find out how to attend.