Kitchen Design
New Frontier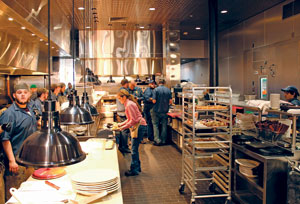 Long lines—as in nearly three-hour-long queues of visitors from around the country—have marked the opening months of Food Network celebrity Ree Drummond's new The Pioneer Woman Mercantile shop and eatery, located at the corner of Main and Kihekah in downtown Pawhuska, Okla.
The project started as a leap of faith with the 2012 purchase of the more than 100-year-old building "We bought it before I saw the inside of it," Drummond said in an interview with Oklahoma NBC-affiliate news channel KFOR-TV. "When [my husband, Ladd, and I] walked in, I was like, 'Honey, what are you thinking?' It really looked like something out of a haunted house movie. It was frightening."
The brick building, which still boasted a handsome façade, once housed Osage Mercantile, Osage Realty Co., a regional telephone company and a C.R. Anthony department store. But it had been long neglected. Despite its condition, the Drummonds had vision and their persistence paid off.
Renovation crews propped up ceilings and refinished wood floors, painstakingly stripped and then powder coated each square of the original tin ceiling, brought utilities up to code, added an elevator to meet ADA regulations, dressed up support columns with wood wainscoting and mirrors—and in all, brought a piece of Osage County history back to life. During renovations, crews discovered a painted advertising mural for National Biscuit Co. (Nabisco's predecessor) on a brick wall that had been covered by plaster. The vintage mural now serves as focal point for The Merc's deli.
As the building's makeover progressed, so too did the Drummonds' plans for the interior. They originally planned only a gift shop and grab-and-go deli. Today, The Merc offers three dining options—a coffee bar, deli/restaurant and full-scale bakery—to Pioneer Woman fans who make the pilgrimage to Pawhuska. The first floor houses the coffee bar and deli/restaurant along with a well equipped kitchen. The coffee bar features beans from Tulsabased Topeca Coffee plus an imported Italian espresso machine made by La Marzocco.
The deli/restaurant features "good, honest, country cooking." Favorites such as chicken fried steak, mashed potatoes and gravy, and baked goods are arrayed in high-end imported display cases made by Oscartek, also from Italy. The use of cast-iron skillets and enameled Dutch oven servingware echo the homey presentations shown on The Pioneer Woman Food Network shows. (Guests can purchase the same vessels in The Merc's retail area.)
The bakery plus its own supporting kitchen can be found on the upper level. There, floor-toceiling windows and exposed brick walls add a vintage ambiance to the stand mixers, sheeters, proofers and worktables. On clear days, beams of sunlight stream in on busy bakers, patisserie and chocolate workers. A reception area next to the bakery has served as a site for many meet-and-greets between Ree, Ladd and their fans.
Little Casino Kitchen On The Prairie
Despite her considerable kitchen and TV food studio skills, Drummond reached out to a foodservice pro to plan and run The Merc's culinary operations. That pro turned out to be Chef Kurtess Mortensen, best known for his work as corporate executive chef in some of Las Vegas' top properties, including the Cromwell, the Venetian and Caesar Entertainment group brands such as The Rio, Bally's and Paris.
Chef Mortensen's challenge was to create a commercial kitchen that could turn out Drummond's homey recipes in high volumes while retaining the dishes' homemade taste and presentation.
In addition, each component of The Merc's foodservice operations— the deli/restaurant, the coffee bar and bakery—was designed with an eye on future growth.
"One of Ree's goals was to create a prototype she will be able to take to other, larger, markets," notes Rocky Sturm, Principal of Tulsa-based Sturm Consulting, whose role was to translate kitchen sketches into reality. "That's why The Merc kitchen is equipped to serve a 300-seat facility, but The Merc's restaurant seats 140 people on the main floor (up from 80 seats at opening) and 50 seats adjacent to the bakery."
The Merc's three foodservice areas can each separate out into stand-alone units in future locations. "The cooking areas will serve as the prototypes, and the remaining support components—walk-ins, storage and dishroom— will be slotted in according to available space," Sturm explains.
Roaming The Merc's BOH
The Merc's kitchen layout credit goes to Chef Mortensen, who drew on his Las Vegas background for equipment choices and arrangements. "Chef Mortensen had sketched out areas of the kitchen, which we then converted into a working plan with the right aisle spacing, making sure the equipment he wanted would fit in the space allotted Sturm says.
The short-order kitchen's most notable element is its U-shaped chefs' counter, measuring about 20 ft. along each of its long sides. The layout places the kitchen's hustle and flow in full view of guests in the deli line. "The openness was part of the plan," Sturm says. "Servers enter the inside of the U to pick up food orders. Under counter shelving holds plates, condiments, silverware, etc., convenient to servers and bussers. There's no crossover at all between the cook staff and serving staff."
Meanwhile, restaurant food production happens on all three sides of the U's exterior. The cookline (along the left for someone viewing from the deli line) features a charbroiler, fryer bank, griddle and range/oven. A second griddle and a convection oven plus work space anchor the far end of the U. Salads and sandwiches, desserts and other cold items are produced on the right side
High-volume food production for the deli and carryout takes place behind scenes. On the opposite side of the Ushaped area's back wall is a production cookline. Two tilt kettles, a pair of tilt skillets, a warming cabinet and a blast chiller anchor this area. Behind one additional wall sits the cold prep area and dishroom.
"The three distinct culinary areas make The Merc a unique project," Sturm says. "This 100-plus-year-old, warehouse-type building with its big windows and vintage brick elements combined with Ree's vision and gift for tying it all together have been remarkable."
Bring On The Stampedes
The Merc's high-volume kitchen capacity has come in handy. On Nov. 5, its first Saturday in business, The Merc welcomed some 12,000 guests through its doors, according to various news reports—this in a small (population 3,600) prairie town an hour's drive from Tulsa.
As with any first-time undertaking of this magnitude, tweaks are inevitable. Three weeks after opening, Drummond's blog post on Nov. 21 describes one such shift: "We are continuing to get comfortable with all the processes involved with running a restaurant, bakery, and store, [but] we've completely changed some things 180° from where we'd originally planned," she writes. "For example, we never intended for the deli to be a sit-down restaurant; we intended all the ordering to happen in the deli line, and for the restaurant to be sort of a fast-casual kind of place. But we found that folks who visited actually preferred to come inside, sit down, look at the menu and order. So, we adapted, and everything is moving along nicely."
The crush of Pioneer Woman fans slowed— somewhat—after the holidays. "Chef Mortensen estimates the restaurant handled about 1,300 covers the Thursday after Christmas, plus an additional 500 covers in the bakery," Sturm reports. Wait times for a seat in the restaurant still take a good two+ hours, however, but the kitchens are ready.
The PW Mercantile's short-order kitchen's U-shaped chefs' counter, measuring about 20 ft. along each of its long sides, places the kitchen's hustle and flow in full view of guests in the deli line, with no crossover at all between the cooking staff and serving staff.
Natural light and original brick walls make the viewing area of the Pioneer Woman's well-equipped bakery production area a destination in itself. Roll-in ovens, convection ovens, proofers, floor mixers, sheeters and more fill the area.
EQUIPMENT
Back-Of-House
Scotsman/Ali Group crushed-ice maker
Kold-Draft/Legacy Cos. ice maker
Hobart/ITW FEG ventless dishmachine w/booster heater
ColdZone refrig. rack system
Minipack America vacuum sealer
Eagle Group pan racks
American Panel blast chiller
CookTek/Middleby countertop induction range
Cleveland/Manitowoc 12-gal. tilt kettles; 30-gal. tilt skillets
Deli/Restaurant
CaptiveAire hoods, fire suppression system
Cres Cor proofer/hot cabinet
Southbend/Middleby convection oven
Garland/U.S. Range/Manitowoc griddles, worktop cabinets,
range w/convection oven, hot top range, salamander, range
w/high-heat oven
Hobart/ITW FEG slicer
Beverage-Air/Ali Group refrig. bases
Everest Refrigeration freezer
Dean/Manitowoc fryers w/filter
T&S Brass wall-mounted fill faucet
Bakers Pride/Standex open hearth pizza oven, hood
Hatco overhead heat lamps, drop-in hot plates
TurboChef/Middleby panini units
Glastender drop-in ice cream freezer, dipper well
Bally walk-in cooler and freezer
Everest Refrigeration sandwich unit
Stainless Innovations drop-in ice bin
Oscartek cold deli counters, hot deli counters, hot food counter, sandwich/salad counters, dessert counter
Coffee Bar
Structural Concepts grab-n-go refrig. display units
Blendtec/Lancer blenders
BUNN hot water dispenser
Coffee grinder, brewer, airpots (by vendor)
La Marzocco espresso machine
Bakery/Chocolate
Doyon/Middleby roll-in oven, hood, convection oven, roll-in
proofer, roll-in oven racks, 75-lb. spiral mixer, water meter,
dough sheeter
CaptiveAire hoods
Dean/Manitowoc fryers w/filter
Garland/U.S. Range/Manitowoc range w/convection oven
Cleveland/Manitowoc 6-gal. tilt kettle, 25-gal. tilt kettle
Everest Refrigeration refrig.
Eagle Group storage shelving, hand sinks, pan rack
Cambro ingredient bin
Kombimix water chiller
Hobart/ITW FEG 20-qt. mixer, 40-qt. mixer
Stainless Innovations marble top table, mixer stand,
worktop refrig., work tables
Bakon USA chocolate tempering machine
TurboChef/Middleby panini units
Oscartek chocolate counter, pastry counter, deli/pastry counter
Bally walk-in cooler and freezer
Blendtec/Lancer blenders
BUNN hot water dispenser
Coffee grinder, brewer, espresso machine, airpots (by vendor)
SPECS
MENU/SEGMENT: Deli Restaurant/Bakery/Coffee Bar
HEADQUARTERS: Pawhuska, Okla.
OPENED: Oct. 31, 2016
OWNERS/FOUNDERS: Ree & Ladd Drummond
EXECUTIVE CHEF: Kurtess Mortensen
HOURS: Monday-Thursday, 6 a.m.-6 p.m.; Friday-Saturday, 6 a.m.-7 p.m.
SIZE: Back-Of-House/Restaurant - 1,727 sq. ft.; Deli -597 sq. ft.; Coffee Bar - 228 sq. ft.; Bakery/Chocolate - 2,413 sq. ft.; Reception area - 2,200 sq. ft.
SEATING: 140 seats, main level; 50 seats, upper level
FF&E PACKAGE: $1.2 million
CONSULTANT/DESIGN FIRM: Rocky Sturm, Principal, Sturm Consulting, Tulsa, Okla.
ARCHITECT: Scott Ambler, President, Ambler Architects, Bartlesville, Okla.
EQUIPMENT CONTRACTOR: Cary Amundsen, President, Amundsen Food Equipment, Oklahoma City
CUSTOM FABRICATOR: Randy Mulikin, Stainless Innovations, Fort Smith, Ark.
WEB: themercantile.com