E&S Industry Event & Award Coverage
Industry Service
What strikes us about the honored recipients of FER's 2017 Industry Service Award is the range of roles these inspiring professionals take on outside of their very demanding day jobs. From heading committees and serving on boards to devoting time and energy as trainers and advisors, they have spent years—some more than a decade—volunteering their time to launch major industry initiatives, mentor others and propel the industry forward. It's an honor to share their stories and to shine a much-deserved spotlight on them.
"Giving your time to industry organizations is, in a sense, part of your ongoing education and professional development," says Christine Guyott, FCSI, Principal with Rippe Associates And it's true. Many of the recipients note how their volunteer experiences enriched them. By serving an association and connecting with peers, dealer Brad Wasserstrom, President, The Wasserstrom Co., was able to find new solutions to common obstacles they all shared. Joe Ferri, Principal and COO, Pecinka Ferri, experienced an education process that he hadn't anticipated—and truly treasures. Meanwhile, Paul Toukatly, Co-Owner, V.P., Duffy's Equipment Services, says about those he has helped train, "it was very satisfying to watch them gain enormous confidence." David Harpring, former director of global engineering and sustainability for Yum! Brands , has satisfied his penchant for sharing by presenting at numerous association meetings throughout his career.
For the Industry Service Awards, part of the FER Industry Excellence Awards program, which also includes the Young Lion and Management Excellence Awards, FER partners with the Commercial Food Equipment Service Association, the Foodservice Consultants Society Int'l., the Foodservice Equipment Distributors Association and the Manufacturers' Agents Association for the Foodservice Industry to select four of the winners. The fifth honor, awarded to an operator, is chosen by FER staff.
Join us as we recognize the recipients of the Industry Service Awards, as well as all other winners of the 2017 awards program at our gala, Friday, Feb. 10, at the Hyatt Regency, Orlando, Fla. (Friday during The NAFEM Show). For tickets, call Christine Palmer at 847/648-0059.


Industry Service - Dealer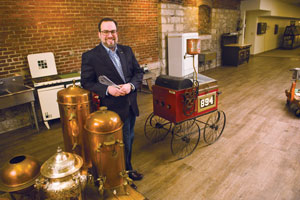 BRAD WASSERSTROM
President
The Wasserstrom Co., Columbus, Ohio
Years in Industry: 23 Industry Affiliations: FEDA, NexGen Procurement Group Volunteer Endeavors: Center of Science and Industry, Columbus State Community College, Bexley Community Foundation, Columbus Jewish Historical Society, The Ohio State University, Columbus Downtown Quarterback Club
As president of the Foodservice Equipment Distributors Association in 2012, Brad Wasserstrom, President of The Wasserstrom Co., had a very novel solution to an ongoing problem: the channel conflict between manufacturers and dealers. "When manufacturers go direct to end-users to negotiate pricing without dealers' input, it's a big financial hit for dealers," says Wasserstrom. Yet rather than criticize those manufacturers, he wanted to praise the manufacturers who consistently support dealer-based distribution.
"It was Brad's vision to embrace rather than push away that led to the creation of FEDA's Exceptional Manufacturers list," says Ray Herrick, FEDA's Executive V.P. "Brad reasoned that recognition and encouragement were not only important, but far more effective in furthering mutual goals and the greater good."
Wasserstrom, who has worked for his family's restaurant equipment supply company since 1993, has served on FEDA's board and in every role of its executive committee over the past 15 years. "Early on in my career, my dad introduced me to Ray Herrick one year at the National Restaurant Association convention. Then someone from FEDA asked me to help plan a lunch program for a young executive group. My involvement grew from there," says Wasserstrom. When he first became active with FEDA, he says, much of the E&S business was still regionally based, so there was a sense of peers coming together to share good ideas. "I loved talking with people who I had so much in common with," he says. "I learned a lot. I just soaked it all up."
Eventually the executive committee asked Wasserstrom to be on the board. Pretty soon he was invited to be assistant chair and then chair of the convention. Next, he stepped in as FEDA's secretary, treasurer, v.p. and president. FEDA Chairman of the Board Brad Pierce says, "Brad exemplifies the spirit of selfless service to the foodservice industry. He's earned the trust and respect of his colleagues by always doing the right thing, even when no one is watching."
"Through volunteering with FEDA, I've had the privilege to gain a deep understanding of how the industry works beyond the dealership channel," says Wasserstrom. "Whether we're consultants, service agencies, reps, manufacturers or dealers, we all need each other to survive. It takes all the different gears to be moving together in order to work."
Wasserstrom, who started in the business in the factory cutting metal and welding, is now responsible for the Wasserstrom Co.' Dealership Division, which receives 30,000 orders a week. "It's easy to get tunnel vision and just see what's in front of you," he says. "Through working with FEDA, I gained invaluable insight from peers who had unique approaches to standard industry obstacles such as asset management or how much of the business can be automated with new technology."
In addition to his extensive involvement with FEDA, Wasserstrom's also served as treasurer and president of the NexGen Procurement Group. Currently, he's involved with Columbus State Community College as part of a kitchen cabinet advisory team of hospitality, culinary and foodservice professionals working to create a new culinary arts and hospitality center at the school.
Serving others is clearly a Wasserstrom family tradition. In 2007, the Wasserstrom Family Scholarship for hospitality management students was established at the college,
as well. Each year, Wasserstrom and other family members have lunch with the scholarship recipients to get to know the students and learn about their aspirations for the future.
"It's clear that Brad connects with and deeply cares about others," says Pam Bishop, Executive Director, Columbus State Community College Foundation. "His commitment to service is authentic. It's never about him, but always about family, community and the greater good." "My grandfather taught my father and my father taught me that our community has been very good to us and that we should give back to our community," he says. As a result, service is also a core value of The Wasserstrom Co. "There's not a week that goes by, that we're not involved in a fundraising project here at the office," he says.
As truly committed as Wasserstrom is to giving back, he's realistic about what that requires. "It means sneaking off to the office to write a speech when your kids are in Sunday school," he says, "or giving up golf. You figure out what sacrifices you're willing to make and you make them for the time being, because you understand the importance of what you're doing: leaving your community better than you found it."


Industry Service - Consultant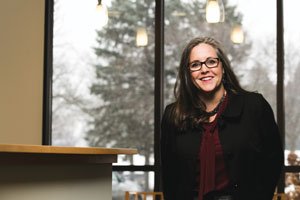 CHRISTINE GUYOTT, FCSI, RD
Principal
Rippe Associates, Minnetonka, Minn.
Years in Industry: 35
Industry Affiliations: FCSI, AHF and Kansas State University Dietetics Advisory Board
Awards: ADA Young Dietitian of the Year, ADA Foundation Foodservice Design Award, FCSI Best Article by a Consultant Award
If any one word were to pinpoint what makes longtime healthcare foodservice consultant Christine Guyott tick, it would be "involved."
Guyott, Principal at design and consulting firm Rippe Associates, Minnetonka, Minn., near Minneapolis, has made a point of being involved since her college days studying dietetics at Pepperdine University. "One of my foodservice professors encouraged me to take part in professional organizations," she recalls. Guyott listened.
"Giving your time to industry organizations is, in a sense, part of your ongoing education and professional development," says Guyott, who for close to 20 years has served on committees and boards of the Foodservice Consultants Society Int'l. and the Association for Healthcare Foodservice, to name a few. "It's like working out. The more effort you put in, the more rewarding the outcome."
In 1995, during Guyott's stint as a healthcare sales specialist for Sysco Foodservice, a customer told her about a job opening at a Minnesota foodservice consultancy specializing in facility design and management advisory services for multiple commercial and noncommercial foodservice segments, including healthcare. "I applied, met [company founder and now former owner] Bob Rippe and today am going on 23 years with the firm," Guyott, 49, says. Through Rippe, Guyott discovered a profession that combined her dietitian skills and operations expertise into an arena for creative design and problem solving.
"Christine has always been a natural leader," Rippe observes. "As new people joined our design firm, with varying degrees of experience in design or consulting, she mentored them in everything from spec writing to equipment research and more. She's the type of person who is genuinely interested in her clients, co-workers and industry association colleagues. Many people get focused on their own projects and are not as willing to give time to companyor industry-related projects. But Christine would always commit to extra projects if she felt they would improve the organization."
Guyott's attention to detail and commitment to healthcare foodservice design excellence has earned her many fans among operators. "Christine focused on achieving the goals we set for our massive project," says David Reeves, Director of Hospitality Services at Elmhurst Memorial Hospital, Elmhurst, Ill., who first met Guyott when her firm was engaged to design a new kitchen for Elmhurst Memorial's new 259-bed facility and today serves with her on the AHF board. "The development required significant design, preparation construction, bid documents, and coordination with multiple architects and trades. Christine together with the Rippe team ensured the foodservice part of the project ran smoothly."
Guyott currently chairs the AHF's Industry Advisory Board, an invitation-only post that comprises about 20 of the association's business partners (including food companies, distributors, manufacturers and consultants). "We IAB members serve as a sounding board for operators sharing our collective healthcare facilities experience with them. We helped create the AHF's new marketing/sponsorship program, and we serve on committees and provide support," she says. "You're serving the association—but you're also learning at the same time."
Industry peers hold Guyott in high regard. "Christine brings the same focused mentality to her various board positions as she does to her consulting," notes Rob Geile, V.P. of Consultant Services for Ali Group, Vernon Hills, Ill., and the incoming chair for IAB. "She collects data on a topic then analyzes it into something workable for the future. She's got a knack for asking the right questions. With 20+ years in foodservice, she's able to take the information she learns from working with clients coast to coast, and use it both at the association level and at the client level."
When someone—be it manufacturer, operator or peer— asks Guyott her opinion, her answer will always be carefully thought out and honest, even if it's not necessarily the answer hoped for. Guyott recalls one equipment manufacturer who had upgraded a piece of countertop equipment to be larger and faster. "We talked to the sales person who also served on the company's R&D team and told her the new unit would be too large for most counters," Guyott says. "They listened. The engineers came back some time later with the new technology in a smaller footprint."
Wade Koehler has known Guyott since '09 when he became Executive Director of FCSI-The Americas and she was then serving on the conference committee. "Christine is always prepared, always professional. She's not afraid to voice her opinion and she asks questions others might not think of," Koehler says. Today Guyott serves on FCSI's board.
Guyott's dedication has helped shape FCSI over the years. She has played a role in conference planning for three of the association's annual meetings. She helped launch an FCSI-inspired program on Web TV Network Foodable called BUILT. And she helped develop FCSI's Committee For Emerging Consultants.
"Attracting millennials to our industry so they're engaged and involved; that's my goal," she sums up with a wry laugh. "Then people my age will be able to retire at some point down the road."


Industry Service - Manufacturers' Rep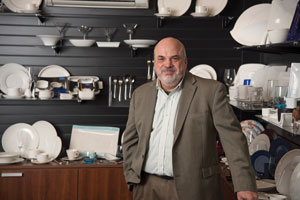 JOE FERRI, CPMR, CFSP
Principal & COO
Pecinka Ferri Associates, Fairfield, N.J.
Years in Industry: 40+
Industry Affiliations: MAFSI (Past President; Marketing & Communications Committee; Research, Data & Technology Committee), FEDA, ACF, AHF, SHFM (Vendor Advisory Board)
Joe Ferri has foodservice in his blood. He jokes that he was conceived in a Greenwich Village speakeasy, the love child of a hatcheck girl and a bartender who worked there, but that's not far off the mark. Everyone in his family as he was growing up worked in some capacity in operations, so it felt natural to go to work for a distributor right out of grammar school.
Once a buddy taught him how to sell, Ferri switched to equipment and worked several jobs as an equipment salesman before joining a manufacturers' rep firm 25 years ago. Five years into the job, he bought out his partner and the firm became Pecinka Ferri Associates. What's kept him at one company that long and in one business for more than 40 years is a real love for the industry.
"You can go from the back room of a mom-and-pop one day to an executive dining room the next," he says. "No two days are alike. We're always reinventing ourselves, and the pace keeps accelerating. We no longer just sell product lines. Now we're into things like content creation and event management." Ferri creates content such as an industry-related blog, and manages events, including lunch-and-learns at the Pecinka Ferri culinary center.
Reinvention, though, has helped Ferri stay abreast of technological and social change. At the same time, keeping his ear to the street has helped him become extremely knowledgeable about the industry and much more.
He's a guy who always goes above and beyond," says Mark Pumphret, National Sales Manager, Hatco Corp., Milwaukee. "He goes to all the shows and conferences. His efforts to be a millennial even when he's from a somewhat older generation are impressive. He uses social media, his blog and a newsletter to stay relevant, and because he's so well-read, I really value his opinions and his perspective."
"His knowledge is second to none," says Alison Cody, Executive Director of the Manufacturers' Agents Association for the Foodservice Industry, "and he's a first call for many people from both the rep and manufacturing side when it comes to navigating complex issues."
Ferri laughs but admits it's true. "The amount of arcana we learn over 30 years is amazing, like what advice to give someone who wants to use compressed natural gas as a fuel source for a fryer on a food truck, or how many feet across the ideal kitchen measures—17."
"To a person, those I asked in my company say Joe is someone they trust, extremely knowledgeable, highly professional, and does business the right way," says Fred Singer, President and CEO, Singer Equipment Co., Elverson, Pa. "He has a genuine desire to help the end-user and doesn't run away when there's a problem. For me personally, Joe is someone I can bounce ideas off of because he has a really good grasp of the big picture."
Ferri is also the kind of guy who feels a need to give back to the industry that nurtured him. In addition to belonging to several trade groups, Ferri spent 10 years as a MAFSI board member, and served as president in 2014-'15. He remains on two of the association's committees, Marketing & Communications, and Research, Data & Technology.
His major contribution and accomplishment, however, was a multi-year project as architect of MAFSI's member-fueled specification-tracking software SpecPath. The patent-pending software program was released this past summer.
"Had I known what was involved, would I have embarked on the project?" he wonders. "With my day job, my job touring the country touting the benefits of MAFSI, and working with software developers to create this program I wonder how I survived. I think my solution was getting to bed early. It helped me stay focused."
Ferri says that he got out of his volunteerism as much or more than he put in. "Personally, I experienced a maturation process I wasn't even aware of, and growth I hadn't anticipated and that I truly treasure. Professionally, I got to meet every type of businessperson in every silo both above and below my pay grade."
In the process, Ferri has given back in another way, by mentoring and encouraging a whole new generation of people entering the foodservice industry. "I've known Joe for about 20 years," says Chris Jeens, Partner, W.D. Colledge Co., Mississauga, Ontario, "but that relationship expanded in the last 10 as I became more involved with MAFSI. Joe became a mentor for me in that time, especially when he became president and I joined the executive board as treasurer. And the fact that his son, Joe, Jr., worked as a consultant and then joined Joe's firm speaks to how he has impassioned a younger generation."
"We've been taken as frat boys sometimes," Ferri says, "but there are a lot of very serious people coming into the business, a new breed of Ivy League-educated, very smart businesspeople. Being a parent teaches you your purpose in life is to teach and train the next generation."
Despite how busy he is Ferri is very much a family man, making time to attend kids' sporting events and travel the world—one of his hobbies—with his wife, Karen. He's also an accomplished jazz guitarist.
What gets him up in the morning, though, is his love of the industry. "The newly found enthusiasm for food itself is what I find so exciting," he says. "The new reverence for food is what drives me. You might say I'm a foodie 'quipper' and a food equipper."


Industry Service - Service Agent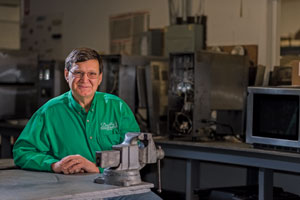 PAUL TOUKATLY
Co-Owner, V.P.
Duffy's Equipment Services, Sauquoit, N.Y.
Years in Industry: 42
Industry Affiliation: CFESA
Awards: CFESA Dedication to Training, and Outstanding Service; FEDA Leadership Award; FCSI Award of Recognition; MAFSI Award of Merit; NAFEM Doctrine of Foodservice, and Award of Merit
With seven branches of Duffy's Equipment Services to oversee, four children and 12 grandchildren, it's remarkable that Paul Toukatly found time to volunteer his service for nearly 20 years with the Commercial Food Equipment Service Association.
"Paul is one of the most honest, caring and hardworking people I know," confirms Heather Price, Executive Director at CFESA. "As a certified trainer, he revamped training courses and edited training manuals. As president, he brought together talent, helped unify his board, and helped us reach our goals with a new training facility. Volunteers like Paul deserve more recognition."
Toukatly, Co-Owner and V.P. of Duffy's, has spent 42 years in the E&S industry. At age 12, he started working summers as the only other employee at Duffy's with his uncle Frank Duffy. At 18, he went full-time and at the young age of 20, his uncle entrusted him with the daunting responsibility of opening the first branch of the company in Binghamton, N.Y.

"As the company grew and we hired more staff, we developed our own gas school at Duffy's so that we could train our new technicians," says Toukatly. "So, it was an easy transition for me to become a certified trainer with CFESA. After all, I'd been going to the conference meetings since I was a kid."
Toukatly calls the training courses, "the jewels of CFESA." Under Toukatly's guidance, CFESA leaders built on providing certifications in electricity, gas, steam and refrigeration by adding other areas such as water training, soft-skills training and dispatcher training over the years. They also worked with other manufacturers to make sure their training is up to par. "The technicians we get are very green," says Toukatly. "It's very satisfying to watch them gain enormous confidence over six days of training."
Eventually Toukatly served on CFESA's board of directors and as v.p. and president. "I always joke that the worst thing that can happen in an organization is that people learn your name. Then they start saying, 'maybe Paul could do that?'," he says of his growing responsibility in the association.
Joking aside, Toukatly says his father always taught him that to be part of something requires you to give back. "After years of going to the meetings, instead of being just one of the people who sits and absorbs the information, it got to a point where I said, 'I think I have something to offer here.'"
Among contributions, Toukatly opened the association's first Global Training Facility at CFESA's headquarters in Fort Mills, S.C., in 2014. "Without our own location, we had to go around with our hat in our hand and ask others if we could use their facility, which never really matched what we needed," he says. After the building was purchased, Toukatly worked with the board to get four cutting-edge training kitchens built and the first training underway in 16 months. "I had a great board," he says. "They worked very hard fundraising."
Joe Pierce, President and CEO of Pierce Parts & Service, Macon, Ga., and '15 Industry Service Award winner, can attest to it. Under Pierce's CFESA presidency just prior to Toukatly, he spearheaded the idea for the center and helped find the building. "Paul was tasked with finding a way to pay for it!" Pierce laughs.
Kidding aside, Pierce says, Toukatly was an effective president on multiple fronts, including his progressive collaboration with industry's other channel association presidents to find solutions to problems and divisions that affect them all. "Paul genuinely cares about this industry," Pierce says.
As president, Toukatly also recruited others to become involved with the organization. "Everyone's response is that they don't have the time. Yes, there is some significant contribution in time that you have to make to serve in these roles, but that's not an excuse because we all have businesses to run and families to enjoy. What I tell people is that if you don't do it, you're just leaving it to someone else to run your organization."
Another excuse that Toukatly consistently heard was that people didn't think they had anything special to contribute. "First I remind them that if I was president, then really, anyone can do it," he jokes. "But the truth is we all have something to contribute. The board members are easy to work with, and we all have the same goals. We all just have slightly different ways to get there."
Patrick Duffy, who owns Duffy's with Toukatly, was a little concerned by his increasing role in the association. "But Paul never missed a beat. He was able to keep up on his Duffy's workload, which is plenty by itself," says Duffy. "When Paul commits to a project he gives it 110% so I knew no matter what he took on with CFESA, it would get done and done right."
John Schwindt, V.P. of CFESA, who worked with Toukatly on the education committee agrees. "To be in the service industry, you have to love people and have a great sense of humor, otherwise you would never tolerate the demands that people place on you. Paul takes it to a whole different level. Whether it's serving on the CFESA board, taking on the challenge of the presidency, or being a CFESA trainer—which meant he spends eight days away from his business and family putting on classes over 12-hour days—Paul truly finds joy in serving people."


Industry Service - Operator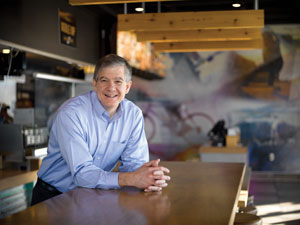 DAVID HARPRING
Former Director of Global Engineering & Sustainability, Yum! Brands
Louisville, Ky.
Years in Industry: 14+
Industry Affiliations: U.S. Department of Energy Better Buildings Alliance (Steering Committee Member); ASHRAE Member; Association of Energy Engineers Member (Certified Energy
Manager, Certified Energy Auditor)
Volunteer Endeavors: Member of 2015 inaugural class of Yum! Ambassadors who traveled to Nicaragua with Yum! CEO to assess needs of two schools served by United Nations World Food Program. Team raised $270,000, matched by Yum! Foundation to provide support for schools.
If any one person could be said to have shifted the focus of a global restaurant company in an energy-efficient direction, that person would be David Harpring, former director of global engineering and sustainability for Yum! Brands, Louisville, Ky. Harpring and his team's work on optimizing kitchen ventilation systems and operational efficiencies over the past decade has played a substantial role in the creation of Yum!'s in-house sustainable building standard, Blueline.
"David has been my right-hand man when it comes to Yum!'s sustainability journey," says Yum!'s Chief Sustainability Officer Roger McClendon, who has worked with Harpring for nearly 14 years.
Harpring, who credits colleague Jonathan Balas, Senior Manager, Global Sustainability at Yum! Brands, as the main architect of Blueline, applied Yum!'s energy-use data plus knowledge of the LEED certification program to develop the program. "Blueline has been deployed globally, encompassing all our sustainable restaurant design standards," McClendon says. "Under Blueline, stores can accumulate points as they select building options from a good/better/best tier of choices."
At the end of 2016, more than 5,600 locations worldwide include cost-saving Blueline elements such as LED lighting, demand-controlled kitchen ventilation, low-flow water fixtures and more. In '17, about 80% of newly-built Yum! Corporate restaurants will implement Blueline standards.
"Blueline is more than an altruistic approach to saving the environment," Harpring notes. "Rather, it's an application of technologies and approaches that impact, as we say, 'people, planet and profit.' We've built a solid business foundation that provides economic benefits while helping the environment."
Harpring joined Yum! in '02 as an engineer tasked with making co-branded store kitchens work. Three years later, when Yum!'s co-branding focus shifted, Harpring's new role as senior manager of global engineering pointed him toward optimizing platforms crossing all brands. In '06, when Yum! committed to reducing its restaurant energy consumption 15% by '15, Harpring helped lead the charge.
His well-worn passport overflowing with visas and stamps, Harpring has traveled to 15 countries to help overseas Yum! teams implement sustainability projects. And he has provided development leadership for more than 25 LEED-certified restaurants in the U.S. as well as China, India and other international markets.
Harpring's energy-efficiency focus has boosted Yum! in particular and the restaurant industry in general thanks to his penchant for learning—and sharing—knowledge. After attending seminars and undergoing courses, Harpring has given back to the industry in the form of presentations for such associations as American Society of Heating, Refrigerating and Air-Conditioning Engineers, the Consortium for Energy Efficiency, Energy Star and FER's Multiunit Foodservice Equipment Symposiums. Harpring's sharing has opened the door for other restaurant companies to start down their own sustainability paths.
And Harpring has both relied on and partnered with industry research groups. "David has been a longtime advocate of the FSTC," says Don Fisher, Co-Owner, FisherNickel Inc., and operator of the PG&E Food Service Technology Center, San Ramon, Calif. "I consider it a highlight whenever Dave would call to discuss Yum!'s HVAC-CKVrelated design options. David's technical precision and integrity are noteworthy, particularly as he has provided the engineering foundation for the multiple LEED and Blueline projects Yum! Brands has around the world."
Harpring would be the first to admit the role chance has played in mapping his path to becoming Yum!'s sustainability game-changer.
"Most things in my career have happened serendipitously," Harpring says. "When I became involved in energy efficiency for Yum!, I met a consultant whose business card had 'CEM' after his name. I wondered what one needed to do to become a Certified Energy Manager, and ended to do to become a Certified Energy Manager, and ended up taking the course to become certified myself. In '09, I was at an Edison Electric Institute meeting and happened to meet someone from the U.S. Department of Energy's Better Buildings Alliance. They needed a representative from the restaurant industry to serve on the steering committee, so I stepped up on behalf of Yum!."
Harpring's first boss at Yum! agrees with the serendipity assessment, but goes a step further. "I would summarize David's career as being the right executive, the right leader, at the right time in Yum!'s history," says Middleby Corp. COO David Brewer, former engineering v.p. at Yum!
"David has been able to take Yum!'s overall vision of being a better steward of the environment, then create the strategy, plans and tactics needed to persuade thousands of executives around the world to execute the program at the local level," Brewer says with admiration. "David not only has leadership skills and knowledge, he's passionate about what he does. He's able to tap into the passion of others so they too become motivated to act."
"David's legacy at Yum!," Brewer says, "is an embedded, organization-wide acceptance of sustainability efforts as routine, standard—and the right thing to do." Editor's note: As of January 1, David Harpring began a new type of sustainability work through his new role as Director of Chain Development for Halton Group, Scottsville, Ky.