Kitchen Design
Path To Perfection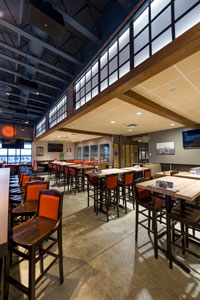 When it came time for a smaller, more efficient prototype, leaders at Old Chicago Pizza & Taproom, a 105-unit division of CraftWorks Restaurants & Breweries, assembled an unlikely team to radically rethink store operations and design.

The group included a store g.m., prep cook, pizza cook, line cook, dishwasher, bartender, trainer, culinary director, operations regional manager and the company's director of strategic initiatives. In February 2014, the group of 10 sat down in Old Chicago's board room in Broomfield, Colo., to begin working. When the team's resulting prototype opened in late '15 in Pueblo, Colo., results "surpassed all expectations," says Scott Adams, CraftWorks V.P. of Strategic Supply and Initiatives, a 16-year veteran with the company. "We saw double digit increases in sales compared to existing restaurants."

The team's working orders seemed easy enough. Their goal was to reduce the restaurant's footprint ranging from 6,500-7,000 sq. ft. down to 5,000 sq. ft.—a 23%-28% decrease in size.

Kitchens would prove trickier. "Our kitchens in existing restaurants covered up to 1,800 sq. ft.," Adams says. "Our initial target was to shrink kitchens down to 1,300 sq. ft. In the end, though, the need for cold storage resulted in a back-of-house footprint of 1,450 sq. ft."

The Lean Team
Old Chicago's route to reinvention relied on Lean 3P (Production/Preparation/Process), defined as "an event-driven process for developing a new product concurrently with the operation that will produce it." In other words, the new restaurant prototype would be created by the people who would be using it.

The 3P process was led by Next Level Partners, a consulting firm out of Naples, Fla. CraftWorks had used Lean 3P to fi ne-tune cook stations in its other brands, so applying it to an entire kitchen was a logical next step.

"We spent the first three days teaching the team about lean management practices and 3P—how to identify waste in terms of time, product, space and other parameters," Adams recalls. "Then we divided the group into two teams, gave them floorplans for each venue and sent them out to study four of our area restaurants."

The teams' tasks included making "spaghetti maps"—tracking a worker's movements for up to two hours without lifting pen from paper; time/motion studies for individual back-of-house tasks; and in general, identifying good and not-so-good elements of each store.

"We asked them to watch for workers waiting for items and consider whether equipment, or workers, could keep up with volume. They were further directed to ask questions such as 'was the wattage of the microwave strong enough to heat fast enough?' and 'were employees waiting to use a machine?'" Adams explains. Once back at headquarters, each team presented a slideshow on seven examples of good flow and seven examples of waste. "Next, teams were asked to design seven potential new layouts, giving us 14 variations," Adams says. "Multiple designs pushed our people to step outside their comfort zones. Their first design might be the one they're most attached to—while the additional designs could be where true ingenuity lies."

Through a process of points, voting, discussion and agreement, the group narrowed 14 potential prototypes to the six best, then the three best, and finally the two best—which were merged into a single prototype.

Cardboard Kitchen
Then the creative process moved from 2D concepts on paper into the 3D world. Using a pallet of 4-ft. x 8-ft. cardboards and connector sets, "we built a cardboard kitchen—to scale—in a vacant retail space conveniently located on the first floor of our building," Adams says. The team had fun with the assignment. "They used tube-ends to create 'feet,' and markers to draw knobs and doors."

Crews taped specs to the top of each individual piece of equipment. They abbreviated most of the dividing walls to 4-ft.H for better visibility, although they made one wall a full 8-ft.H for scale. Actual smallwares—trays, pots, pans, rolling racks and utensils—from Old Chicago restaurants added a realistic touch.

"During the build process, the layout continued to evolve," Adams says. "Once we reached a point where the kitchen was at its best, we began to 'work' there, calling out various menu items for production. Our kitchen workers would pretend to make them, reaching for items needed to create the product."

The team "worked" the kitchen for two long days to fine-tune equipment placements, spacing, size and adjacencies. Then the architect drew up a blueprint and equipment list. "We made a one-hour presentation to our executive board explaining our process and design details. Then we brought them downstairs to walk them through the cardboard kitchen," Adams says. The executives loved the new design, naming it Old Chicago's "kitchen of the future."

Lean Discoveries
While the Lean Team's work led to better layout and adjacencies throughout the kitchen, equipment pieces also were analyzed for cost and efficiency. Of note were the pizza station, fryer station and dishroom's paths to upgrades. Faster pizza production was a priority, as was a closer working partnership with the chain's pizza oven's parent company Middleby Corp.

"Middleby Marshall in '14 was developing a faster version of the workhorse conveyor pizza oven we'd been using," Adams says, referring to the new WOW! oven. "When we got the new specs, and did capacity studies, we liked the new model." Old Chicago chefs spent two days at Middleby test kitchens in Elgin, Ill., testing the new equipment with doughs, sauces and cheeses used at their restaurants. The new oven aced all its speed tests in its debut at an Old Chicago location in Denver and now is being deployed at all of the chain's new restaurants.

Fryers went through an alternative path to upgrading. "Our studies determined that we needed five or six baskets per fry station," Adams says. Typically, fryers come with two baskets each, typically 6½-in.W, so a work station would be equipped with three fryer banks to accommodate six full-size baskets.

To minimize waste in terms of oil and energy use—not to mention reducing hood requirements—planners worked with the fryer supplier Pitco, also a Middleby company, to ship narrower fry baskets as well as standard sized baskets. That way, each fryer could hold three 4-in.W baskets. "Two fryers are doing the work of three while giving operators flexibility to adjust as needed," Adams says.

Dishroom's U-Turn
The dishroom earned an efficiency makeover as well with input from manufacturer partner Ecolab.
"In typical dishrooms, you can draw a straight line from the warewasher to the clean-dish drying table," Adams says. "We found in order to dry one rack, the machine had to push out six racks before the plates on the first one were dry enough to stack. Our racks measure 20-in. square, so that works out to about 10 ft. away from the machine. In other words, the dishroom worker has to move 16 ft. to 18 ft. from the loading end to put away those dishes."

The solution proved both simple and effective. "We added a U-turn to the clean dish line," Adams says. "Racks move along on rollers, so no extra power is needed. And the change saves all kinds of steps for workers. Now one employee can process up to 225 racks an hour. We have matched the workers' efficiency to the speed of the machine, rather than the other way around."

As a final important modification to the dishroom, designers added a hand sink next to the clean racks. "With linear designs, the hand-washing step can be hard to guarantee," Adams observes. "Placing the sink between the dirty and clean tables assures the sink will be used more consistently."
A Look Ahead
This year, Old Chicago expects to open six company-owned locations and three or four franchised locations—all following the new, successful prototype design.

SPECS
MENU/SEGMENT: Pizza and craft beer
CO-HEADQUARTERS: Broomfi eld, Colo. & Chattanooga, Tenn.
FOUNDED: 1976
PARENT COMPANY: CraftWorks Restaurants & Breweries
NUMBER OF UNITS: 105
SIZE: 5,246 sq. ft.
SEATING: 242 (167 inside, 75 patio)
EQUIPMENT PACKAGE: $330,000
2017 PLANS: Open six company-owned and three to four franchised units
KITCHEN CONSULTANT: Next Level Partners, Keith Wells, Practitioner, Naples, Fla.
ARCHITECT: PCA/Prellwitz Chilinski Associates, Boston
CRAFTWORKS: Scott Adams, V.P. of Strategic Supply and Initiatives; Mark Belanger, V.P. of Global Franchise Operations; Steve Bush, Sr. Dir. Construction and Facilities; Kimberly Williford, Design Manager
DEALER: Smith and Greene, Portland, Ore., and Kent, Wash.; TriMark Foodcraft, Winston-Salem, N.C.
WEB: oldchicago.com

EQUIPMENT

Cookline
Continental refrig. base, equipment stand, pizza prep refrigs., pizza prep table, reach-in freezer, sandwich prep table, ingredient bins
Star/Middleby sandwich/panini grill
Southbend/Middleby cheesemelter, griddle, charbroiler, range
Pitco/Middleby fryer
Mahoney direct-connection oil recycler system
Middleby Marshall conveyor oven
CaptiveAire hood
Vollrath food pan warmer/rethermalizer
ACP/Ali Group microwave oven
SPG shelving
Hatco heat lamps
Metro/Ali Group mobile heated cabinet, proofer cabinet
BUNN iced tea brewer
Bar
Chill-Rite beer tower, taps, glass rinsers, drain trough
Krowne Metal underbar sink unit, drainboard, pass-thru cocktail station, hand sinks, ice bins
Continental back-bar coolers
Cooler Concepts keg rack
SPG liquor storage

BOH/Dishroom
Imperial walk-in cooler/freezer, low-temp evaporator
Olympic shelving
Bi-Line/Ali Group clean roller table
Hatco booster heater
Ecolab dishmachine
CaptiveAire exhaust fan
SPG shelving
Traulsen/ITW FEG reach-in display refrig.
Robot Coupe food processor
Hoshizaki ice cube machine
Everpure water filtration
Hobart/ITW FEG planetary mixer
Chill-Rite glycol chiller