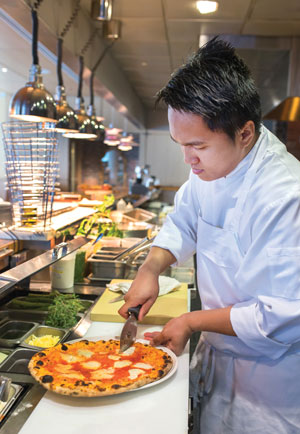 In 2015, Chef Michael Schwartz (above)—iconic South Florida restaurateur, owner of The Genuine Hospitality Group, James Beard award winner and cookbook author—stepped up to create a new concept on the ground floor of one of Miami's hottest new developments. The SLS Brickell hotel, developed and owned by SBE, would include 124 hotel guest rooms, luxury condominium units and more than 55,000 sq. ft. of indoor and outdoor meeting space, as well as two celebrity chef-run restaurants (Schwartz's concept, and also a seafood concept by Chef Jose Andres called Bazaar Mar).
Schwartz's vision drew on his love of Italian cuisine and the most popular food elements from his Miami restaurants, Cypress Tavern and Michael's Genuine. The resulting concept, dubbed Fi'lia ("daughter" in Italian) serves breakfast through dinner. The menu features house-made pastas, artisanal breads, rustic pizzas, and seasonal produce dishes prepared in a display cooking area over open flames. Renowned French interior designer Philippe Starck created Fi'lia's front-of-house décor.
SLS Brickell, along with Fi'lia and sister restaurant Bazaar Mar, opened in August '16 to great acclaim.
Visiting Fi'lia
What Fi'lia guests see as they enter the restaurant are miniature orange trees in white ceramic pots suspended in mid-air that add greenery and a little shade to the floor-to-ceiling windows. Tables (rectangular, round and square) with whimsical chairs provide seating variety. Natural-colored wood floors and ceilings accented by brick walls and marble counters blend rustic with modern elements. And for every visitor to Fi'lia, the show-stoppers of the space are very likely the dancing flames of the Wood Stone wood-burning stone-hearth oven and the Grillworks wood-burning grill. Also drawing attention: custom-made Caesar salad carts fitted with mini-griddles to toast garlic bread to order.
But what alert restaurant kitchen designers might notice instead is the way the well-equipped bar just past the hospitality desk morphs into a food bar, supported by the stone-hearth oven and the wood-fired grill, which then morphs back into a liquor bar—some 46 ft. in all. They also might notice that even though a thick wall splits the dining room in half, designers positioned the display cooking area so the stone-hearth oven is visible on one side and the wood-burning grill is visible from the other side.
Fi'lia's Challenges
"We were tasked with creating a kitchen that could operate independently of the hotel's kitchen and banqueting," says J. Russell LeBow Stilwell, FCSI, Owner of Next Step Design, Annapolis, Md., the lead kitchen designer for both Fi'lia and Bazaar Mar, and SLS Brickell's banquet kitchen, as well as many of Schwartz's earlier restaurants.
"But the culinary program we wanted to do and the building we were working in did not want to be friends," he adds with some major understatement.
Early in the design process, Schwartz asked for a display cook-line that included a stone-hearth wood-burning oven and a wood-burning grill. The two stations would be responsible for producing more than half of Fi'lia's menu items, with a behind-scenes kitchen handling prep work and the remaining menu items. The solid-fuel equipment required a ventilation system separate from the back-of-house cookline.
The first design hurdle lay in figuring out where and how to position Fi'lia's display cook-line and bar.
The space allotted by the property owner for Fi'lia was on the north corner of the structure. Three-ft.-thick load-bearing walls and columns situated throughout the space constrained and dictated cook-line and equipment layout.
"Our challenge was how to situate the hoods to exhaust from both the solid-fuel area and the back-of-house with its gas cooking equipment," Stilwell says. Fire code requires that each fuel system (wood and gas) gets its own ductwork and precipitators, large boxes used to remove embers and effluent before venting the hot air safely outside.
Sheer walls and elevator towers stole space and blocked potential ductwork runs. At the same time, there was no room in the restaurant's core for precipitators—"the size of a couple of Mini Coopers," Stilwell says of the units. In the end, "we ended up putting the precipitators on the mezzanine area in what had initially been tagged as a conference room, and were able to weave the ductwork into the right spot near the parking garage for ventilation."
Adding operational wrinkles, the restaurant's delivery dock is located on the opposite side of the building, reachable only by elevator up to the sixth floor, across and back down as a result of a drive-thru "porte-cochere" grand entryway that divides the hotel's ground floor into two.
Equipping Fi'lia's Long Bar
Fi'lia's heart lies in the long bar, with its unique combination of cocktail and food production abilities.
"We discussed putting the bar on one side and cooking areas on the other," Stilwell recalls. In the end, that was deemed to be too boring. "We wanted the entrance to serve as Fi'lia's power area, its social hub, which required the bar," Stilwell says. "And we wanted guests to be able to see cooking action from either side of that wall dividing the dining room."
Because Bar Station 1 (next to the entrance) had no backbar ("it's basically an island," Stilwell says), the area has extra everything. "We included an ice station with different types of ice in a holding bin, so no one had to cross through the cooking area for refills; lots of refrigeration; extra under-counter bottle storage and glass storage," says Stilwell. Designers duplicated the layout on the far end at Bar Station 2.
Next in the line-up is the stone-hearth oven, supported on the opposite side of the aisle by a pizza prep table. The team made the aisle, at 44 in. across, 8 in. wider than required. "The hearth is so hot, you need the extra space for the chef and cooks," Stilwell says.
At the bar's center is the food expo area and wait-staff pick-up station. Next in line comes the artisanal grill, set into a hearth backed with red fire bricks, also supported by a prep table. Cast aluminum crank wheels allow cooks to adjust the cooking surface height according to the rise and fall of the flames.
"We modified the grill's setting by adding a raised brick area in front to prevent coals from rolling out," Stilwell says. "The height is slightly lower as well, making it more comfortable for cooks to work."
Out of sight of guests, Fi'lia's scratch kitchen has its own solid line-up. "There's a deck oven and proofer for baking. The cooks make all the pastas, breads, pastries and ice creams. It's compact, but productive," Stilwell sums up. Because of the same issue with load-bearing walls cutting into work space, designers ended up stealing space from the mezzanine level for raw food prep and storage.
Coming up, Schwartz already is working on developing a second Fi'lia at SLS Baha Mar in the Bahamas.
SPECS
MENU/SEGMENT: Full-service Italian
HEADQUARTERS: Miami
FOUNDED: 2016
NUMBER OF UNITS: 1
HOURS: 7 a.m.-10:30 p.m., Sunday-Thursday; till midnight Friday-Saturday
PRICES: Breakfast items: $9-$17; lunch $8-$35; dinner $12-$129; desserts $5-$13
SIZE: BOH: 1,126 sq. ft.; FOH/Bar: 350 sq. ft.; mezzanine prep: 475 sq. ft.; dry storage: 135 sq. ft.
SEATING: 100, plus 60 patio seats
EQUIPMENT PACKAGE: $425,000
CLIENTS: SLS Brickell and Chef Michael Schwartz
CONSULTANT/DESIGN FIRM: J. Russell LeBow Stilwell, FCSI, Owner, Next Step Design, Annapolis, Md.
ARCHITECT: Arquitectonica, Miami
INTERIOR DESIGN: Philippe Starck
DEALER: Luis Fernandez, V.P., LACE Foodservice, Miami
WEB: slshotels.com/brickell
EQUIPMENT
Exhibition Cookline & Bar
Wood Stone stone-hearth oven
Grillworks wood-fired grill
CaptiveAire hood
True u/c refrig., sandwich unit
Omnitemp built-in hand sink
Hatco decorative heat lamps
Glastender mug chiller, backbar refrig., corner workboard, underbar bottle display, ice bin/cocktail station
Chill-Rite beer tower
Hobart/ITW FEG u/c dishwasher
Custom-made Caesar salad carts w/mini-griddles
Beverage & Barista Stations
Pentair Everpure water filtration
Delfield/Welbilt drop-in water unit, ice bin
Fetco iced tea brewer
Cambro mobile ice bin
Follett/Middleby ice bin
Hoshizaki ice cuber
Mazzer Luigi espresso grinder
F&O Imports espresso cappuccino machine
Sub-Zero reach-in wine refrig.
Cookline & Prep
Fisher dipperwell
Hatco heat lamps
True u/c freezer, sandwich prep table
Omnitemp hand sink
CaptiveAire hood
Frymaster/Welbilt fryer
Montague spreader cabinet, heavy-duty ranges, salamander, pasta cooker
MIWE deck oven
Alto-Shaam combi oven
Victory/Ali Group reach-in refrig., freezer, reach-in dual temperature cabinet
Pastry
Victory/Ali Group reach-in freezer
Carpigiani/Ali Group batch freezer
Doyon/Middleby water meter, spiral dough mixer
Arcobaleno pasta extruder/cutter
True u/c refrig.
Hobart/ITW FEG planetary mixer
Warewashing & BOH Support
Thermo-Kool/Mid-South Industries walk-in cooler, freezer
New Age bun pan rack, keg rack
Chill-Rite beer line chiller
Component Hardware pre-rinse unit
InSinkErator garbage disposer
Hobart/ITW FEG conveyor dishwasher
Metro/Ali Group stem caster cart, dish dollies, dishwasher racks
Advance Tabco mop sink cabinet
Mezzanine Prep Area
Hobart/ITW FEG meat slicer
Glastender hand sink
Metro/Ali Group stem caster cart, walk-in shelving, dry-storage shelving
Thermo-Kool/Mid-South Industries walk-in cooler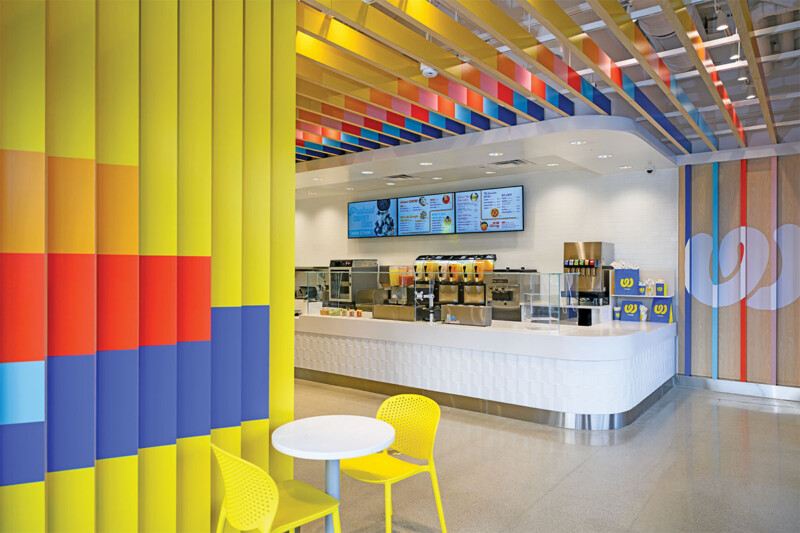 Kitchen Design
Wetzel's Pretzels, the multiunit bakery of shopping mall fame, now offers its soft pretzels and more at street-side through its latest concept.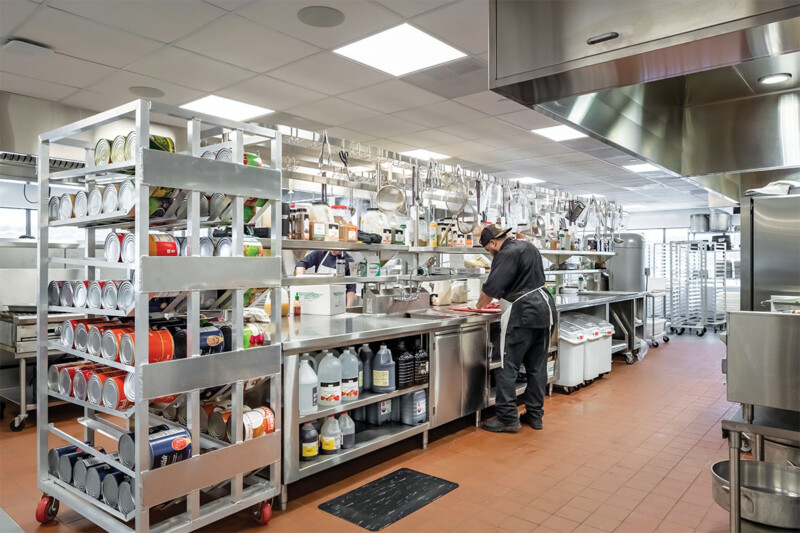 Kitchen Design
Open Arms of Minnesota—a volunteer-powered, nonprofit organization that provides meals to critically ill Minnesotans—needed more room.