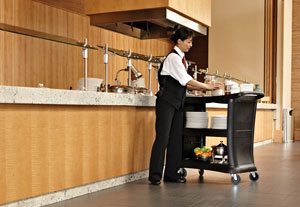 A simple cart may seem basic, but there are a surprising number of options and considerations. So, it's wise to put some time into thinking about what you need the cart to do and where you'll use it.
Front-Of-House For Work
Because they'll be seen by guests, front-of-house carts, a.k.a. bussing or transport carts, should reflect the aesthetics of the room. Muted or conservative colors, such as beige or black plastic, or metal, are generally preferred. It's easiest to access open shelves, but enclosed carts provide a more discreet appearance when your employees are collecting items such as dirty dishes in bus pans.
When it comes to bussing carts, you have a choice between metal or plastic and further choices within each category. Tough, plastic carts are not as rugged as metal; but they're still strong and they don't show dents or scratches like metal carts, so their appearance stays nicer longer. If you're using the cart for bussing, think through what's being collected. Manufacturers can outfit carts with add-ons such as a waste basket and flatware attachment to make bussing more efficient. Also, shelf dimensions need to accommodate not only standard-size bus boxes but whatever else your employees need to collect off tables or transport around the kitchen; some containers can be tall.
How tight is the space between tables in the dining room? You'll need to think about how narrow the cart needs to be to maneuver and it is possible to purchase carts with more narrow widths than standard. Casters that swivel make tight turns easier, and carts with rounded corners or bumpers limit the amount of damage employees can wreak on walls or furniture. Some manufacturers make carts that fold up, to be stored when not in use, a benefit when space is tight and an aspect that comes in really handy if you want to transport your carts off site to catering events.
Shelf Stable
Most carts have two or three shelves. Before ordering, you need to decide on shelf heights if you want something that departs from the standard. Depending on the design and the manufacturer, shelf clearance generally ranges from 10 in. to 30 in. The majority of service and utility carts have fixed shelves; only a few offer a middle shelf that adjusts up and down. Some manufacturers will create carts with custom shelf heights—for example, they can raise the lowest shelf up to a good height range for safe lifting.
Utility carts come in both flat and lipped options; flat makes it easier to slide off heavy items. One manufacturer also notes, "Flat tops create unobstructed work surfaces, as well, if you need to use the cart as a work table." Shelf lips or raised edges are common on transport carts, as they help prevent items from slipping off carts during transit and to contain spills. Some carts come with high side walls too.
Get A Handle On Handles
You can choose from a variety of handle types, but some are frankly more comfortable to use and help overcome inertia to get the cart moving. On plastic carts, handles are molded in and they either stick straight out horizontally at the height of the cart or they'll angle up at a 45-degree or even 90-degree angle from the cart's top edge. And consider this: do you want handles on just one end or both?
Handle orientation can provide better leverage for less strain if you're moving heavy loads. Vertical handles, most often found on metal carts, are an inverted "U"-shape with elongated sides. They're a good choice if you're pushing very heavy loads and they accommodate employees of different heights. Pushing a vertical handle aligns the wrists and elbows well to prevent stress on the joints. These carts are generally pricier.
Carry That Load
The load capacity of front-of-house carts generally ranges from 100 lb. to 300 lb. For a utility cart, you're looking at 300 lb. to 500 lb., though they can go up to 900- to 2,000-lb. capacity for receiving, catering, or transporting really heavy goods. Don't get the minimum you think you need; that can be limiting. For example, a 300-lb.-capacity cart is perfect for small loads but also limits use to about three hours a day. Higher weight capacities let you transport just about anything, but they do increase cost. Budget constraints may dictate getting a lower weight capacity.
Metal carts are more durable than plastic and can hold heavier loads. However, as mentioned, they can get dented and scratched, becoming less attractive as carts gets older. The gauge of the metal is important—the lower the gauge, the thicker the metal and the more durable the cart will be over the course of its life.
Stainless is durable, easy to clean, and resists rust. It should last for decades. Galvanized stainless is a perfect choice for wet environments. Aluminum is strong as well, but lighter weight than stainless. Plastic is lightweight and is a cost-effective alternative to metal for storage and transport. However, it is not as durable. You should expect to replace plastic carts every few years. That said, one manufacturer recommends plastic carts due to their ability to resist rust or dents, their aesthetic appearance, and their ability to offer additional features, such as storage of small items in molded-in compartments.
What About Wheels?
Load capacity and your floors affects your choice of casters. The more weight a cart will be bearing, the larger the diameter of casters you'll want because they require less force to move a heavy load. Large casters are the best choice if you're carting over thresholds, into elevators, or across uneven floors, as well. Plus, you'll want brakes on those casters, where they might not be needed for lighter loads.
Thermoplastic rubber is the most common material for casters, providing a good balance of weight bearing, easy rolling, and cost. For precious cargo that needs a smooth ride, premium pneumatic casters cushion the transport and generate less noise.
Front-Of-House Service
Desserts, wines, tableside guacamole and to-order salads look great coming off a beautiful tableside serving cart. When choosing these attractively finished carts (wood laminate and polished metal is classic), measure your tables and chairs to ensure the height of the cart is the right height for diners to view the product. If there is a specific application that is essential for your operation, the cart should be custom designed for its task (again, think wine service, guacamole, liqueurs, etc.)
Specialty serving carts are highly customizable; they can be finished to match your décor. Just make sure you figure out a storage spot to keep these beauties protected.
Top Tips For Specifying Carts
• Really think through what you need to transport on the cart and where it needs to fit before you purchase a model.
• Consider height: For cart service tableside, customers need to see the top. For transport, how low should employees bend to retrieve items?
• Front-of-house carts need to match aesthetics and maneuver between tables.
• Look for heavy-duty, non-marking casters that can swivel.
• Make sure you know how much clearance you need between shelves. Do you want an adjustable middle shelf?
• Pay attention to handles. Which will be the most comfortable? If they stick out, is that an issue?
• Don't buy super cheap carts for the back of the house, you want them to last. Front-of-house carts will need to be replaced if they start looking worn.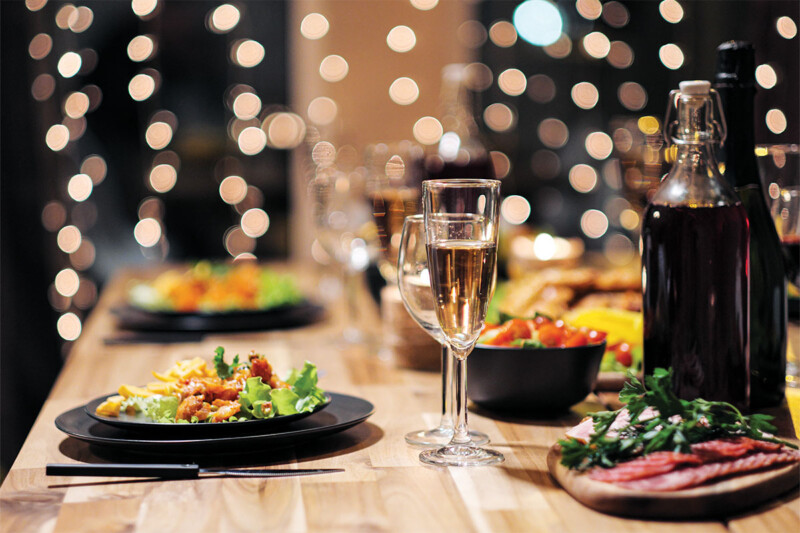 Equipment
The array of tabletop options is ever-changing. Stay up to date on suppliers' latest rollouts.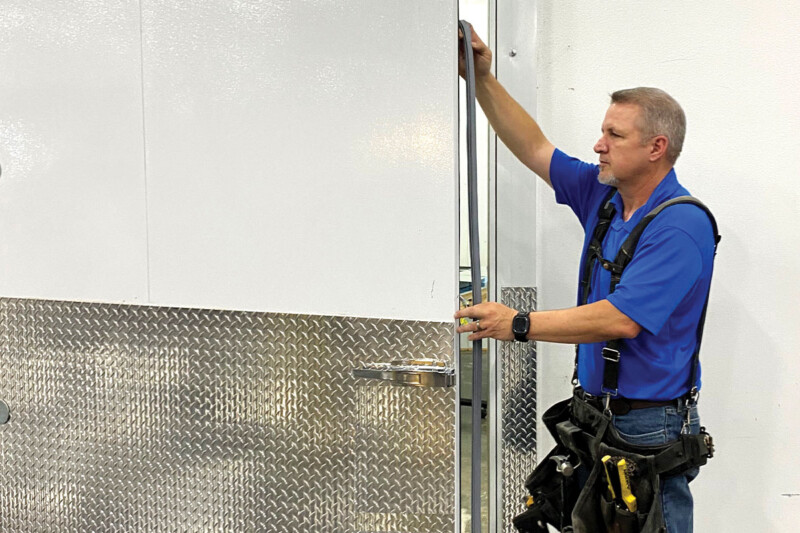 Maintenance
Follow these tips from certified service professionals to keep your walk-ins chillin'.