Part Of The Process: Powered Food Processors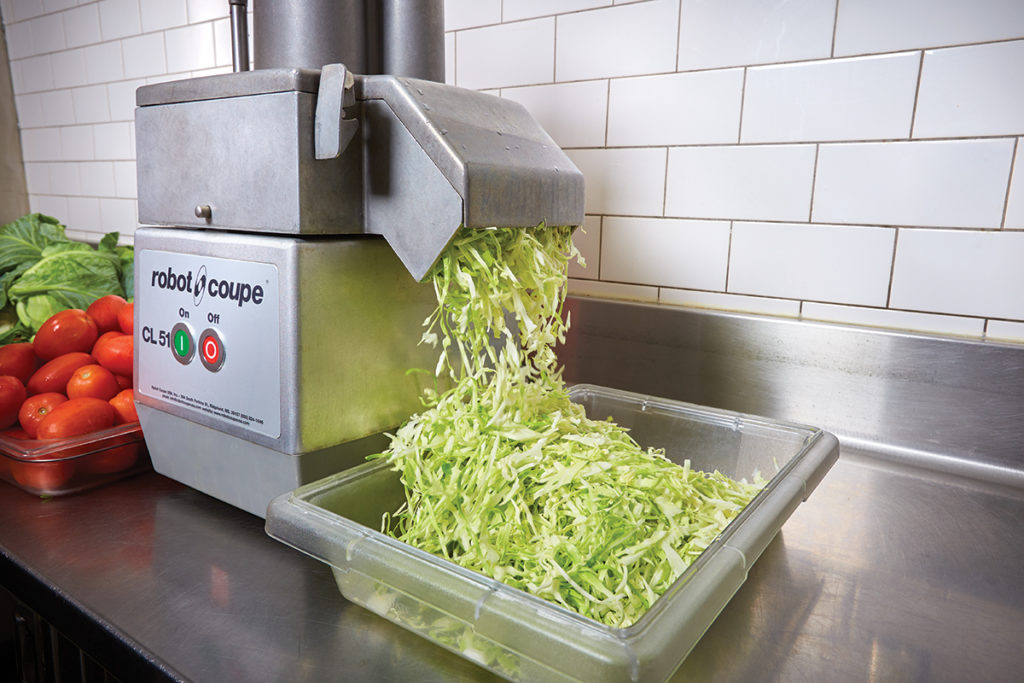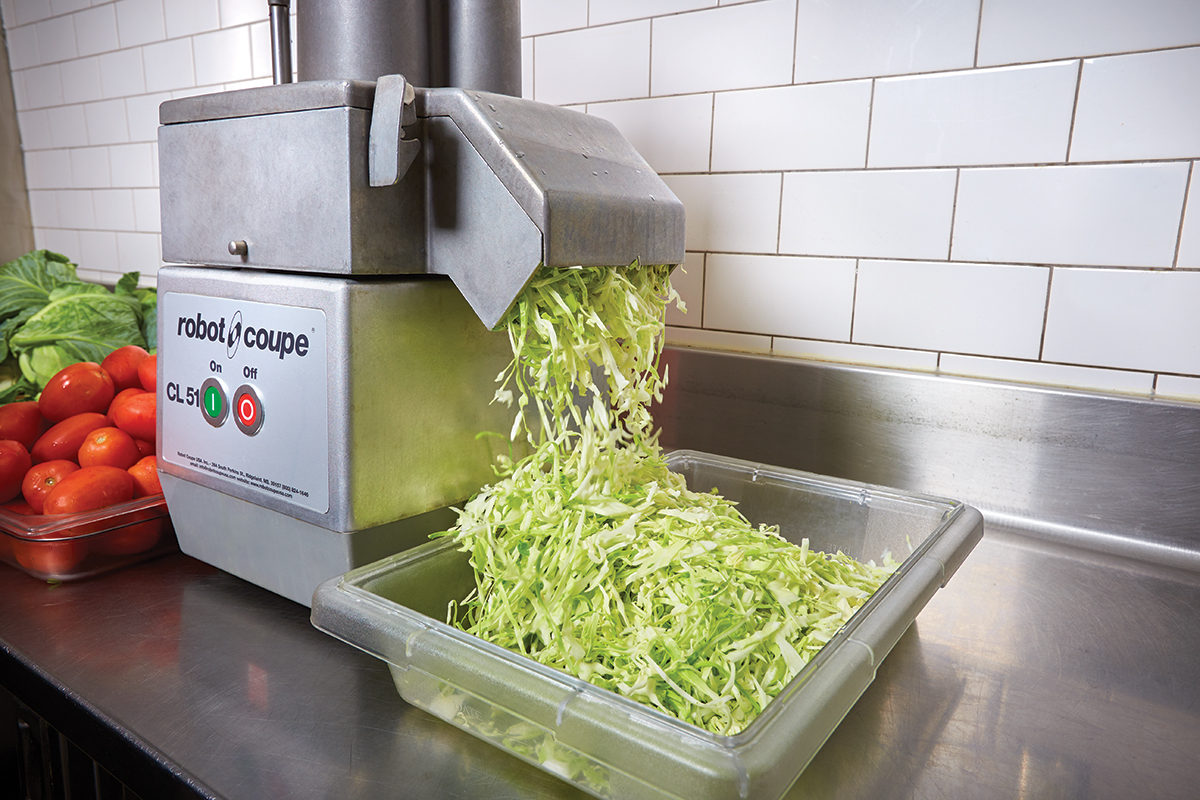 A rose by any other name would smell as sweet, to borrow Shakespeare, but a food processor can be many things to many people. The phrase connotes something akin to that residential kitchen appliance most of us have—a plastic, straight-sided bowl on top of an engine housing, in which we can put various cutting discs or blades. The versatile machine can slice, grate, chop, mix and emulsify all kinds of food products.
That particular machine in the commercial world is known as both a food processor and vertical cutter/mixer. But operators also refer to another, similar, machine as a food processor. It does most of the same tasks as the former piece of equipment, but on a continuous basis, as opposed to batch processing in a bowl. For our purposes here, we refer to that machine as a food prep machine.
What are the differences between the two?  Besides batch vs. continuous processing, a food prep machine can't mix or emulsify, so you can't prepare sauces, dressings, dough and the like with it. And typically a food prep machine operates at slower speeds (rpm) than food processors for reasons we'll address in a bit, and may (or may not) have more powerful motors than food processors of a similar size.
Finally, there are combination models that have interchangeable heads, which mount on the motor housing, giving you the option of a batch vertical cutter/mixer and a continuous food prep machine.
Making A Choice
Which you choose depends largely on your menu—what ingredients you need to process or prep—and your volume. Food processors range in size from about 3 qt. Up to 60 qt. Or more. Food prep machines range from small countertop units to large floor models. Most common are food processors in the 3- to 8-qt. Range, and the smaller countertop food prep machines. Our focus here is on the workhorses of the industry— countertop machines in the ¾- to 3-hp range.
Output varies by make and model and largely depends on the food you're preparing or processing. Carrots are harder to slice than cucumbers, for example, so a food prep or combination machine may be able to slice 350 lb. Of carrots per hour, but as many as 1,200 lb. Of cucumbers per hour.
Likewise, a 3-qt. Food processor might be able to mix pie crust dough in 30 seconds, or emulsify a batch of aioli in two minutes. Small batches, however, are often all you need (since larger quantities can be prepared on higher volume equipment or in a commissary).
If all you're preparing are sliced vegetables for salad or sandwiches, a food prep machine will suit you just fine. If you prepare mostly dressings and sauces in small batches, but occasionally need to grate cheese or dice tomatoes, a food processor is your best bet. If your menu requires both types of prep, a combination machine may be the ticket, depending on volume of the different foods you're preparing.
Tough To Beat
Design and construction as well as power and performance will determine upfront price and longevity of the model you choose. List prices can range from about $1,200 for a smaller, medium-duty base model to more than $5,000 for a heavy-duty combination machine.
Makers construct motor housings of plastic on less expensive machines, and anodized polished cast aluminum or stainless on more expensive models. The latter are typically more durable. On food prep machines, cutting heads, hoppers and feed chutes are typically cast aluminum, which makes them sturdy and lightweight, but may be stainless on more expensive models.
Polycarbonate is used for food processor bowls on less expensive machines, while more durable, higher-end models use stainless bowls. Those with metal bowls, however, fashion lids with polycarbonate or Xylex (a stronger, more acid-resistant version of polycarbonate) so you can see the contents. Some bowl lids twist on while others are hinged. If you plan on making dressing and sauces, choose a model with a sealed lid. One maker has a patented removable seal with a sealed S-blade that locks in place for liquid processing.
Makers usually construct cutting disc hubs and posts with cast aluminum and use stainless for the discs or blades themselves. Some may use plastic hubs or posts for a few specialty discs. All are generally safe to run through dishmachines unless the maker says otherwise. Most prep machines and food processors come with anywhere from one to multiple blades/discs as standard equipment, with specialty discs as options. (See sidebar at left.)
Speed Is Of The Essence
Speed plays an important part in the function of both types of machines. A food processor's ability to mix and emulsify depends on a high motor speed. Manufacturers set these around 1,700 to 1,800 rpm, and basic models may have only an on/off and pulse switch.
Conversely, food prep machines, which primarily slice, dice and grate, run at slower speeds of around 275 to 800 rpm. The slower speed makes for cleaner cuts and allows the food you're feeding to drop all the way before the next cut, for more consistent product. Again, base models may have a single speed.
A newer feature on many models, made possible by electronic digital controls and variable speed motors, is a selection of speeds. Some processors have up to 10 speeds ranging from about 300 to 3,700 rpm, and food prep machines up to about five that range from 300 to 800 rpm. On combination machines, some models only let you select speeds appropriate for the cutting head you're using—10 speeds for the cutter/mixer bowl, five for the food prep cutting head, for example. One manufacturer's machines automatically select a speed based on the actual disc you use, optimizing the disc's performance for that task.
Speed, though, isn't the only aspect of a unit's power performance that's important. Obviously, you'll want a model with more horsepower if all you intend to prep are hard vegetables like potatoes or carrots or dense foods like cheese. For these types of foods, torque also is key. A machine with high initial torque will cut through hard veggies with less horsepower. For slicing, shredding or grating cheese, you'll want a machine with good torque and more horses so it doesn't overheat. The last thing you want when working with cheese is a hot machine.
Processors and prep machines usually have gear-driven motors to produce torque and consistent speed, though some may have belt drives. Planetary gear drives have permanently lubricated and sealed gearboxes. Belt drives offer similar performance, but may loosen over time and require readjustment. One manufacturer's models have an external tension screw so you can adjust belts yourself without a service call.
Buying Tips
As you evaluate different machines, here are a few things to keep in mind.
Footprint. Not only do you want a machine that doesn't take up too much countertop space, you also want one that isn't so tall that employees have to use a step stool to load product. Makers now design most food prep machines so the feed hopper angles toward the user (as much as 50°), making it easier to see and load, with the discharge chute angled to one side.
Ergonomics. In addition to height and ability load, some prep machines, in particular, come with built-in pusher arms. Even among models that have this feature, some are more ergonomic than others, so you may want to try out several before you decide.
Feed hoppers. Feed hoppers on prep or combination machines can take various shapes. A full-size hopper is a large round opening the diameter of the hopper, great for loading lots of product at a time or large, round foods like cabbage. For most smaller food items, you'll likely want a half-moon- or kidney-shaped hopper, giving you greater consistency in the slice. For long, skinny foods like cucumbers, zucchini, celery or carrots, look for tube feed hoppers.
Wiper blades. OK, so no windshields on these machines, but many food processor models and some prep machines come with wipers. At least one maker has prep machine models with a wiper that keeps the discharge chute clear so product doesn't back up. Several food processor models have wipers under the lid to keep it clear so you can see the contents. It's often a manual crank on top of the lid. Some models also have wipers that scrape the sides of the bowl and guides product into the blades for faster processing.
Clean And Safe
Molded plastic, cast aluminum or seamless stainless, processors and prep machine bodies are easy to clean with mild detergent and warm water. Quickly disassemble the rest of the units; most parts run through the dishmachine. Take care to follow manufacturers' instructions, however; unless discs and blades are coated they should be handwashed with a brush. Special storage racks also will protect cutting edges of discs and blades and employees' fingers.
Food processors have at least two safety interlocks before the unit will operate, one for the base, and one for the lid— usually triggered by magnetic switches. On prep machines, the interlocks are on the pusher plate and on the hopper head. If parts are out of place, the machine won't turn on. Some models add a third switch on the arm that locks the lid in place.
Most models also have a thermal overload switch that turns off the unit if the motor overheats. And as mentioned, multi-speed models usually govern the speed depending on which cutting disc is used, making them safer as well as improving performance.
Anyway You Slice/Dice/Puree It
S-blades come standard with all food processors. They sit in the bottom of the bowl and mix, chop, stir, puree and emulsify product. Best at emulsifying are blades with micro-tooth edges.
Cutting discs for both processors and prep machines slice, dice, shred/grate and julienne. Specialty discs produce unusual shapes or styles such as waffle cuts and wavy slices. Discs work at the top of the machine; employees push food through them. The more discs a manufacturer has available for a particular model, the more choices of type and size of cut you have.
Dicing plates, for example, produce anywhere from a 1/4-in. X 1/4-in. To a 1/2-in. X 7/8-in. Dice. Slicers designed for julienne cuts can produce them in sizes from 3/32-in. To 3/8-in. Shredder/ grater discs cut from 1/32-in. Up to about 1/4-in. There are even discs that produce brunoise (tiny diamond) and gaufrette (waffle) cuts.
If you plan on dicing a lot of product (tomatoes for salsa, e. g.), you'll need a dicing grid cleaning kit. One manufacturer recently introduced a patented grid cleaning system that it claims is much faster and more thorough than others.
Always remember to order discs a size larger than the actual size of dice or shred you want when it comes to soft vegetables like tomatoes. Since they're mostly water, they'll shrink a little when they're cut.
Slicing discs will produce cuts of 1/16-in. And up. The best have curved stainless blades that more accurately replicate the drawing motion of a chef's knife. However, straight blades are better for some applications such as softer fruits and vegetables including tomatoes and bananas.
Slicing blades also can be permanent or removable. Removable blades can be re-sharpened or replaced. You have to replace the entire plate when discs with permanent blades get dull. Removable blades are usually attached to plates with screws. Look for plates that have stainless bushings to hold those screws. They're less likely to come loose during operation. Plan on changing your blades every six to 18 months, depending on how much you use them.
Powered Processor Gallery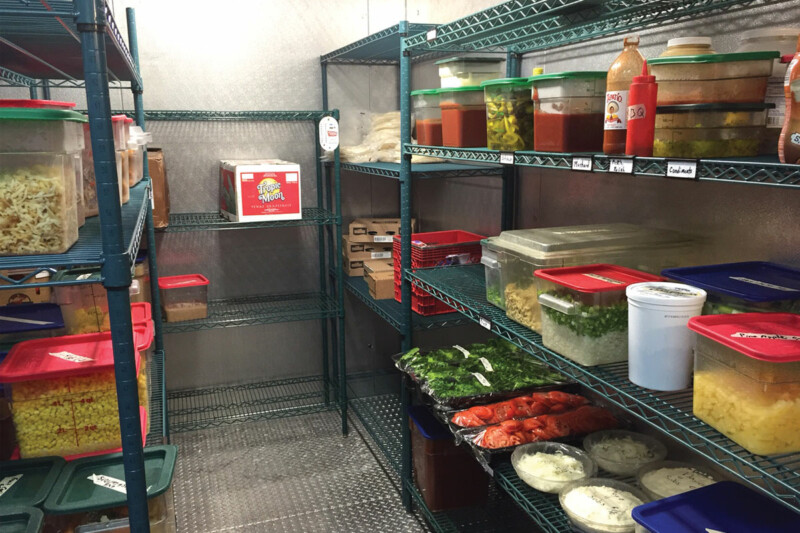 Equipment
A walk-in cooler and the food items stored inside are enormous investments for any business. As with any investment, you want to maximize your return and protect against loss. One…