Kitchen Design
California Meets Hearth Ovens in Pacific Standard Time Restaurant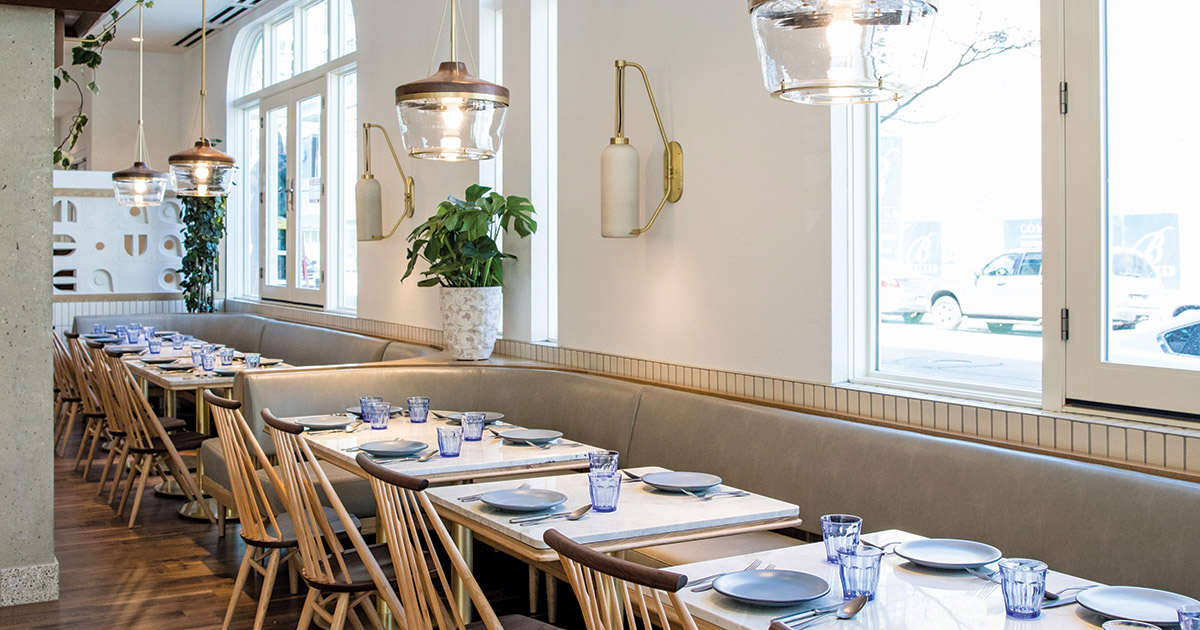 Entering the Pacific Standard Time restaurant on a Chicago early-spring day is like walking into a well-appointed, southern California home kitchen. Hanging plants, a cream-and-blue color palette, white tile and wood tabletops and wood and terrazzo floors combine for an airy, sit-and-stay-awhile ambiance. Amid the visually calm setting, the focal point from nearly all seats is the restaurant's kitchen-on-display, featuring not one but two hand-built brick hearth ovens.
"I wanted the hearth ovens to influence the service," explains Chef-Owner Erling Wu-Bower. "They give an informal, outdoorsy feeling, even in the middle of a city." Moreover, the wood-fired ovens support much of the food production. "At night, about a third of the menu goes through the ovens," Wu-Bower says. "And during our prep time, we use them as much as we can to give food that wood smoke flavor."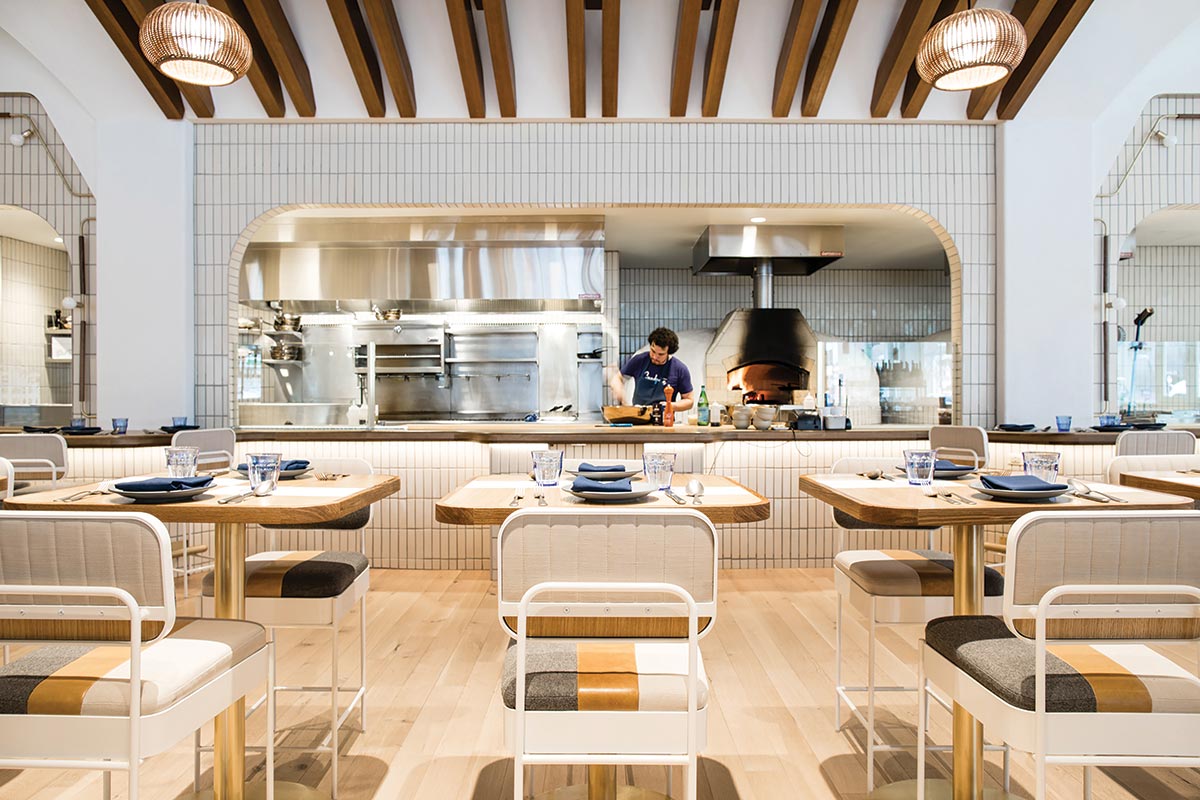 Nearly a year into operations, Pacific Standard Time has proved Wu-Bower's vision. The 8,000-sq.-ft., 250-plus-seat restaurant and its hearth ovens are cranking out between 180 and 400 covers per day, with an average ticket of about $60.
The young vegetable-forward restaurant already has attracted national notice. Eater.com named Pacific Standard Time as one of the country's Best New Restaurants 2018, while its layout and decor earned a Jean Banchet Award for Culinary Excellence for Best New Restaurant Design in 2019.
Pacific Standard Time is a joint venture between Wu-Bower and Joshua Tilden, both of Underscore Hospitality, along with Chicago based One Off Hospitality's Paul Kahan, Donnie Madia and Terry Alexander. Parts and Labor Design, a New York-based design firm led by Principal Jeremy Levitt and Design Director Danu Hassik, together with Jay Keller, principal of SPACE Architects + Planners, Chicago, translated their vision into reality. Stuart Davis, vice president Midwest Division, Next Step Design, Annapolis, Md., orchestrated the kitchen design.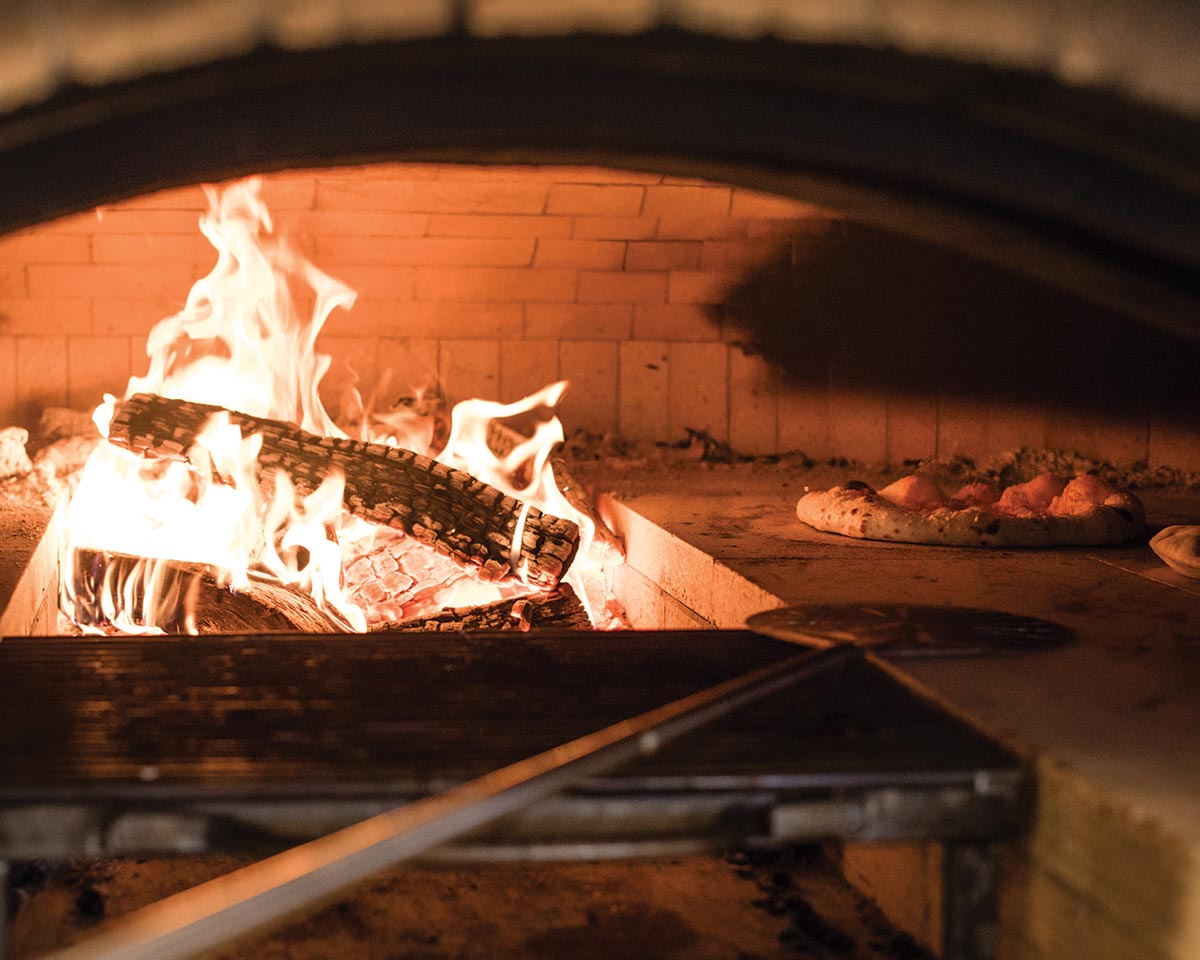 The Art of Cooking
Pacific Standard Time packs a lot of culinary firepower into a compact footprint. The restaurant's foodservice areas include a 1,300-sq.-ft. back-of-house with banquet/prep kitchen, dough prep room and walkin coolers; a 550-sq.-ft. display kitchen; and a 350-sq.-ft. bar with seating for 18. The basement holds ice machines, a walk-in freezer and wood for the hearth ovens.
"From day one, it was all about the ovens," says Davis. "They are truly works of art." The ovens are all wood-fired— no gas or electric assist. Wu-Bower had located a Toronto-based company called Stovemaster, led by Alex Chernov, an artisan who builds brick hearth ovens on-site. Chernov and his team built two ovens in about four weeks—a 6-ft.W round hearth oven for pizzas and pita breads and a 7½-ft.W oval oven with a fire pit down the center for fish, meat and vegetables. Construction included bricks brought in from Austria and Missouri, specified for their different thermal properties.
The remainder of the display cookline includes more conventional equipment: a six-burner range, fryer, convection oven, cheesemelter, pasta cooker and prep space.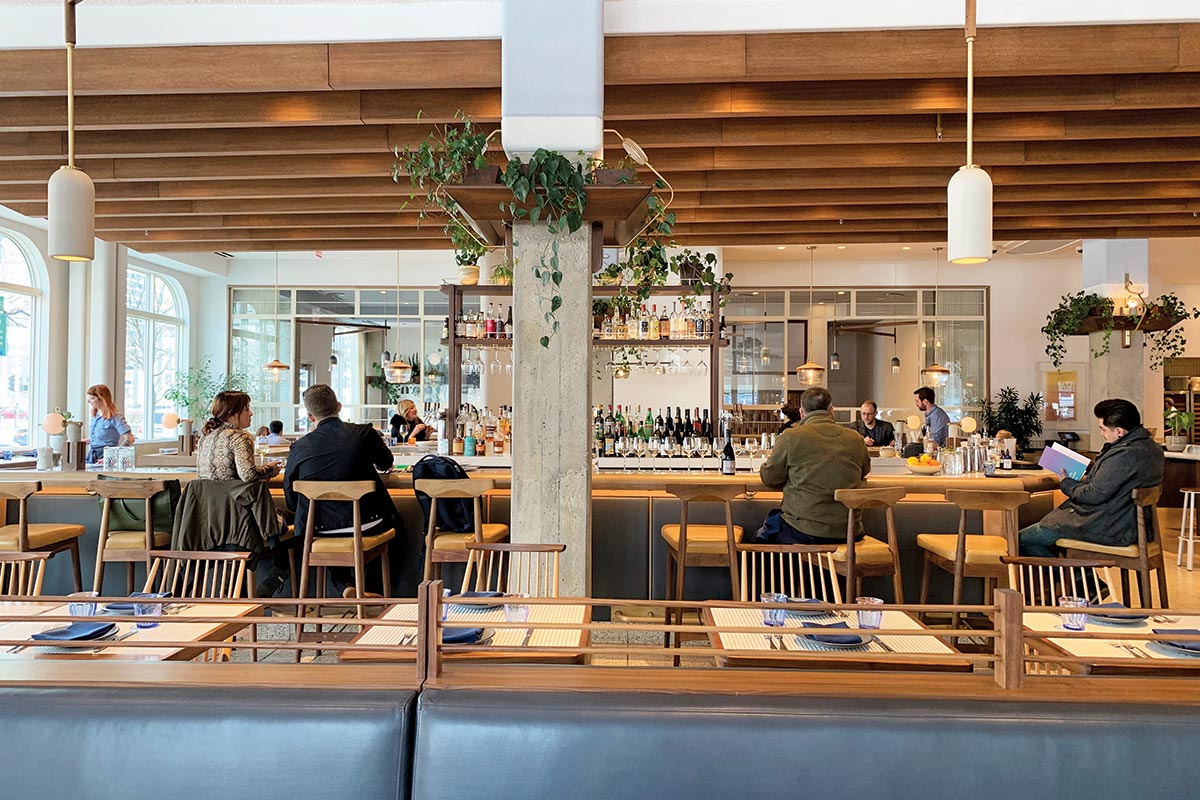 Counter Intuitive
A chef's table—actually a long wood counter—stretches the length of the cookline so up to 14 guests can experience culinary action close-up. An unobtrusive glass divider is low enough that cooks and guests can converse. Pastry sits at the end of the chef's table farthest from the ovens.
"I wanted people to feel like they're eating at someone's island in their home kitchen," Wu-Bower says. "Super casual and super accessible." The seating counter's simple appearance gives no hint of its technical complexities. Challenges included shape, installation and equipping the prep line.
The idea of a traditional counter was dismissed early on. "The problem with a straight line [seating arrangement] is that people can only interact with those on their right or left," Davis says. "It lacked the California vibe."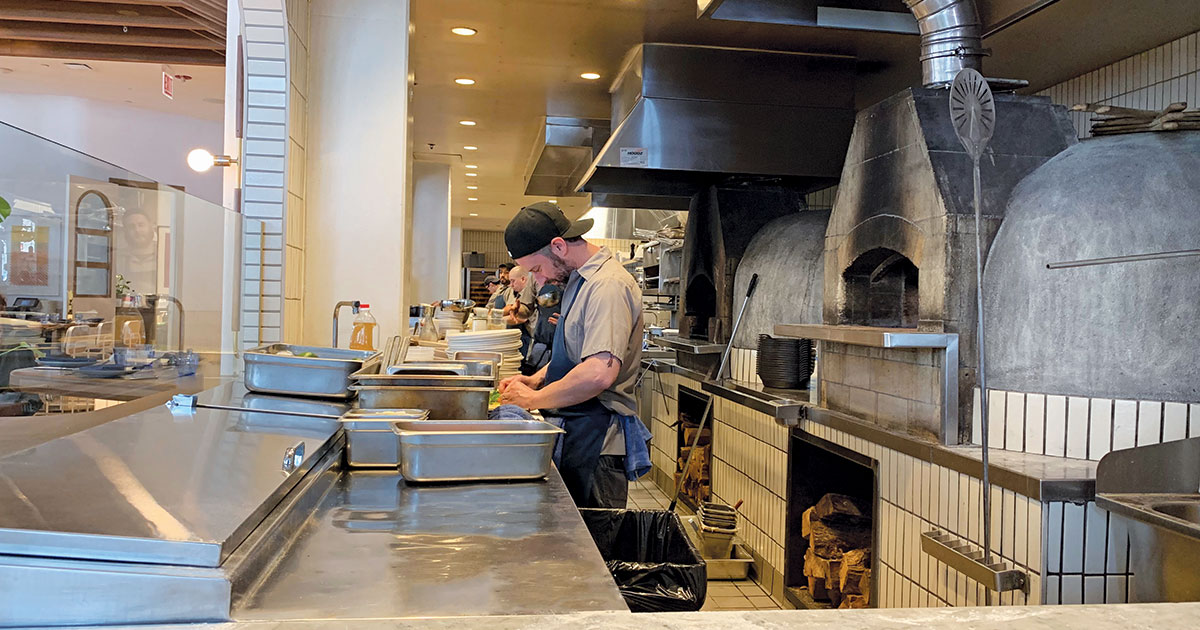 After many iterations, the design team arrived at a peninsula-style layout, where the counter juts out in four spots to seat groups of three and four. The soft angle of each peninsula allows guests to talk face to face while keeping an eye on culinary action.
The height of the counter also was important. Wu-Bower and the design team wanted the chef's counter at the same level as the prep line. "Since the goal was to evoke a kitchen island in someone's home, components had to align seamlessly," Davis says. Thanks to close coordination between three subcontractors, the end result is a smooth transition from metal prep table to wooden counter. The 32-in.H glass divider does, however, need constant cleaning, Wu-Bower admits.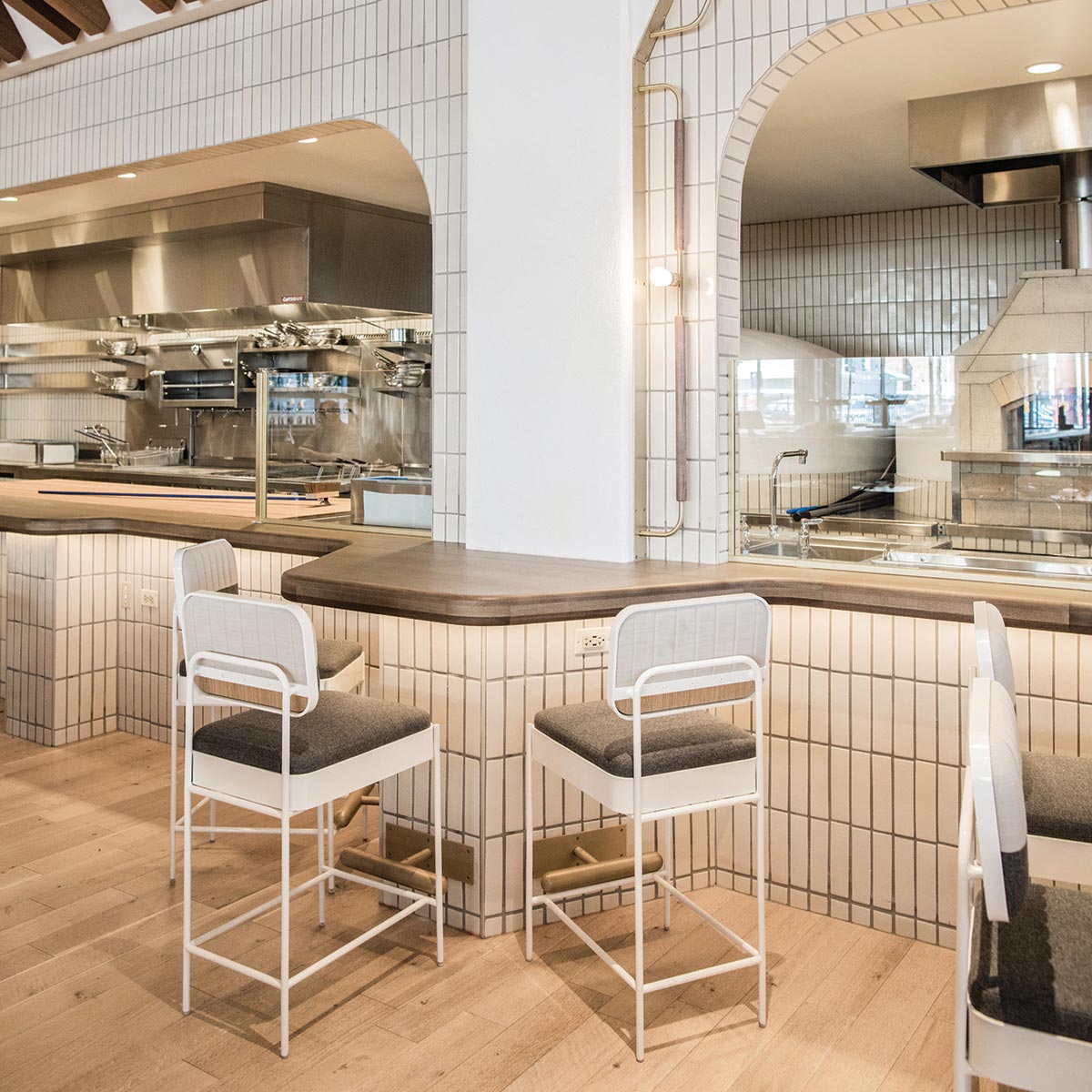 Equipping the prep line required creative thinking, as well. Initial plans called for a custom-fabricated installation with work surface above and cold storage built in below. Budget constraints led to an off-the-rack solution: counter above and a series of roll-in cold drawer units below. "The units can be rolled out for maintenance or repair," Davis says.
The design team specified low-profile raised rails as well to maintain the smooth transition between prep line and chef's counter. "Typical raised rails sit about 6-in.H above the [work] surface of the unit, but ours are even shorter," Davis says. Because they sit so low, the ingredient pans take up more space inside the unit, decreasing food storage space. "It took a lot of engineering to fit in storage and doors below."
Behind the Scenes
Out of sight from guests is the banquet and prep kitchen. Its cookline shares a wall—and ventilation—with the display kitchen cookline. "We used existing black-iron [ventilation runs] from the restaurant that had been there before as much as possible," Davis notes.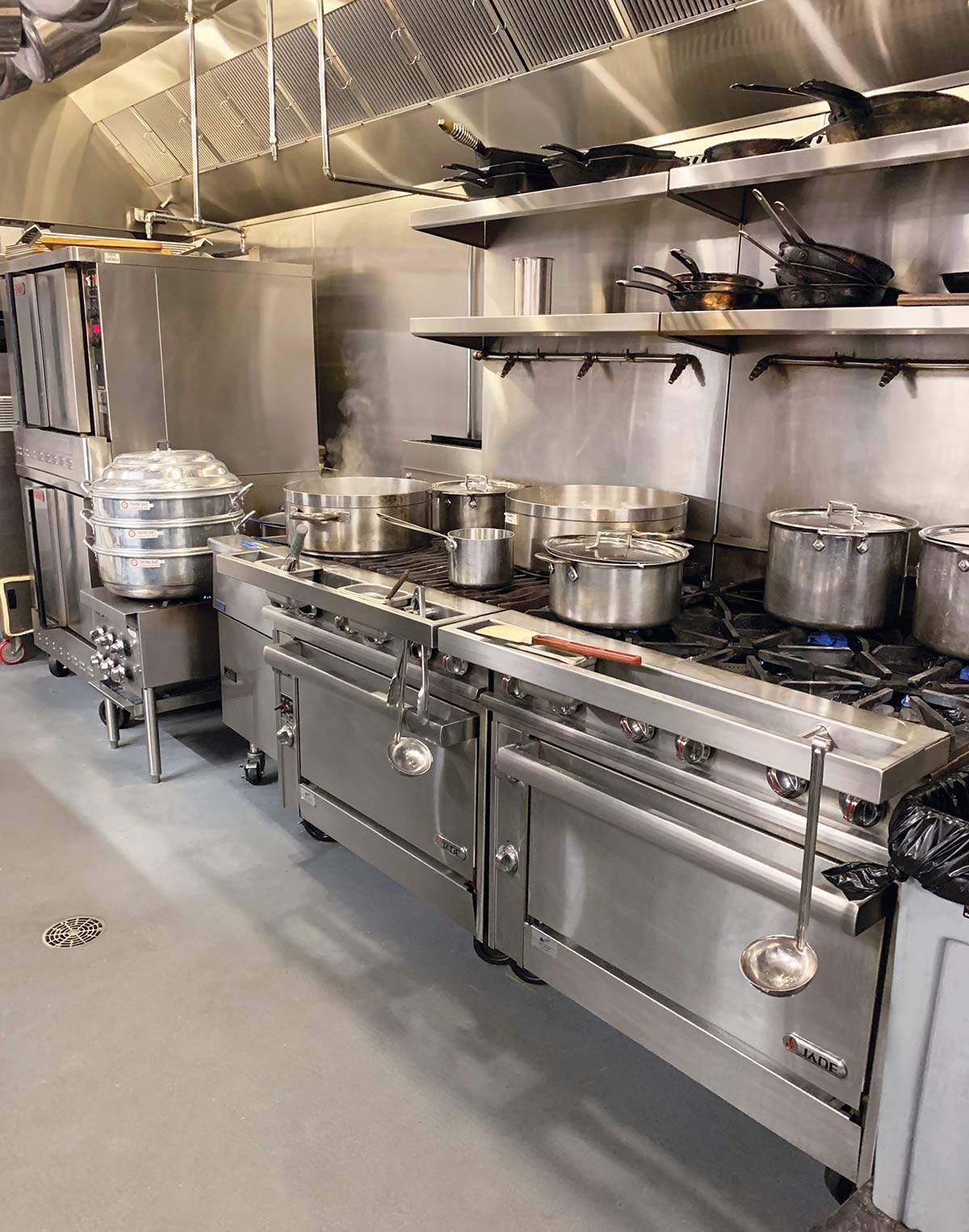 Designers equipped the banquet and prep kitchen with the 62-seat private dining room in mind. The space's cookline includes its own four-burner range, stockpot range, fryer, a six-burner range and double convection ovens. "We designed the back kitchen with extra firepower, plus an expo table with heat lamps, so it could serve the private dining parties with no interruption in service from the display kitchen," Davis says. "Erling and Josh both believe that no matter where you're sitting, everyone should experience the same level of service."
Despite space constraints, "we found room to include a dedicated pasta room, which is where they make the doughs for pitas and pastas," Davis says. "It's located directly behind the brick hearth ovens, and also is temperature-controlled with its own cooling and humidity system."
Also, out of view in the back-of-house is additional cold storage, dry storage and warewashing. "We kept the [previous restaurant's] walk-in coolers, but replaced their doors, which were sagging," Davis says. "We added a walk-in freezer in the basement so as not to take away work space from the kitchen." The team also located ice machines in the basement for the same reason. After the restaurant opened, the chef added a meat-hanging rail in one of the walk-in coolers for in-house butchering.
SPECS
MENU/SEGMENT: Polished casual
LOCATION: Chicago
OPENED: 2018 SIZE: 1,850 sq. ft. (kitchen); 8,000 sq. ft. (overall)
SEATING: 189 dining room seats, 62 private dining seats, 32 patio seats
FOODSERVICE CONSULTANT: Stuart Davis, vice president-Midwest Division, Next Step Design, Annapolis, Md.
ARCHITECT: Jay Keller, principal, SPACE Architects + Planners, Chicago
INTERIOR DESIGN: Jeremy Levitt, principal; Danu Hassik, design director, Parts and Labor Design, New York
DEALER: Jeff Carlin, kitchen designer, TriMark Marlinn, Chicago
CONSTRUCTION: Kern Konstruction, Tinley Park, Ill. WEB: pstchicago.com
INSTAGRAM: _pacificstandardtime
EQUIPMENT
BOH
Cambro liquor storage, shelving, carts, ingredient bins
Kolpak/Welbilt walk-in freezer, cooler
New Age dunnage racks, bun pan racks
CookTek/Middleby induction range
Follett/Middleby ice bin
Hoshizaki nugget ice maker
Pentair Everpure filtration system
Micro Matic remote draft beer system
Emery Thompson batch freezer
Hobart/ITW FEG planetary mixer
Advance Tabco mop sink, holder
IMC/Teddy hand sinks
Metro/Ali Group dish- washer racks
Ecolab dishwashers
Continental reach-in u/c refrig.
Hatco heat lamps
Marra Forni spiral dough mixer
Jade/Middleby ranges, stock pot range, spreader cabinet
Pitco/Middleby fryer
Blodgett/Middleby convection ovens
CaptiveAire hood
DISPLAY KITCHEN
Stovemaster brick hearth ovens
Jade/Middleby fryer, French hot top range, open burner range, cheesemelter, pasta cooker, spreader cabinet
CaptiveAire hood
Omnitemp hand sinks Cambro dough box dolly
Fisher dipperwell Continental reach-in u/c refrig.
BAR
Viking/Middleby reach-in wine refrig.
American Soda filtered water system
Curtis coffee/tea brewer Continental u/c refrig.
F&O Imports espresso cappuccino machine, coffee grinder Perlick backbar refrig., underbar dry waste, dump sinks, bottle display, underbar ice bin cocktail station, drain- board storage cabinet, hand sink, glass froster, backbar cooler
Micro Matic glass rinser, drip tray, draft beer/wine dispensing tower, chilled water dispenser