Find the Future of Equipment in the NRA Kitchen Innovations Showroom
Walk through the Kitchen Innovations Showroom (booth 2440) at the National Restaurant Association Show in Chicago, May 18-21, and you'll find a robot named Penny that takes customers' orders and another named Sally that prepares custom salads. There are sensors for sinks that monitor water temperature and software that recommends recipes based on menu patterns. It might feel like a scene from "The Jetsons," but rather than an imaginative look into the future, it's a glimpse into the present day of foodservice equipment. New technology and creative approaches to equipment and procedures have led to products that improve operations, increase productivity and efficiency and offer added convenience to operators and customers.
For 15 years, the Kitchen Innovations Awards have recognized equipment that brings something new to the foodservice industry. "The key drivers of innovation are the needs to reduce operating costs, improve food quality and advance or safeguard food safety," says Brian Ward, Fe3, Target Market & Media Services, who serves as the consultant and project manager for the KI Awards program.
Although KI recipients represent a wide variety of creativity and ingenuity, one trend unites them. "The arrival of robotics and artificial intelligence in foodservice really stands out in several of this year's recipients," Ward says.
Manufacturers are answering traditional concerns facing operators such as labor costs and efficiency with nontraditional solutions. "With rising job creation and lower unemployment, the demand for robotics is rising," says Ward. Other solutions are products that combine multiple cooking operations into one equipment piece or those that help cut energy and water use for cost savings and environmental benefits.
This year, the NRA Show celebrates its 100th anniversary, providing an opportunity to reflect on the organization's work on behalf of the foodservice industry and look to what the next 100 years will bring. The KI Awards Showroom serves as a place where attendees get to experience the future of the industry firsthand. "KI is all about looking ahead to what's new and what's next," Ward says.
---
2019 KI Award Judges
Dan Bendall, Principal, FoodStrategy Inc.
David Chislett, FCSI, Executive Principal, Ricca
Design Studios
Jeff Cook, Senior Director Global Equipment,
McDonald's Corp
Richard Eisenbarth, FCSI, President/CEO, Cini-Little Int'l.
Foster F. Frable, Jr., FCSI Associate, AIA, President,
Clevenger Frable LaVallee
Randy Homer, Program Manager, Food & Beverage
Operations Asset Management, Walt Disney Parks
and Resorts
Jim Krueger, Jr., CMCE, NRAMF, Chief, Food & Beverage
Policy, Procedures, Business Development & Strategic
Initiatives, Air Force Services Agency Food & Beverage
Branch
Steve Otto, Director, Capital Equipment Purchasing,
Darden
Jim Thorpe, Senior Food Service Designer, Aramark
---
Don't Miss FER's Advertisers at the Show
Alto-Shaam Inc. Booth # 4840
American Panel Corp. . Booth # 460
Continental Refrigerator . Booth # 5202
Cres Cor. Booth # 3150
Edlund Co. LLC/Ali Group. Booth # 5013
Elite Global Solutions. Booth # 7645
Equipex. Booth # 2213
FWE/Food Warming Equipment Co. . Booth # 3813
Hoshizaki America Inc. . Booth # 6212
HOST 2019 . Booth # 9337
ITW Food Equipment Group . Booth # 4031
Jackson WWS . Booth # 6212
Prince Castle/Marmon . Booth # 4848
Scotsman Ice Systems/Ali Group . Booth # 5001
Server Products . Booth # 4254
Service Ideas . Booth # 3624
Thunder Group . Booth # 2250
Thunderbird Food Machinery Inc. . Booth # 3646
Turbo Air Inc. . Booth # 2240
Vollrath Co. LLC, The . Booth # 4413
The Wasserstrom Co. . Booth # 3818
Welbilt . Booth # 3401
Wood Stone . Booth # 4668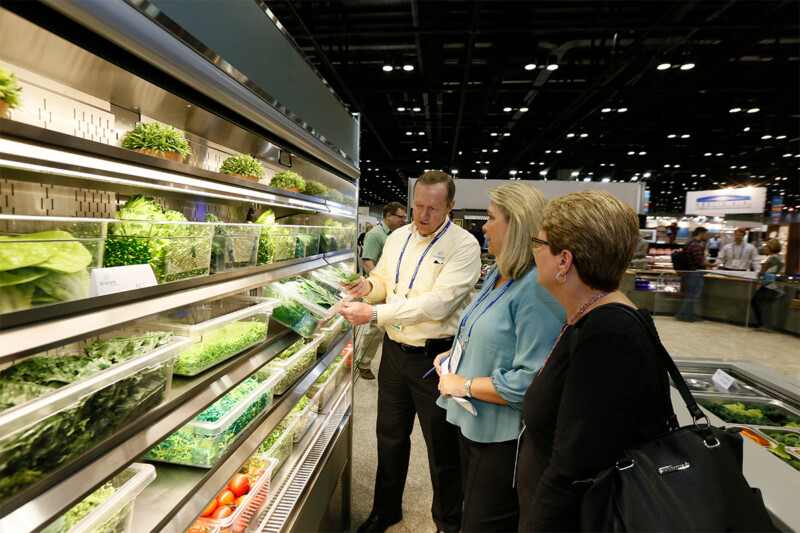 Event Coverage
During the past year, our industry has experienced tremendous personal and professional loss. We've rallied and creatively worked together to move forward. We can't wait to see you this August…