Features
Kitchen Design
Building Efficient Teaching Kitchens at the New Orleans Culinary & Hospitality Institute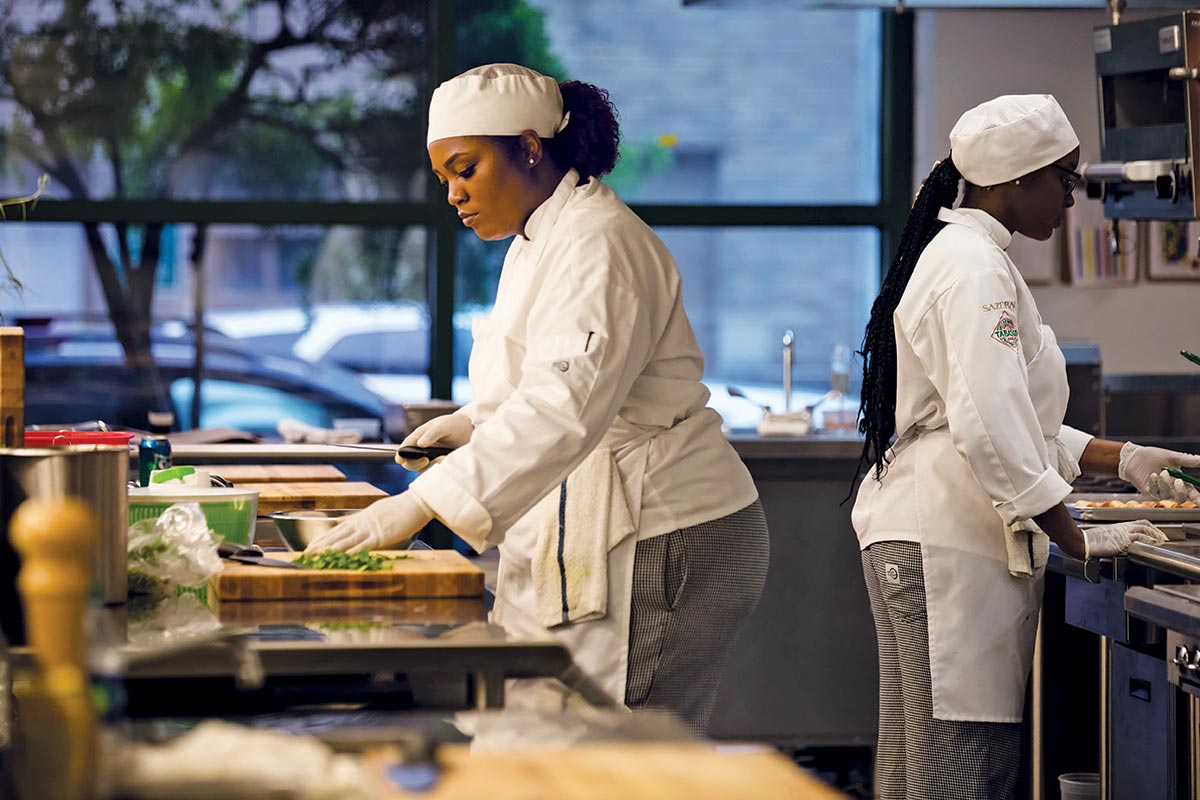 New Orleans Culinary & Hospitality Institute, opened in January 2019 in downtown New Orleans, is a school with a difference.
For one thing, it offers students an accelerated path to a culinary career—critical for future leadership of the city's many world-famous restaurants. For another, the school, with its many specialized kitchens and cooking areas, was built in a site that formerly housed artists and artisans, which led to unusual layouts and more than a few construction workarounds. But the main element that sets NOCHI apart is the remarkable confluence of partnerships that helped bring the place to life.
"NOCHI provides an alternative pathway to traditional culinary school programs in the region," says NOCHI Founding Executive Director Carl Markowitz, who was brought onboard in 2013 by co-founders Dickie Brennan, owner of the Dickie Brennan & Co. restaurant group, Ti Martin, Commander's Palace co-owner, and George Brower, a tax credit specialist—all three of whom are members of the legendary Brennan family of New Orleans restauranteurs.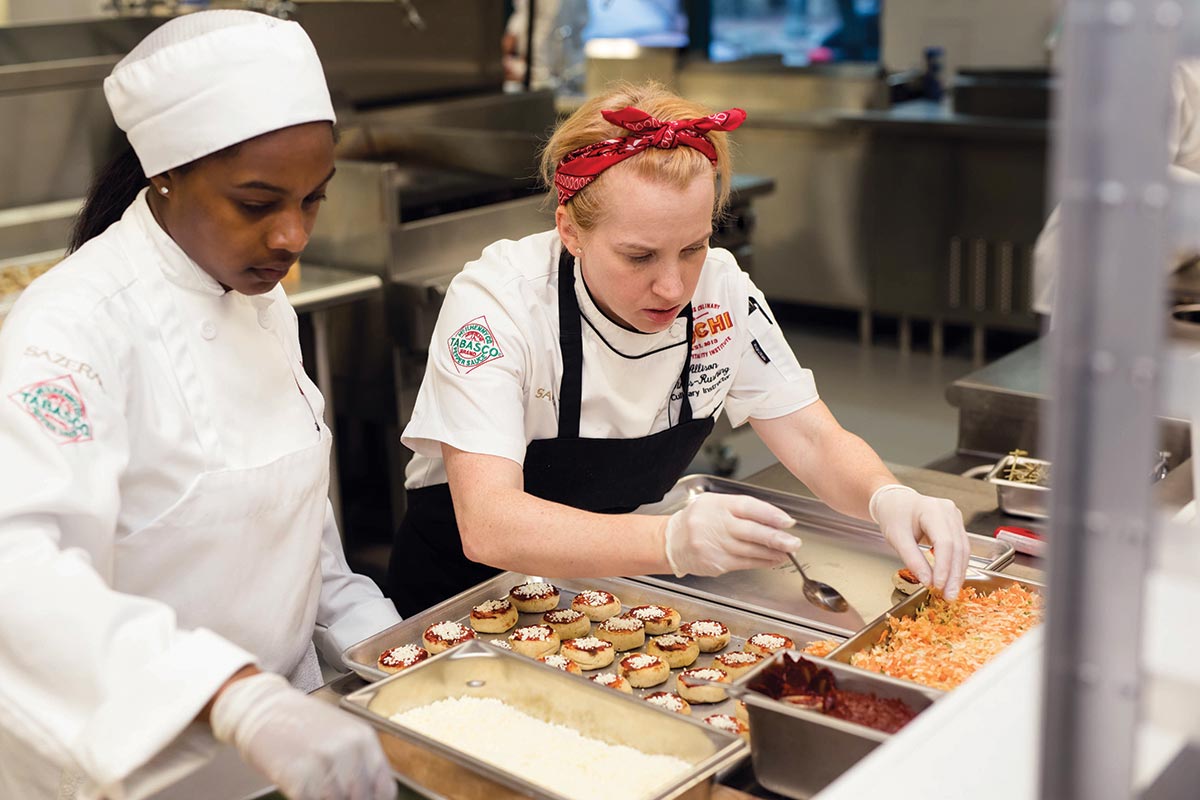 "The goal is to teach our students everything they need, and nothing they don't, to jump-start their careers. NOCHI serves as an alternative to a two- or four-year college degree program," Markowitz says.
Created in partnership with CIA Consulting (part of the Culinary Institute of America), NOCHI's certificate program is intensive. "Students come five days a week, seven hours a day," Markowitz says. "We provide students almost 650 hours of instruction, comparable to a two-year associate degree program at a university. World-class training for a fraction of the cost, all in 100 days."
NOCHI is located at the corner of Carondelet Street and Howard Avenue, about a mile away from the Ernest N. Morial Convention Center. The school encompasses four interconnected buildings, five floors high, covering 90,000 sq. ft. in all. Two of the structures, nearly 100 years old, are physically linked by newer construction completed by the Louisiana ArtWorks group that previously occupied the property. The result is a typical New Orleans—a juxtaposition of old and new, traditional and offbeat. Inside, bright, window-lined rooms hold teaching kitchens and class spaces, bakery and pastry labs, beverage labs, event halls and catering kitchens.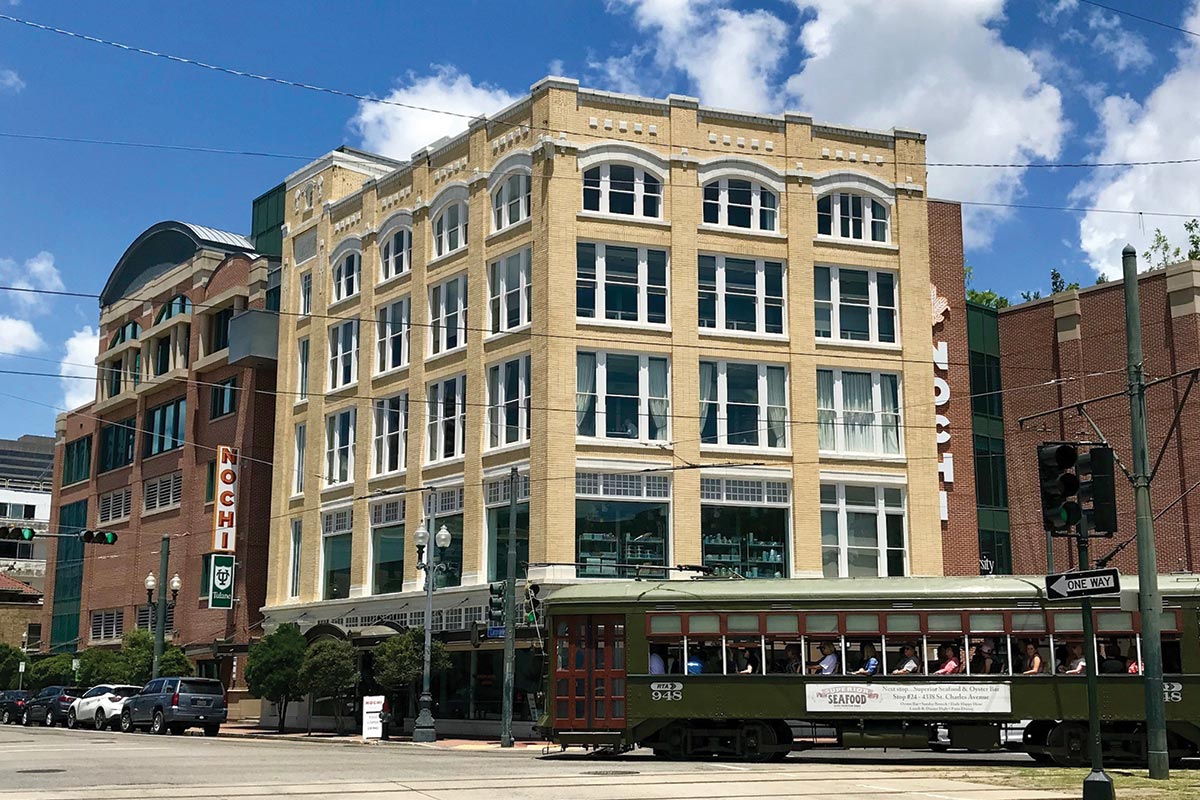 As with any project of this scope, NOCHI was both a group effort and a proverbial labor of love. The project was spearheaded by leaders in the local foodservice industry in New Orleans, but only made possible with the support of the Ernest N. Morial Convention Center, key local and national philanthropic support, and national industry support.
NAFEM Equips NOCHI
In particular, NOCHI's kitchen progress took a great leap forward when the North American Association of Food Equipment Manufacturers got involved. "This came about through co-founder Dickie Brennan's relationship with equipment rep Jim Landry," Markowitz recalls. "Landry in turn introduced the NOCHI project to Michael Whitely, who was NAFEM president at the time."
After much consideration, the trade organization agreed to ask its manufacturer members to contribute to the school's creation. In the end, donations from NAFEM and its manufacturer members equipped NOCHI's kitchens—a gift valued at more than $5 million.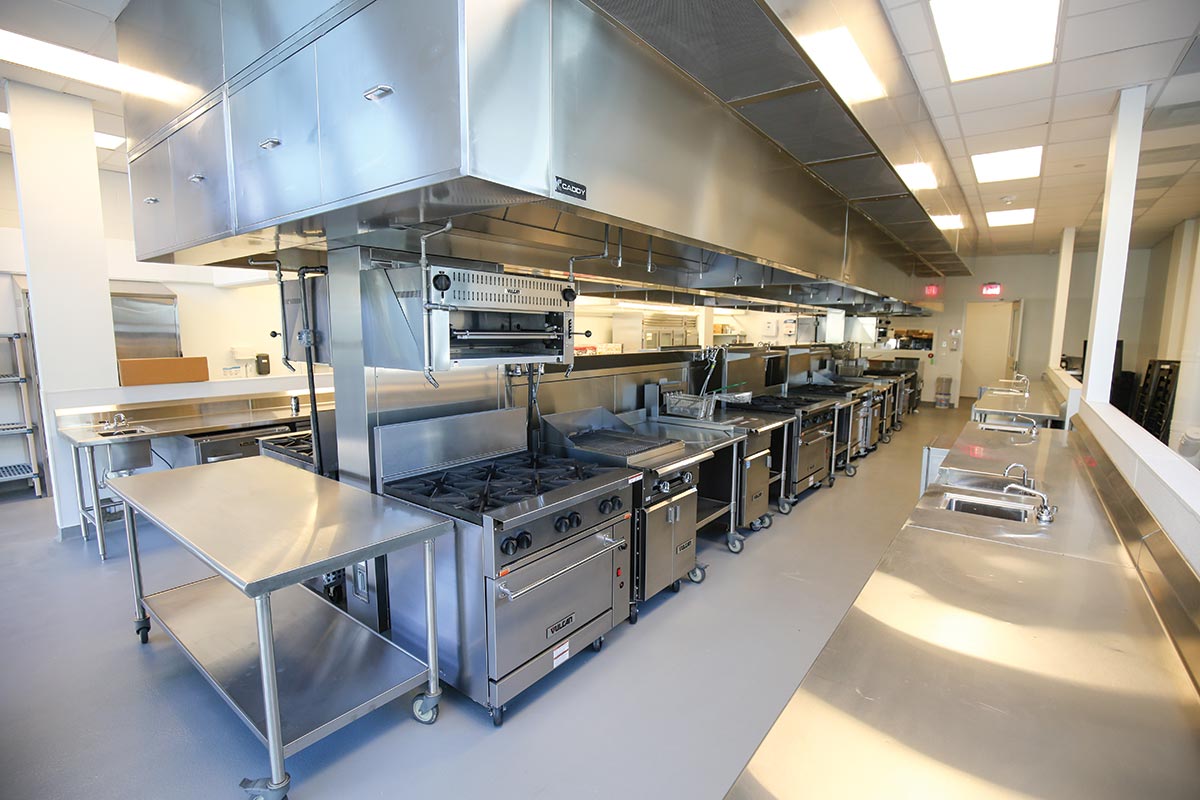 "Finding and retaining culinary talent is critical to our industry," says NAFEM Executive Vice President Deirdre Flynn. "NAFEM has long-focused on encouraging members to support industry workforce development projects. And NOCHI fits with those goals."
As added synergy between the two organizations, New Orleans will be the site of The NAFEM Show in 2021 and 2025. "NOCHI will help preserve the area's culture and cuisine, while providing all-important education and training across the industry," Flynn adds. "The institute is a training ground for new hospitality employees, a place to host events and a place to showcase the latest foodservice equipment in a world-class culinary setting."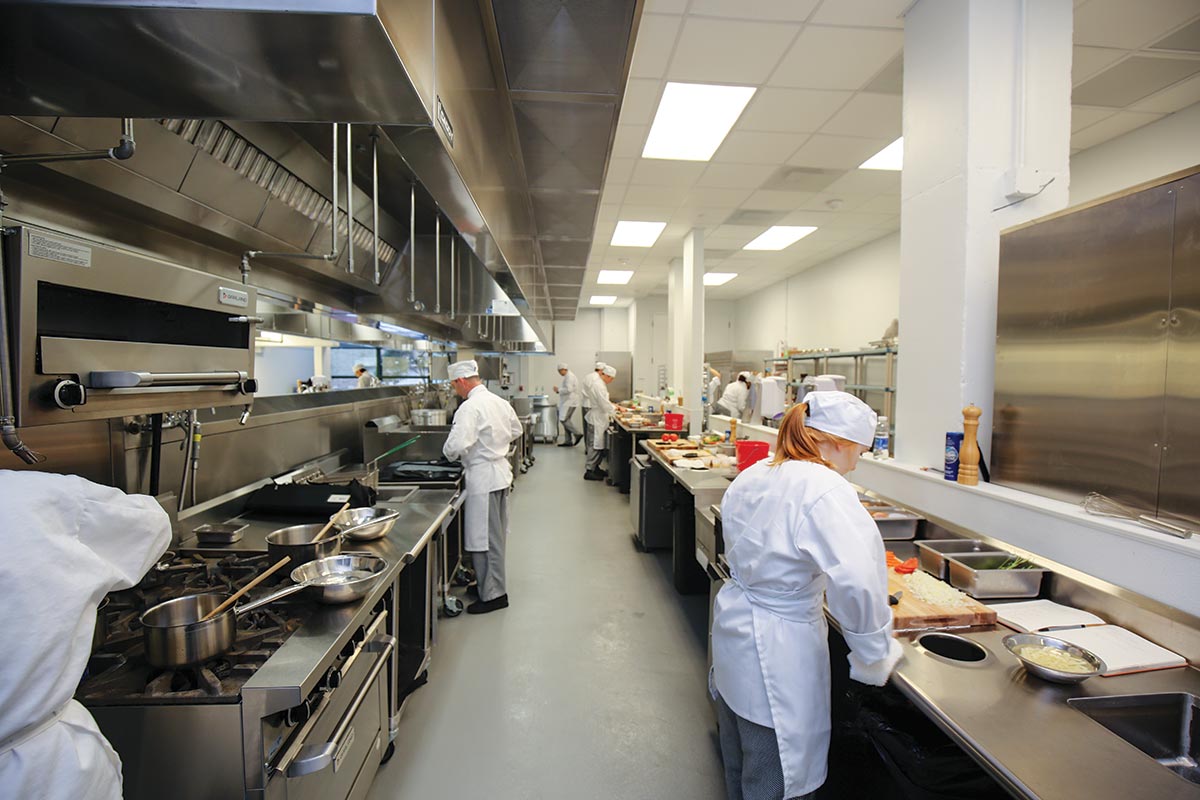 Designing NOCHI's Kitchens
Cini-Little Int'l., Jacksonville, Fla., which is led by Richard Eisenbarth, FCSI, president and CEO, was tapped to design NOCHI's training and operational kitchens. He sees the long-term value in NAFEM members' contributions. "I went through the hospitality program at Purdue University," Eisenbarth recalls. "I still remember the kitchen equipment we learned on in college, and in fact, I am still specifying some of those pieces to this day."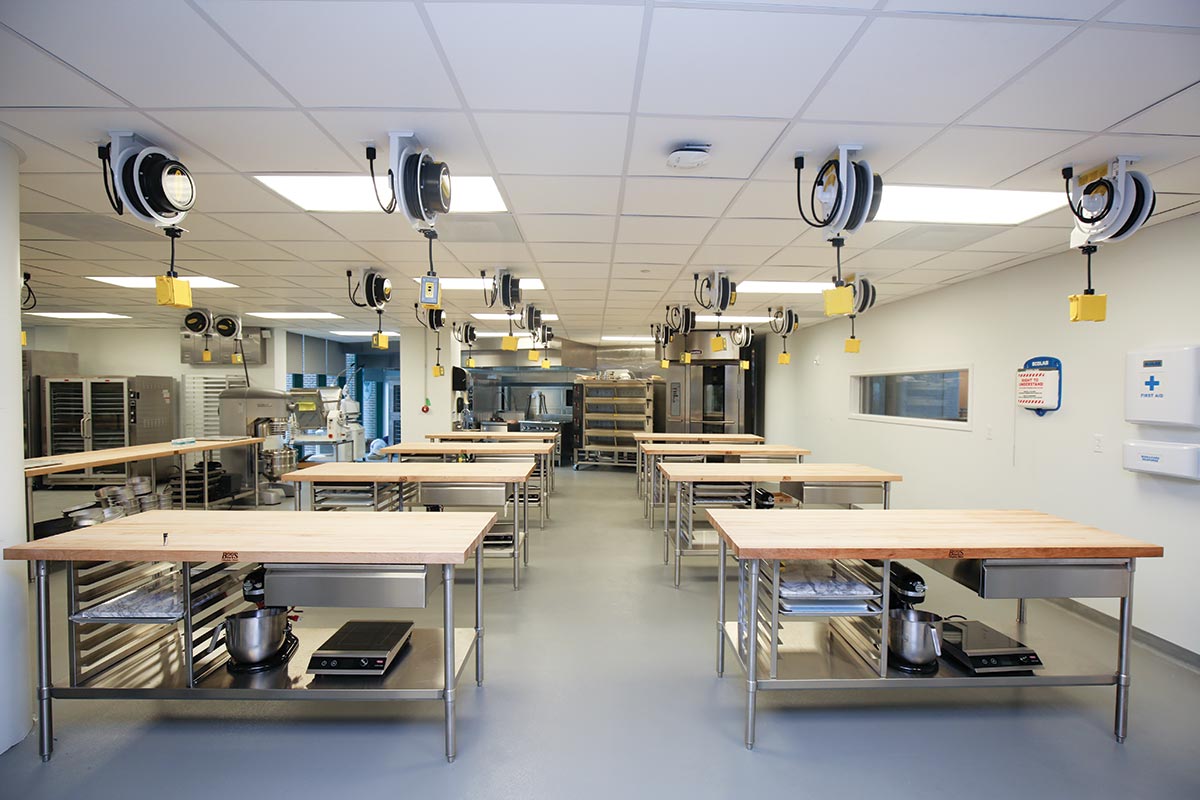 Building efficient teaching kitchens from the oddly shaped rooms and juxtapositions of the former Louisiana ArtWorks complex included challenges of weight and ventilation, among others. "Some of the equipment—the bakery's roll-in ovens, and the mixers, when filled with dough, for example—are extremely heavy." Eisenbarth says. The bakery and pastry labs ended up on the second floor, he says, because that's where the team was best able to shore up the building's old wood floors with steel beams.
When it came to ventilation, access to existing air shafts dictated kitchen locations within the complex. "The shafts were narrow and located on opposite sides of the building," Eisenbarth says. "Supplying sufficient makeup air and ventilating exhaust required more ductwork than normal kitchen projects."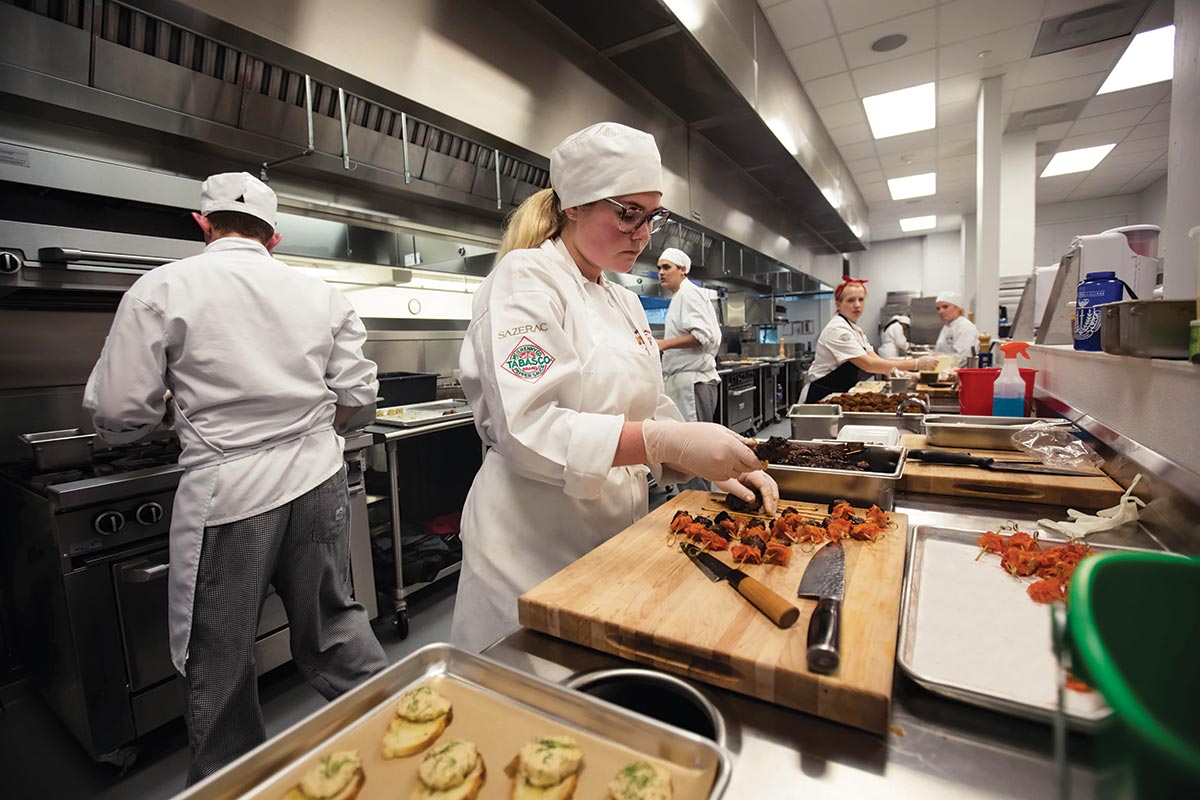 Touring NOCHI Teaching Kitchens
NOCHI encompasses four main teaching kitchens—two culinary labs and two baking and pastry labs. The facility also is home to a cafe, a dining lab, a beverage lab and meeting and event spaces.
The Emeril Lagasse Foundation Culinary Lab and the J. Willard and Alice S. Marriott Foundation Culinary Lab collectively cover 3,500 sq. ft. with space for up to 16 students each. A utilities raceway between the back-to-back stations allows students to look across and see each other, improving communication, Eisenbarth says. "The raceway also will let NOCHI pull out and replace equipment as needs change, for maximum flexibility."
Each station includes a six-burner range, salamander, fryer, charbroiler or fryer, undercounter refrigerator and sink. Food processors, slicers and mixers can be found near the instructor's station. Dry storage and warewashing round out the space.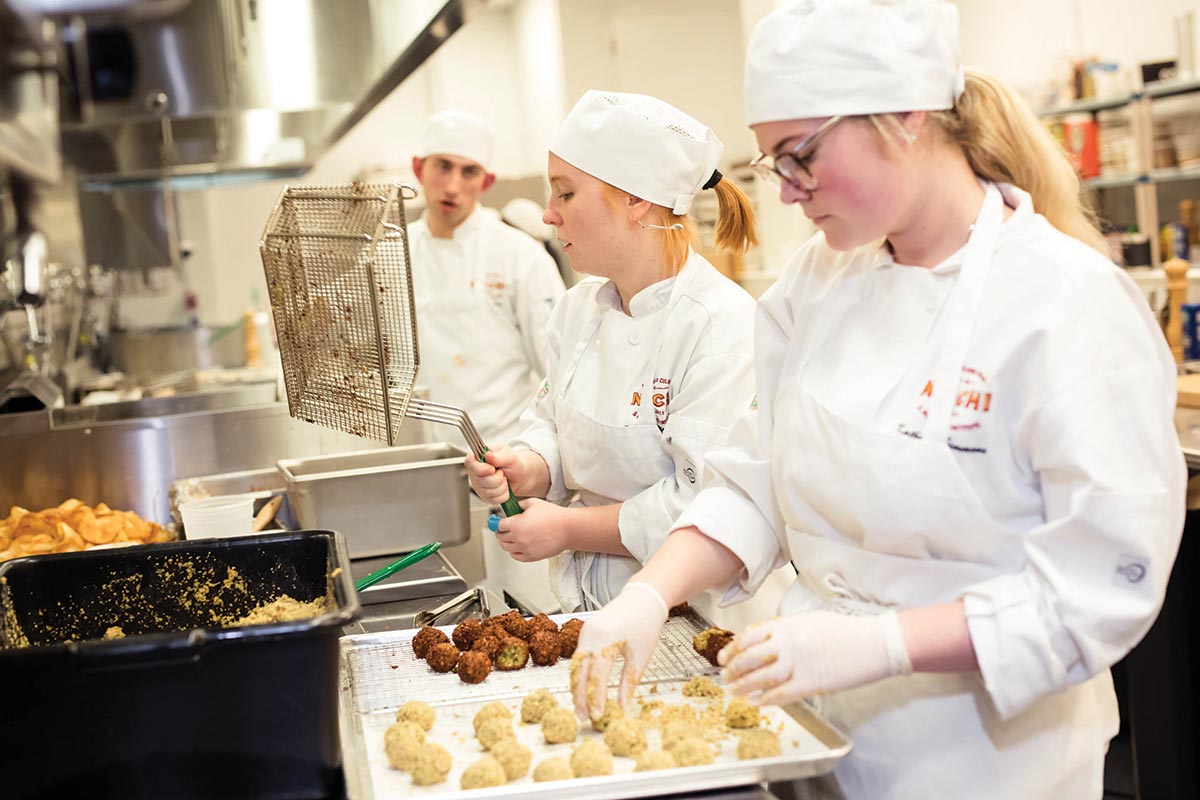 The Sherry & Alan Leventhal Baking & Pastry Lab and the Tuohy Faimily Baking & Pastry Lab, 1,500 sq. ft. and 2,000 sq. ft., respectively, hold up to 16 students each. Stations are equipped with a planetary mixer and work table. The labs also include just about any type of equipment found in commercial bakeries, including reach-in refrigerators and freezers, deck oven, roll-in oven, convection oven, roll-in proofer/retarder, proofer holding cabinets, dough divider rounders and a dough sheeter. The larger of the two spaces also has a six-burner range and doughnut fryer.
"The production kitchen on the third floor recreates a restaurant setting with a large food production area and seating for 70," Eisenbarth says. "In fact, the kitchen is larger than the dining space in order to include all the types of equipment we could. If this were a real restaurant, the seating area would be doubled." The space features a display cooking area complete with an island cooking suite, and is self contained with storage, bar and warewashing.
"Our dining lab is where our students put on their pop-up restaurant as part of the program, but we also use the space for private events and enthusiast courses," explains Markowitz.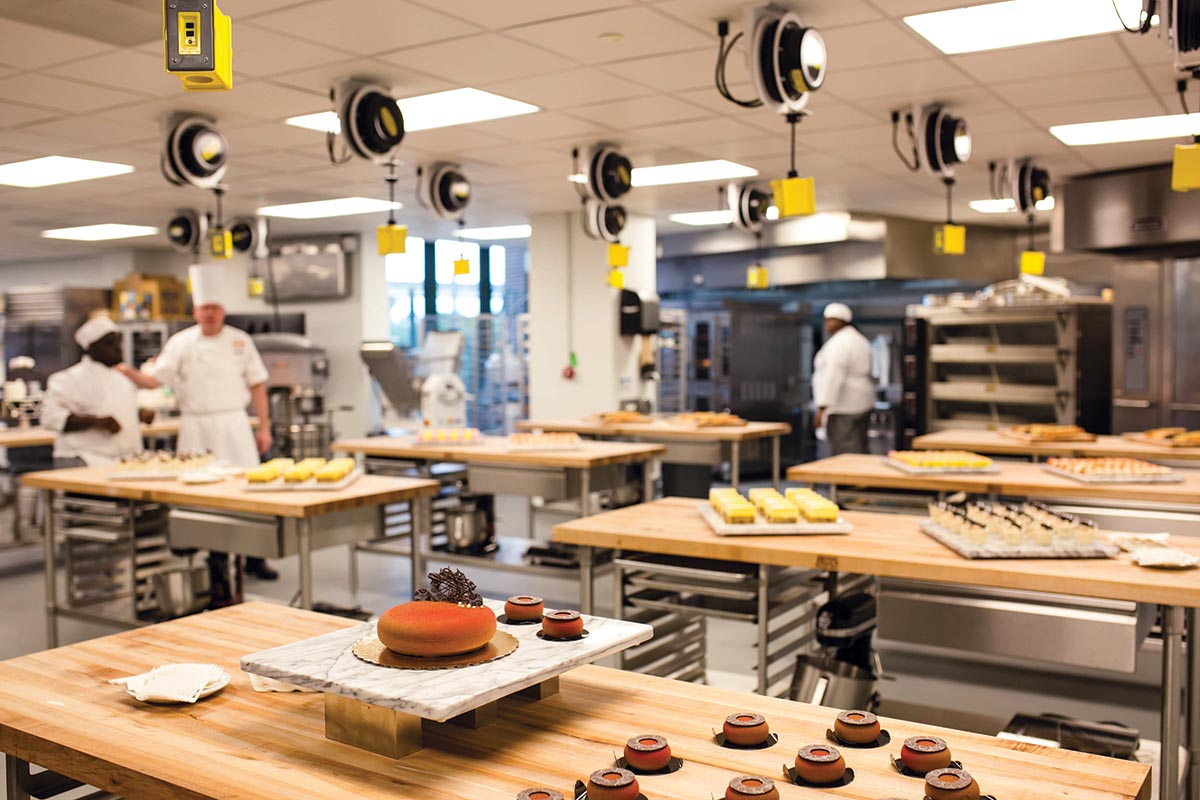 A Look Ahead
This summer, 19 newly minted culinary professionals stepped out as NOCHI's first graduating class. "Certificate classes will be offered twice a year, in January and July," Markowitz says. "At full capacity, we will offer classes in the morning and in the evening. That will send about 250 trained professionals into the industry every year."
SPECS
EQUIPMENT
Culinary Labs
Baking & Pastry Labs
Beverage Lab
This list represents only a portion of the equipment at NOCHI.