Features
Equipment Comparisons
Prep Equipment
The Ultimate Guide to Buying a Pizza Prep Table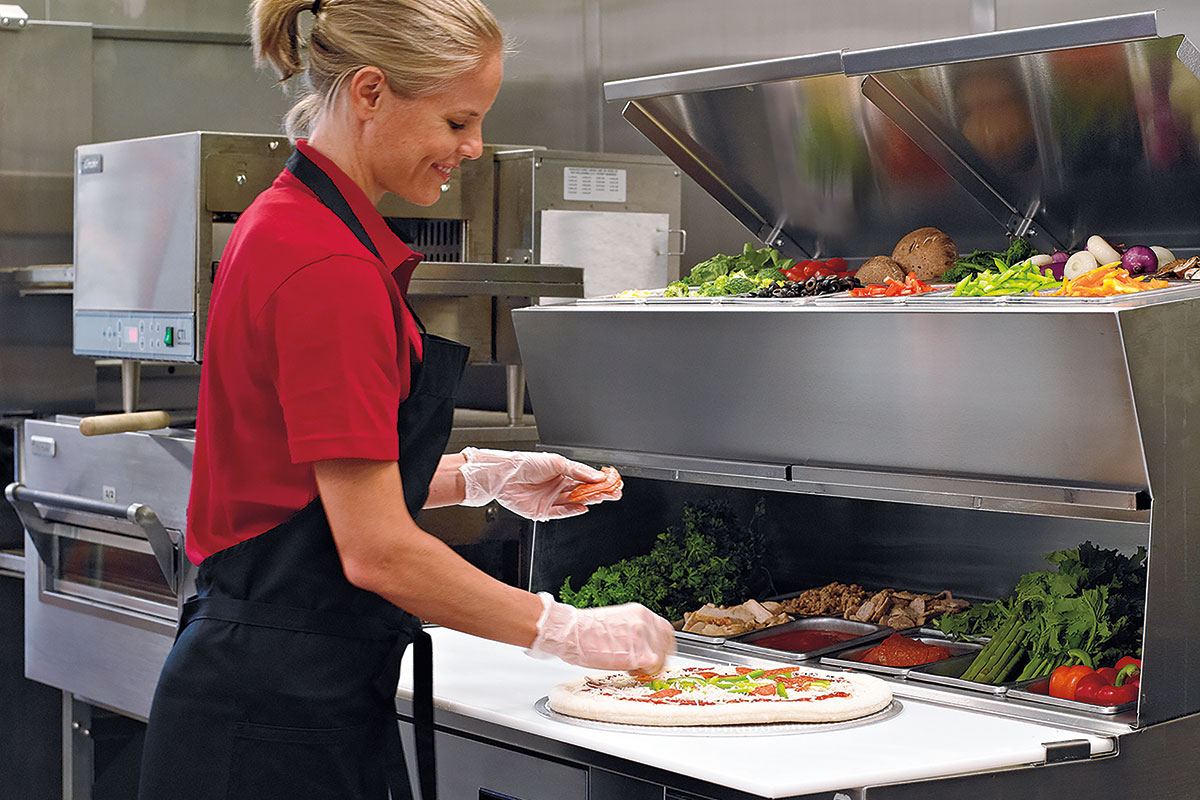 The typically raised, angled refrigerated rail holding ingredient pans on pizza prep tables makes them ideal for assembling pizzas. Dispersing toppings onto pizza crusts is easy, and a deep prep area of 14 inches to 19 inches, with cutting board, provides enough room to prep extra large pies. (Sandwich prep tables, on the other hand, have a flat top surface and shallower prep/cutting board area of 8 inches or 9 inches. So while pizza prep tables also work well for burrito, salad or deli prep, the reverse is not true.)
As with most equipment, the model you choose will be largely dependent on your menu offerings—how many toppings and sauces you have and how fast they turn—your sales volume, operational considerations and how much space you have in your kitchen. Since these prep tables have refrigerated bases, the idea is to minimize staff trips to the walk-in for more supplies. Ideally, the right size unit will get you through a shift and potentially reduce the need for refrigerated space elsewhere.
Recently, many manufacturers of refrigerated pizza prep tables have made the switch to HFC-free R290 refrigerant. The EPA backed off its mandate to phase out R134a by 2021, but California passed legislation to adopt EPA Rules 20 and 21 as a mandate there, and as many as 21 other states have proposed or are considering similar legislation. So, some manufacturers are shifting to the more environmentally friendly alternative now.
Different Ways to Chill
Pizza prep tables have to keep product cold both in the base storage area and the raised rail. The ante for any model is the NSF 7 standard, which says the unit must be able to maintain product temperatures of 41°F or below with doors closed and pan lid on. With the pan lid off, the unit must be able to maintain temperatures of products in the rail at 41°F or below for at least four hours.
Single-cavity cooling. Some models treat both base and rail as a single cavity. Two problems can arise with this type of arrangement. First, when pan lids are raised, the compressor has to cycle more frequently to keep up with demand for cold escaping through the rail, potentially freezing products in the base to keep rail products cold. And while these units meet the NSF 7 standard, you'll have to cover the rail after four hours to maintain proper product temperature, preventing anyone from using it.
The other problem is that in this type of unit, with the rail open to the base, it's easy for food to get spilled from pans in the rail down into the base, requiring more frequent cleaning.
Cold-wall cooling. Another type of prep table uses standard refrigeration in the base and cold-wall cooling in the rail. One- and two-door units have a single compressor, while three- and four-door models have dual compressors, but both use independent temperature controls for the base and rail. The base is air-cooled, but the pan rail is cooled conductively with refrigerant lines that run through aluminum plates surrounding the pan rail.
Because the rail temperature is controlled independently, it can be defrosted and shut off at night, which one maker claims will give you energy savings of up to 60% of daytime use. The disadvantage is that you have to empty products out of the rail and store them in the base (or elsewhere) overnight if you shut off the rail.
Forced-air cooling. A fairly common design, forcedair units typically have separate temperature controls for the base and the rail. Fans (one model has a fan every 12 inches) and/or air ducts direct air over, around and under pans in the rail to keep product in the rail cool. Pans have to be recessed at least 2 inches below the surface of the rail to allow airflow over the food (per NSF), so on many models you can use pans only as deep as 6 inches.
The sealed rail prevents food from spilling into the base cabinet and does a better job of keeping product cold enough. On some models, however, you may still have to replace the pan lid after four hours to bring food temperatures back in line.
Liquid cooling. This type of design chills the food pans by running cold fluid through the divider rails. One manufacturer uses propylene glycol; refrigerant runs through one side of an evaporator plate and glycol through the other to transfer heat. The chilled glycol is then pumped through the rail walls surrounding the food pans.
Another maker uses a "eutectic" liquid (one that's been altered so it doesn't freeze until it reaches temperatures well below 32°F). The walls surrounding the food pans in the rail are filled with liquid. Refrigerant lines run through the liquid, chilling it so the liquid, in turn, chills the food pans.
Neither system needs a defrost cycle, which saves energy. The temperature of the coolant stays more consistent and there's no frosting of refrigerant lines. Another plus is that this type of system doesn't use fans, which eliminates the possibility of spills damaging fans or components. Because there's no need for air vents around the pan recesses, the base liner stays cleaner, and the units can accommodate 8-in.D pans versus the standard 6-in.D pans.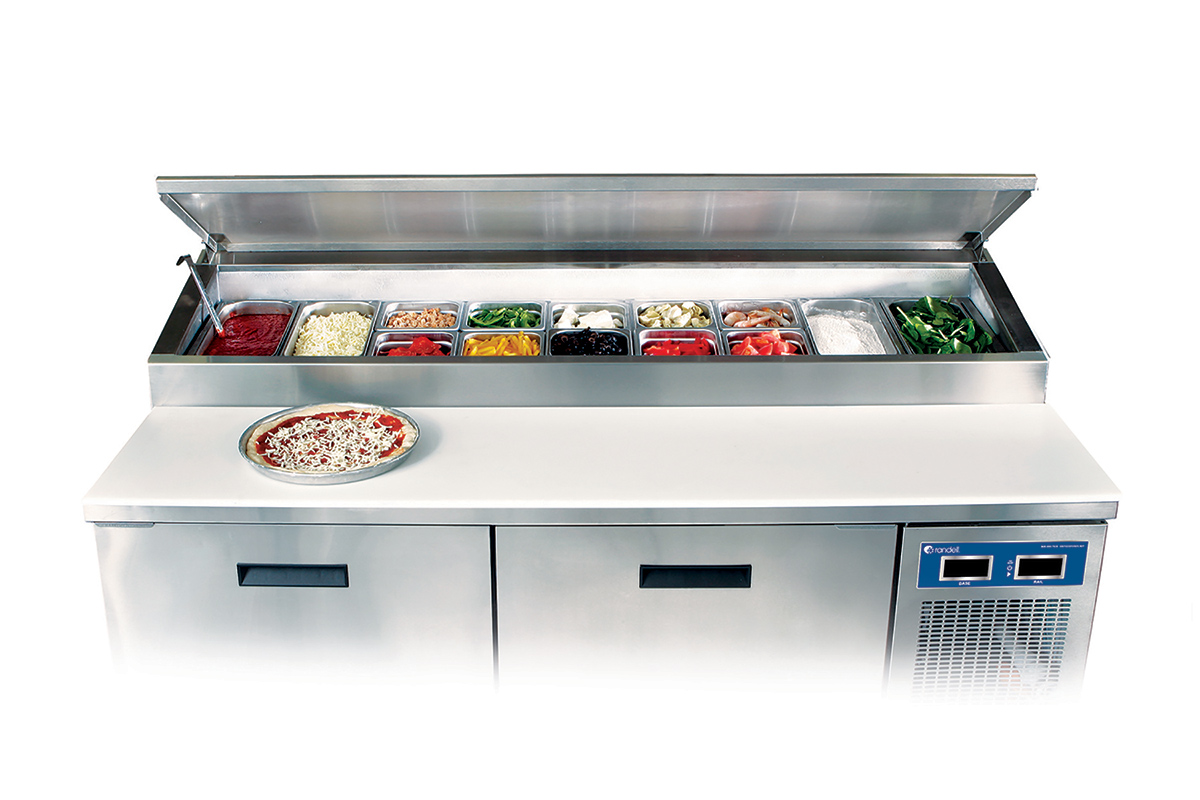 Features You May Want
Not all models of pizza prep tables have all features, and some offer them as options, so do your homework before choosing your equipment.
Expansion valve refrigeration system. These tend to be more responsive to changes in temperature than capillary systems and have the secondary benefit of hot-gas defrost, eliminating the need for an electric condensate vaporizer.
Adaptive defrost. More models now feature defrost cycles that adapt to conditions, turning on when they sense ice on the evaporator or refrigerant lines. The advantage versus traditional programmed defrost is that programmed defrost cycles may not be timed to come on when most needed or to run as long as necessary to remove ice from the lines, impacting performance and posing a food safety risk.
---
PRO TIP: Sealed rails prevent food from spilling into the base cabinet.
---
Left-side mount compressor. Most models come with the compressor mounted on the right side, but some makers offer the option of a left-side mount if you need to keep the components away from other kitchen equipment like a fryer. Many are front-breathing for easier cleaning and servicing.
Electric condensate evaporator. Condensate from the evaporator coil drains into a pan. Some models use a wicking pad to help evaporate that condensate. If you're in a humid area, an electric heater does the job automatically.
Stainless interior. Durable, easy-toclean stainless cabinet and door liners are offered as options instead of galvanized aluminum or ABS plastic liners.
Stainless shelves. Makers offer stainless shelves in addition to epoxyor PVC-coated standard shelves.
Doorframe heaters. If you operate in a humid environment, door-frame heaters prevent condensate from forming around the doors in the base of the unit.
Drawer cage. Some models can be easily converted from doors in the base unit to drawers with a pre-assembled cage that slides into the base cavity.
Self-cleaning condenser. One maker offers a condenser with a rotating brush that automatically cleans a fine mesh filter in front of the condenser coil on a daily basis.
Adjustable pan slides. As an alternative to drawers, some makers offer pan slides for base cabinets so you can use sheet pans instead of shelves.
Audible alarms. Some models have high- and low-temperature alarms.
Composite cutting board. Optional composites (resin-treated wood fibers pressed and baked to create a solid board), such as Richlite, are more impervious to knife cuts and bacteria than standard HDPE or nylon cutting boards.
Glass and/or insulated pan lids. Glass lids let you see what ingredients need replenishing while keeping the rail cold. Insulated lids let you store ingredients in the rail overnight.
---
PRO TIP: Newer models feature environmentally friendly R290 refrigerant.
---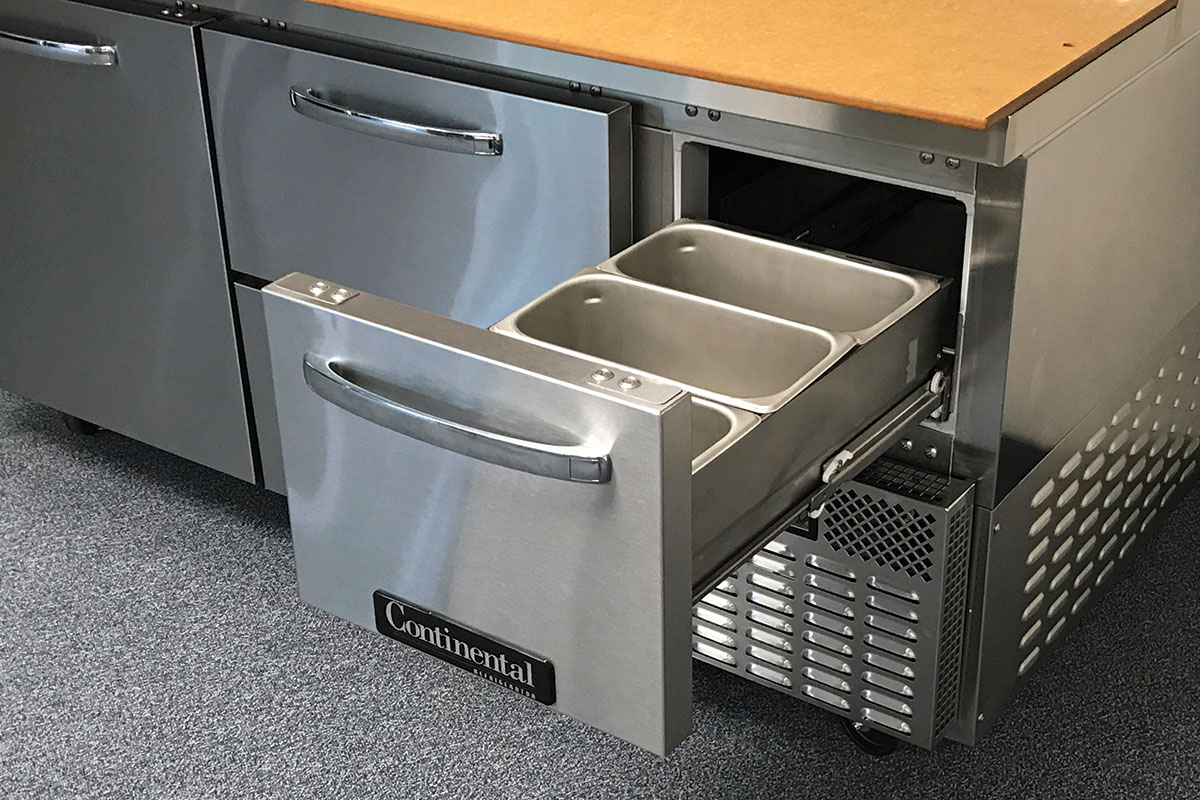 Drawers Versus Doors
In general, doors give you more storage space in the base unit and better organizational potential. If you prefer to hold ingredients like cheese or sauce in bulk (bags and boxes), then doors give you the best way to store and access them. If you prefer to replicate the pans in your rail with the same ingredients in the base as backup, drawers make it simple for employees to pull out a new pan and replace the empty pan in the rail.
Since manufacturers can produce units with any combination you want, you can spec a combination of doors and drawers to fit your operational needs.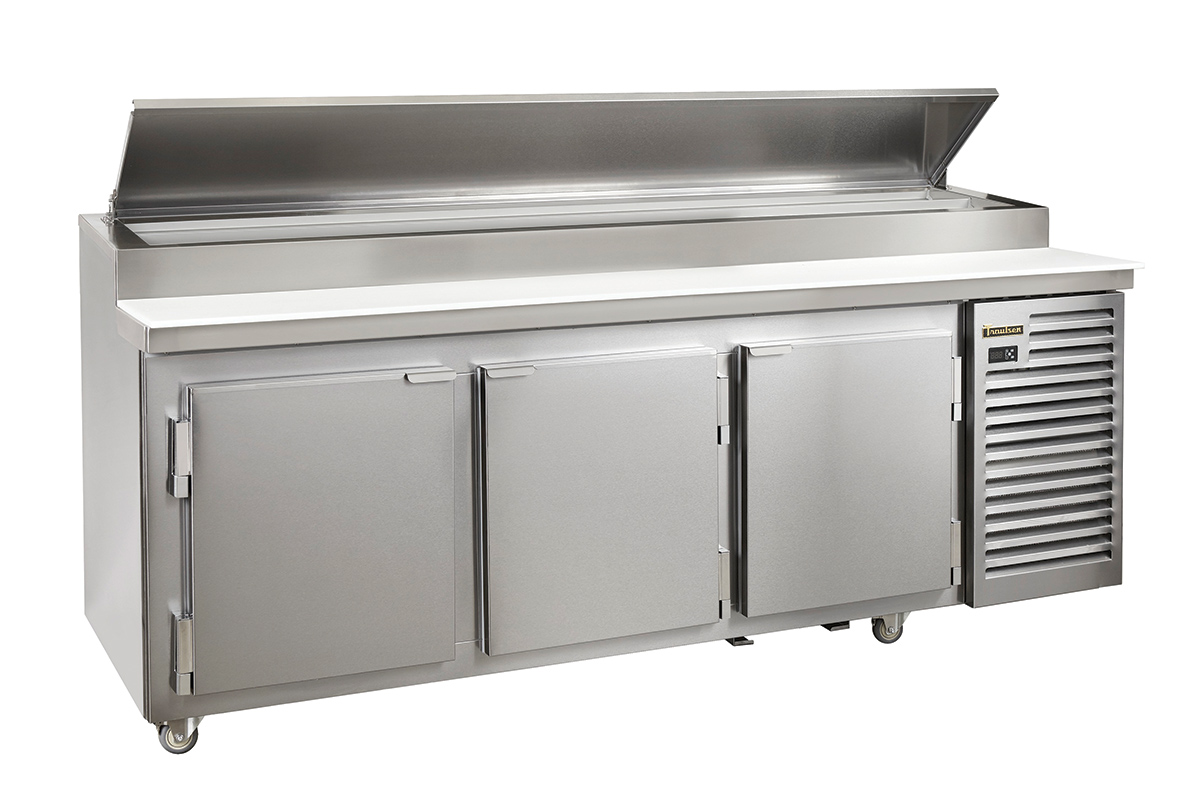 Space, the Final Frontier
Kitchen space pretty tight? Makers offer a number of workarounds that might give you what you need in the footprint you have available.
Multiple sizes. Manufacturers offer pizza prep tables in a wide range of sizes to fit different spaces and volume requirements, from single-door 48-inch units to a three-door 118-inch model.
Dual rail. Some makers offer models with a second ingredient rail mounted above the standard rail.
Overshelves. Most manufacturers offer shelves that fit over the table for dry storage. You can spec one shelf or two.
Mini cabinet/drawer. One manufacturer has designed its prep tables with a refrigerated space above the refrigeration components that can be a cabinet or drawer capable of holding full-size hotel pans.
---
Pizza Prep Table Gallery