Features
Kitchen Design
Kitchen Design: Firehouse Subs' Restaurant of the Future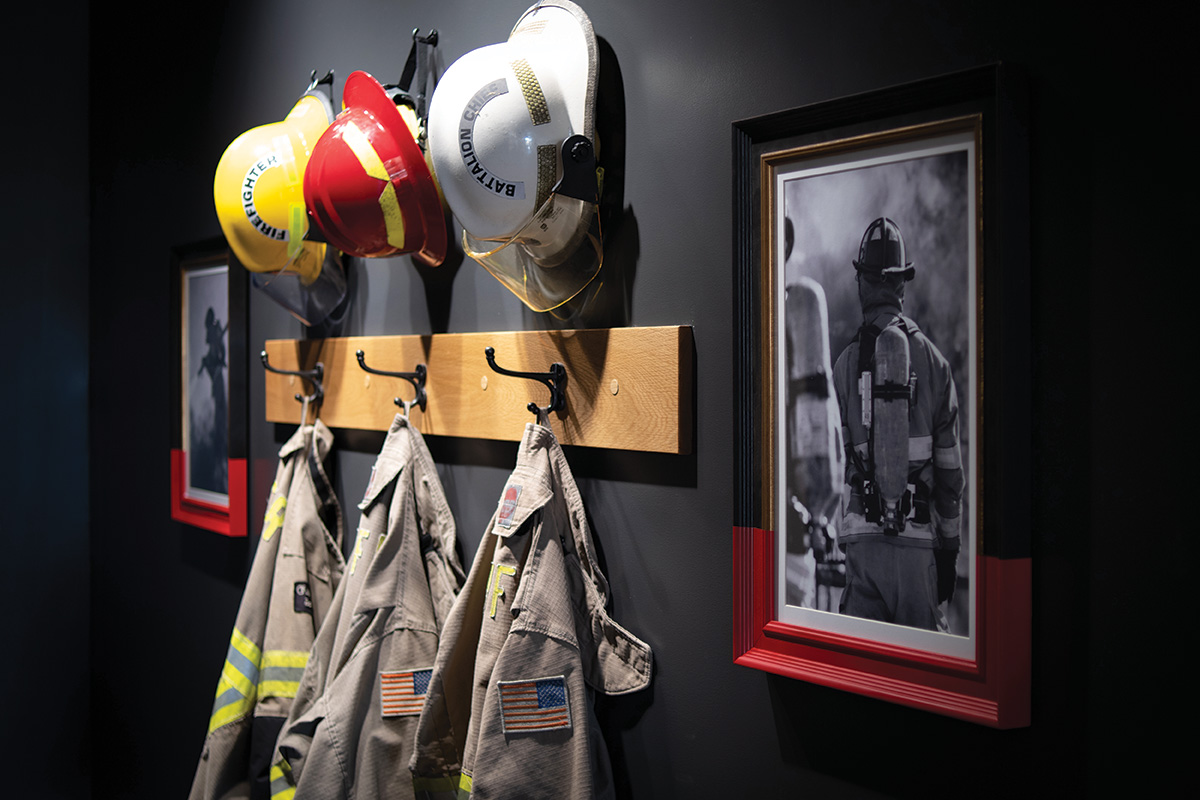 Firehouse Subs Restaurant of the Future prototype delivers faster speed of service in a smaller, more cost-effective footprint. The prototype also can run with one less FTE compared to existing locations. All the changes were unlocked by upgrading a single type of equipment—its steamers.
Firehouse Subs ROTF opened in July at the Pavilion at Durbin Park Shopping Center near company headquarters in Jacksonville, Fla. Including research, design and buildout costs, the tally came to about $1 million.
Two months and one hurricane (Dorian, which blew past at press time) into operations, the Firehouse Subs prototype is doing well. "Sales are still at that new-store high, but we are confident that the new design will continue to prove itself in the year ahead," says John Namey, vice president of real estate services for the more than 1,170-unit chain.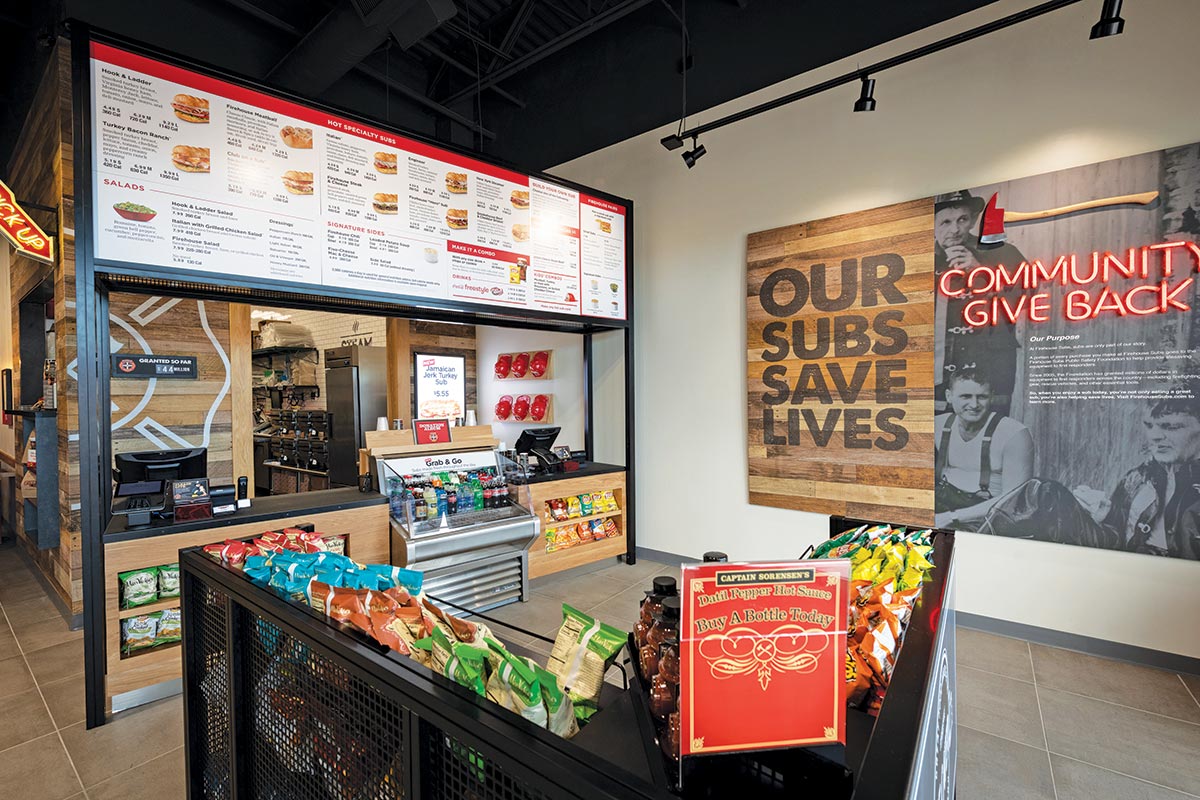 Firehouse, Before
Firehouse Subs restaurants have been known both for the food and for the company's mission of supporting first responders. (Over the past 14 years, Firehouse Subs Public Safety Foundation has donated more than $44 million in lifesaving equipment and training to first responders across the United States.) But in the 25 years since the first store opened, the concept had never had a makeover.
In 2017, CEO Don Fox challenged his team to come up with a better restaurant. The design team was led by Namey and Construction Services Director Richard Elkins, along with founders Robin and Chris Sorensen, Field Operations Vice President Meg Rose, Operations Services Vice President Rich Goodman, Supply Chain Services Vice President Matthew Riddleberger and Marketing Vice President Kristen Majdanics.
Step one of the design process was to identify areas for improvement. "We hired [Chicago-based foodservice research firm] Technomic to conduct studies in two major markets," Namey says.
"We knew where the pain points were," Namey admits. "We had a problem on the production line with speed and efficiency. Overall costs to build out restaurants were increasing. We also realized that our ordering process was convoluted, due to the fact that guests have to walk all the way to the back of the restaurant to place orders. And our decor package had become so busy it was obscuring the Firehouse message of flavorful food, public safety and heartfelt service. We knew we could make it better."
When the interviews with customers and franchisees wrapped up, results confirmed executives' gut feelings about speed of service and layout. "The study also showed us that our 'flexible' two-top tables were not family friendly," Namey says.
The design team's challenge was simple: fix the flow for employees and for guests, and clarify the message.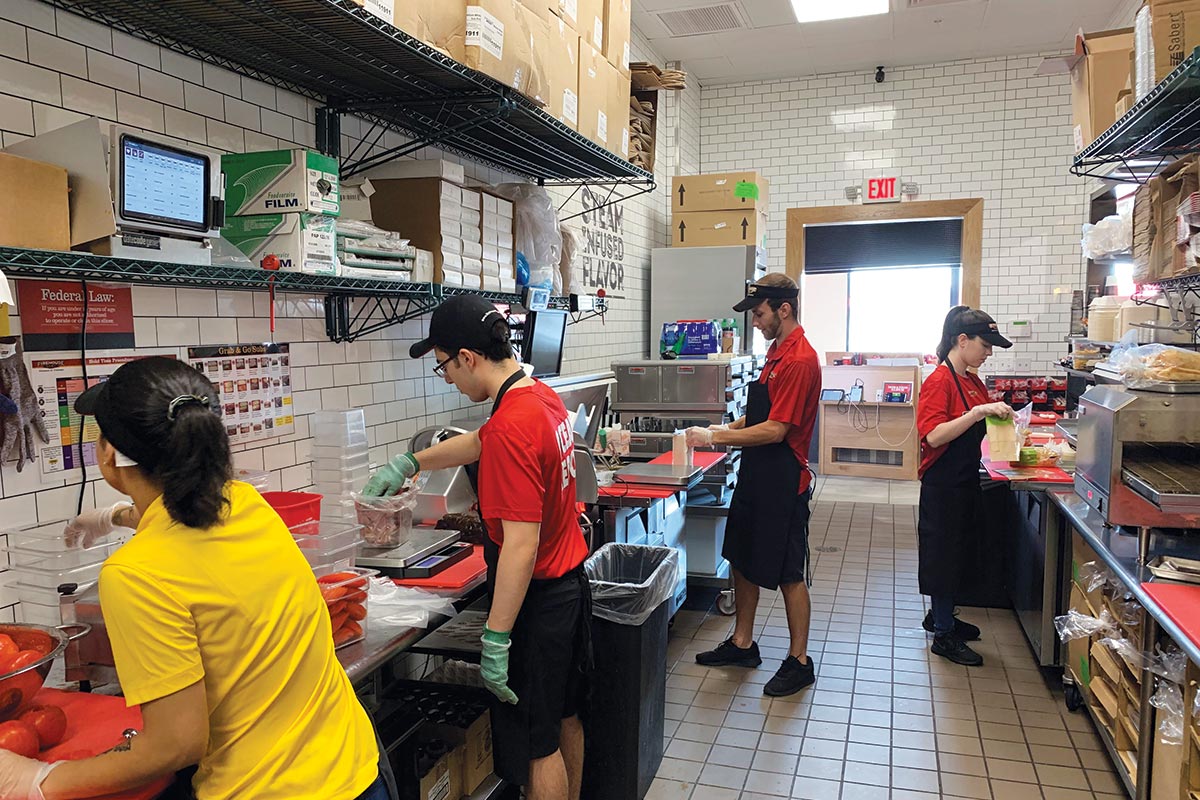 Flow It, Move It, Enclose It
Armed with the operational research, Firehouse Subs brought in Big Red Rooster, Columbus, Ohio, to work on the kitchen layout, furnishings, fixtures and brand graphics.
The change with the single biggest impact was the steamers. A linchpin of the sandwich chain's makeline, their existing placement and speed offered some room for improvement.
"At Firehouse stores, the sandwich production area is open to guest view. We use six to eight clamshell-type steamers, lined up on an 8-ft.-long table along the back wall, to quick-heat meats and cheeses for sandwich fillings," Namey explains. The heating process takes two minutes and 45 seconds. The conveyor toaster also sits on the back counter. Cold ingredients occupy prep tables along the customer side of the workspace.
That layout proved inefficient, Namey says. "When an order comes in, the proteins cross the aisle twice—over to a steamer to be heated, and then back in the bun. Bread makes at least four crossings—from storage bin to toaster, then to the front line to be dressed according to customer preference, then back to the steamer for the proteins, and finally to be plated or wrapped for carryout.
"Our approach to the prototype was, let's fix the production area first, and redesign everything so product flows in one direction."
In 2017, Firehouse Subs operations team began working with steamer manufacturer Antunes to improve speed and take up a smaller footprint. The resulting custom-built units cook faster and use sliding drawers instead of clamshell lids, and as a result, can be stacked two high.
"They give us the same capacity in half the space," Namey says. Because the new units are powered by a builtin boiler rather than the slower steam injection system of the previous model, they heat in one minute, 45 seconds—a whole minute faster. The units have been successfully tested in several retrofitted Firehouse Subs locations.
The steamer upgrade triggered a host of production area layout adjustments, including:
Moving the meats and cheeses prep table next to the steamers and positioning the conveyor toaster next to the toppings and sauces prep table. "Now all the product is flowing from back to front," Namey says. "Bread is toasted and dressed on one side and meats/cheeses are heated on the other side. The only aisle-crossing comes at the end when the proteins are handed across to be added to the sandwich just before it's wrapped or plated."
Shrinking the kitchen footprint by as much as 25% as a result of the stackable steamers.
Adding a pass-thru shelving unit—dubbed the Rapid Rescue station—for to-go orders and third-party delivery pickups. The shelving unit is located below the pass-thru window for in-store orders.
Adding walls to enclose the production area. "Customers can still look through the pass-thru window at employees working, but now all the interaction takes place at the order point," Namey says.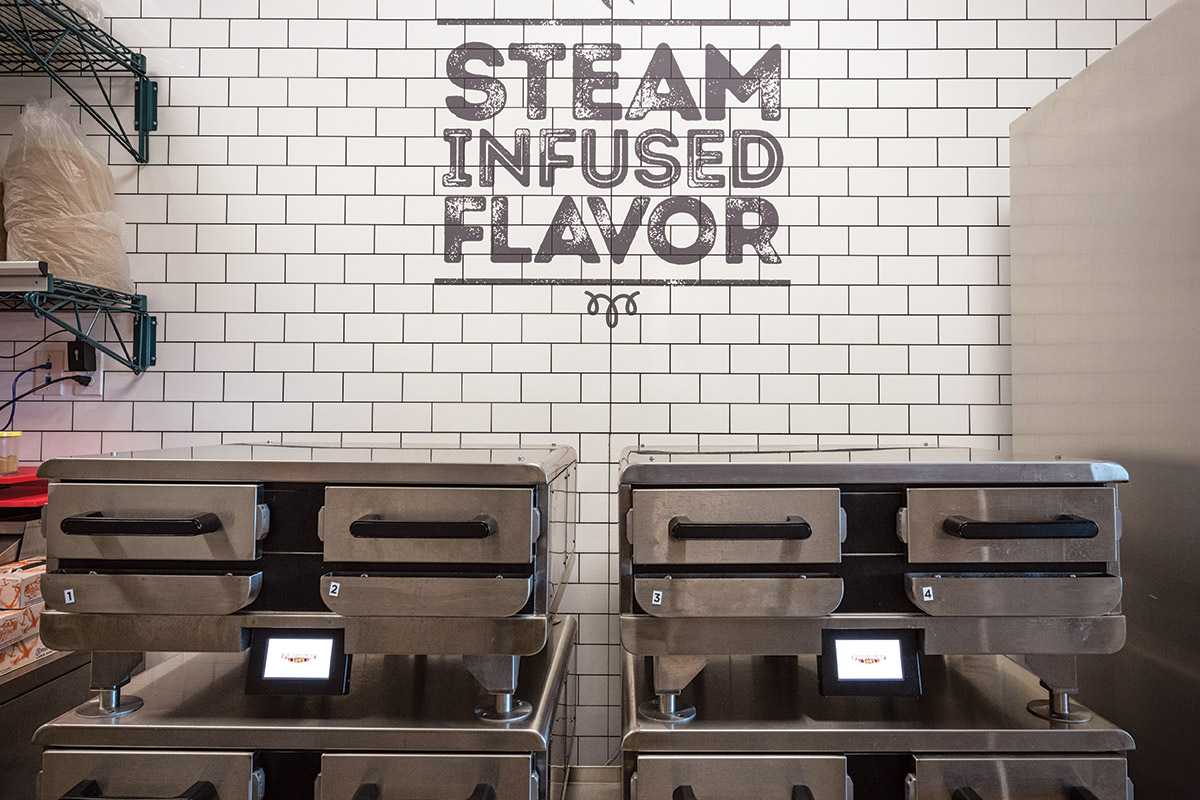 Register, Here
In fact, enclosing the production area, and placing the cash register and order counter in the front of the store, marks one of several changes in the front-of-house meant to improve the customer experience. By contrast, in existing stores, guests must walk all the way to the back to order and pay. (They can customize their sandwich as its being built if they choose to.)
The changes have resulted in a much more user-friendly experience for first-time customers, who can quickly determine where and how to order. And although the wall blocks guest interactions with employees, it also limits slow-downs as a result of too much customer interaction.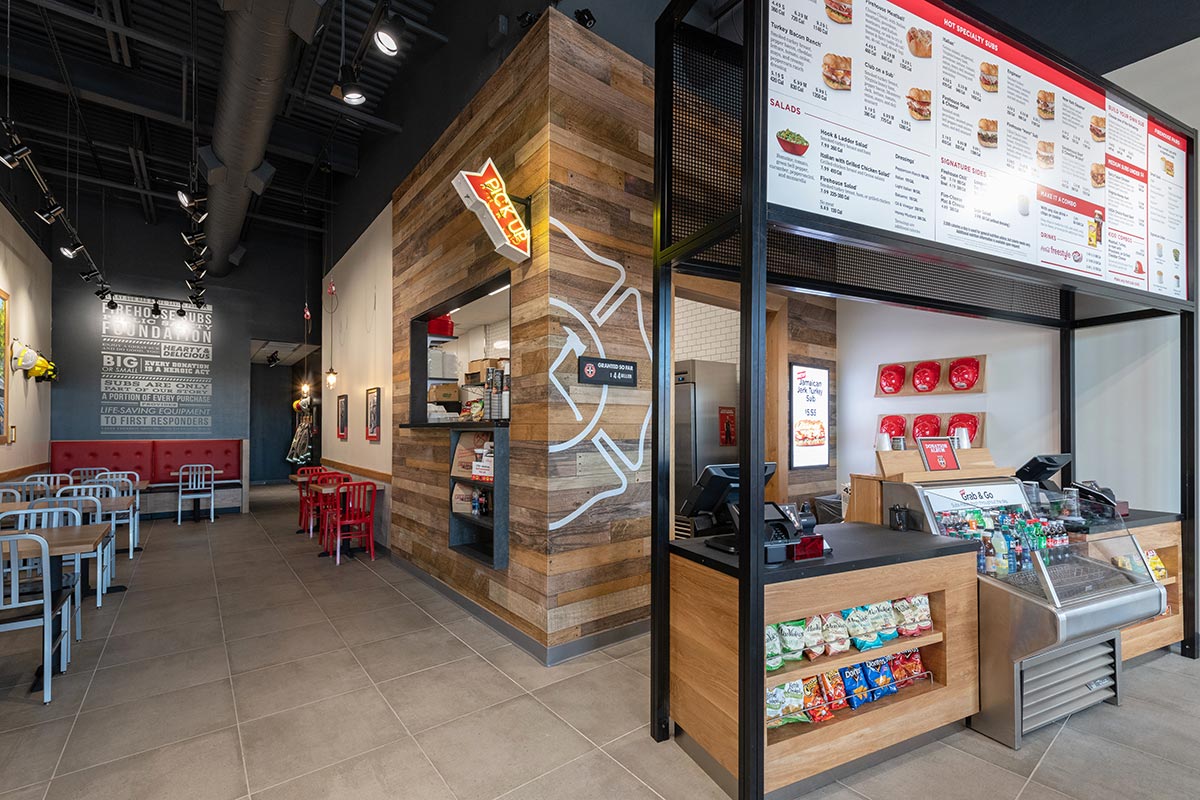 Planners also tweaked the decor and seating style and count. Brand identity (specifically Firehouse's core mission of giving back to first responders) has been emphasized through signage and by paring back on the amount of fire station paraphernalia so as not to obscure the message.
The prototype has fewer seats (28, down from 50 in existing locations) in response to the growing percentage of to-go and third-party delivery orders as well as the goal of a smaller, more cost-effective overall footprint.
A range of table sizes—two-tops, four-tops and an eight-seat community table—appeals to more types of guests. "Current stores have only two-tops. The study showed us this was not very 'family friendly,' even though it was flexible," Namey says.
One thing that did not change, however, is the signature Firehouse Subs mural. This mural will continue to be hand-painted at Firehouse headquarters by the compan's in-house artist, and customized for each new store.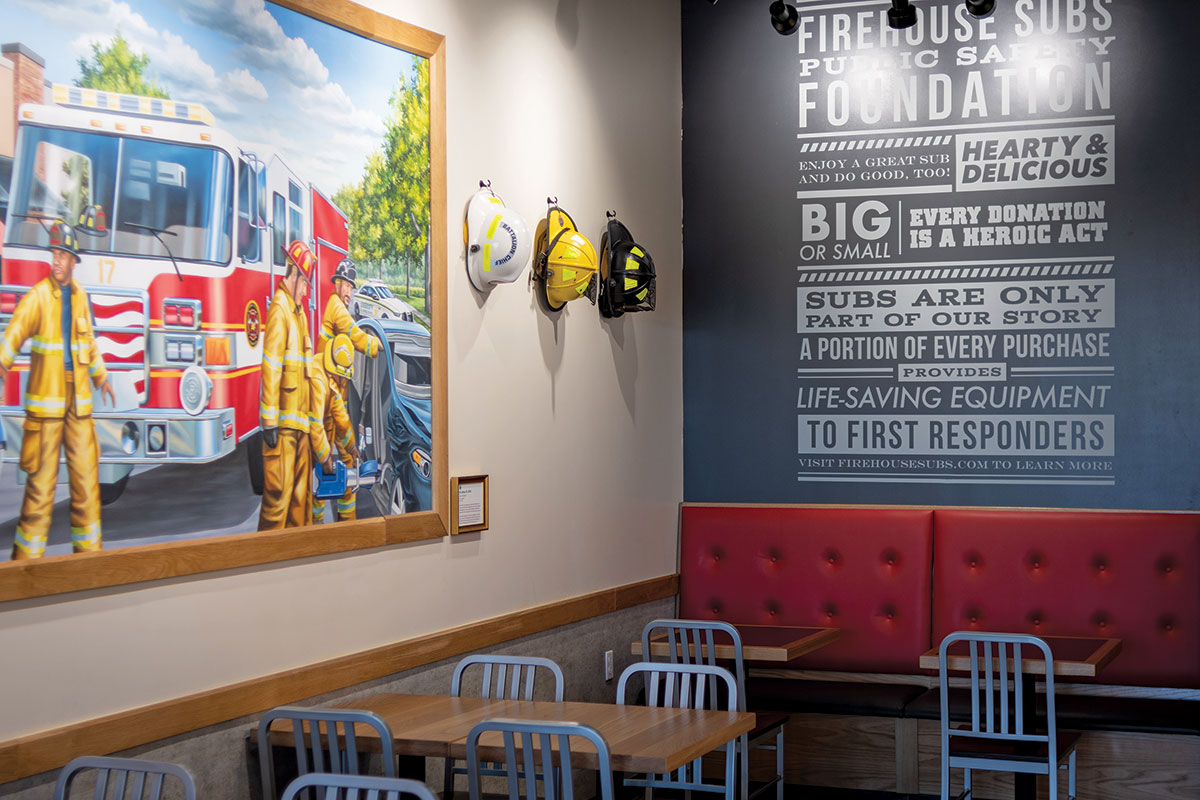 Now and Later
Firehouse Subs plans to monitor and measure all aspects of the Durbin Park Shopping Center store, and based on the results, make plans for future prototype locations.
Namey has been present at more than a few Firehouse Subs openings during his 15-year career at the company. While observing the chain's ROTF prototype debut in July, he was especially eager to see how fast customers would figure out the revamped ordering process.
"The regulars walked straight to the back looking for the registers," says Namey, recalling that busy morning. "They'd stop, then turn around and come back to the front. New customers figured out the ordering process immediately."
So, for at least one objective of the redesign, it's already mission-accomplished.
---
SPECS
MENU/SEGMENT: Fast-casual sandwich chain
HEADQUARTERS: Jacksonville, Fla.
NUMBER OF UNITS: 1,170-plus restaurants in 46 states, Puerto Rico and Canada
SIZE: 1,600 sq. ft.
SEATING: 28 seats
CONSULTANT/DESIGN FIRM: Big Red Rooster, Columbus, Ohio
ARCHITECT: Curran Architecture, Indianapolis
EQUIPMENT
Antunes steamers
True reach-in coolers, reach-in freezer, sandwich prep table, refrig. merchandiser
Holman/Middleby toaster
Nemco food warmer
Bizerba slicer
Deli Pro slicer table
Eagle work tables
B&J Wire shelving
Advance Tabco shelving
Scotsman/Ali Group ice and water dispenser
John Boos 3-comp. sink
Hoshizaki ice machine
Cadco cookie oven
San Jamar cup dispenser
Panasonic microwave
---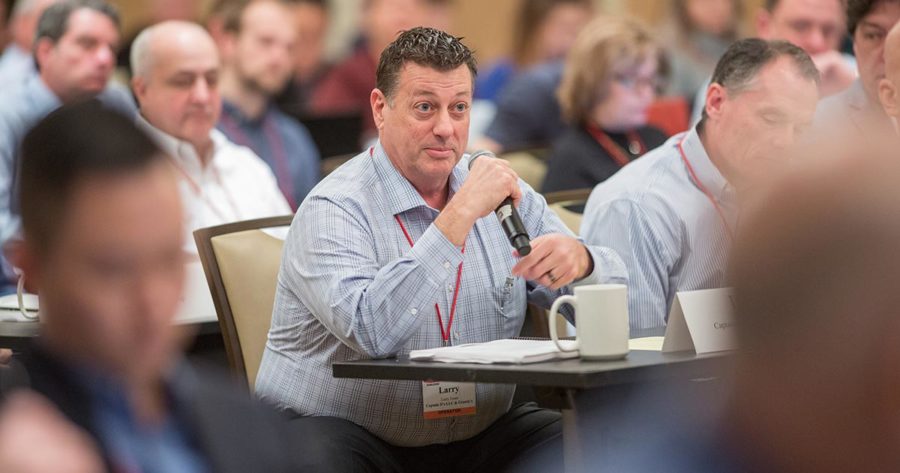 Advance Your Knowledge of Foodservice Equipment Technologies at MUFES
MUFES is a one-of-a-kind event for foodservice equipment decision makers from multiunit chains and noncommercial facilities.