Features
Kitchen Design
Kitchen Design: The Commons at Tulane University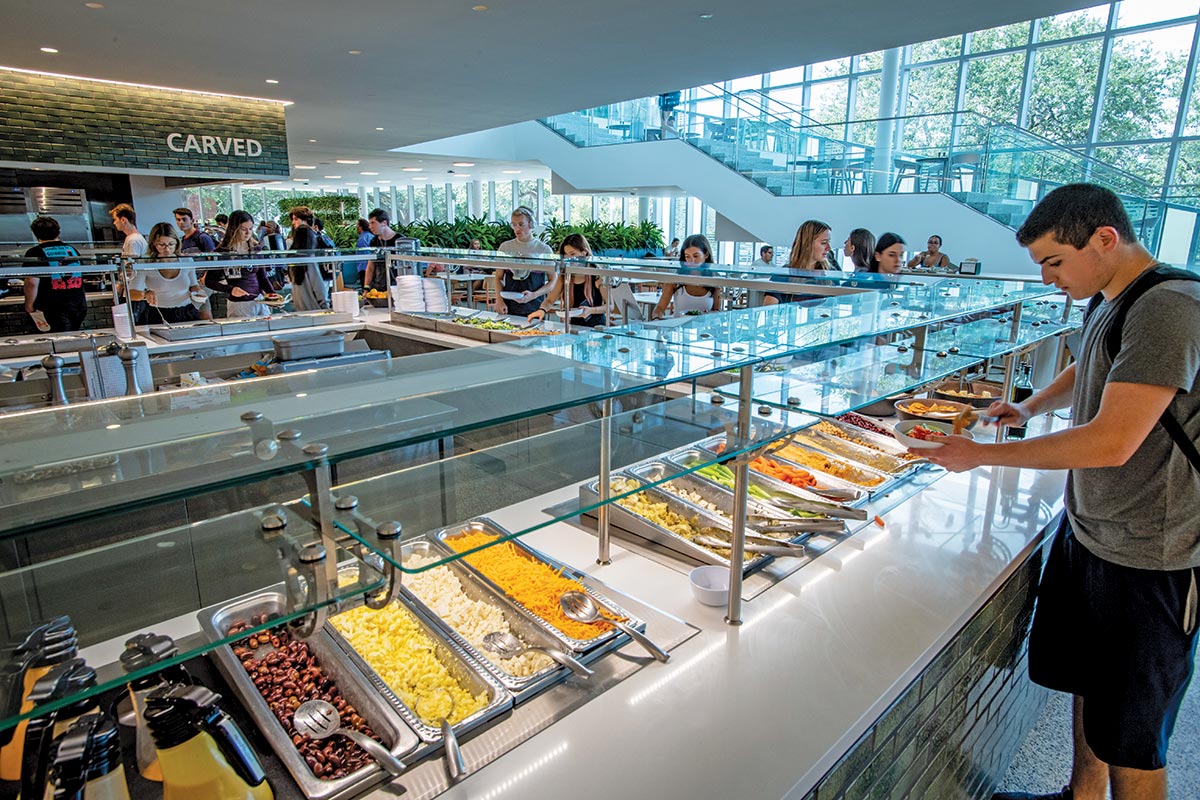 After the final meal was served at Tulane University's longtime Bruff Commons Dining Hall, the school marching band played a dirge befitting any jazz New Orleans funeral. The next day, a new facility opened two blocks away. As students poured into The Commons, they discovered a two-level servery featuring display cooking at nine well-appointed stations, and filled with natural light and plenty of places to sit, hang out and create community. The Commons almost overnight has become the new hub at Tulane.
Designed by the New York-based architecture firm Weiss/Manfredi, The Commons is a $55-million, three-story building with angular lines and contemporary glass walls that make it a can't-miss landmark on Tulane's Central Quad. Two full floors are devoted to foodservice, lounges, and table and bar-style seating. The building's top floor houses the Newcomb College Institute, an undergraduate college for women's leadership. The street-access mezzanine level holds a marketplace/convenience store, bakery and kitchen support storage.
"The sheer vastness of the space and number of offerings never fail to impress," says Tulane's Senior Vice President and COO Patrick Norton. "We've got 77,000 sq. ft. with floor-to-ceiling windows, and stations serving made-to-order food options featuring international cuisine, 'only at Tulane' menu items and a chef's table [showcasing] celebrity chefs throughout the semester. There's something for everyone."
Many Goals, One Building
Planning for The Commons began in 2015. Among Tulane's main goals for the facility were to offer a New Orleans-worthy dining experience via open kitchens, to maximize capacity and seating to serve the school's growing population and to boost platform versatility to carry The Commons into the future. Hurricane readiness too was a priority.
Concept ideas started with food, naturally. "We went for the low-hanging fruit for a food city like New Orleans," says James Davella, FCSI, president of New York-based foodservice consulting firm Davella Studios. "Red beans and rice, fried chicken and gumbo. Then we challenged the clients with new areas—allergen-free, vegan, chef showcase and various cooking styles. All this was a huge departure from Tulane's decades-old existing food hall, Bruff Commons."
As for space and capacity, "initial building plans called for four floors," Davella says. "This was compressed to three floors in a move to better build community. Our challenge was how to fit 1,000 seats into a space that was expected to serve up to 4,500 meals per day, without expanding to a three-floor foodservice operation."
Disaster planning factored into the broader building design. "Every decision was informed by how it played into hurricane readiness," Davella recalls. As a result, The Commons exceeds FEMA guidelines with its main floor some 14 ft. above sea level.
"It's almost as if the building is on a pedestal, standing higher than surrounding buildings," Davella says. The foundation rests on pylons that reach down to the bedrock. And most of all, a massive generator fueled by natural gas can power the building.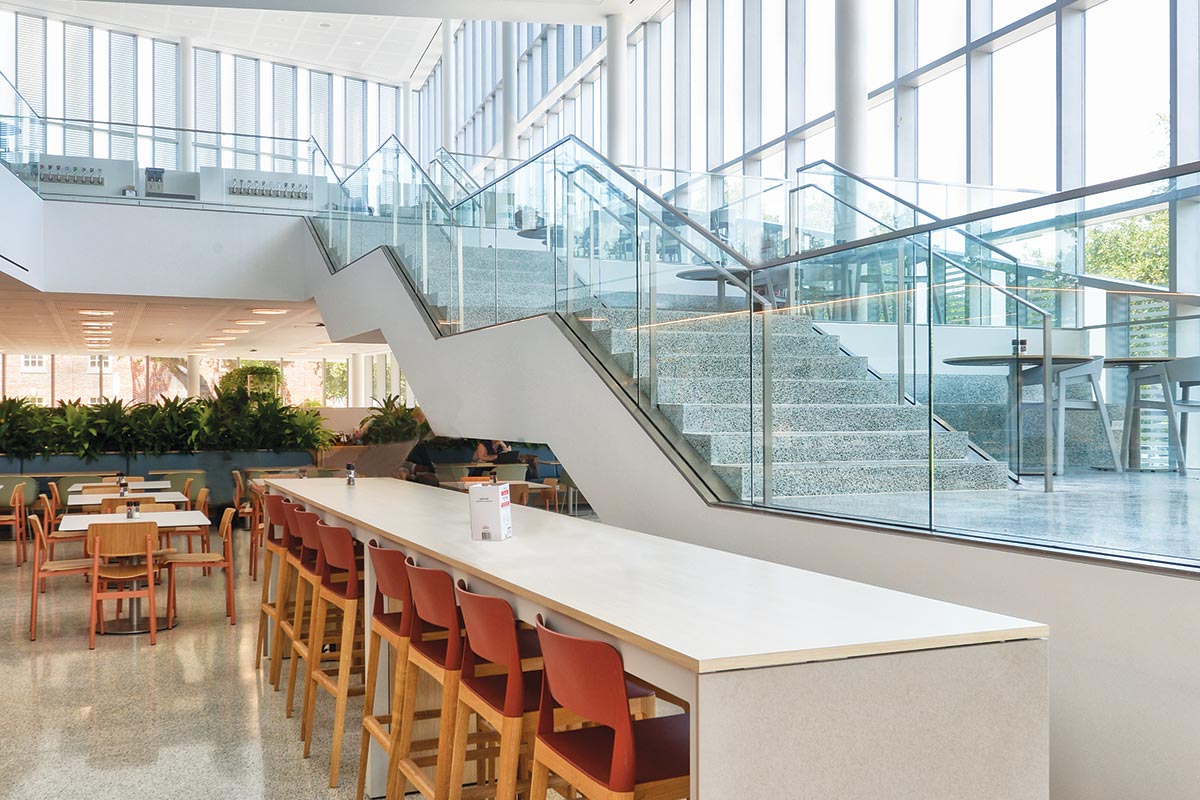 Fitted for Speed
Equipping The Commons for high-volume efficiency while minimizing back-of-house kitchen support was accomplished in various ways.
Seven of the nine platforms are self-contained cooking units. Ample amounts of at-station cold or hot storage relieve pressure on the back-of-house.
Employees can refill every platform from behind to avoid interfering with customer circulation.
A centralized beverage system saves on labor and brings a high-tech look and feel to the traditional beverage station (more on this in a bit).
Adjustable food shields throughout the facility allow platforms to switch from full-service to self-service.
Dishwashing facilities on both levels eliminate the need to transport soiled dishes between floors.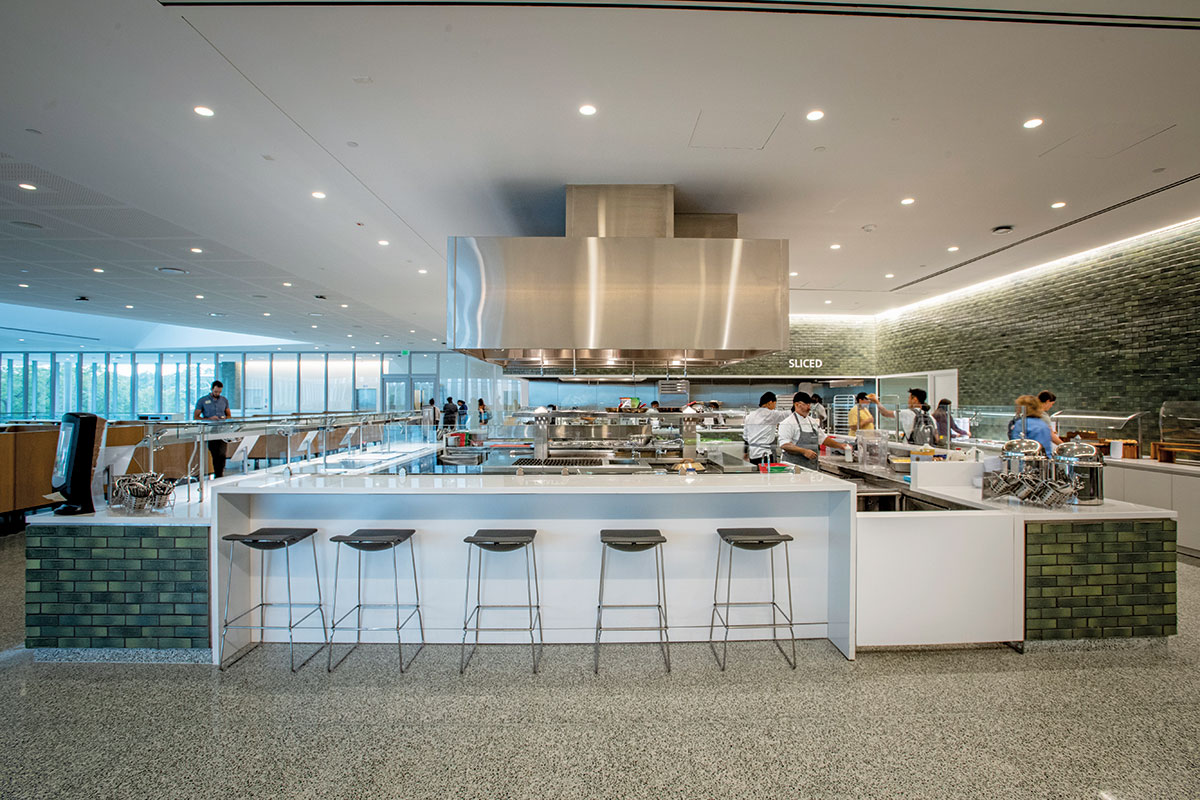 Platform Highlights
The Commons' first and second levels cover a combined 58,000 sq. ft. including dining and serving spaces, food production, storage and support. Linking the floors is a wide, multilanding staircase where students can hang out.
The servery's level one platforms include descriptively named concepts Crafted, Carved, Garden, Grilled, Hearth and Simmered (soup). Level two platforms are Simplified (allergen-free), the Chef's Table, Sliced (pizza) and Al Dente (pasta).
When asked which platform has the most fans, Norton didn't hesitate. "So far it is Garden. The salad bar has been a huge hit, especially the avocado toast bar and the bagels with infused cream cheese bar."
The Commons' overall design philosophy holds that all food production be done in full view. For example, at Grilled, guests at the counter can look past the grill cook to see food prep taking place directly behind a glass door.
The culinary action at the Chef's Table draws guests to the second level. It features an island cooking suite, with ringside seating for up to 10 guests.
"Food offerings here are all pre-plated," Davella says. "Guests can sit, eat and watch the action, or walk up and choose their completed plate of food. There's minimal customization. Chefs prepare five to 10 plates at a time. This style of foodservice requires maximum firepower and cooking skills to execute."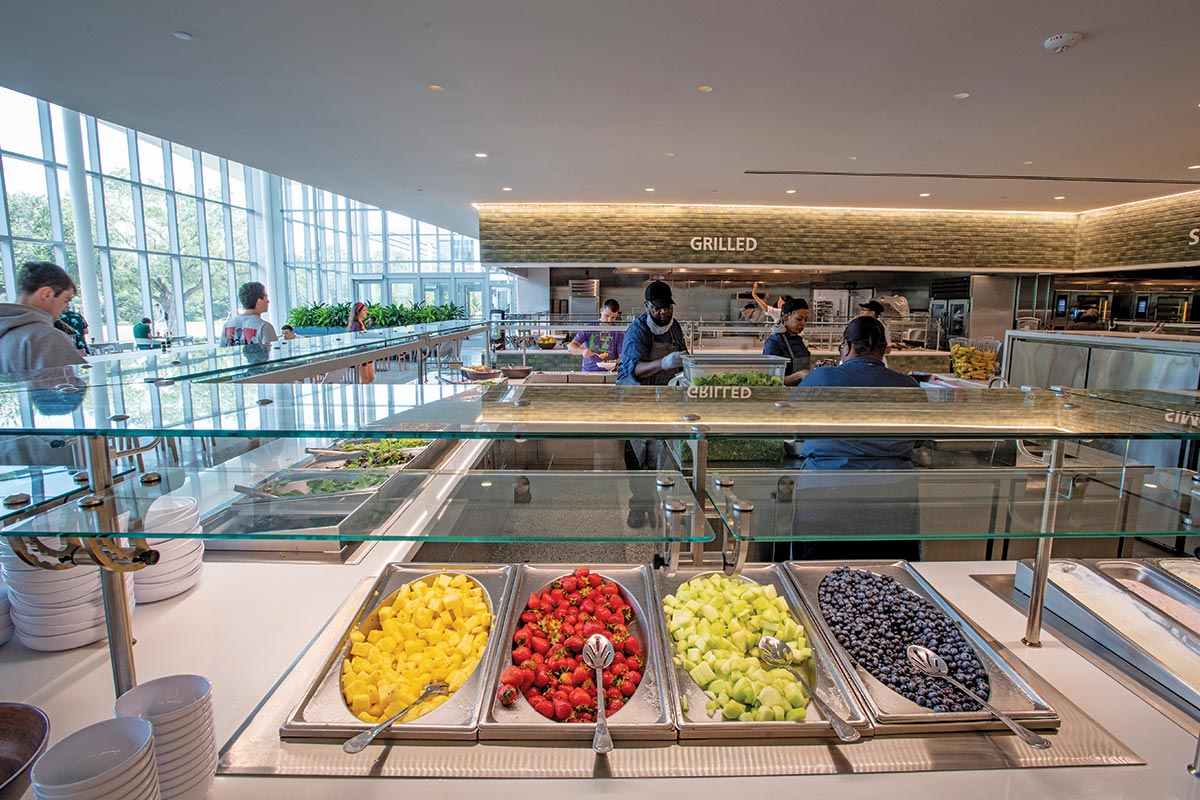 Soft Drinks on Tap
One of The Commons' most unique elements is a centralized beverage system made by Chill-Rite. All soda products, iced tea and four types of milk originate from a beverage pump room on the second level. (Think sports stadium-style beverages on tap.)
"The beverage stations are very spare, neat and easy to maintain," Davella says. "What the customer sees is labeled spigots coming out of the wall rather than a soft drink dispensing unit."
The system will prove a major labor-saver, especially when it comes to refilling and maintaining milk dispensers. "The traditional method for serving milk is to use 5-gal. bags placed in dispensers at beverage stations," Davella says. "Tulane students consume nearly 60 gal. of whole milk every week. That's a lot of 5-gal. bags to store and swap out."
The same beverage system sends carbonated beverages to the taps, blending bag-in-box syrups with seltzer water. "Tulane mixes its own seltzer water," Davella says. "Since they carbonate the water several times, the bubbles are smaller, which helps the CO2 to stay in the solution longer. The soda comes out of the tap already chilled and ready to drink.
"Convincing Tulane stakeholders to consider the Chill-Rite system took a lot of upfront planning and demonstration," adds Davella, whose firm pioneered the first such beverage delivery system at the Bloomberg headquarters in New York. Site visits by the Tulane team to the Chill-Rite manufacturing plant in nearby Slidell, La., also helped.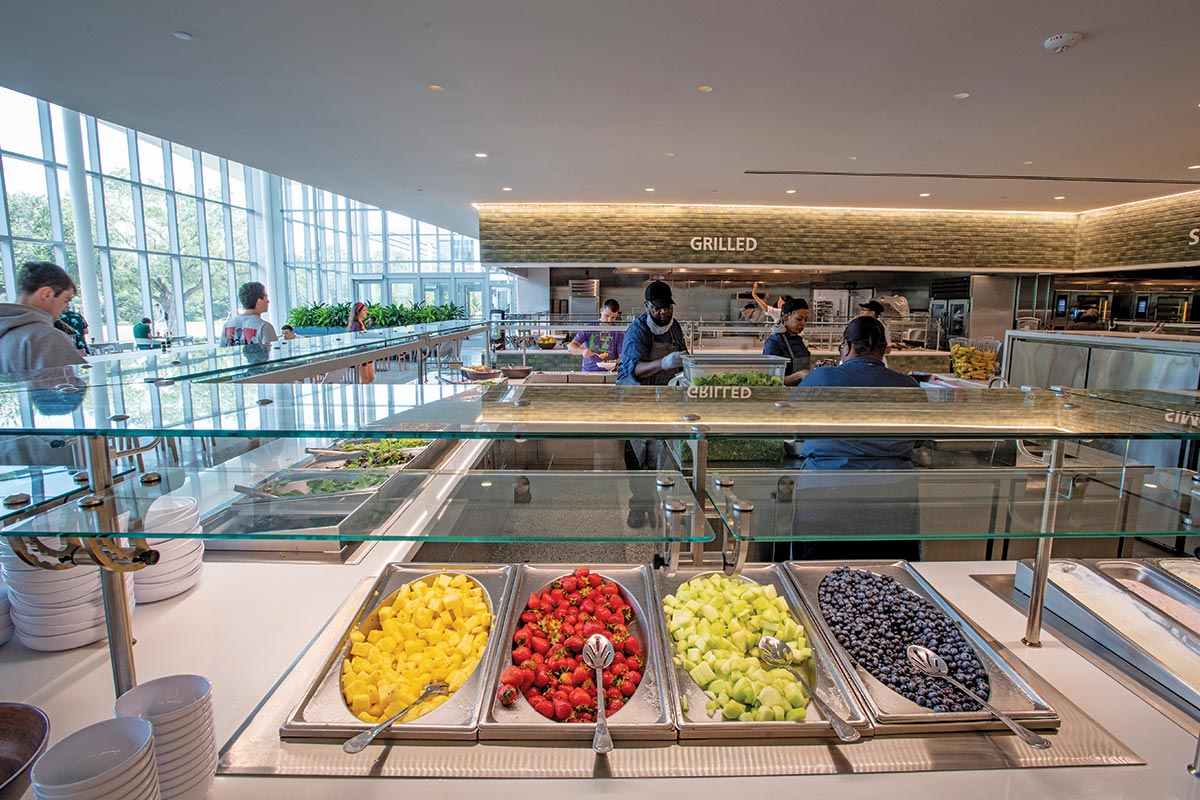 The Results
Nearly a month into operations, The Commons is more than fulfilling its mission of fostering intellectual and interpersonal community at Tulane. Average daily covers, Norton reports, have been about 5,000. And meal-swipe rates at The Commons compared to its predecessor were 60% higher during the opening month, and 35% higher the first week of September.
"Eating together reminds us of our shared humanity," Norton says. "It builds relationships, strengthens bonds and mentally nourishes us. That's what The Commons is all about."
---
SPECS
LOCATION: The Commons at Tulane University, New Orleans
MENU/SEGMENT: College and university
ENROLLMENT: 14,000 graduate and undergraduate students
DINING FACILITY FOOTPRINT: 58,000 sq. ft.
SEATING: 1,000 seats
MEAL PRICES (before tax): Breakfast, $12; Lunch, $14; Dinner, $16
OPENED: August 2019
PROJECT COST: $55 million
CLIENT (Tulane University): Randy Philipson, vice president of facilities, campus development and services; Shawn Lege, senior associate vice president, capital projects; Alicia Crowell, director of design and construction, capital projects; Josh Beezley, project manager, capital projects; Rob Hailey, senior associate vice president; John Lange, assistant vice president of dining services and event services; and Lisa Norris, director of dining services
FOODSERVICE CONTRACTOR: Ed Daugherty, general manager of resident dining, Sodexo
CONSULTANT/DESIGN FIRM: James Davella, FCSI, president, Davella Studios, New York
ARCHITECT: Weiss/Manfredi, New York
EQUIPMENT
FIRST FLOOR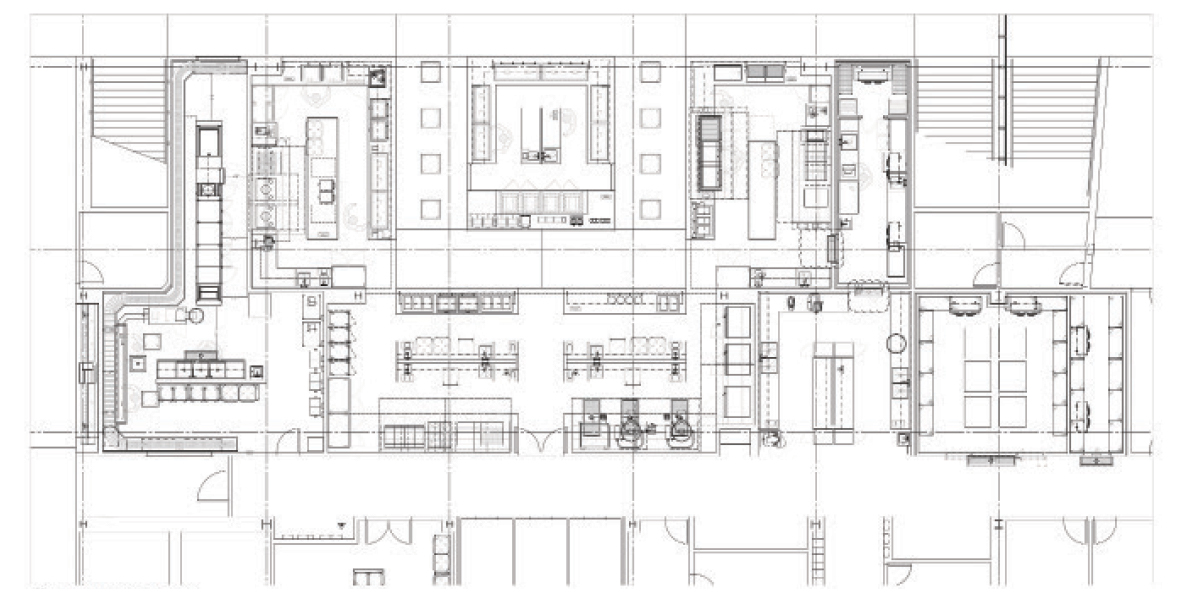 Servery
Versa-Gard food shields
LTI serving counters, hot/cold drop-ins, heated shelving, work counters, work counter w/sink, wall shelving, refrig. toppings rail, pan racks, roll-in refrig.
Electrolux charbroiler, refrig./ freezer bases, griddles
Halton hoods
Carter-Hoffmann/Middleby Frenchfry warmer
True reach-in freezer, reach-in refrigs., heated cabinet
Vulcan/ITW FEG fryer dump station, fryers, range, salamander
Metro/Ali Group dish carts
Nu-Vu/Middleby smoker
Vollrath drop-in induction unit
Alto-Shaam carving station
Wood Stone rotisseries
Cres Cor heated cabinet
Merrychef/Welbilt high-speed ovens
Equipex panini grills
Hatco conveyor toaster
Wells/Middleby waffle maker
Rosseto food dispensers
Chill-Rite beverage dispensers
Follett/Middleby ice machines, beverage/ice dispensers
Butcher Shop Cooler
Metro/Ali Group dunnage rack, shelving
New Age pan racks
Traulsen/ITW FEG fish file refrig.
LTI work tables w/sinks, butcher block unit
Sipromac food packaging machine
Omcan meat saw
Hobart/ITW FEG meat grinder
Production/Cold Storage
Cres Cor cook-and-hold cabinets, cabinets
True reach-in refrig., reach-in freezer
Vulcan/ITW FEG fryers, griddle, charbroiler, braising pan, kettles
Henny Penny fryers
Halton hoods
Metro/Ali Group dish carts, shelving
LTI work table, work tables w/sinks, wall shelving
Fisher pot filler
RATIONAL combi ovens
Hobart/ITW FEG mixers, slicer
Electrolux food processor
Vollrath mixing bowl, dolly
American Panel walk-ins
Dishwashing
Bi-Line conveyor systems, scrapping table
Champion/Ali Group flight-type dishmachine, pulper waste handling system, door-type dishmachine
John Boos mop sink cabinet
Mouron 3-comp. sink
Metro/Ali Group rack dollies, shelving, dish carts
SECOND FLOOR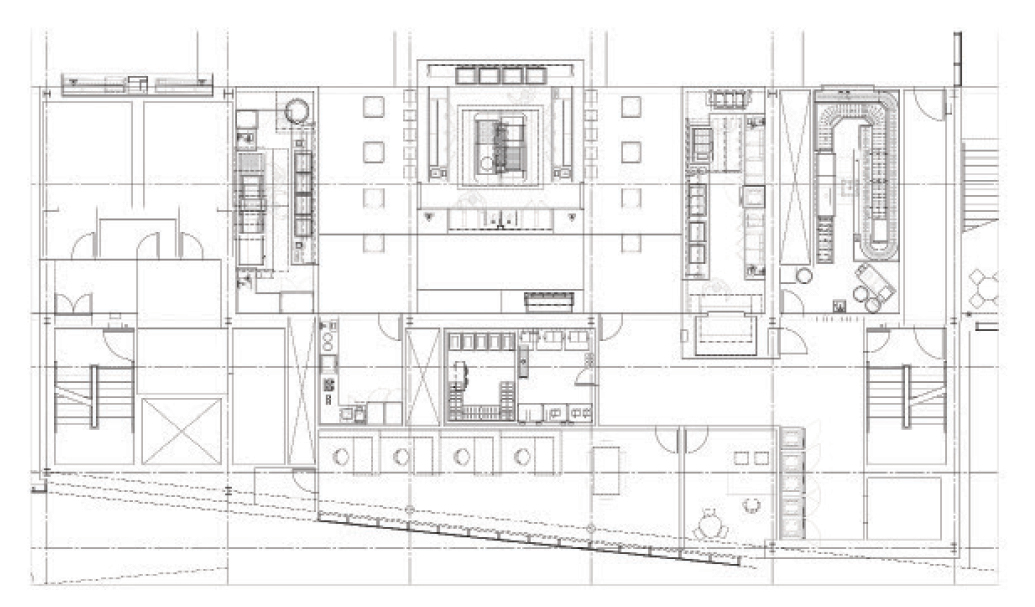 Servery
Versa-Gard food shields
LTI serving counters, heated shelving, work counters w/sinks, u/c refrigs., hot/cold drop-ins, u/c refrigs. w/rails
ade Range/Middleby cooking suite
Halton hoods
Evo/Middleby round griddle
True reach-in freezer, reach-in refrigs., roll-in refrigs.
Vulcan/ITW FEG range
RATIONAL combi ovens
Traulsen/ITW FEG refrig./freezer base
Electrolux cooktop, pasta cooker
Vollrath induction units
Cres Cor roll-in refrig. racks
DoughXpress dough press
Wood Stone deck oven w/hood
Wells/Middleby waffle maker
Rosseto food dispenser
Equipex panini grill
Panasonic microwave
Hatco conveyor toaster
Cooler/Beverage Pump Room
Cambro dough box dollies
Metro/Ali Group dunnage racks
Chill-Rite BIB racks, chiller racks, centralized beverage system
American Panel unit
Dishwashing
Champion/Ali Group conveyor-type dishmachine, pulper waste handling system
Bi-Line conveyor system, clean dish table
John Boos mop sink cabinet