Features
Equipment Comparisons
Warewashing & Sanitation
How to Specify a Pre-Rinse Unit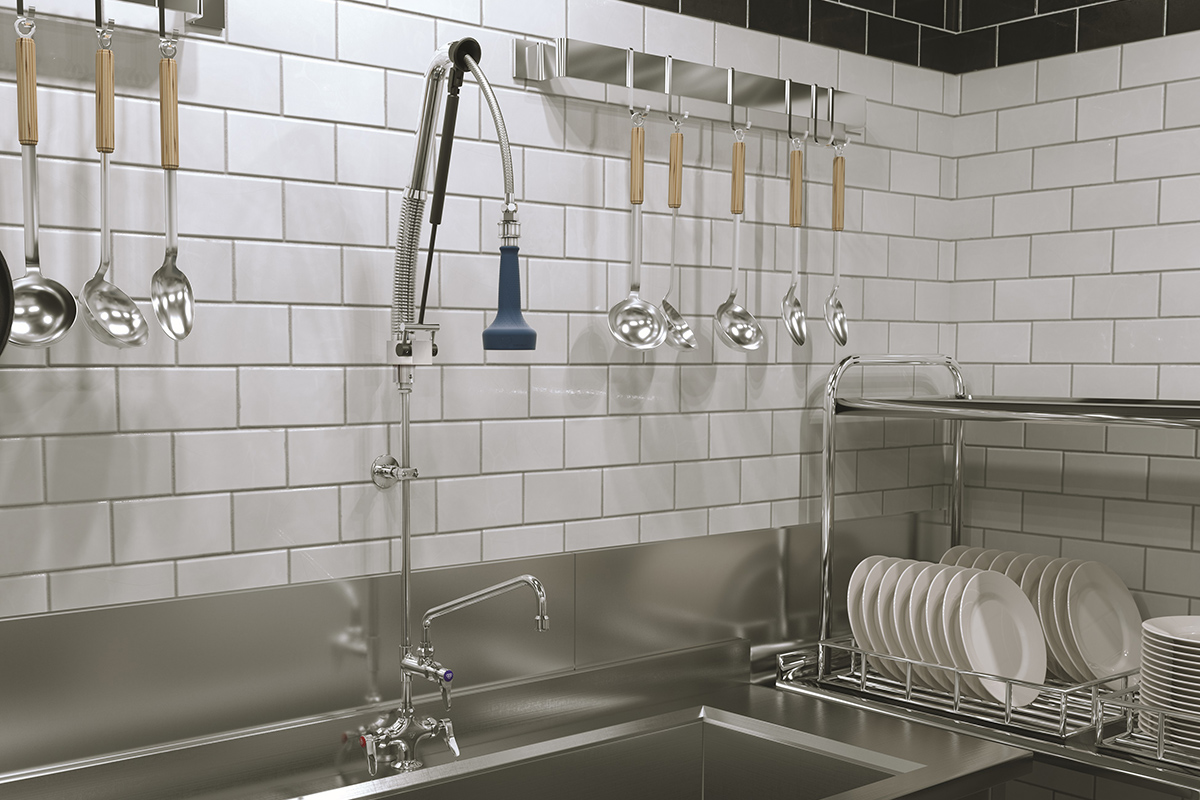 Kitchen operations without pre-rinse units may spend more time scrubbing dishes by hand, risk clogging up dishmachines with food debris and wind up with still dirty dishes. Despite how essential they've become in the back-of-house, they are notorious water hogs. Because they use water pressure to remove food waste from dishes prior to dishwashing, which results in overspray, the units account for nearly one-third of the water used in an average commercial kitchen, according to the Environmental Protection Agency. That amounts to about 53 billion gal. of water each year to rinse dishes with pre-rinse spray valves.
For the past five years, the Department of Energy encouraged the use of pre-rinse units that were labeled as WaterSense, an EPA program in which products and services are certified to use at least 20% less water, save energy and perform as well as or better than regular models. This January, however, the DOE adopted that high-efficiency criteria as the national standard.
That means that all new commercial pre-rinse spray valves manufactured in the U.S. are required to have maximum flow rates between 1 gal. and 1.28 gal. of water used per minute (GPM), depending on the product's spray force (the amount of force exerted onto the spray disc, measured in ounce-force).
Considering old spray valves used upward of 1.6 GPM, the DOE estimates that switching to a DOE-compliant model can save a typical commercial kitchen more than 7,000 gal. of water per year.
Whether you're gearing up to specify a pre-rinse unit specifically with water conservation in mind, or simply need a new unit, here are the details to consider before selecting a model.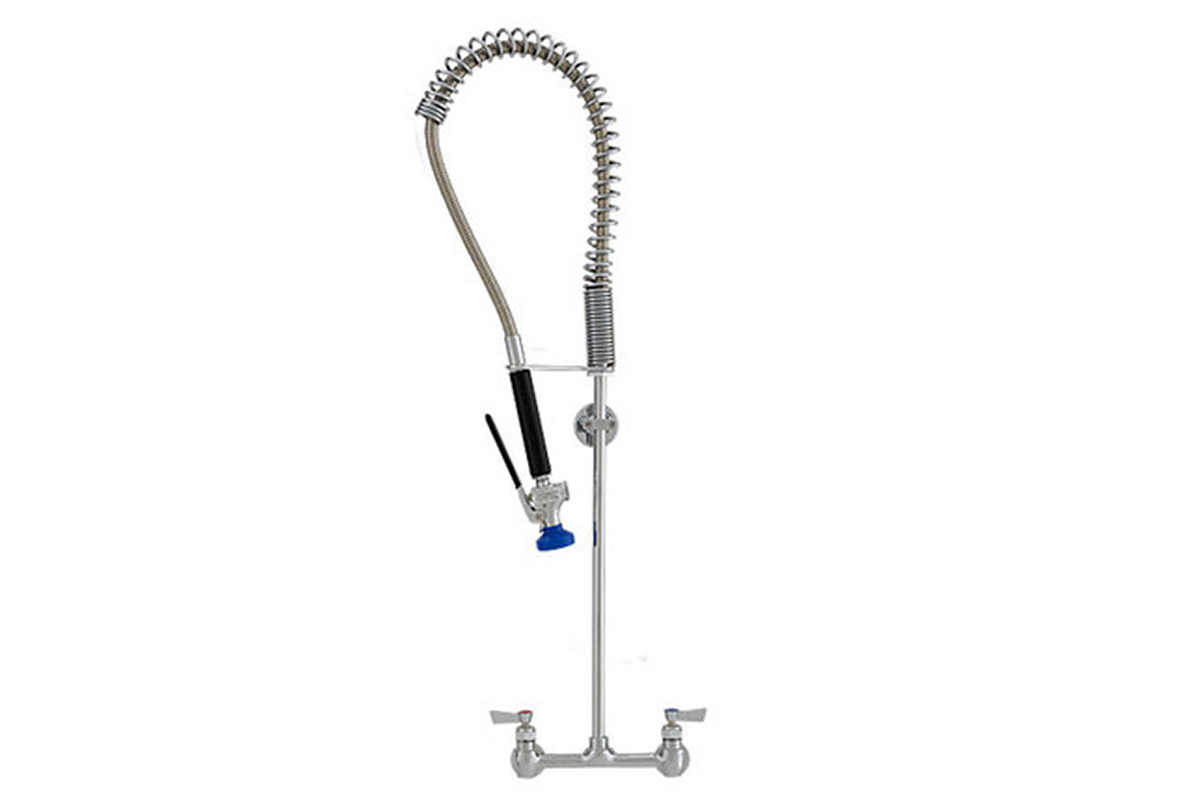 Sink Setup
First consider the physical layout of the sink. Its holes for the faucet and soap dispenser could be deck- or wall-mounted with a single or double hole on an 8-in. or 4-in. center. As pre-rinse units are tall fixtures, you may need to work around overhead shelving. Some operations choose to do a simple cut-out of the shelves to accommodate pre-rinse units. But if there's a feature that makes that difficult—say a drawer in the shelf above—many manufacturers offer low-profile models to fit tighter spaces. Note that the connected arms and hoses of tall units offer a wider range of reach while low-profile models are more limited.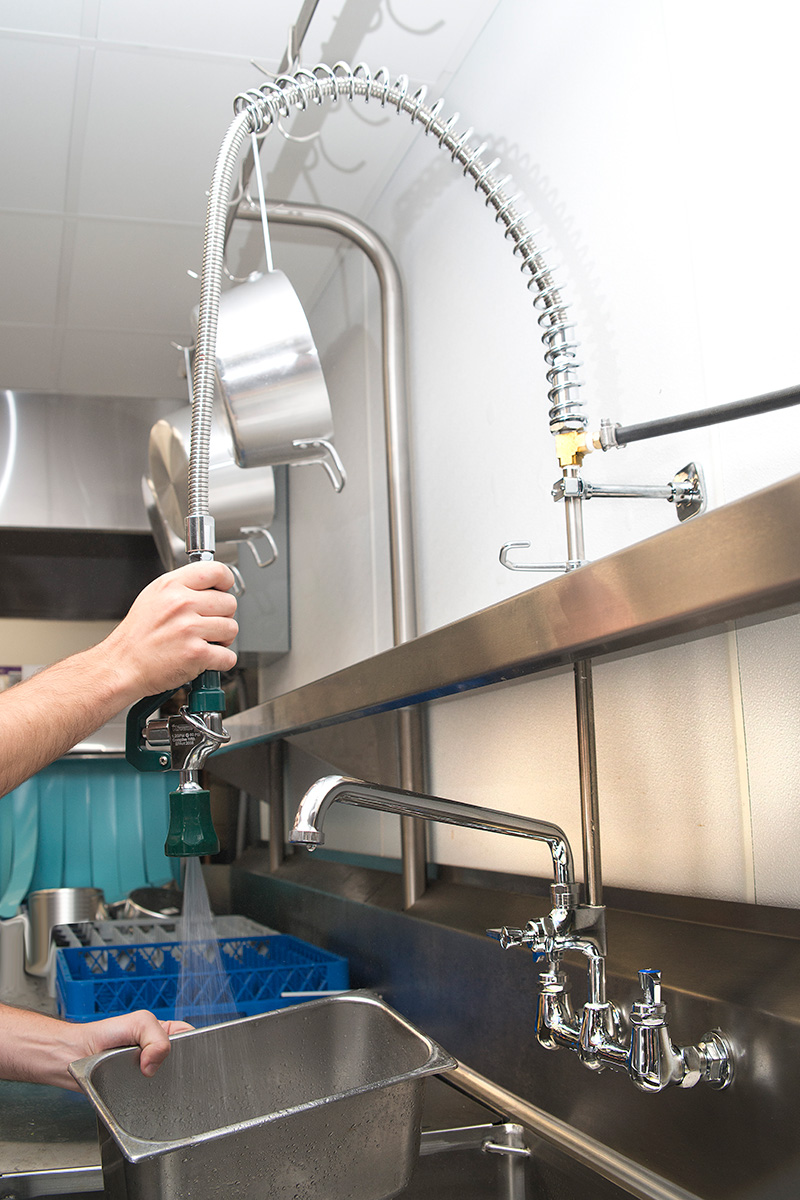 Multitasking Taps
Next consider how your operation will use the sink. You may want to use the same sink to pre-rinse dishes as you do to rinse produce, or fill pots, kettles and glasses. To maximize the sink's capabilities, you can install a pre-rinse unit with an add-on faucet with a spout size of your choosing to have regular water flow when the prerinse unit is not being used.
Some operations also will want to incorporate a source of soap or sanitizing liquid into their sinks. For sinks to dispense chemicals as well as water, companies like Ecolab and Diversey retrofit pre-rinse units with a tee accessory—a part that can split the water source and supply water to a chemical system. Chemical dispensing at sinks is becoming so common that one manufacturer has developed a pre-rinse unit with a spring stop adapter that has a port for water access. With this feature, the chemical provider doesn't have to take apart the unit to install a tee accessory. The chemical supply line simply threads into the existing port for a more streamlined connection and quicker installation.
Make sure your unit also is equipped with a backflow prevention device so that those chemicals don't enter the water supply, cautions another manufacturer.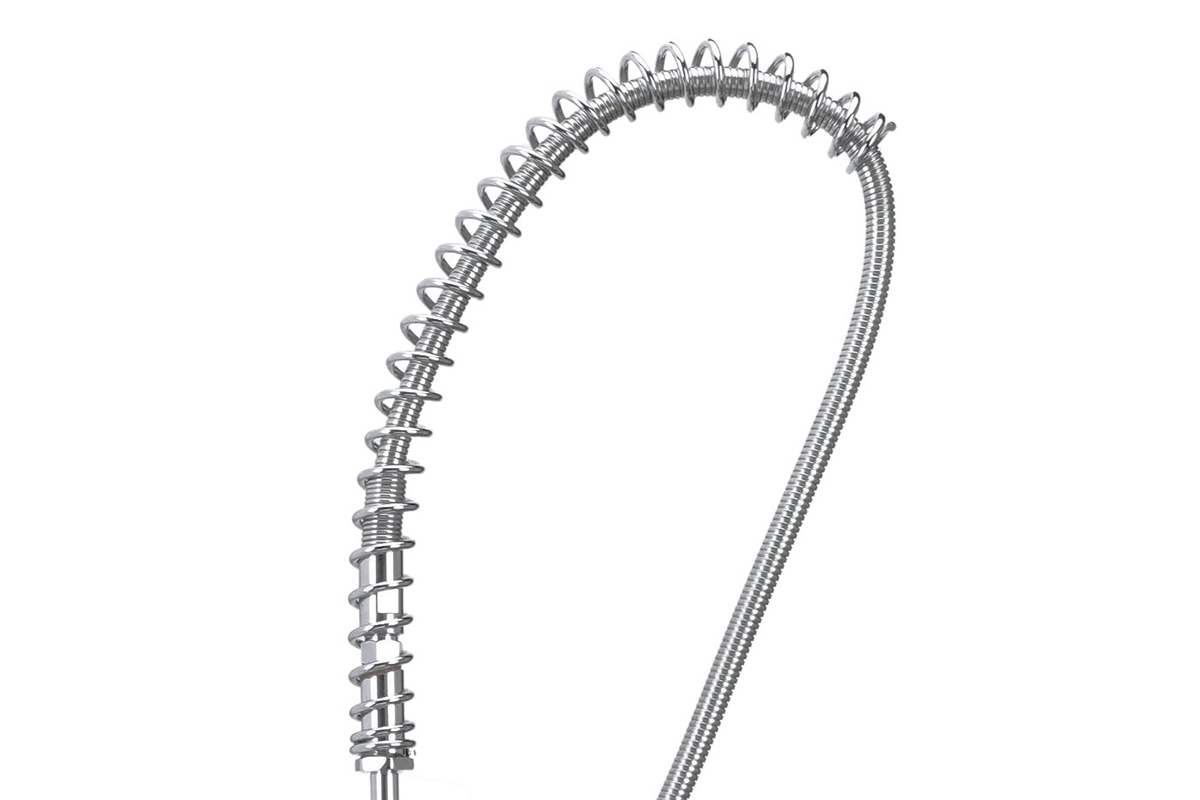 Spring or Swivel?
Although manufacturers offer hundreds of pre-rinse unit configurations to custom fit operations, they can largely be categorized into spring and swivel styles or a combination of both. Overhead spring or gooseneck styles feature hoses (in various lengths) wrapped in a spring. The spring keeps the hose in its curved shape while keeping it flexible enough to maneuver. This is the most simple and basic design, and offers easy maintenance.
Swivel-arm types are units with a series of rigid pipes that pivot on several elbow connections that allow the user to move the spray valve around. In some models, swivel arms are combined with a hose, which permits a wider range of motion and reach. Some manufacturers say swivel types, which are the more expensive option, have more durability as they limit unwanted abuse of the hose by restricting swinging or pulling.
Pre-rinse units also are offered with pull-down activation, in which water only flows when the hose is actively pulled down instead of when a user squeezes a lever on the spray nozzle. Some manufacturers believe this style is more comfortable for the user.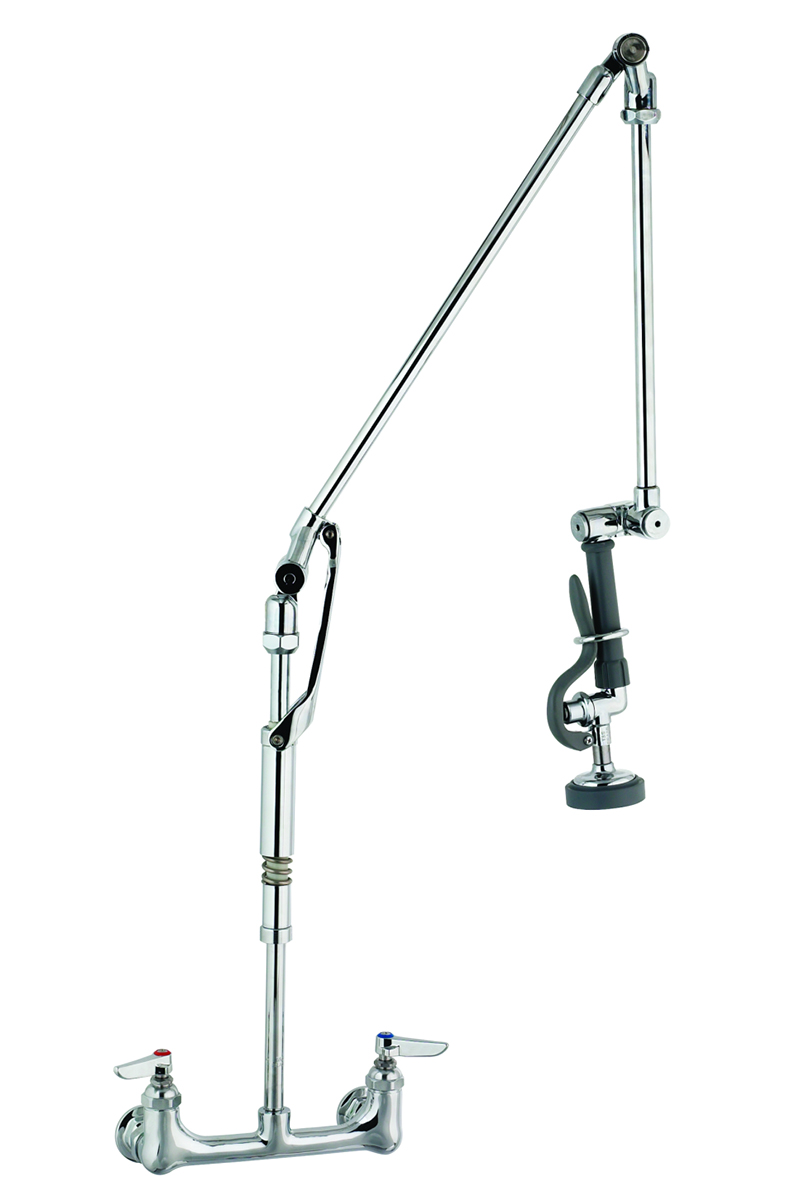 Spray Your Way
Pre-rinse units come with spray valves, or you can choose to swap in another spray valve sold separately. According to Todd Bell, senior energy analyst at Frontier Energy, an Oakland, Calif.-based consulting firm that specializes in energy efficiency and advanced energy solutions, look for a spray valve with holes constructed of lead-free metal, because they are more durable than models made solely of plastic. Sprays valves are rated by flow rates—typically in the .65 GPM to 1.28 GPM range at 60 psi—as well as spray force, generally from 4 to 8 ounce-force.
Bell also notes that low-flow spray valves' flow rates will increase with age because the holes on metal spray heads widen as a result of water erosion. Operators should conduct an annual flow rate check when inspecting the sprayer for leaks and damage. Expect a typical sprayer to last about two years.
Lastly, when considering spray valves for your unit, Bell advises checking out units that offer a knifeor blade-style spray that focuses a flat wall of water to mimic the cleaning action of a solid scraping tool for increased efficiency.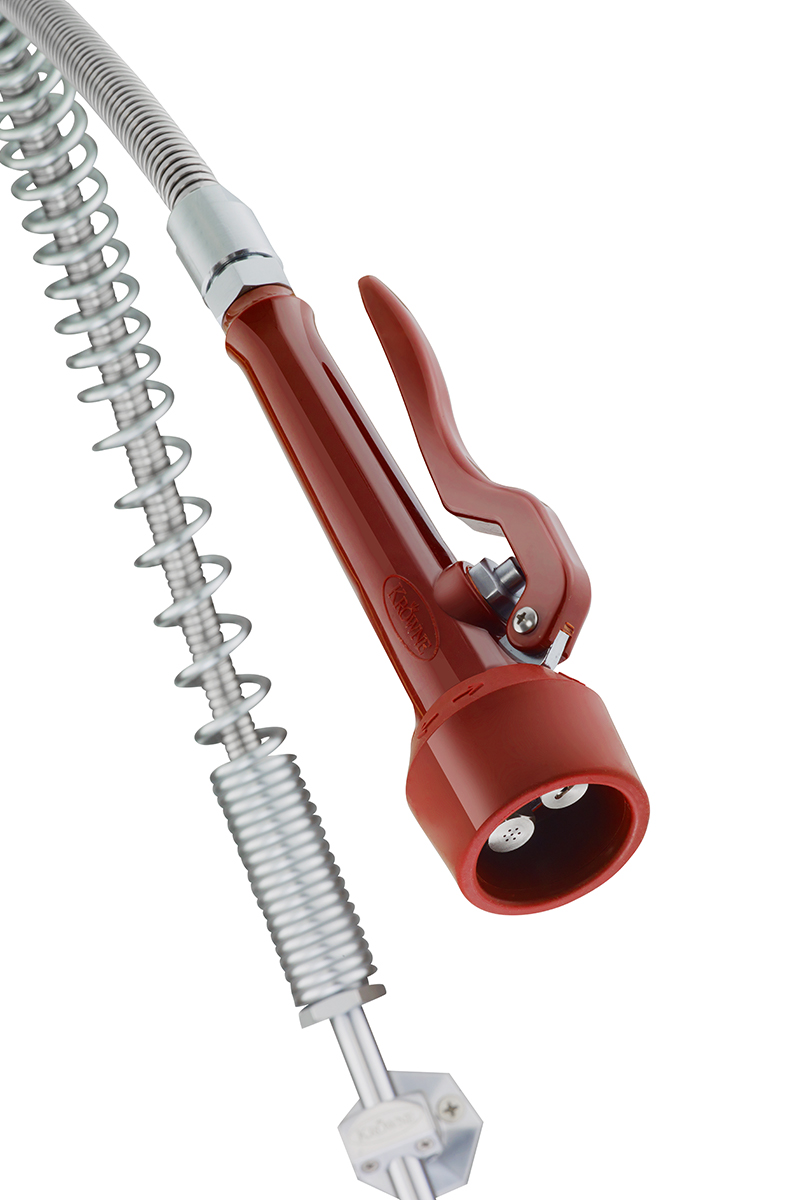 Component Materials
Durability is key with pre-rinse units and the hose experiences the most wear and tear. While many use a single- layer hose, one manufacturer uses a three-ply, hydraulic hose, which has one layer of plastic hose, a graphite sleeve and another layer of hose for increased durability.
Shut-off valves, traditionally compression valves that use rubber, mark another place to upgrade materials. "Each time you turn that compression valve, the rubber washer compresses," one manufacturer says. "Over time, it stresses out and starts to let water drip, which also affects your water conservation." For increased durability, that manufacturer's pre-rinse units use quarter-turn ceramic cartridge valves instead.
Manufacturers construct standard pre-rinse units of brass plated with polished chrome, often with hoses and springs made of stainless. One possible upgrade is to specify a unit with a stainless body and handles. "Stainless is especially great for kitchens close to the ocean, outdoors and on cruise ships because the material is not chrome-plated and contains no copper that will turn green if the chrome plating fails," says one manufacturer. Operators also can choose pre-rinse units that qualify as using low-lead materials, important in states with strict regulations like California and Massachusetts, as well as in schools and healthcare facilities.
PRO TIP: Conduct an annual flow rate check of sprayers; they last about two years.
---
Pre-Rinse Sprayer Gallery