Features
Healthcare
7 Tips for Buying Room Service Carts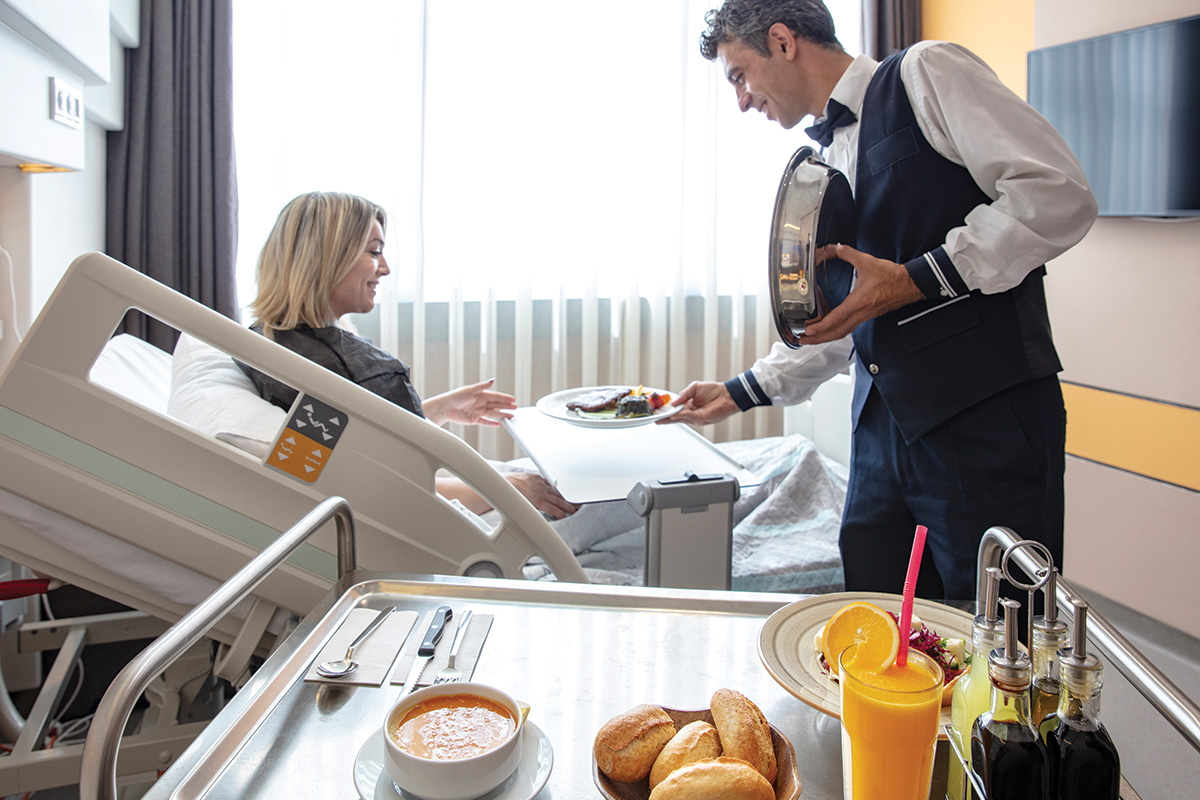 With so many meals delivered per bed per day, many healthcare foodservice facilities rely on basic room service carts for speedy, quiet and efficient transportation of patient meals. While more specialized and expensive carts come with refrigeration and/or heating systems, our focus here is on basic carts.
According to operators who have bought new carts in the past few years, here are the most important points to consider:
1. Get Staff Buy In
The number one tip, according to everyone interviewed for this story, is letting your staff try out any and all carts you're considering before buying anything. Today's carts come with so many variables—capacity, dimensions, handles and more—and finding the cart that has what you want and works for your staff takes doing some hands-on homework.
"You don't fully realize what your needs are until you put a cart in operation," says Mike Folino, associate director, The Ohio State University Wexner Medical Center, Columbus, Ohio. "Take a sample cart and use it yourself. Have your staff use it. See what works and what doesn't.
"You need carts that maneuver for employees of any size and strength," he adds. "Retirees may not have the same physical ability as a 19-year-old."
2. Shop Around
Let your staff try carts from a number of manufacturers, even it takes a little longer to make your decision. With so many sizes and options available, finding the right combination that meets your specific needs might take a little extra time that pays off in the long run.
Becky Amt, director of food and nutrition services, IU Health Bloomington Hospital, Bloomington, Ind., took a page from Goldilocks' playbook and had her staff try out carts from three vendors. "One was too tall and one was bulkier and wider," she says. "We decided on the third model after rolling them down the halls and up and down on elevators."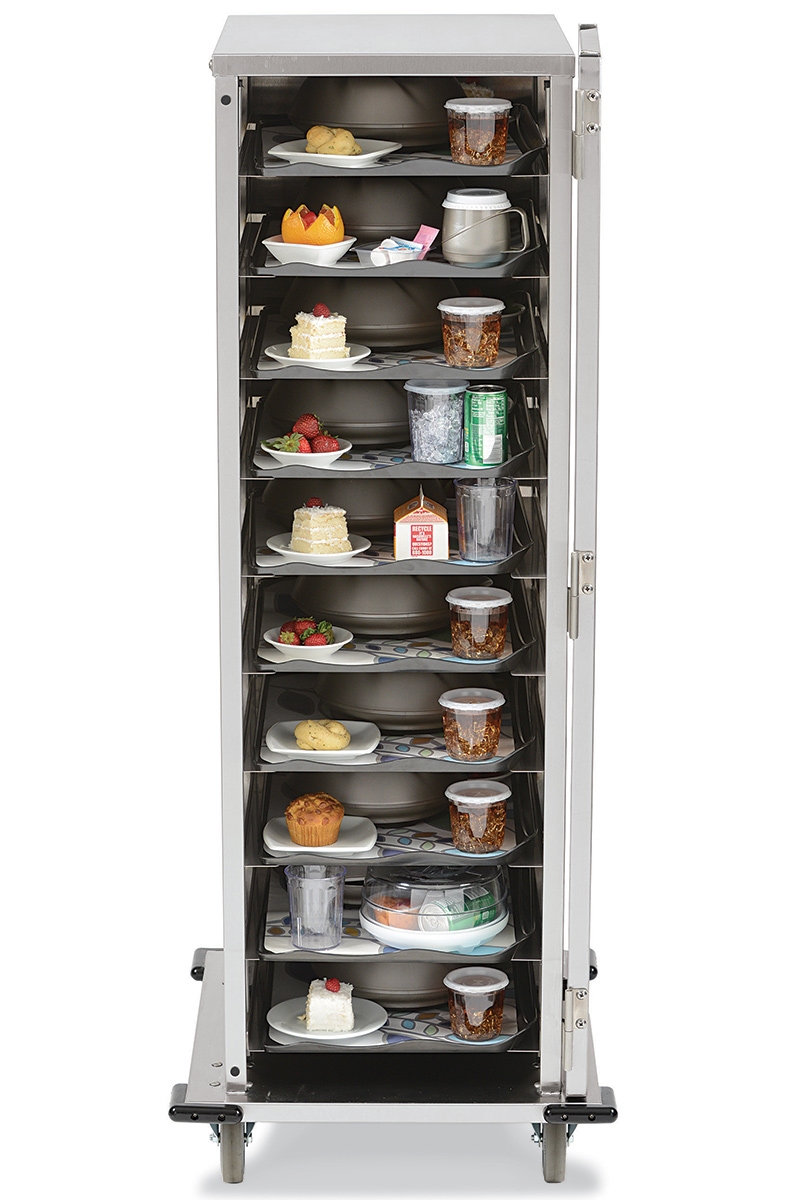 3. Consider Tray Capacity
Room service carts typically hold anywhere from six to 32 trays. Test various models to find the capacity that's right for your staff and delivery system. Waiting to fill high-capacity carts before they leave the kitchen may mean fewer trips to patient floors, while some operations like smaller models to get freshly plated meals on the way to patient rooms as quickly as possible.
Amt says that the changes her operation made in tray assembly and delivery a year and a half ago prompted a need for much smaller carts.
"We used to have huge carts that held 24 trays, but our new carts hold only eight trays," she says. "They load quickly and leave the kitchen as soon as they're filled."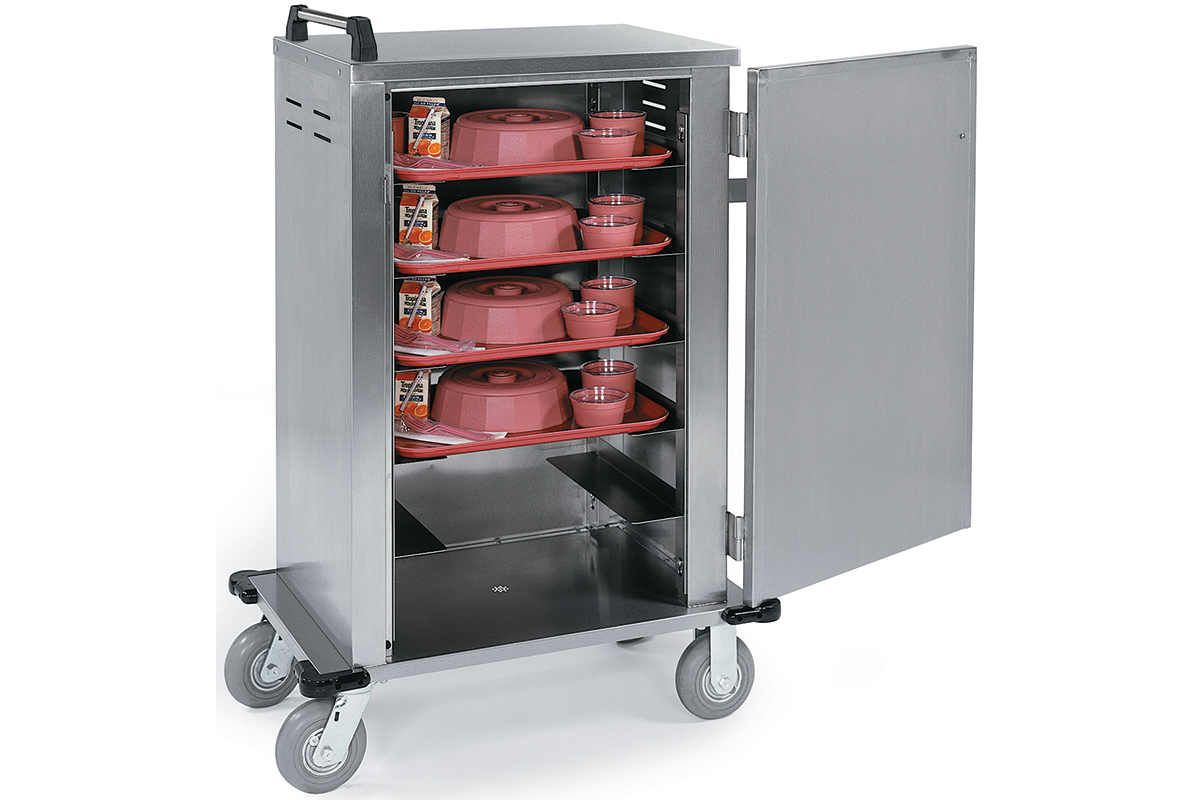 4. Make Use of Existing Carts
When the 700-bed Tower Health Reading Hospital, Reading, Pa., transitioned its foodservice operation to room service-style delivery, it transitioned to smaller carts, too. While most of the new carts hold eight trays with a couple of them holding six, the facility still uses larger models for other uses.
"We used to use larger carts that held up to 32 trays," says Rachael Wehn, director of nutrition services. "We still use them to deliver food for patients that aren't room service candidates, such as those in the emergency department. We also use them as 'sweeper' carts to remove used patient trays from the floors."
If she were buying new carts now, Wehn would order more six-tray carts. Reading Hospital uses robots to transport some of the carts and the bottoms that go on the eight-tray carts for robotic delivery make these units too tall for some of her staff to comfortably push. "The additional bottoms fit beautifully on our six-tray carts. Our staff push them easily and see over them with no problem," she says.
5. Choose Handles and Railings for Form and Function
Handle styles vary by maker and model. Some makers put handles at the top of their carts; some are angled, some stick out horizontally and others go straight up. Others put handles on the carts' sides, either vertically or horizontally. Let your staff tell you what works best for them.
One popular style of handle runs like a railing around the top edges, either on three sides or all the way around. This not only provides multiple places for staffers to push or pull the cart but also provides a barrier that lets them transport additional items on top.
"Our carts have resin handles at the top on all four sides and we use them as condiment caddies," Folino says. "There are no sharp edges. The enclosed space on to p is perfect for some extra cans of soda, napkins, a tablet or other things."
Amt likes the railing around the tops of her carts. "When we were using our old meal delivery system, we put condiments on every tray, letting patients choose what they wanted after the meal was delivered," she says. "Now, we have the condiments on the top and let patients take just what they need. It saves on food costs."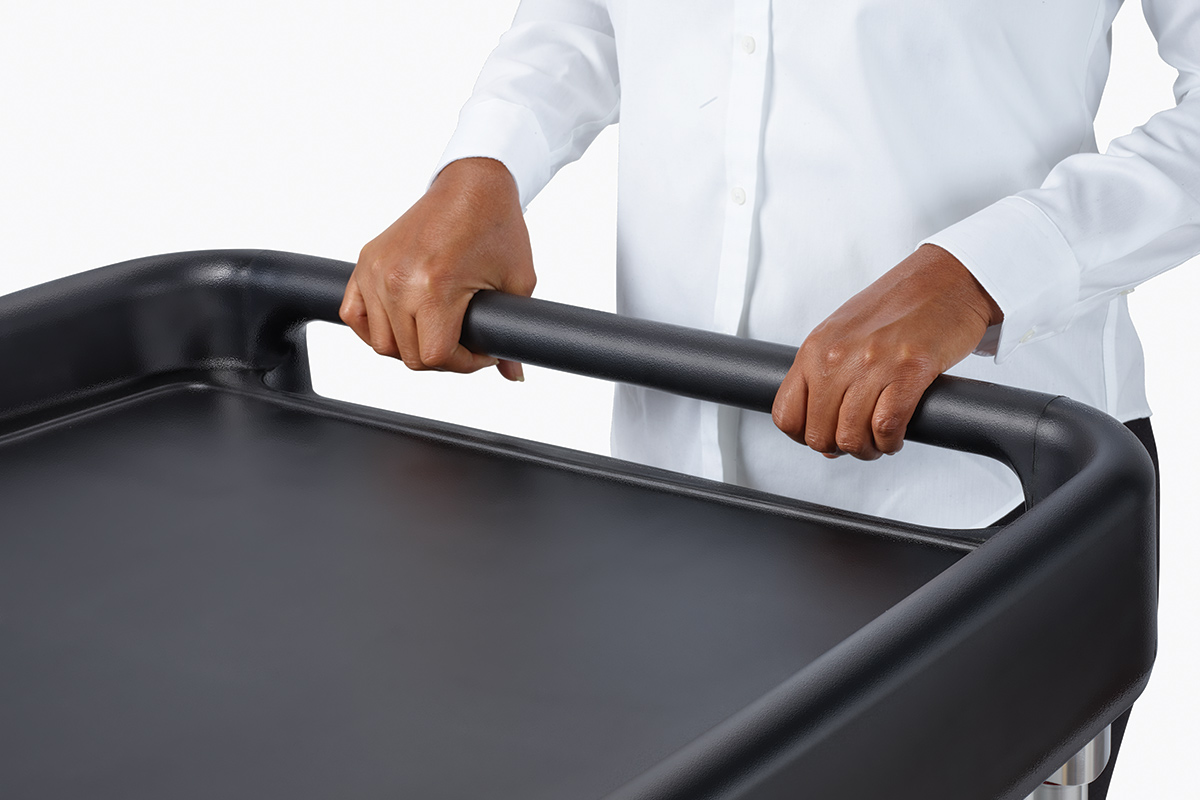 6. Test Doors
Basic room service carts come without doors or with single or double doors. In healthcare foodservice operations, doors make sanitary sense. All of the operators interviewed use carts with doors. Check to see how user-friendly the doors are on the models you're considering.
"Our old carts were harder to open and keep open," says Rachid Banamar, room service manager, Department of Food and Nutrition Services, University of Texas MD Anderson Cancer Center, Dallas. "Now our doors have latches and lock onto the side of the cart when opened. This works well in the dishroom when staffers take dirty trays out. Instead of struggling to keep the doors from closing, they easily unload the cart with no interruptions."
Doors that lock in the open position are important to Amt, too. "Not only do they stay open during serving and unloading, you don't run the risk of people walking by and knocking into a door that isn't either closed or tucked all the way at the side."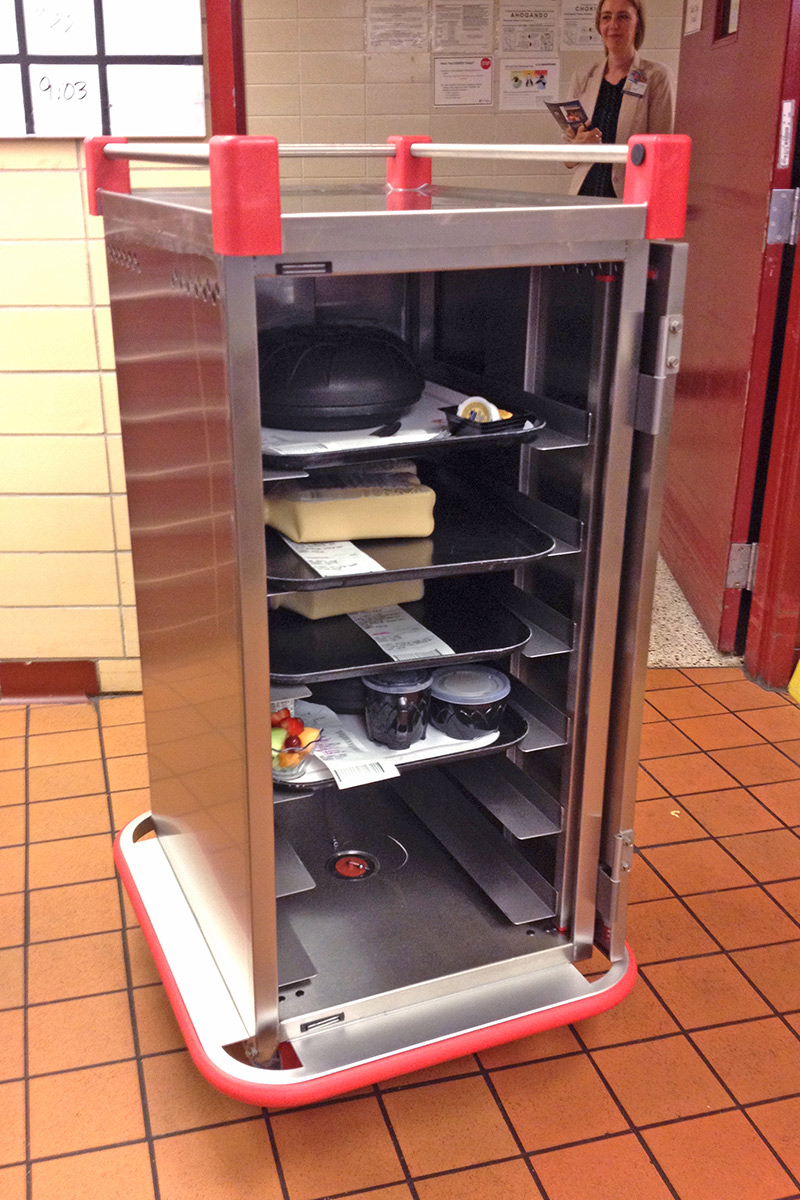 7. Do Your Homework
Along with tray capacity, handles and doors, there are many other variables to consider before ordering carts. Is there enough vertical space between trays for the domes on your dishware or an upright soda can if that's your serving style? Do you need your wheels to lock in place while loading, serving and unloading? What sort of floor material are you rolling the carts on and are the wheels made of materials that will keep noise down while traveling on it?
At Cook Children's Medical Center in Fort Worth, Texas, JoAnn Williams, executive chef/manager of food and nutrition services, plans to do more homework before her operation orders room service carts again. "Also, I won't order more carts than I need; the manufacturer wouldn't take them back," she says.
If after trying a number of models, you still can't find the right one for your staff, turn to the makers. "We found several that were close, but we worked with one manufacturer and they customized the carts to our needs," Banamar says.