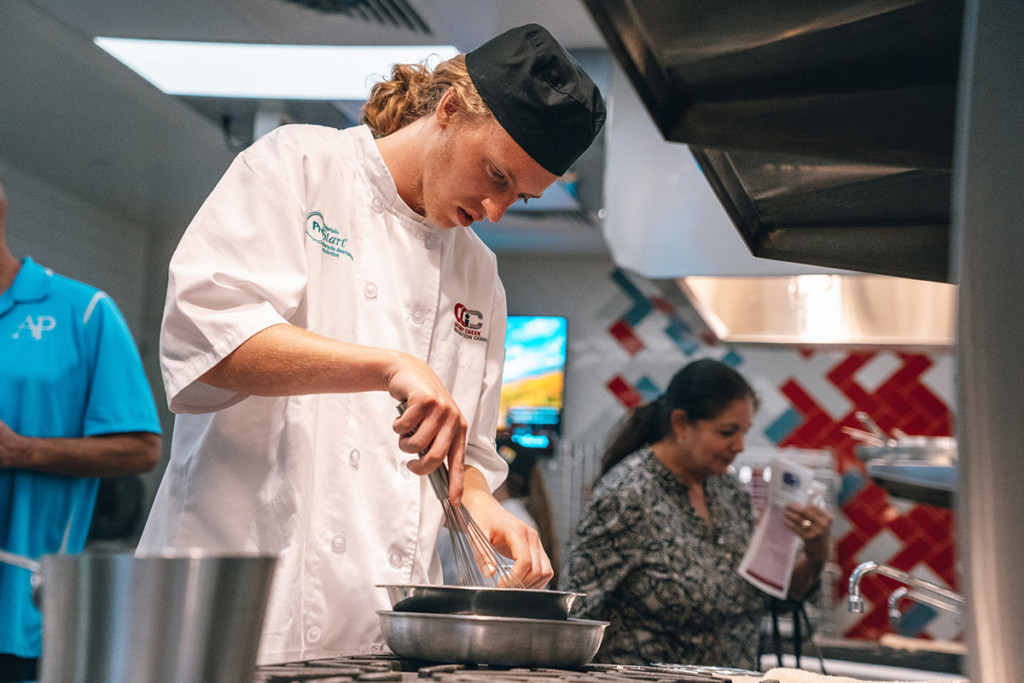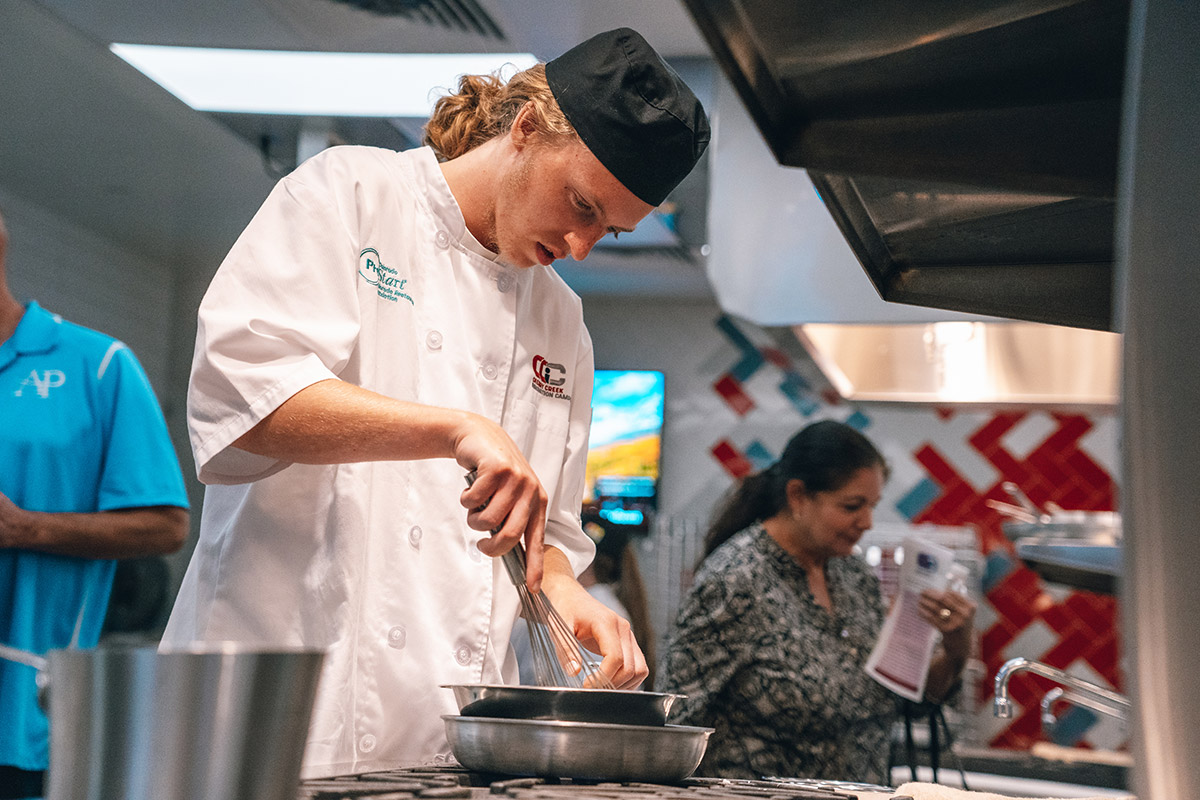 CHERRY CREEK INNOVATION CAMPUS CENTENNIAL, COLO.
MENU/SEGMENT: High school culinary education
CAMPUS POPULATION: 900 students, including 105 in the culinary program
OPENED: August 2019
SIZE: 117,000 sq. ft. (entire school); 4,000 sq. ft. (culinary education space)
CONSULTANT/DESIGN FIRM: Marcin Zmiejko, FCSI, associate principal; Michael Caruso, managing member/executive principal; Steve Young, FCSI, managing member/executive principal, WC and Partners, Denver
ARCHITECT: Mayraj Peer, project manager, DLR Group, Denver
DEALER: René Zurn, Great Lakes Hotel Supply, Broomfield, Colo.
GENERAL CONTRACTOR: JHL Constructors, Englewood, Colo.
WEBSITE:cherrycreekschools.org/ccic
A decommissioned helicopter and two small airplanes employed to teach aircraft mechanics. A NASCAR roller car (Joe Nemecek #78 Furniture Row) for practicing auto alignments. And a combi oven, charbroiler and other commercial kitchen equipment to learn the restaurant ropes.
These are just a few of the real-life, hands-on areas of exploration available to high schoolers at Cherry Creek School District's new crown jewel, the Cherry Creek Innovation Campus in Centennial, Colo. The 117,000-sq.-ft. facility specializes in career-based programs where students can learn, experiment and have some fun as they map out their next stage of life, be it college or career.
CCIC's Pathways, as its departments are called, unlock the doors to seven key industries: Advanced Manufacturing, Business Services, Health & Wellness, Hospitality & Tourism, Infrastructure Engineering (building trades), IT & STEAM, and Transportation (automotive and aviation). Each program gives students a taste of what the career field involves while allowing them to work toward industry certifications. Motivated culinary students, for example, would enroll in Hospitality & Tourism's ProStart program, a foodservice and hospitality management program sponsored by the Colorado Restaurant Foundation.
When CCIC opened its doors in August 2019, some 900 students were already enrolled, including 105 students in the culinary program.
Concept Development
"The Cherry Creek planning team [for the Hospitality & Tourism Pathway] had a vision for what they wanted: involve students in all aspects of running a commercial kitchen," says Marcin Zmiejko, FCSI, associate principal for WC and Partners, Denver, and lead kitchen designer for the project. "Our job was to translate the planning team's initial ideas into real-life teaching labs. They wanted the latest technology and equipment used in actual restaurants. We gave them combi ovens, braising pans, a charbroiler, griddle and more, so students can make any type of food they think of. There's even a fryer, which you never see in schools anymore."
The CCIC culinary program consists of three learning areas: the 1,300-sq.-ft. Learning Kitchen to introduce basic kitchen skills, a 1,250-sq.-ft. Learning Cafe Lab for advanced techniques and hands-on commercial kitchen experience, and a 450-sq.-ft. Cafe staffed and supplied by students. Both the kitchen and lab include a dedicated warewashing area, while each space has access to a shared dry and cold storage.
Realizing commercial foodservice education as a Pathway was a team effort that started in spring 2017. CCIC Principal Mark Morgan coordinated sessions regarding overall vision with the architect, central administration, teachers, students, parents and industry partners. Hospitality & Tourism Lead Instructor Audra Dunleavy outlined practical requirements. CCSD Construction Coordinator Michael Lovick oversaw the building process. While Zmiejko designed the culinary spaces, René Zurn, Great Lakes Hotel Supply, Broomfield, Colo., oversaw the drawings and installations. Project Manager Mayraj Peer, DLR Group, Denver, designed the overall space.
Meeting Goals
Design challenges for the foodservice instruction wing included budget and student safety concerns.
To meet budget goals, the team chose kitchen equipment based on the district's other school kitchens where possible. "Even though CCIC is independent from the district's nutritional services, we did our best to specify the same brands of equipment. In addition to competitive pricing, we knew it would make maintenance that much easier," say Zmiejko, who has worked on CCSD kitchen projects for more than 10 years. "We also opted for off-the-rack rather than custom-made items, such as worktables and connectors."
Student safety influenced other equipment choices. "Some equipment can serve multiple functions, but that's not ideal in a teaching kitchen," Dunleavy says. "Deep frying and the charbroiler were a risk management concern—but at the same time, [we realized students would also be using] meat slicers. To authentically prepare students for commercial kitchens, we needed to add these pieces." The team added the charbroiler and fryer late in the planning phase, resulting in a last-minute reconfiguration of the layout under the hood.
Concern for safety impacted the dishroom, as well. "Instead of a garbage disposal with grinder, they opted for a food waste collector," Zmiejko says. "Not only is the scrapper basket a safer alternative for students, it also was the preferred choice of the local water utility. As the program expands, the scrapper gives the school a composting option in the future."
Equipping Spaces
Walking through the commons area, CCIC students clearly view the action of the Learning Kitchen and Learning Cafe Lab through floor-to-ceiling windows behind the worktables. "The window view serves as a magnet for current and future students (and their parents). Think 'MasterChef'—that's the vibe we were going for," Zmiejko recalls.
"We made the workstations scalable and approachable for younger students," Zmiejko says. "The space is arranged so multiple people can be at each station. We added extra space between stations so groups can collaborate. Workstations have stools for lecture portions of lessons. In both labs, the island-style hoods allow uninterrupted views."
The Learning Kitchen comes equipped with ovens/ranges, worktables, a prep table with a sink, a proofing cabinet and mixers. A flat-screen monitor is mounted on the wall in each corner and is used for video instruction as well as for students to project their station to the screen for the instructor. Hand sinks at each corner and the warewashing area round out the fittings.
The Learning Cafe Lab features all the proverbial bells and whistles. It includes heat lamps for the expo table; cooking stations fitted with ranges/ovens, flattop griddles and charbroilers; sandwich prep tables; a combi oven, convection oven, slicers, mixers, a tilt skillet, steam-jacketed kettles and ample cold storage.
"The window views serve as a magnet for current and future students. Think 'MasterChef '— that's the vibe we were going for." — Marcin Zmiejko
The CCICafe, as it's called, took many shapes before its final design. "We wanted it to be as multifunctional as possible, so this ruled out food wells in case we wanted to offer guest chef demos," Dunleavy says. "The setup is very basic, but we have plenty of electric outlets, giving us the opportunity to make the space what we need each day."
The Cafe also sports an Italian espresso machine and coffee grinder, a hot holding cabinet, a rapid cook oven, cold storage and a grab-and-go case. The Cafe opens for business Tuesdays and Wednesdays for an hour in the morning and an hour in the afternoon. "Students serve about 200 orders each day to fellow CCIC students and faculty," Dunleavy says. "Part of their curriculum is to analyze sales, menu, execution and so on."
EQUIPMENT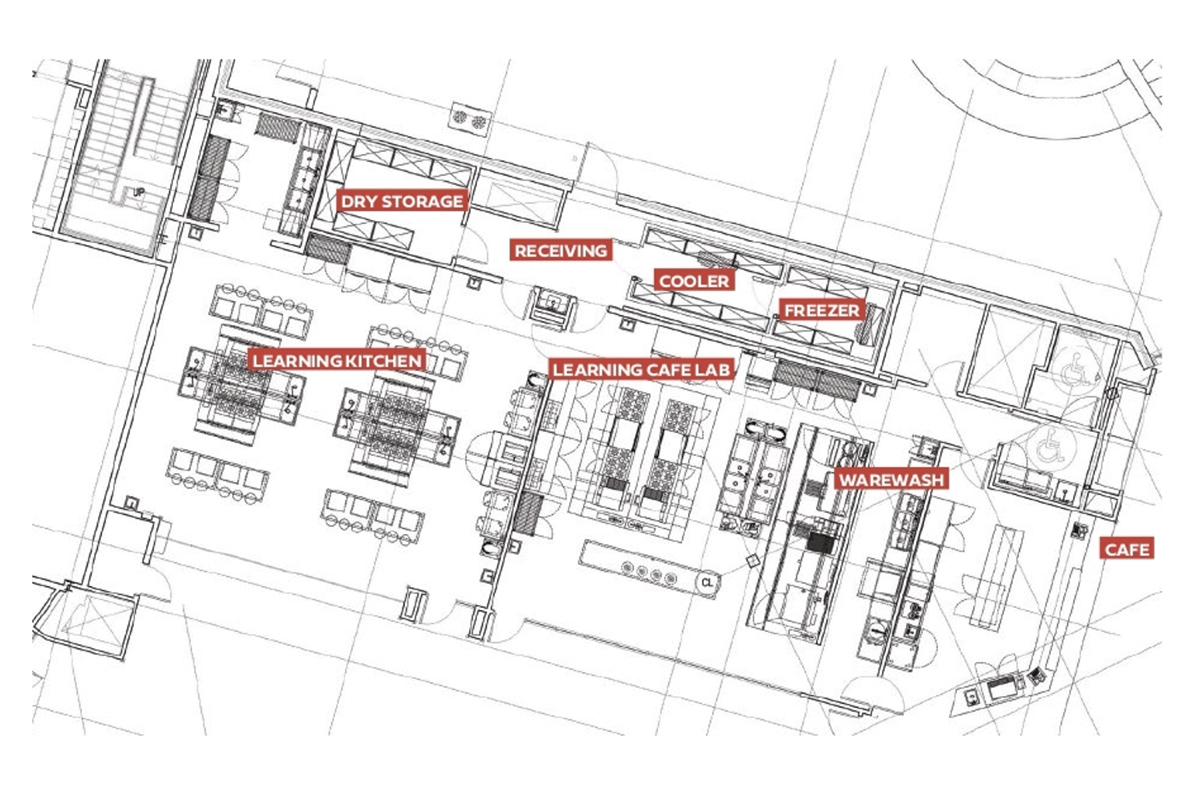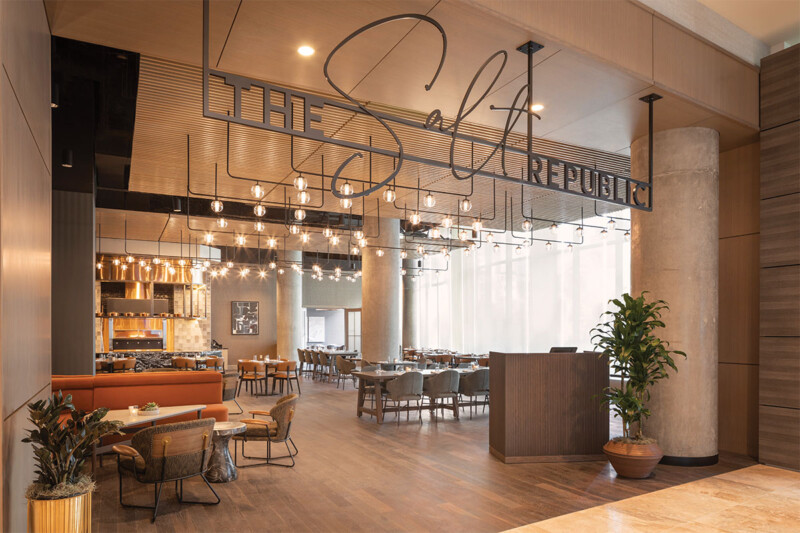 Kitchen Design
A restaurant with a display kitchen, a street-facing cocktail lounge and an abundance of event space welcome guests at the hotel.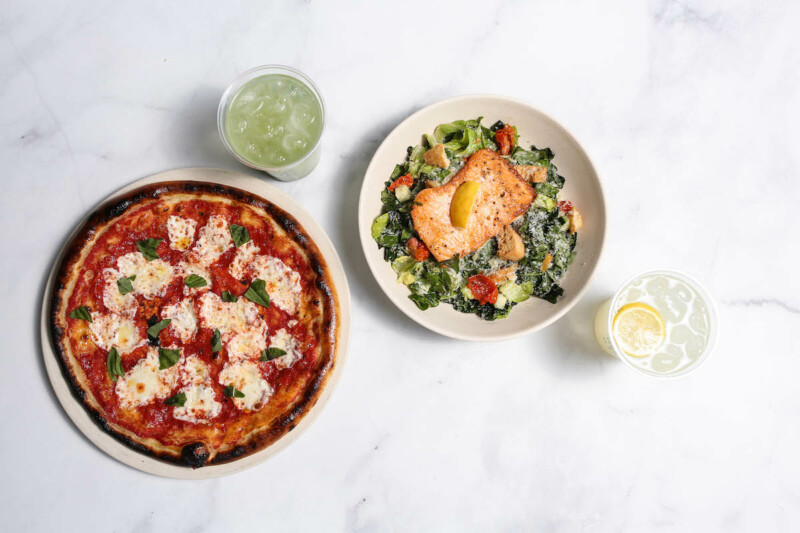 Company News
Three small pizza ovens, a smart toaster and holding cabinets help drive efficiencies at the chain's just-opened location.