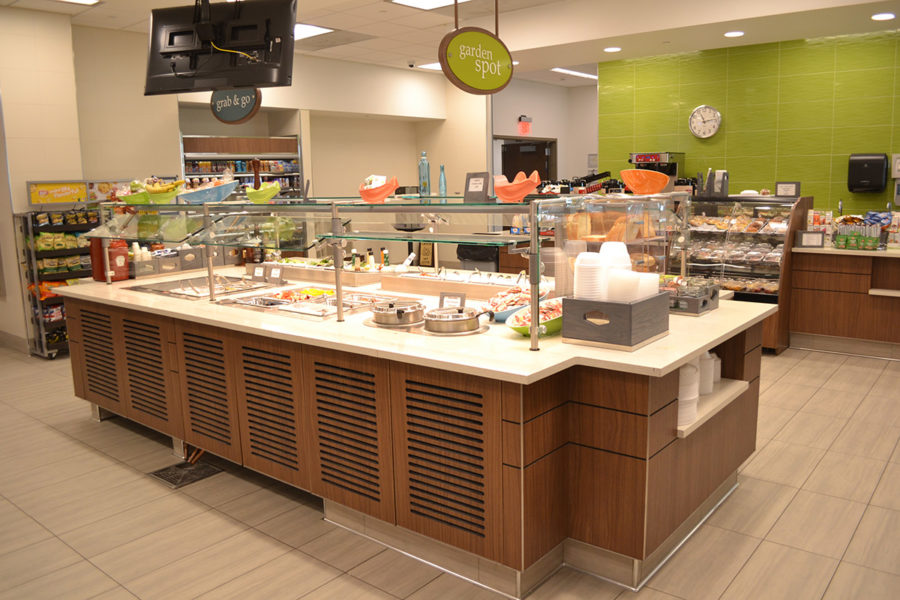 FRANCISCAN HEALTH MICHIGAN CITY MICHIGAN CITY, IND.
FACILITY: Dunes Cafe
NO. OF BEDS: 123
OPENED: January 2019
NO. OF SEATS: 58
HOURS OF OPERATION: 6:30-10 a.m., 10:30 a.m.-6:30 p.m. daily
STATION SAMPLER: Grab-and-Go, Salad and Soup Bar, Entrees, Grill, Coffee & Dessert
AVERAGE CHECK: $4.37
MEALS SERVED DAILY: 480
FOODSERVICE EQUIPMENT COST: $1.3 million
**ANNUAL SALES:** $750,000
MANAGER, FOOD & NUTRITION: Kathy Kesling, MS, RD, CD
DESIGN: Connie Dickson, FCSI, principal/ team lead; Jessica Dengel, senior project manager; Joy Enge, spec writer/equipment specialist; Rippe Associates, Minneapolis
ARCHITECTS: June Uhlman and Matthew Forman of CannonDesign, St. Louis
INTERIOR DESIGN CONSULTANT: Kristie Blaha, CannonDesign, St. Louis
CONTRACTOR: Ray Rossi, Tonn and Blank Construction, Michigan City, Ind.
FOODSERVICE EQUIPMENT CONTRACTOR: Rick Heins, Great Lakes Hotel Supply Company, Southfield, Mich.
FOODSERVICE CONSULTANT: Georgie Shockey, Ruck-Shockey Associates, The Woodlands, Texas
FABRICATOR: Albers Commercial Kitchen Services, St. Paul, Minn.
One of the most impressive geographic features of Michigan City, Ind., are the sand dunes that roll down toward the shores of Lake Michigan. So, it's only fitting that the dunes provided the inspiration for the Dunes Cafe at Franciscan Health Michigan City's new $263 million hospital, right down to the beachy color scheme and lakeshore-inspired artwork.
Hopkins, Minn.-based Rippe Associates designed the foodservice facilities, which include the 4,325-sq.-ft. cafe, 6,500-sq.-ft. kitchen and a total of $1.3 million in foodservice equipment. The project kicked off in January 2016 and foodservice transitioned to the new building from existing space in January 2019. Franciscan's previous hospital building is currently being used for urgent care and offices.
Project goals were twofold: to make the switch to patient room service from a tray line with limited meal choices, and to offer more choice and customization in the retail cafe. "In the [previous] cafeteria, we had an old straight line, nothing made-to-order, everything was the special-of-the-day, there was no customizing," says Kathy Kesling, manager of food and nutrition, who has been with the organization since 1987. "We wanted to be able to offer a little more variety and a more grill-to-order kind of concept."
"We wanted to be able to offer a little more variety and a more grill-to-order kind of concept." — Kathy Kesling on the Dunes Cafe
Options include a grab-and-go station, a salad/deli/soup bar and a hot entree station that transitions from biscuits and gravy and corned beef hash in the morning to casseroles or international options such as Indian cuisine for lunch and dinner. A grill station serves omelets, pancakes and French toast to-order for breakfast before shifting to sandwiches, quesadillas, burgers, chicken tenders and wings. "That's been hugely popular with staff and visitors," Kesling says. "They love the grill."
The new coffee and dessert station is of particular interest to caffeine-craving staff. "We used to have all liquid [concentrate] coffee, and now we do all brewed coffee," Kesling says. "Most people like our coffee much better than before. We do have huge coffee machines that do everything, so hopefully down the road we can offer some more specialty coffee choices."
A Different Level
A major challenge of the project was the necessity to split foodservice between two floors, with the kitchen on the lower level and retail cafe on the first floor. A dedicated elevator connects the two spaces.
"One of my first thoughts was, 'Oh no, it's on two floors!'" Kesling says. "We are on a fairly narrow footprint because we have wetlands surrounding us, so the plan was to put everything on the lower level that the customer didn't see to keep the public space on [the upper floor]."
The new cafe did gain windows and patio seating— a major upgrade from the previous space. "It's warm and inviting, with natural light and it is right off the main entrance of the hospital, so we get a lot of traffic since we are right next to the welcome center," Kesling says.
With the main dishroom located in the ground floor kitchen, they opted to use disposables in the cafe upstairs. That way, staff only needs to transport trays downstairs for washing. Diners dispose of containers and stack reusable trays at bussing stations, which are emptied by staff several times daily. "We bought a lot of trays so we don't have to turn them over very quickly," Kesling says.
One advantage of disposables is less china and silverware loss from the cafe, which was an issue in the previous location. "A lot of our staff have nice break areas and … a lot of people would take [the china and silverware] to-go, and who is really going to bring it back down right away?" Kesling says. The design does include a small dishroom on the first floor; though Kesling doesn't have the staff to run it currently, the option is there for the future.
Worth the Investment
For Connie Dickson, FCSI, principal at Rippe Associates, a favorite part of the project was helping the foodservice staff improve their workflow and efficiency. "A lot of collaboration went into the project and the outcome was better for it," Dickson says.
Well-situated walk-in coolers for the room service line and cold-prep area have cut down on unnecessary walking, and because the shift to room service is a new undertaking for the staff, they're thankful that the call center is located right next to the room service line. "That's very helpful; if there are any questions or we get a conflict or something like that, we can just walk right over," Kesling says.
The addition of refrigerated drawers located beneath the grills in the cafe as well as the room service line is much-appreciated by staff, Kesling says. "For the room service line, we keep all of our meats—roast turkey, roast pork, pot roast, our chicken, meatloaf, pub burgers—in shotgun pans ready to go [in the refrigerated drawers] underneath the grill so we can pull them out, do whatever finishing is required of that particular piece and it's all right there," she says. Beneath the cooktop at the cafe's grill station, the drawers store burgers, chicken and toppings such as lettuce, tomato and onion so that staffers can pull out what they need without walking to a different area.
"A lot of collaboration went into the project and the outcome was better for it." — Connie Dickson
The addition of a blast chiller in the kitchen has created new opportunities for bulk prep and scratch cooking. "We never had one before, so that's given us a lot of flexibility. We now purchase our chicken raw and we marinate it, cook it and blast chill it and it goes everywhere: upstairs retail, patient room service, to the salad bar for chicken caesar," Kesling says. "We make our patient soups homemade and then we blast chill them in batches. We saute our onions and peppers for omelets and then blast chill them and pull them out whenever we need them."
The staff also is making use of two new accelerated ovens. In the patient line, they use one to cook pasta, seafood (such as cod) and—with the absence of a deep fryer—even French fries; upstairs in the cafe, they use a second accelerated oven to toast French bread pizzas.
The MVP award, however, might go to the cart wash. "Our dishroom staff go and collect soiled [room service] carts throughout the day on a scheduled basis, and then they can hose them off right there in the cart wash," Kesling says. It's faster and more effective than their previous two-step process of washing and sanitizing carts by hand. "[Before,] you were never sure that you got everything cleaned out, with all the nooks and crannies," she says. They also use the cart wash to clean shelving from the walk-ins, too.
Dunes Cafe Equipment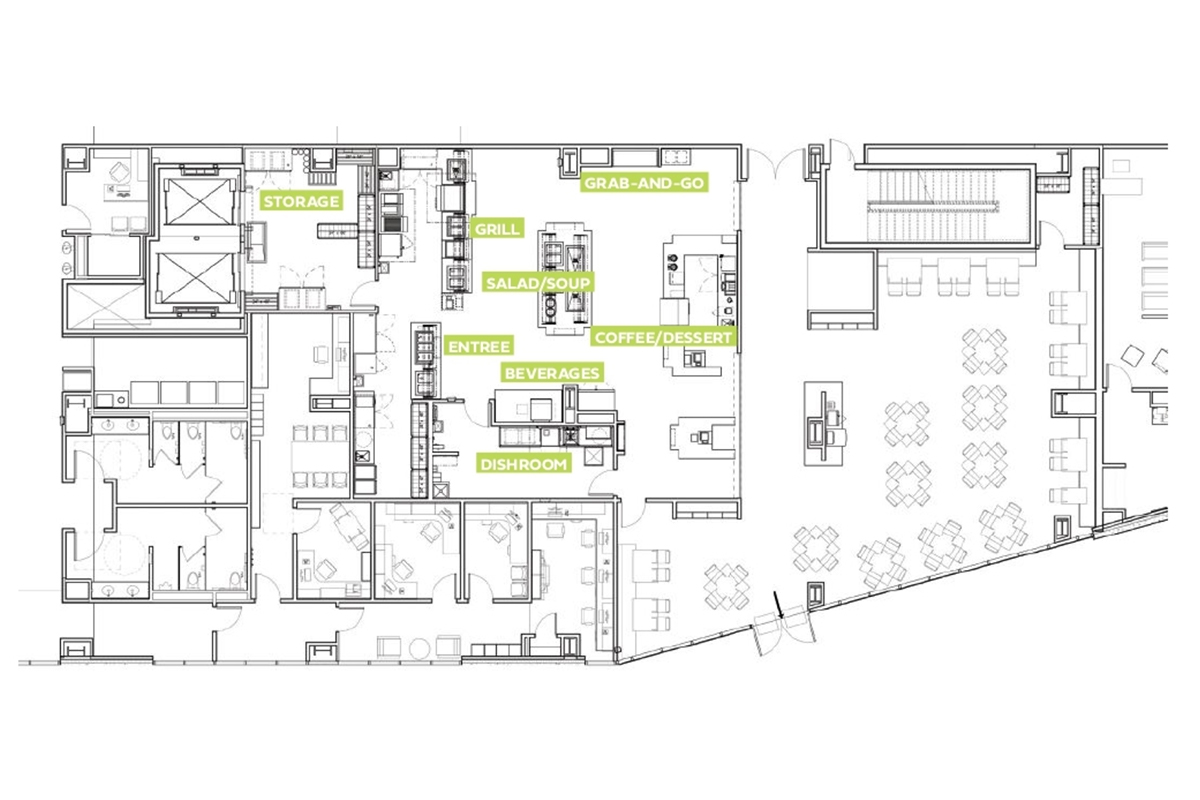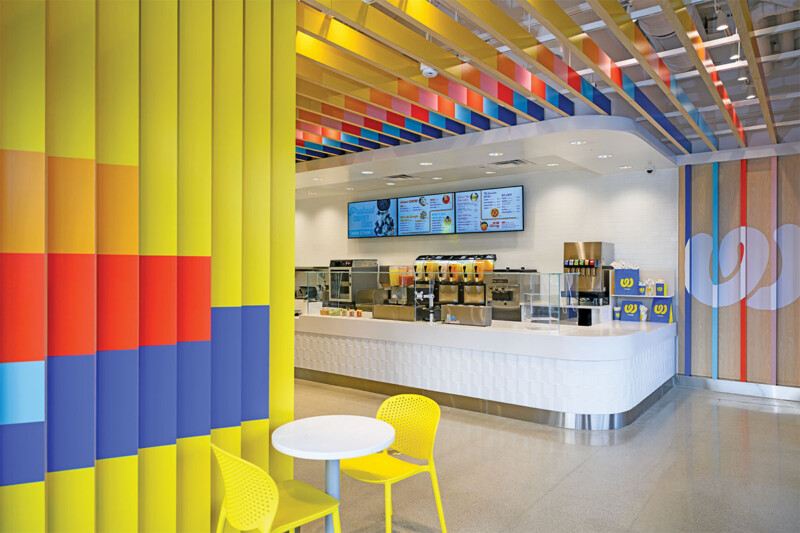 Kitchen Design
Wetzel's Pretzels, the multiunit bakery of shopping mall fame, now offers its soft pretzels and more at street-side through its latest concept.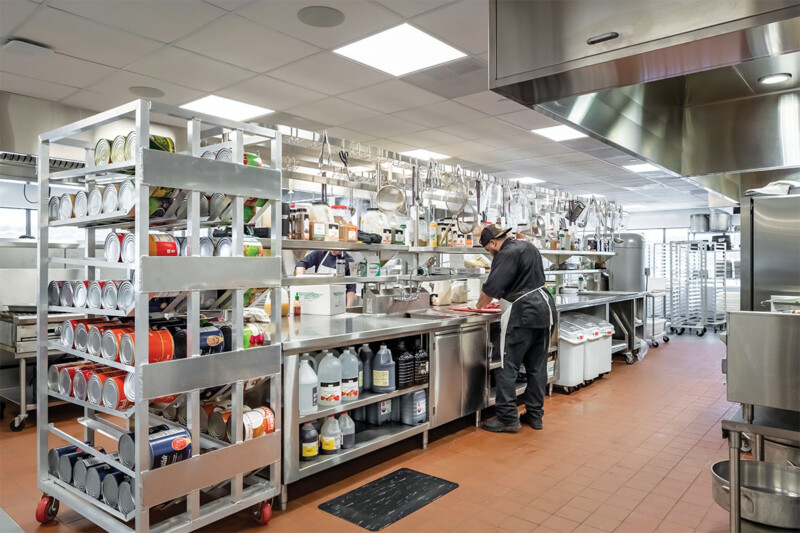 Kitchen Design
Open Arms of Minnesota—a volunteer-powered, nonprofit organization that provides meals to critically ill Minnesotans—needed more room.