Makeover at University of Minnesota's Historic Pioneer Hall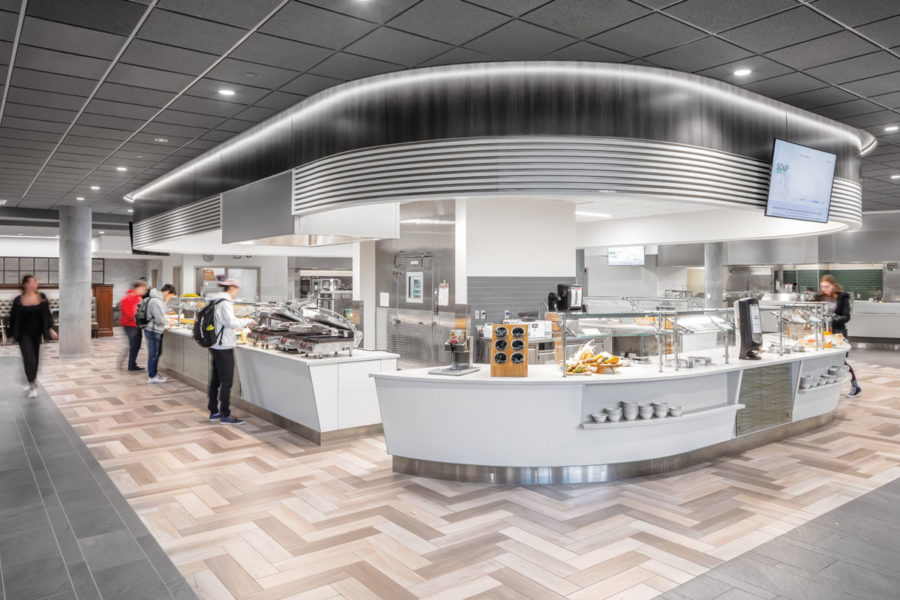 PIONEER HALL AT UNIVERSITY OF MINNESOTA MINNEAPOLIS
MENU/SEGMENT: College & University
CAMPUS POPULATION: 51,000 students total (31,000 undergraduates); 3,900 faculty
OPENED: August 2019
DINING HALL SIZE: 36,378 sq. ft. overall plus 1,565 sq. ft. enclosed dock (9,855 sq. ft. servery; 10,562 sq. ft. back-of-house)
SEATS: 850
HOURS OF OPERATION: 7 a.m.-midnight
FOODSERVICE EQUIPMENT COST: $4,126,000
CLIENT (University of Minnesota): Kevin Ross, senior project manager; Nelson Hard, assistant director of contract management
FOODSERVICE CONTRACTOR: Aramark
CONSULTANT/DESIGN FIRM: Terry Pellegrino, FCSI, principal; Eric Goodrich, operations project manager, Rippe Associates, Minneapolis
ARCHITECTS: Brian Morse, senior architect, TKDA, St. Paul, Minn.; and Sara Koester, principal; Paul Wuennenberg, principal; Matt Sullivan, project designer, KWK Architects, St. Louis
DEALER: TriMark Minnesota, Rogers, Minn.
CONSTRUCTION: McGough Construction, St. Paul, Minn.
WEBSITE: housing.umn.edu/pioneer-hall
The University of Minnesota, Minneapolis, found itself at a crossroads in 2015. Its beloved Pioneer Hall, built in 1932 and home to generations of students, was long past its useable life. Despite multiple renovations over a nearly 90-year span, its plumbing and electrical systems were outdated, air-conditioning and elevators nonexistent, corridors too narrow, rooms too small, and the building not handicap accessible. And then there was the dining hall.
Located in the building's basement, the dining room's clerestory windows admitted some light but no views. The seating area consisted of rows of tables, dark-colored wood paneling and out-of-date serving lines. "We did a study at a different residence hall, and heard students say they would bus to another part of campus to eat anywhere but at Pioneer," says Terry Pellegrino, FCSI, principal for foodservice consulting firm Rippe Associates. "The old dining hall made a bad first impression for incoming freshmen."
The kitchen still included equipment from as far back as the '70s. "We saw reach-in refrigerators with curved corners and wire cages," Pellegrino recalls. The delivery dock was undersized, crowded and linked to the kitchen by a small elevator.
The most cost-effective course would have been to tear down the building and start fresh. But—and this was a major "but"—Pioneer Hall had historical significance. Listed on the National Register of Historic Places, the building's Georgian Revival-style red brick construction, dormer windows, slate roofs, arched passageways and tree-filled courtyards added undeniable character to that corner of campus.
In 2016, the university's Board of Regents decided to go for a partial preservation. Crews would leave the four corner wings of Pioneer's signature exterior intact, and demolish and rebuild everything in between.
When Pioneer reopened in fall 2019, the $104.5-million project had increased the footprint by 40%, added 63 beds and a new level raising the tally to 756 beds on five floors, and modernized community and recreational spaces. The heart of the building, however, was the dining hall. Planners added a 42,000-sq.-ft. servery and foodservice area with nearly triple the seat count (850 seats, up from 285).
Room to Grow
Initial challenges for the foodservice design team included capacity, setting and how the dining hall would serve the 2,800 students living in Pioneer Hall and three surrounding residence halls. It had to be bright and open, and it had to play well with the rest of the building.
"One of the biggest challenges was how to provide sufficient square footage needed for foodservice at street level rather than underground, as it was before," Pellegrino says.
The team found the solution in the former courtyard. "We filled in what would have been the south courtyard with dining. This meant everything—from back-of-house support and storage areas to servery and seating areas—could be on one level," Pellegrino says. The resulting dining hall and foodservice areas cover nearly two-thirds the size of a football field.
"We got some grief for occupying the green space, but our plan to make up for the change was to instead create an 'interior' courtyard in the dining hall," says Nelson Hard, assistant director of contract management at the university. The team achieved this through an open floor plan. The space features floor-to-ceiling windows, skylights, high ceilings and a circular fireplace.
Another design consideration was the appearance of the dining hall's roof. "We didn't want student rooms above to be looking down on an ugly rooftop that had taken the place of a courtyard," Hard says. The team beautified the exterior two ways. First, they created a green roof, covered edge to edge with a carpet of sedum. Second, and more importantly, planners worked to camouflage rooftop equipment, especially exhaust vents, which ran vertically up the sides of the residence hall to the top of the building.
"You can't see the ducts unless you know where to look," Hard says. The locations of the rooftop ducts helped inform the layout of stations in the servery below. "If you look at the floor plan, you'll notice that stations with the high-powered cooking equipment correspond with exterior walls of the residence halls above," Hard says.
To See and Serve
Pioneer Hall features eight dining destinations. Salad/Deli and Mongolian Grill/Desserts anchor the space as freestanding stations, each covering 1,000 sq. ft. The Grill, Pizza/Pasta, Saute, Homestyle and Allergen-Reduced stations are positioned against the walls, and range in size from 550 sq. ft. to 850 sq. ft.
The design team supersized stations for two reasons: to place much of food production in full view and to provide the capacity to serve 800 or more guests at a time.
"Aramark led the way for display cookery at our dining halls when it introduced [its brand] Fresh Food Company for the 17th Avenue Residence Hall building," Hard says. At Pioneer, much of the cooking and some prep takes place in the space behind the Homestyle station, while the less engaging food prep takes place in the back-of-house area.
At Homestyle, "Batch cooking is out front, supported by a charbroiler, ranges and fryers," Pellegrino says. "In back is everything with a longer cooking cycle: smokers, combi ovens, convection ovens, kettles and tilting skillets."
Designers addressed capacity by incorporating multiple serving points and ample cold storage throughout. "The Deli, for example, can be made-to-order or self-service, depending on time of day," Pellegrino says. "It offers four self-service panini presses to keep things flowing. The Saute station, 30-ft. long, has three ordering points for custom orders, although they use a preset menu during peak times."
Four of the eight stations come with their own walk-in coolers. "Walk-ins have become a standard for our university projects," Pellegrino notes. "It's hard to get enough cold support for a servery this size, especially for the salad bar and deli stations. They would have to have eight roll-in refrigerators to meet demand. A walk-in covers about the same amount of space, minus the noise and heat. And it's easier to find things in a walk-in, compared to opening doors of reach-ins."
Of all stations, the team designed the Grill and Pizza/Pasta for speed. "It's all self-service," Pellegrino says. "All pickup points have heated glass surfaces and heat lamps to keep food hot. Food gets pre-portioned into baskets, from burgers and fries, to sandwiches of the day plus sides. Pizza also is grab-and-go. Pasta features two choices daily, served from hot wells as either a casserole or pasta-plus-sauce."
A deck oven anchors Pizza/Pasta. "We explored other options, but for the volume and skill level of the staff, a deck oven was the way to go," Pellegrino says. "This one is an extra-high-temperature unit with stone decks for faster cooking."
Hidden Details
Hard, a veteran of guiding foodservice makeovers at the university, drew on previous experience to ensure Pioneer Hall had the most efficient equipment and that attention was paid to details.
"I pushed to have our utility metering for the kitchen be separate from the residence halls," Hard says. "Our plan is to get a realistic capture of utilities use in our campus kitchens. Once we know the costs, we can work to reduce them. And that also will give an accurate tally of utility cost-per-bed, which will differ in buildings with dining halls vs. those without."
With HVAC, the team made sure to match heat load with HVAC capacity. "For example, we asked the mechanical engineers to build in extra HVAC in our dishroom to offset the heat put out by the three-compartment sinks filled with hot water, the dishmachine and even from the people working the dishroom."
Balancing the makeup air in the main servery is still a work in progress. "It's such a large space," Hard says. "The variable speed hoods at the various stations pull out a huge volume of air. And because makeup air during a Minnesota winter tends to be 20°F or lower, it's got to be heated before we bring it into the space. I don't want cold air blowing down guests' backs."
Six months into operations, Pioneer Hall's servery caters to resident crowds day and night, and has become a destination spot rather than a place to avoid.
Equipment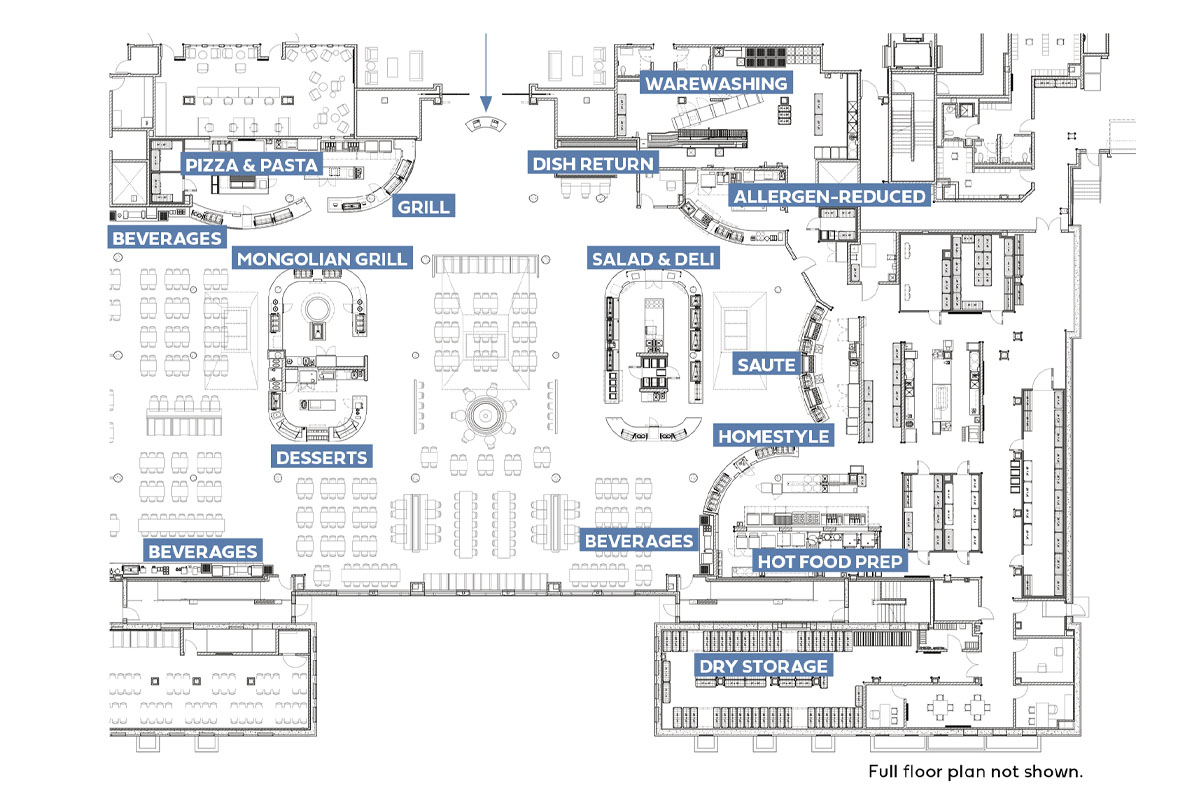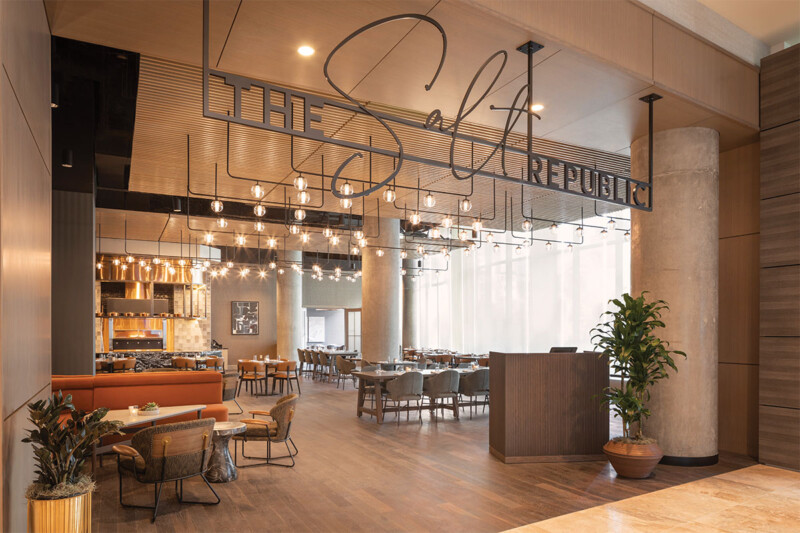 Kitchen Design
A restaurant with a display kitchen, a street-facing cocktail lounge and an abundance of event space welcome guests at the hotel.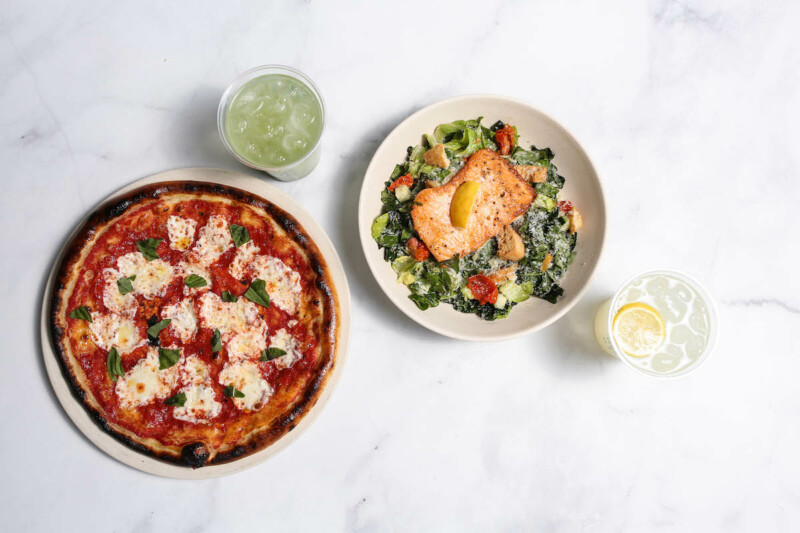 Company News
Three small pizza ovens, a smart toaster and holding cabinets help drive efficiencies at the chain's just-opened location.