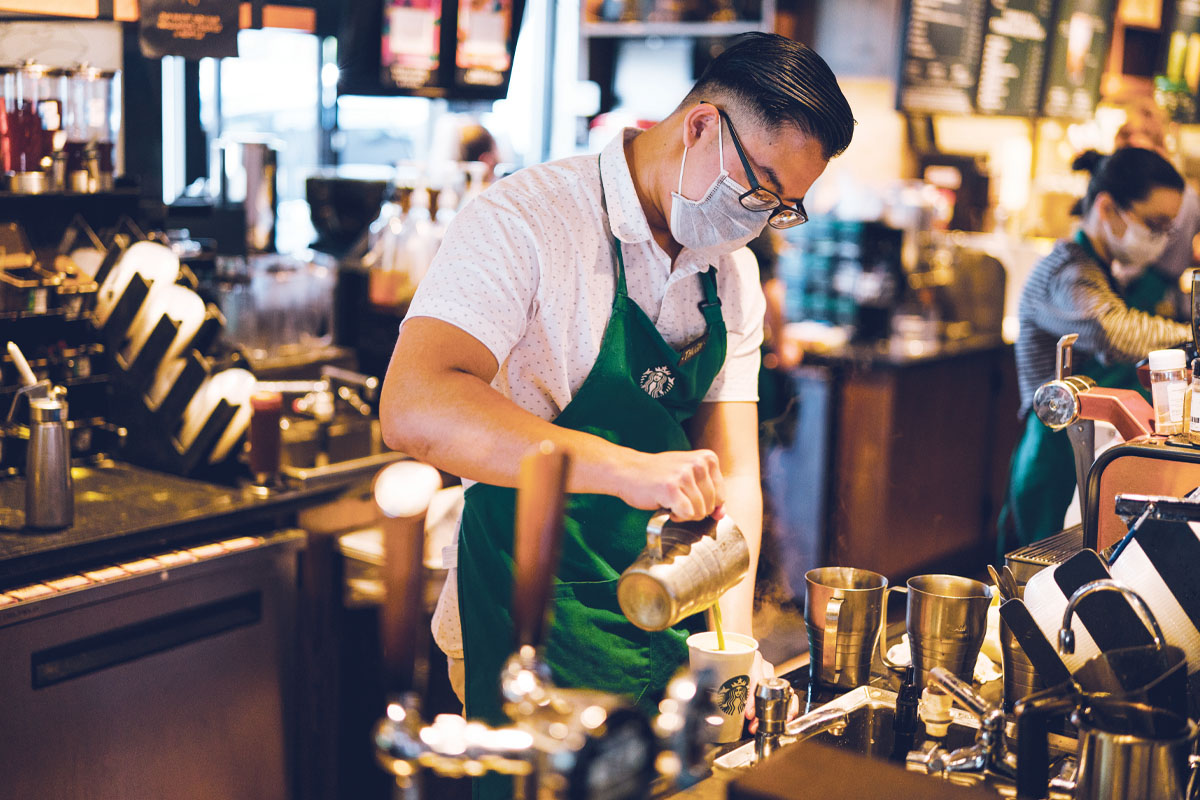 From Ohio to Shanghai, restaurants in post-lockdown regions of the world have been cautiously reopening. What caution looks like, however, has varied greatly.
Whether operators are placing extra hand-sanitizing stations in strategic locations, pasting signs to the floor to indicate safe social distance or placing barriers between tables, this post-viral vanguard hasn't found consensus on the tools and methods restaurants will need to employ to keep customers and employees safe.
As parts of the U.S. reopened in May, Twisted Citrus, a restaurant in North Canton, Ohio, planned to use clear plastic shower curtains to create physical barriers between tables.
To learn what things looked like overseas, David Chang, chef and founder of Momofuku, who was forced to permanently shutter two restaurants as a result of the prolonged lockdown, asked his Twitter followers in Asia to share what they were seeing from operators there. Responses were, let's just say, ingenious.
A Twitter user in Shanghai sent a video of a restaurant using a vending machine-like device that dispensed a full-body disinfecting spray before customers were allowed to enter. Someone else tweeted a photo of the ASUS computer hardware company's employee lunchroom in Taipei, where tabletop dividers created semi-private dining cubicles. Yakitori spot Yardbird in Hong Kong put translucent plastic dividers between booths. Another Twitter user showed a private club, also in Hong Kong, where a sentry used an electronic thermometer before members could enter.
The most popular method seemed to be the simplest: operators in Asia simply moved tables father apart from each other.
"Only by trying to exceed local, state and national health requirements will we be ready to serve our communities." —Kevin Johnson, Starbucks
In Taipei, a Starbucks used plastic dividers between seats at communal tables. We reached out to Starbucks to ask if such measures would be deployed in the U.S.—or if they've found any solutions from their experience of opening in Asia that would be used here. The chain directed us to an April 16 letter from CEO Kevin Johnson to partners about the decision to reopen cafes, which it began doing in the middle of May. "For Starbucks in the U.S., China and everywhere, there is a more important, final question: When and how? This is the unique responsibility Starbucks partners have to one another, to our customers and to our communities—do the right thing. Only by trying to exceed local, state and national health requirements will we be ready to serve our communities."