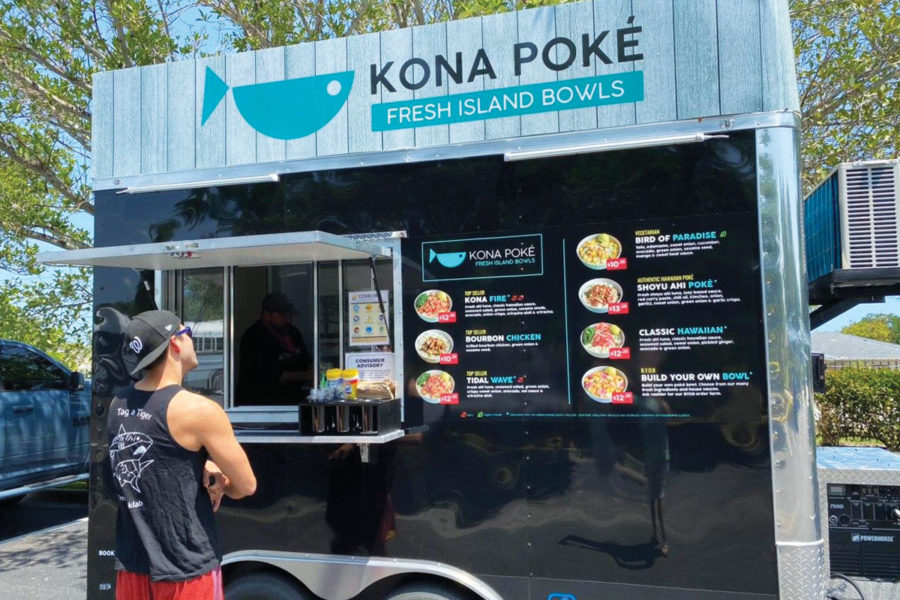 KONA POKE FOOD TRAILER | ORLANDO, FLA.
FOUNDED: 2017
NUMBER OF UNITS: 6 (two stores, three trailers)
SIZE: 100 sq. ft. for 12-ft. trailer; 130 sq. ft. for 16-ft. trailer
TRAILER COST: $45,000 (includes equipment); plus $5,000 for generator
2020 PLANS: 7 trailers total
WEBSITE: konapokebowls.com
Kona Poke's plan was both simple and smart: build a food trailer and station it near the fast-casual rice bowl concept's construction site to establish brand awareness in advance of a store opening, then later use it to market-test sites for future locations.
The team designed and ordered the 12-ft.- long, fully equipped trailer last December. By the time it arrived in mid-March, Kona Poke was deep in negotiations on a lease for its next brick-and-mortar store—and COVID-19 was dominating headlines.
"The news made us uneasy, so we told the landlord we needed another week to work out details," recalls Kona Poke's Ernie Falco III, who founded the Orlando, Fla.-based concept together with business partner Matthew Ting. Then Florida issued a shelter-in-place order. Falco and Ting canceled plans for the new store, but that left them needing a location to deploy the trailer.
By chance, a representative from a members-only tennis club in Satellite Beach, Fla., had approached Kona Poke about bringing healthy, fun and quick foodservice to the site. "They had a parking lot surrounded by rooftops, we had a trailer," Falco says. "We launched the location with joint-venture operating partner Justin Rich. Justin purchased the trailer [from us], and we licensed the menu for an ongoing royalty and a small equity [stake] in the location. He opened for business on the first day of the COVID-19 shutdown."
Thanks to the trailer's location near several neighborhoods, plus a robust online marketing effort, Kona Poke's Satellite Beach business has been doing well. And it serves as the first of many Kona Poke trailers (more on those in a bit).
"The Satellite Beach trailer averages $1,200 a day. That's about half of what one of our brick-and-mortar stores generates but with only a fraction of the overhead," Falco says. Plans call for the Satellite Beach food trailer to remain at the tennis club parking lot for the foreseeable future.
"Since the trailer stays in one place, we are seeing sales increase as word spreads. Our first month, sales grew 22% a week," Falco says. "The Satellite Beach Kona Poke unit is on track to generate $400,000 in revenue this year and a six-figure net profit for our operating partner."
Notably, the team previously considered but rejected a business plan centered around event-based food trucks. "The downside of a mobile food truck lays in the increased risk, extra expenses and wear-and-tear on both truck and foodservice staff," Falco says. "Our goal is to build an audience around a permanent hub. We're acting as a brick-and-mortar store, but from a trailer."
Brick-and- Mortar Roots
Kona Poke, founded in 2017, started with brick-and-mortar shops in Lake Mary, Fla., and Sanford, Fla. The stores cover 1,300 sq. ft. each, with seating for 29 plus additional tables on the patio.
"The Satellite Beach trailer averages $1,200 a day. That's about half of what one of our brick-and-mortar stores generates but with only a fraction of the overhead." —Ernie Falco, Kona Poke
Kona Poke's Hawaiian-inspired menu—featuring diced raw fish, shrimp, tofu or grilled Bourbon chicken plus vegetables, seasonings and sauces atop rice—translates well to a pickup- and-delivery-only model.
"Our food travels well, and our prep times average about three to five minutes—perfect for delivery," Falco says.
Kona Poke has partnered with third-party delivery services, including GrubHub, DoorDash, Uber Eats and Postmates.
"We focused on our top SKUs: six signature bowls, a build-your-own bowl and a kids option." —Ernie Falco, Kona Poke
"If your product looks and tastes great, and you can get into the right market, third-party delivery customers don't ask where the food is coming from," says Falco, whose pre-Kona Poke experience includes more than a decade working in digital marketing and online advertising. "On the Internet, a delivery-only concept's website can have the same appeal as that of a concept with a traditional brick-and-mortar location."
Trailer Translation
Kona Poke's Satellite Beach trailer's 100-sq.-ft. footprint required a condensed menu to work with the smaller prep space. "We focused on our top SKUs: six signature bowls, a build-your-own bowl and a kids option," Falco says. "Customers still have a choice of eight sauces, down from 12 varieties in the store."
Inside the trailer is a 48-in.W, 18-well sandwich prep table, a pair of undercounter coolers, a rice cooker, a small griddle and warmer, two worktables, a hand sink and a three-compartment sink. A 16-gal. tank for clean water, a 26-gal. tank for dirty water, and an electric water heater are tucked into cabinets under the three-compartment sink.
Electric power comes from a generator mounted near the trailer hitch. "We opted for the pricier model because it was so much quieter," Falco says. "The low-cost units, like the ones you sometimes see at carnivals, are so loud that it's challenging for walk-up customers to place orders."
A single cook—usually owner Justin Rich— operates the Kona Poke trailer. "He's the one who does all the food prep right there, on-site, including grilling the chicken on the small griddle," Falco explains. During busy times, a second person preps orders and serves as a runner, bringing completed orders out to cars.
New Rollouts in Miami
The success of the Satellite Beach trailer confirmed Kona Poke's concurrent plans for more delivery-only sites. In May, the company opened its second trailer-based location in Miami's downtown Brickell neighborhood, followed soon after by trailer number three in Miami's Wynwood neighborhood.
The team designed the city units from the start to be delivery-only, representing Kona Poke's new business plan. The trailers are larger than the Satellite Beach model.
"For the Miami trailers and beyond, we increased the length to 16 ft. to add extra onboard cold storage capacity and make them more self-sufficient," Falco says.
The site location for each of the newer trailers is in an out-of-the-way area of a building parking lot, and each has electric and water/sewer hookups. "We arranged for a ground lease on the space," Falco explains.
The other key difference is the exterior. "The Brickell and Wynwood trailers are plain white, no branding," Falco explains. "We kept the trailers unmarked so as not to draw attention from would-be walk-up customers. They are under the radar to anyone except our delivery drivers.
"When Miami finally normalizes, we estimate those trailers will bring in about $2,000 per day by operating 'til 3 a.m.," Falco says. "Miami never sleeps."
Driving Ahead
While Kona Poke's two Miami sites are corporate owned, the road ahead calls for more joint-venture partners and trailer-based locations. "The trailers will serve as test sites for future brick-and-mortar stores," Falco says. "It's one way to take some of the risk out of the restaurant business." The company plans to open four more trailers this year and is currently seeking operating partners in Jacksonville, Miami, New Smyrna Beach, Orlando and Tampa. No new brick-and-mortar stores are on the agenda.
"Our potential owner-partners would train at one of our existing locations," Falco says. "We would sell them the trailer, help with site selection, handle digital marketing, and off they go."
---
EQUIPMENT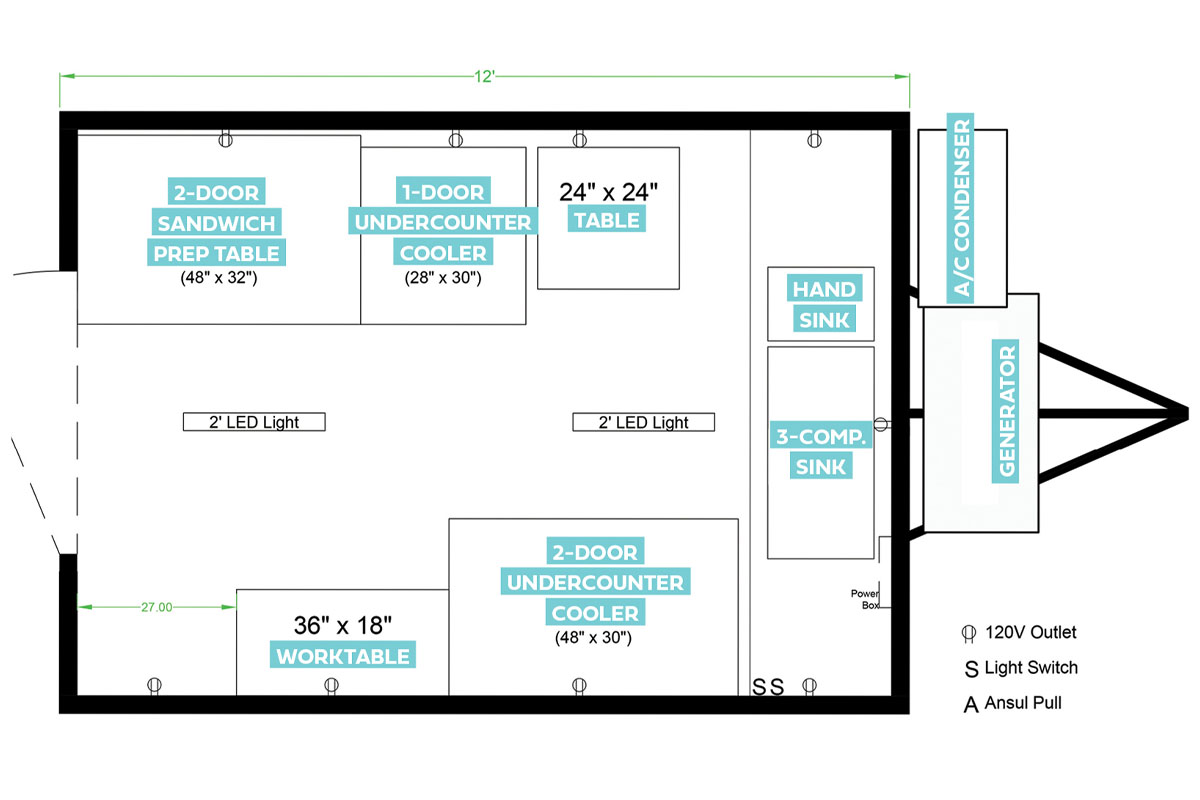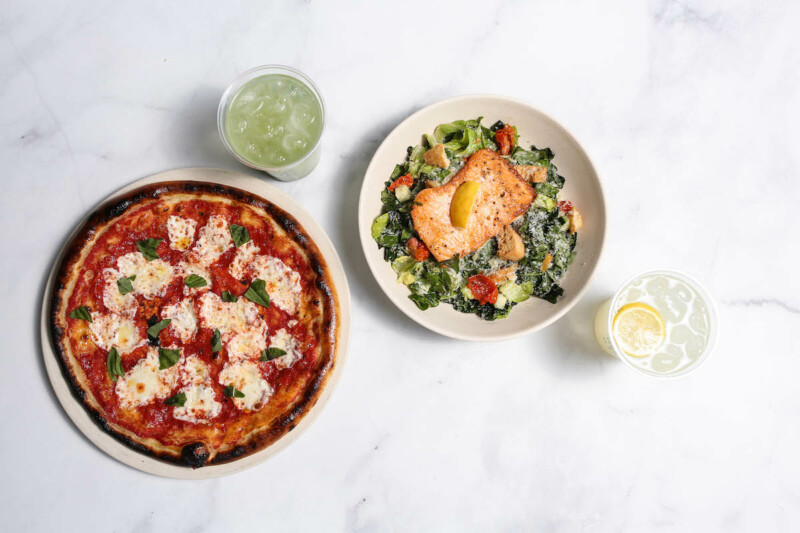 Company News
Three small pizza ovens, a smart toaster and holding cabinets help drive efficiencies at the chain's just-opened location.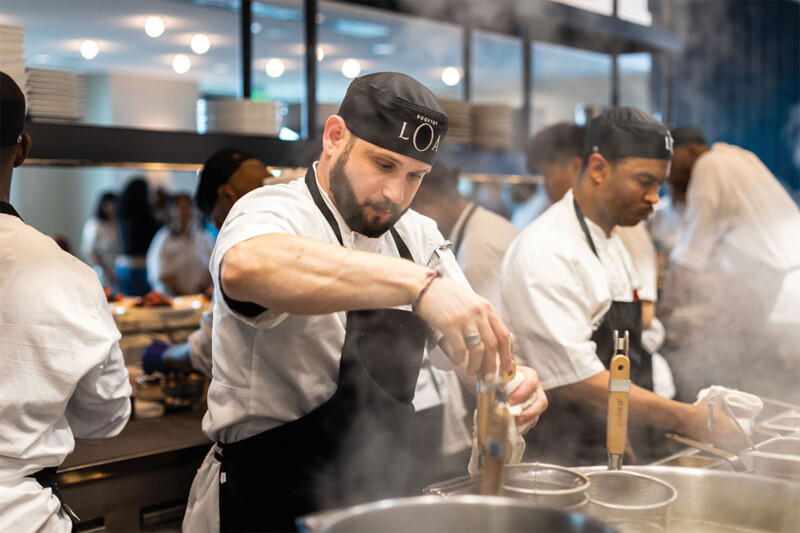 Kitchen Design
Rooftop L.O.A., perched atop a mixed-use development, weaves foodservice and mixology into and around a poolside retreat.