How to Find a Mobile Bar Cart That Fits Your Needs, Style and Budget
Mobile bar carts may help you meet the phased reopening requirements by moving your patrons outdoors or further apart.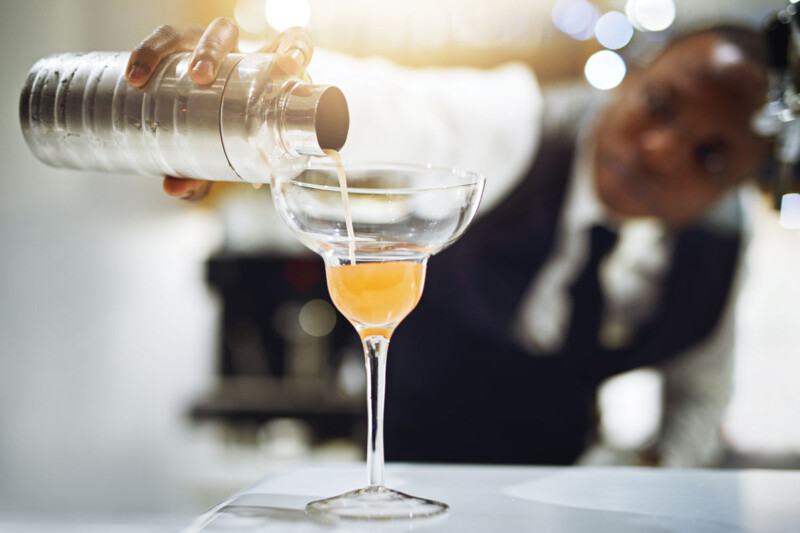 Have you always thought of portable bars as a fixture at convention cocktail parties or hotel banquets? Think again. They could help you kick-start your business safely.
Almost as soon as states have begun allowing restaurants and retail stores to reopen their doors to at least some customers, COVID-19 cases have begun to rise. That's caused many mayors and governors to take a step back and close things down again. Among the businesses arguably most at fault for the rise in cases? Restaurants and bars.
By their very nature restaurants and bars are social gathering places, and alcohol lowers inhibitions. Both factors likely contribute to a lack of physical distancing among bar patrons and the potential spread of the coronavirus. So, how do you reopen and keep customers safe? Mobile bar carts can help spread the party atmosphere around, keeping customers farther apart, and even take the party outdoors where the virus reportedly is not as easily spread.
Bar carts come in a range of widths from 42 in. to 10 ft., and a wide variety of materials and styles from basic to luxe. Priced from about $1,400 to more than $10,000, you're likely to find one that fits your needs, style and budget.
Start at the Base
Where you plan to use your portable bar will help you determine the type of materials and construction to look for. The least expensive is wood construction with laminate finishes. If made well, these carts can be very durable if not treated too roughly and used indoors. They won't stand up well to outdoor use, especially if they get wet.
Wood construction is fairly common, though, and can be augmented with a steel base, and stainless interiors or exteriors and accessories for added durability. In fact, they can accommodate all manner of finishes for both the exterior and bar top, such as exotic wood and engineered stone. Look for furniture-grade plywood construction, not pressboard or particle board.
All stainless construction tends to be the most durable for indoor and most outdoor use. Even stainless, of course, can corrode if left uncovered in rainy weather, or if exposed to the salt air of oceanside communities. Here again, you have a wide choice of finishes for exteriors, interiors, bar tops, etc.
Perhaps best able to weather outdoor use are carts made of molded polyethylene or aluminum composite material. Both are highly resistant to corrosion, and the former even more resistant to dings and dents.
Trick It Out
Portable bars in their simplest form offer a work surface for bartenders; a service counter on which to place drinks, napkins, etc.; and storage areas for bottles, condiments, glassware and mixers. And that may be all you need, for example, if you're only pouring bottled wine, and bottled beer from a bus tub of ice.
More often, you'll want this auxiliary bar to be as self-contained as your main bar. Here are some features to consider:
ICE BIN. Look for an insulated, self-draining bin that removes ice melt and is easier to clean at the end of the night. Bar cart ice bins drain through a hose into a bucket or tank on some models, or through a hole in the bottom of the cart directly to a floor drain or the ground outside.
SPEED RAILS. Speed rails in stainless or polyform material provide an easily accessible place for well liquors that make pouring drinks more efficient.
INSULATED BOTTLE STORAGE. Some models come with insulated wells for storing bottles of wine or mixers.
SODA DISPENSING. Some carts are specifically engineered for post-mix or pre-mix soda dispensing, and have a cold plate in the ice bin, storage for CO2 canisters and syrups, and builtin soda lines.
STAINLESS DRAIN BOARD. Most often used for glassware storage, a stainless drain board helps ensure proper sanitation and drying of glasses that may have just come out of a dishwasher.
LOCKING STORAGE DOORS. Several makers offer doors on storage cabinets that can be locked, so carts don't have to be emptied between uses.
ELECTRIC SERVICE. Depending on the make and model, some carts can plug into electric outlets to provide power for undercounter LED task lighting, blenders, the water heater and pump for a hand-washing sink, soda mix system, or even an undercounter refrigerator.
Bar carts come in a range of widths from 42 in. to 10 ft., and a wide variety of materials and styles from basic to luxe.
How Big?
There's no hard and fast rule on what size bar will serve "X" number of people. Prepandemic, event planners often figured 100 people per bar per hour, and even then, a bar may need to be restocked at least once during that hour, depending on what drinks they have and how many. Here are a few factors to keep in mind:
NUMBER OF GUESTS. The larger the number, the more room you'll want for additional glassware and storage for mixers to minimize restocking.
TYPES OF DRINKS. Again, you're limited somewhat by storage, so the simpler your drink menu the better. If you have two seven-bottle speed rails, you can accommodate well liquor in one and premium spirits in the other. Unless you have a cart that plugs into electric service, your bartenders will have to make cocktails like margaritas and daiquiris in shakers.
TYPE OF BEER AND WINE SERVICE. Draft beer requires special carts (and electric service) to hold kegs and CO2. Bottled or canned beer is easier to serve, but you'll need a way to keep it cold (see "Accessory Carts" on Page 47). Wine is best poured from the bottle on most portable bars; bartenders can keep whites chilled in the ice bin, an insulated bottle well or a bus tub of ice.
NUMBER OF BARTENDERS. A 10-ft. bar cart will safely accommodate two bartenders with 6-ft. distancing. But if you need to serve customers in more than one location on the premises, go with smaller carts and one bartender each.
During the pandemic, safety and sanitation are key. Look for the NSF seal. Mobile bar carts that meet NSF sanitation standards are easier to keep clean. Some carts come with hand-washing sinks and built-in fresh- and gray-water tanks. Check to see how self-contained the stations are. Some may require electrical service for water heaters or pumps.
Accessory Carts
As self-contained as a mobile bar cart might be, a variety of specialty carts might make your portable bar more efficient.
• Ice chests. Insulated ice chests on wheels make restocking easy, and can double as coolers for beer, wine and other beverages.
• Refrigerated carts. Bottled beer coolers or glass-door display coolers are a great way to keep cold beverages on hand, but require electric service.
• Draft beer carts. Main beer station or backbar draft beer carts come fully equipped but require electric service.
• Utility carts. These carts are handy for storing racks of additional glassware and bus tubs.
---
Ready to Serve
Help guests gather safely using mobile bars. Suppliers offer various styles to suit different needs. Take a look.
[fer_legacy_gallery_bottom] [fer_gallery]