Taking You to The Edge at Auburn University
Auburn University's new dining hall boasts an efficient layout with a variety of platforms, featuring a tortilla maker, Mongolian grill and other specialty equipment.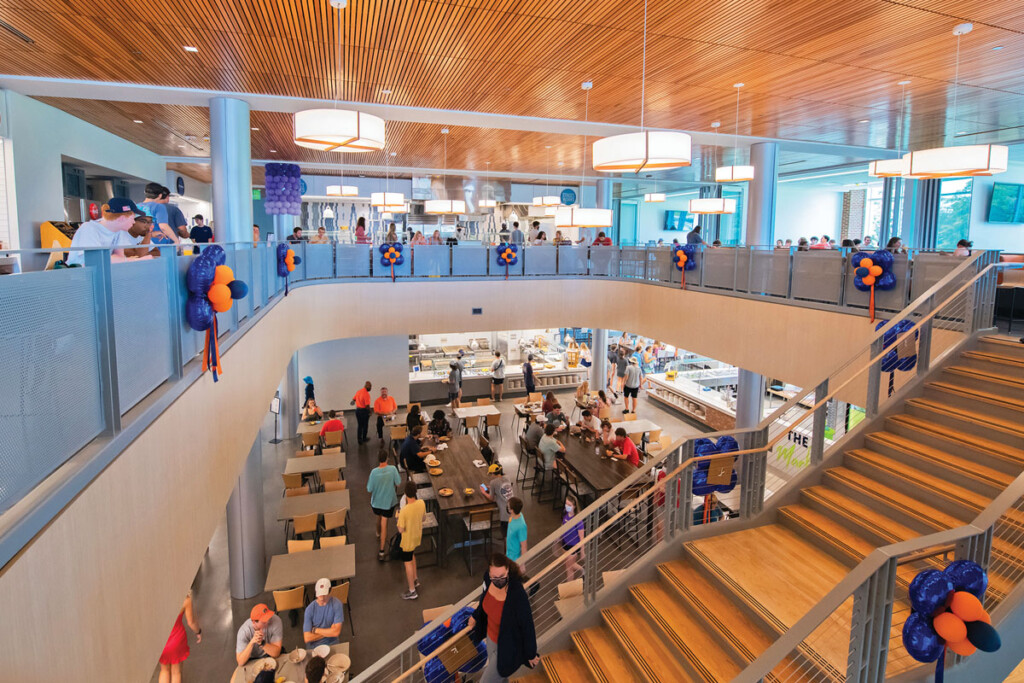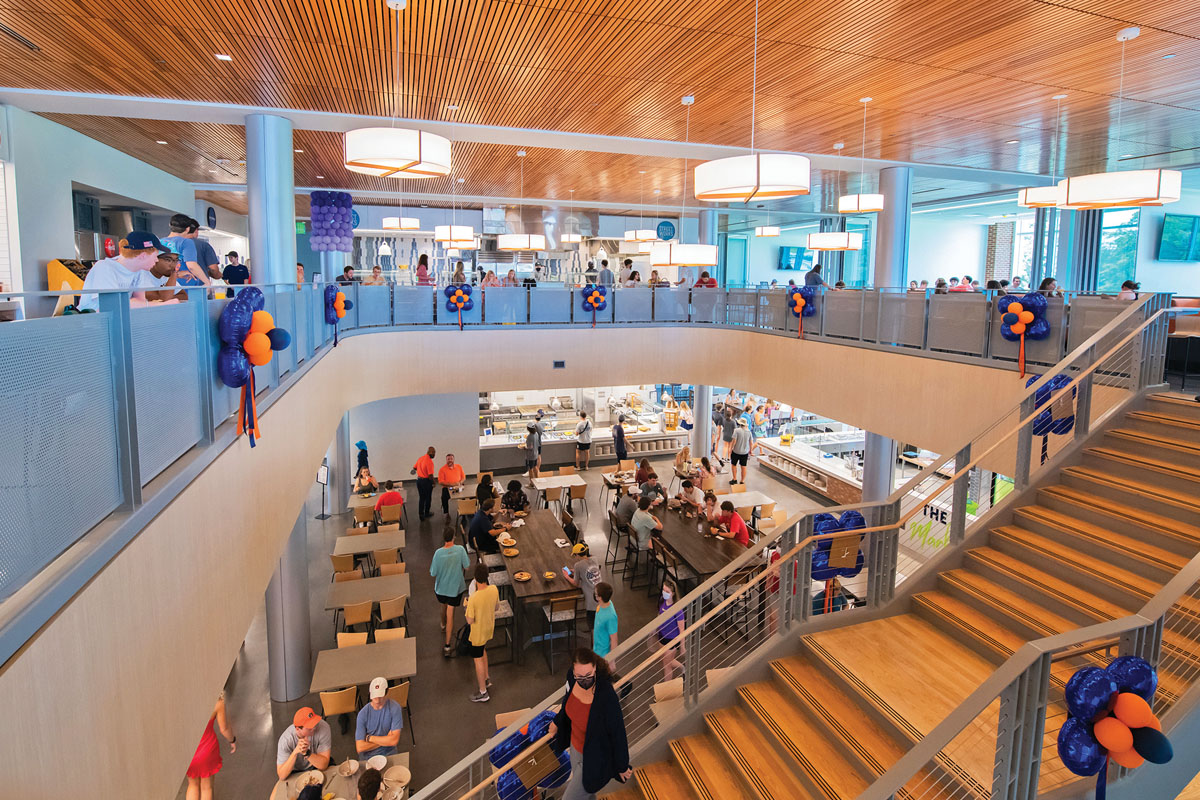 When it came to designing The Edge at Central Dining at Auburn University, Auburn, Ala., planners had their work cut out. For starters, The Edge's center-campus locale next to a future academic building meant volume would start high and get higher, making efficiency crucial. Further, the new building's footprint was relatively small, meaning foodservice operations would need to run vertical rather than spread out. Last but hardly least, the new facility would become Auburn's second meal-plan location, giving students a dining alternative to campus retail outlets such as Au Bon Pain, Panda Express or Panera. As such, the new facility needed to serve as a focal point for central campus, attract meal-plan diners, and offer a community-building space for meeting, studying and hanging out.
Less than a month after its August opening, the $26 million campus dining hall project is exceeding expectations.
"We have had a crazy reaction [from students]," says Glenn Loughridge, director of campus dining and concessions for the 30,000-plus student university. "We're serving on average 3,500 covers per day in The Edge. [This includes] participation from students with declining balance accounts used at our retail outlets." By contrast, 800 covers would be a good day at Auburn's first dining hall, the 450-seat Tiger Zone, located near the outskirts of campus and offering mainly dinner service.
Initial planning for the project, which Auburn University designed and built with input from Aramark, the university's contracted foodservice partner, began in 2017. Construction commenced in March 2020, shortly before the pandemic.
Creating the Layout
Given The Edge's tight footprint and expected volume, building vertically proved a natural solution. Planners kept two principles in mind for The Edge's servery design: visual unity and on-site support for each station and level.
"In the past, university serveries tended to follow a market approach that required people to go around corners to discover the various dining options," says John Birchfield, principal of Birchfield Jacobs Foodsystems, who served as the project's foodservice consultant. "For The Edge, we wanted a clear visual organization—clean sightlines so guests can see at a glance what food is offered at each station. From the main staircase, visitors can see all parts of the two-level servery."
The entire building, covering 65,600 sq. ft., is used for foodservice. The ground level holds a support kitchen, the main food storage area and warewashing.
On Level One, three freestanding platforms house five concepts: Urban Kitchen and Ignite, a pair of grill-centric stations linked by a small kitchen; Traditions, framed by beverages and desserts on either end; and The Market deli and salad bar, with glass-door reach-ins displaying fresh produce, some of which is grown on campus by the College of Agriculture's vertical gardens project. In Level One's center seating area, an atrium-style ceiling and grand staircase offer a preview of more dining options above.
Up on Level Two, four concepts spread across three platforms. There's True Balance, a self-contained concept dedicated to allergen-sensitive foods; Street Works, anchored by a tortilla maker; and Pizza and Twirl (pasta), which share a small kitchen.
The COVID-19 pandemic did influence the design. "We added additional hygiene and hand-washing stations just outside the restroom doors," says William Walker, assistant director of campus dining. "And we spaced out seating, reducing the planned seat count for the sake of physical distancing."
Center Stage
Maximizing views, optimizing off-peak operations and selecting key equipment all played roles in the design of The Edge.
Creating freestanding stations, versus running them along the outside walls, allowed designers to maximize window space. Challenges to this approach included "less wall storage and fewer places [for] graphics as well as how to position platforms to preserve sightlines," Birchfield says.
To optimize off-peak times, such as mornings, the department can close off the Level Two concepts. "Students can get their breakfast from Level One and then sit upstairs if they choose to," Birchfield says.
Four key pieces of equipment, inspired by Loughridge and Walker's visit to The NAFEM Show in 2019, shaped various concepts and now serve as focal points. These include a pizza conveyor oven made in Italy, a fresh pasta maker, the tortilla maker, a round Mongolian griddle and a char grill with a flame feature.
The Italian-made pizza conveyor oven, a double-stacked unit featuring a belt made with "refractory stone fillets" (i.e., baking stones), can turn out up to 48 16-inch pizzas per hour, Loughridge says. "We really wanted to elevate our pizza experience which means baking it on a stone, but we were also concerned with keeping up with production, which is why we opted for a conveyor-style oven," Loughridge says.
Sitting next to the pizza conveyor oven is the pasta maker. This unit mixes the dough then extrudes it in selected pasta shapes, at a rate of about 30 lb. of pasta per hour. The fresh pasta cooks in front of guests at a separate unit. "In retrospect, we could have probably used two pasta makers for this station," Loughridge says. "Pasta is always a hit."
As for the tortilla maker at Street Works, "Students love their food trucks, and this piece of equipment lets us replicate the street market feel. Plus, tortillas lend themselves to so many types of handhelds," Loughridge says. "There's a fun video series called 'Will It Taco?', where tacos are paired with some crazy things. We're going to try that later in the semester—we'll put tortillas at different stations throughout the dining hall and allow students to tell us what foods 'will taco.'"
At Urban Kitchen, the round Mongolian griddle produces stir-fried foods. "In the mornings, we use this for omelets," Loughridge says. On the Ignite side of the same platform sits the custom char grill. This unit draws attention with its flame feature, tilting cook surface and the ability to switch between grates and griddles.
In the Back-of-House
Each level comes with its own back-of-house support space in the form of cold and dry storage areas and warewashing. "The elevators, which are shared by kitchen staff and guests, open onto the back-of-house rather than the front," Birchfield says. "That gives a landing spot for food and supplies closest to storage areas."
Both warewashing areas include a place to drop dishes. "Our thinking was that students would not want to move their trays and plates up or down the staircase. Servery-level dish areas allow a more gracious ending to their dining experience. And it likely saves on labor, too," Birchfield says.
Each platform includes an undercounter dishmachine as well, saving employees time and also keeping smallwares where they belong.
Looking ahead, the department will continue to expand. "We will increase seating to bring us to 850 seats indoors and 50 seats outdoors, add two retail venues on the ground floor, fine-tune equipment placement and do our best to find space for a second soft-serve ice cream machine," Loughridge says.
FACTS
The Edge at Central Dining
Auburn University
Auburn, Ala.

MENU/SEGMENT: College and university
OPENED: August 2021
SIZE: 65,600 sq. ft. across three levels
SEATING: 800 seats
EQUIPMENT PACKAGE: $2.46 million
AUBURN UNIVERSITY: Whitney Brock, interior designer; Glenn Loughridge, director of campus dining and concessions; Bradley Prater, design and construction; William Walker, assistant director of campus dining
ARAMARK: Michelle Crowe, resident district manager; Ben Hernandez, regional culinary director, south region
FOODSERVICE CONSULTANT: John Birchfield, principal, Birchfield Jacobs Foodsystems, Baltimore
ARCHITECT: Perkins and Will, Atlanta
DEALER: TriMark, Atlanta
GENERAL CONTRACTOR: Rabren General Contractors, Auburn, Ala.
WEBSITE: auburn.campusdish.com
SERVERY EQUIPMENT
Urban Kitchen, Ignite
• Jade/Middleby round griddle
• Char Products gas charbroiler
• Town rice cookers
• True u/c refrig., reach-in refrig., pass-thru refrig.
• Alto-Shaam holding cabinet
• Frymaster/Welbilt fryer
Traditions
• Vulcan/ITW FEG range, countertop griddle
• Frymaster/Welbilt fryer
• Alto-Shaam combi oven, carving station
• Winston proofer cabinet
• True u/c refrig., reach-in refrig., refrig. base stand
• Taylor/Middleby soft-serve machine
The Market
• Robot Coupe food processor
• John Boos butcher block table
• Alto-Shaam holding cabinet
• Vollrath induction rethermalizer, hot/cold wells, panini press
• Structural Concepts cold display case
• True sandwich prep table
• BSI food shields
• TurboChef/Middleby oven
• Hubert bread display
Street Works
• BE&SCO tortilla maker
• Winston oven, proofer cabinet
• Vulcan/ITW FEG griddle, convection oven, tilting skillet, 2-burner range
• Frymaster/Welbilt fryer
True Balance
• Vulcan/ITW FEG countertop griddle, 4-burner range
• True reach-in freezer, refrig.
• Alto-Shaam combi oven
Pizza, Twirl
• Italforni pizza conveyor oven
• Proluxe pizza dough press
• Arcobaleno pasta maker
• Pitco/Middleby pasta cooker
• CookTek/Middleby ranges
• Hatco heat lamps
• True pizza prep table, worktop table, roll-in refrig.
• Alto-Shaam oven
Throughout
• Vollrath cold food wells, food shields, heat lamps, heated shelves
• Hobart/ITW FEG u/c dishmachines
• Eagle work tables, hand sinks
• Follett/Middleby ice machines
Warewashing
• Salvajor disposal system
• Power Soak/Unified Brands power sink
• Aerowerks conveyor table, clean dish table
• Hobart/ITW FEG conveyor dishmachine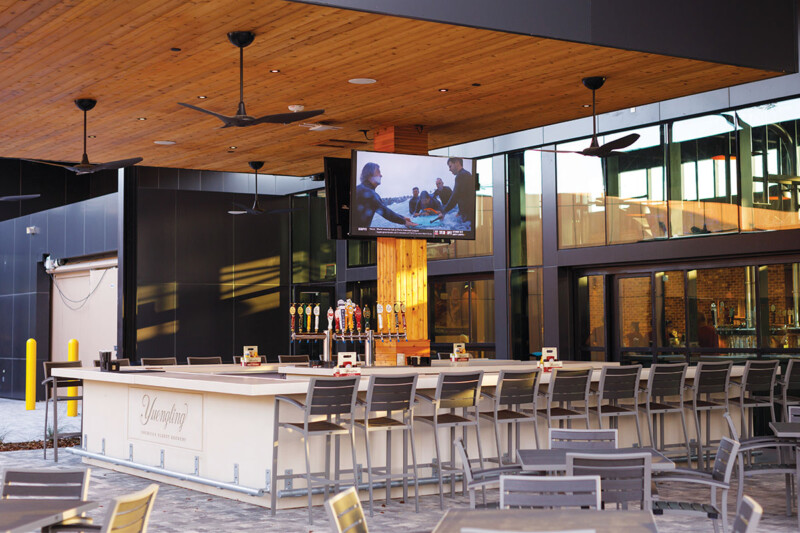 Kitchen Design
Designing a 42,000-square-foot, 800-seat entertainment and dining space centered around beer posed challenges and opportunities.