PRODUCT GALLERY: Sanitation
ECOLOGIC SOLUTIONS
Electro-chemical activation (ECA) devices from EcoLogic Solutions allow users to create their own detergents and sanitizers/disinfectants on-site using only tap water, salt, and electricity—environmentally preferable compounds that are non-toxic to humans and aquatic life, work better than their chemical-based counterparts (ECA sanitizers are up to 70 times more effective than bleach), and cost less than a penny per gallon to produce. For the foodservice industry, EcoLogic Solutions' devices provide a healthy and economical alternative to a wide variety of restaurant applications, everything from replacing dishmachine detergents to mopping floors to sanitizing surfaces and dishware, to washing produce. EcoLogic ECA devices come with 24/7, in-person technical support and a full range of sustainable products.
EcoLogic Solutions
ecologicsolutions.com
MVP GROUP CORPORATION GO3
The GO3 system is an organic, certified chemical-free sanitation solution that has been approved by the FDA since 2001. GO3 ozonated water system produces pure, highly concentrated ozone indirectly from any municipal water source and results in a true sanitizing solution. Using ozonated water for washing food and surfaces kills bacteria and parasites and decomposes pesticides on the food surfaces, slowing food decay, extending shelf life and helping prevent food-safety-related hazards. It also is a great supplemental process for washing hands and sanitizing food prep areas and is a quick surface and tool sanitizer to help reduce cross contamination. GO3 systems are compact and come in many styles, including wall-mount, mobile cart and a unit for ice machines. Water (H2O) is electrolyzed to O3 and leaves nothing but oxygen (O2) as a byproduct. GO3 generates a high concentration of ozonated water, ensuring most effective disinfection performance. Generator is guaranteed for 2,000 hr. in all operating conditions.
MVP Group Corporation
mvpgroupcorp.com
FRANKE ECO3 ICE
A revolutionary new diamond electrolysis technology turns the ordinary incoming water for an ice machine into a powerful, natural sanitizer. The Franke Ice Sanitation Technology continuously treats the water supply to kill viruses, bacteria, yeast and mold at every stage of ice production, even within the ice bin itself. The small unit attaches easily to the water supply line of most ice machines rated at up to 2,500 lb. of daily production. It dramatically reduces the frequency of laborious and messy ice machine cleaning, cuts the risk of foodborne illness and removes unpleasant tastes and odors from ice. An operator-replaceable, "twist-on" diamond electrolysis cartridge lasts up to 12 months. An indicator lamp tells the operator when to return the cartridge for an exchange unit.
Franke
franke.com
HOSHIZAKI ROX SYSTEM
The ROX-20 salt/water electrolyzer, a compact remote system that measures about 12-in.H x 11-in.W x 16-in.D, operates on demand, through a faucet or into an optional storage container. Unlike some other systems, the ROX produces equal volumes of both detergent cleaner acid sanitizer, each at a rate of about 2 ltr./min. Producing both, Hoshizaki notes, is useful for a one-two process of washing first to break down fats and acids and then sanitizing. The cleaner is rated at less than 3 pH, and the sanitizer is rated at more than 10 pH, values that allow washing and sanitizing a wide variety of items from foods to hard surfaces.
Hoshizaki America, Inc.
hoshizakiamerica.com
STERILOX FRESH SYSTEM
The Sterilox Fresh System generates an eco-friendly, food-safe sanitizing solution from water, salt and electricity. Preparing raw, ready-to-eat products in-store provides significant quality benefits and value to retailers but can pose significant risk if done incorrectly. Sterilox Solution kills harmful pathogens and spoilage organisms to enhance the shelf life and quality of fresh produce, minimizing the food safety risk. Retailers use the Sterilox Fresh System on fresh produce for crisping and misting before storage and while cutting fruit to reduce the risk of cross contamination to protect their customers and their brand.
Sterilox
steriloxfresh.com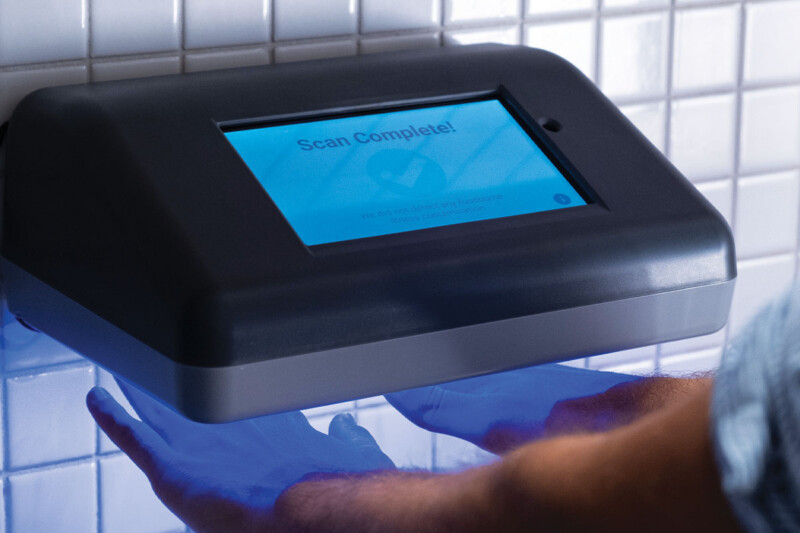 Equipment
These high-tech sanitation devices aim to offer added defense against viruses and other contaminants.