Features
Kitchen Design
Naval Victory
A temporary kitchen at the U.S. Naval Academy in Annapolis, Md., installed in a tight, 78-day timetable, not only kept cadets fed while their mess was overhauled, it paved the way for the school's foodservice program to switch cooking modes for the first time in decades. Cooks working in the temp facility essentially trained on the equipment that would take academy menus away from deep-fat fryers and huge volume production methods to newer technologies and into a healthier approach to cooking before the renovated facility even opened.

The 38,350-sq.-ft. temporary kitchen offered the answer to how best to feed the academy's 4,500 midshipmen three times a day, five days a week, until the historic King Hall galley—built in 1952—could be gutted and renovated. Typically, the midshipmen have 20 min. to eat, family style.

General contractor Barton Malow, Chicago, introduced Kitchens To Go (K-T-G, Built by Carlin Mfg.), Naperville, Ill., specializing in mobile and modular kitchen solutions for a variety of foodservice operations, to the project. The academy welcomed the K T-G solution after it passed on several other temporary feeding options, including an aircraft carrier and daily catering.

The company worked closely with Birchfield Jacobs Foodsystems, Baltimore, the foodservice consultant involved in renovating King Hall. Bob Jacobs, FCSI, lead designer and principal, recalls discussing more advanced food technologies with USNA foodservice personnel, seeking to guide them away from reliance on huge batch-production equipment and fryers and proposing a cook-chill-retherm system that would enable smaller, fresher and more frequent batch cooking, as well as combi ovens and braising pans.

"The client agreed to the new approach not only for the permanent kitchen, but for parts in the temporary kitchen as well, and it helped tremendously to get cooks up to speed on some of the new equipment, such as the combi ovens," he explains.

Shelter Solutions

The temporary facility was designed to fit in two courtyards on the USNA campus, East and West Smoke courts adjacent to King Hall. It comprised a code-compliant Sprung tension-membrane structure equipped with a full utility package, HVAC system and insulation, which served as the base of the temporary facility. Under the aluminum-framed membrane, K-T-G housed receiving, staging, cold and dry storage, day issue and preparation/panning space for 14,000 daily meals, says Ralph Goldbeck, AIA, partner in K-T-G. "That was the Erector Set part of the job."

Storage areas were equipped with palletized shelving, three racks high, to meet a seven-day inventory requirement to shelter in place. Connected to the Sprung unit, a series of 12, 12-ft.-by-56-ft. modular kitchen units housed cooking areas, cart storage, diet offices and, on the other side of a huge courtyard tree, pot and warewashing modules.

While staff could travel through doors from module to module, K-T-G incorporated an enclosed corridor around the perimeter of the entire temporary facility to ease flow and access, as well.

The cooking and panning modules included four clamshell griddles, a dozen roll-in combi ovens and six 80-gal. steam kettles, among other equipment. The two pot and warewashing modules were equipped with flight-type machines.

In the West Smoke courtyard, K-T-G constructed a separate 7,000-sq.-ft. complex for administrative offices and locker areas for the foodservice department heads and support staff. Creating as nice a working environment as possible during a stressful renovation was an important component of the project, Goldbeck says. "We had to make it as easy as possible for the staff to supply, produce and serve those 14,000 meals a day efficiently."

The straightforward design of the entire temporary facility was a pleasure to work in, says Dave O'Malley, foodservice director for the U.S. Naval Academy.

In the modular environment, he adds, the chefs were able to interact one on one because the space was much more compact than King Hall's dated, 67,000-sq.-ft. galley. The workflow was more efficient, according to O'Malley. "Cooks could see each other in the temporary facility. Working in the modular kitchen after working in the old kitchen was like going from night to day," he says.


Construction Challenges

While Barton Malow and K-T-G were in the midst of construction, Maryland was hit with three record blizzards, a rarity for the area. Even with the temporary modules stored off-site at the USNA's stadium, K-T-G was able to move them in place and press ahead with the project.

"Our schedule was so tight, so we wound up putting up the tradesmen in nearby hotels and working double shifts. It was definitely a challenge. We shoveled and plowed a lot of snow," Goldbeck says.

"Despite the awful weather and logistical issues that the three blizzards caused, our crew thrived on the challenges of this project, and we were immensely proud of the finished product," adds Scott Kroll, K-T-G project manager.

A New Approach

The temp kitchen gave cooks a chance to learn how to produce food on equipment they'd not used before but that they would use in the new King Hall—in effect providing a training environment that would let them hit the ground running when the new, permanent kitchen opened.

In the old galley, cooks used 200-gal. vats to produce sauces, soups and stews, and quality was inconsistent, O'Malley recalls. "With a different cook making the items each time, each would want to add his own touch, add a little of this spice or that. The quality would be different each time." Standardization is part of the new menu plan and was practiced in the temporary kitchen.

The old galley also had two "monster deep-fat fryers," which the modular kitchen eliminated in favor of the combi ovens. Cooks can achieve an entire range of finishing results, from steamy soft to roasted to crispy, with the combi oven programs. The combis used in the temporary kitchen were transferred to the new galley after that construction was complete. "We've come a long way," O'Malley says.

With fryers out and combis in, he asked a group of midshipmen to help evaluate new menu items developed to replace previously fried items, testing, for example, some 20 different chicken items including Buffalo-style chicken wings, a favorite. Despite the switch from fryer to combi, students shared their opinions about certain "fried" items, even though nothing had actually been fried. The shift to combi ovens, O'Malley adds, gives the staff more menu options than ever before.

The temporary kitchen essentially served two purposes for the USNA. "We were the only source of food for some 6 million meals over the course of 18 months," Goldbeck says, and the temp kitchen was an ideal training center to bring cooks up to speed on how to produce a new, healthier, better-quality menu for dedicated young cadets.
---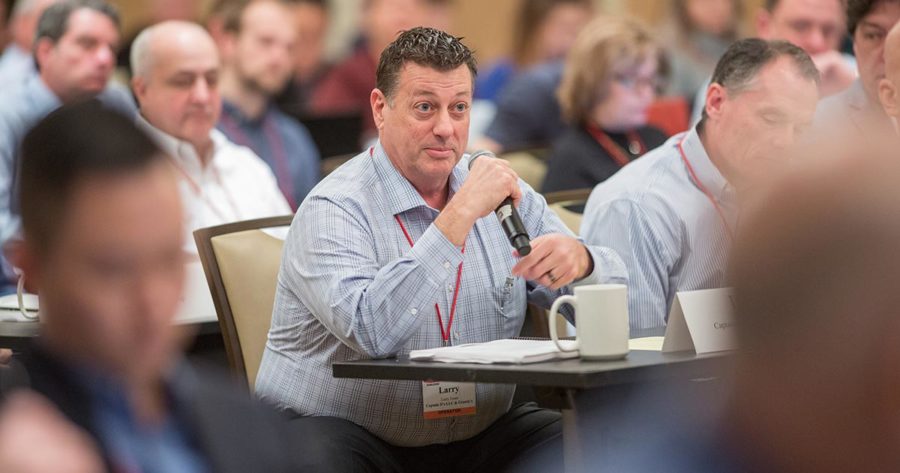 Advance Your Knowledge of Foodservice Equipment Technologies at MUFES
MUFES is a one-of-a-kind event for foodservice equipment decision makers from multiunit chains and noncommercial facilities.