CUBES OF SHINING LIGHT
Acrylic Frosted Cube Risers from American Metalcraft bring drama to any buffet. Throw in some special lighting and the table looks even more dramatic. Using the LED light, you can illuminate and stage the Cubes as risers for a sophisticated evening atmosphere at banquets, buffets and special events. Or use the Cubes as containers, to hold silverware settings for buffet service, or to serve breadsticks, snacks or sandwiches. The Cubes shine in any daypart capacity. Frosted Cube Risers are available as a three-piece set, in heights of 5", 7" and 9".
American Metalcraft 800/333-9133 amnow.com
NO SKIDDING—TRAYS YOU CAN TRUST
Non-skid Camtrays from Cambro provide a better grip for safer tray service and meal delivery, reducing slips and spills and putting the brakes on waste. The trays feature a non-skid, heat-resistant surface that safely holds items in place—no mat or liner required. Operators currently using tray mats or liners can save thousands of dollars annually while reducing their operation's waste-stream. Non-skid Camtrays are available in a selection of neutral colors in 14" x 18" and 15" x 20" sizes in classic Camtray; low-profile Dietary Camtray; and ergonomic Century Camtray styles. All Non-skid Camtrays come with a 2-year warranty.
Cambro Mfg. 800/854-7631 cambro.com
LOOKS LIKE CHINA, BUT BETTER FOR ENVIRONMENT
Be kind to the environment with Carlisle FoodService Products' recently introduced line of melamine dinnerware. Balsam Displayware is made from 50% sustainable natural resources, providing operators with a more environmentally friendly option to traditional displayware. The dishes' weight and Bavarian Cream color give the impression of real china—minus replacement costs. Use Balsam dishes in settings where food is prepared and displayed in front of the customer. Food can also be plated in advance and stacked for transportation when the dishes are used with Palette Displayware Covers. The dishes are break-resistant and safe for temperatures up to 212°F. Offerings include full-size, half-size and third-size pans, along with angled and square bowl options. NSF listed and dishwasher safe.
Carlisle FoodService Products 800/654-8210 carlislefsp.com
DISHWASHER HIGHS AND LOWS
CDN's new multi-purpose Dishwasher Thermometer ensures that foodservice dishwashers are indeed reaching the ideal temperature to sanitize dishes. The bright yellow tool features a Min/Max setting that records high and low water temperatures during the dishwasher cycle. This same feature can also read high and low food temperatures by measuring several areas of a single dish. The thermometer's fast, accurate temperature readings are accompanied and supported by its IPX4 waterproof rating. A clip keeps the thermometer attached to a pocket or apron for easy access, while a safety sheath protects the stainless steel stem when not in use. The meter comes with a 5-year warranty. Dishwasher temperature range: 14°F to158°F; cooking temperature range: 14°F to 428°F.
CDN 800/338-5594 cdn-timeandtemp.com
A THERMOMETER THAT GELS
Ever wonder what the real temp of your refrigerated/frozen food is? Cooper-Atkins' new ColdStik thermometer gives you a new way to gage that. The tool uses a sensor within a silicon-based gel that cools much the same way food product does. Undisturbed by momentary fluctuations in ambient temp, the NSF-listed ColdStik gives you a more accurate reading of internal temps in your frozen and refrigerated food items, hence helping you improve quality, reduce spoilage, etc. It also helps you diagnose cold and warm spots in your refrigeration caused by poor air circulation, faulty equipment or door openings. Another plus: At-a-glance reading. Temperature range: -40°F to 100°F.
Cooper-Atkins 860/347-2256 cooper-atkins.com
FINE TABLEWARE, LOW CARBON FOOTPRINT
Dudson's latest tableware collection, Evolution, features an environmentally friendly footprint. The production process puts out 79% less carbon than manufacturers of equivalent porcelain products, according to research conducted by Endeka Ceramics. The 17 pieces in the Evolution collection all come with a 100% lead-free "ThermEco Glaze" and a lifetime edge chip warranty (although certain conditions apply).
Dudson USA 919/877-0200 dudson.com
WEIGH AHEAD OF THE GAME
Edlund's new DFG Series Precision Portion Scale offers everything operators have been asking for, and at an extremely reasonable price point. The scale's features include increased corrosion protection, larger standard and oversized platform options, NSF certification, dual-voltage power supply, larger LCD display, and decimal ounce, fractional ounce or gram readouts. Choose from the standard 6" x 6¾" removable stainless steel platform or the optional 10" x 7" platform. Operates on a 9-volt battery or with a UL/CUL/CE-approved AC power supply. The power jack plug provides corrosion protection when batteries are used.
Edlund Co. 800/772-2126 edlundco.com
BOLD SERVINGWARE
Nourish your guests' appetites and senses with G.E.T.'s new Santa Lucía servingware series. Hand-painted in bold blues and yellows on a white ironstone-style background, Santa Lucía's unique, artisan design is the perfect complement to fresh, hearty, flavorful dining. Choose from several artfully crafted shapes—including ovals, squares, rectangles and round bowls—in a wide ranges of sizes to create the perfect food display. The servingware is made of NSF-listed, break-resistant, commercial dishwasher-safe melamine.
G.E.T. Enterprises 713/467-9394 get-melamine.com
A PINEAPPLE CORER WITH A-PEEL
Nemco has introduced its latest food-prep innovation—the Easy Pineapple Corer/Peeler, ideal for operations that use pineapples for salad bars, hams, pizza toppings and more. Save time by coring and peeling an entire pineapple in one smooth, cutting stroke. The unit reduces food waste with a cutting tolerance that removes only the core and shell. A locking mechanism safely holds the handle in the "up" position while the user loads the pineapple. Suction cups on the feet hold the unit firmly in place. The Corer features sturdy stainless steel and cast-aluminum construction, and is easily disassembled for cleaning. The unit stands about 20" high with a compact 12" x 14" footprint.
Nemco Food Equipment 800/782-6761 nemcofoodequip.com
SMALL SCALE, BIG STRENGTH
Ohaus has introduced the Valor 3000 Xtreme line of Compact Precision Scales. The portable battery-powered scales are USDA-AMS accepted, NSF-listed and capable of supporting a HACCP-certified system. The Valor 3000's SmarText user interface has a bright backlit LCD and simple text prompts to guide users through application use and scale setup. The scales include overload protection rated at 10-times capacity, making them ideal for environments where weight capacity is frequently exceeded. Stainless steel housing and removable weighing pans make them durable and easy to clean. For wet applications, you can opt for full NEMA 4X/IP65 water-resistant models. The scale's QuadraStance base features four wide adjustable feet so the scale remains secure and slip-free during operation in any condition or on any surface.
Ohaus Corp. 973/377-9000 ohaus.com
CUTTING FOR ALLERGEN-SENSITIVE GUEST?
Reduce operator risk and liability by creating a temporary allergen-free food prep area with the purple Allergen Saf-T-Zone Cutting Board, introduced by San Jamar. The Purple Board is designed for one-time use (the board should be washed after each use) to prepare food for customers with food sensitivities. The board's unique color alerts staff to create an allergen free environment. Purple Board features include embossed symbols highlighting common food allergens; built-in hook for transport and storage; sturdy, warp-resistant co-polymer construction; and integrated anti-slip grips on the corners to keep the board in place during use.
San Jamar 800/248-9826 sanjamar.com
TO HAVE AND TO HOLD MANY BOTTLES
Keep sandwich stations neat and dressings upright and ready to use with Server Products' new eight-bottle Squeeze Bottle Holder. The stainless steel unit was designed with cold tables in mind, and has the footprint of a third-size hotel pan. The unit comes with eight refillable bottles. The bottles are suspended in a basket that permits cold air to circulate, allowing better cooling for condiments or sauces. Smaller units, holding one, two or three squeeze bottles, are also available.
Server Products 800/558-8722 server-products.com
FOILED AGAIN, WITH SAFETY AND STYLE
Sleek and contemporary, TableCraft's new Kenkut Foil and Film Dispenser is perfect for front-of-house, open kitchens or sushi bars. The dispenser design lets you choose between using a safety metal blade or a slide cutter. The unit holds 12" to 18" rolls of film or foil of up to 3,000 ft. long. The Kenkut eliminates cross-contamination from unsanitary, soiled or soggy cardboard cutter boxes, while reducing waste by letting you use 100% of the film or foil roll.
TableCraft 800/323-8321 tablecraft.com
CHROME TRAYS FEATURE GADROON EDGES
Update Int'l. has introduced a new line of sturdy chrome-plated serving trays. The trays feature an attractive embossed surface with traditional gadroon edges—that is to say, edges embellished with a continuous pattern of fluting or reeding. The timeless design makes these trays good for catering, buffet and table service needs. The trays are available in oblong, octagonal, oval and round shapes, in a variety of sizes.
Update Int'l. 800/747-7124 update-international.com
WHITE WINE AERATION HERE
Attention, oenophiles, especially those partial to whites: Vinturi has debuted its award-winning Vinturi White Wine Aerator, calibrated to offer white wine the proper amount of aeration needed to bring forth flavors. The accompanying Vinturi Tower White holds the device at the right height for the pour. Great for restaurants, bars, hotels and casinos, the aerator's construction combines sturdy white casing and a clear acrylic body. The two units can be purchased individually or as part of a seven-piece set that also includes a tower base, no-splash grate, sediment filter, no-drip stand and travel pouch.
Vinturi 877/846-8874 vinturi.com
SOMERSET BUFFET SERVICE SETS NEW LEVEL OF STYLE
From Vollrath Co. comes the Somerset Buffet Service, a stylish new offering that combines durability, functionality and quality craftsmanship. Somerset's mirrored stainless steel finish and unique accents adds an upscale feel to any décor. The buffet service has three components: a fully retractable 9-qt. rectangle chafer with a 3-position dome cover, a 7-qt. soup urn and a 4-qt. gravy/sauce urn. Of note is the chafer's improved hinge design that needs only moderate force to change from a closed, 90-degree or fully-open position—and it operates with no levers or switches. The units come with guards that shield fuel from wind for outdoor use and for more attractive presentations.
Vollrath Co. 800/624-2051 vollrathco.com
ONE-TOUCH PEPPER/SALT GRINDER
William Bounds marries precision and style in its battery-operated Stratus Mill. The sleek design and precision grinding makes adding flavor to any dish easy and stylish. A light on the bottom illuminates food during operation so you can monitor grinding progress. The mill can be operated with one hand: just pick it up and press the button on top. Brushed stainless steel housing surrounds a fully-adjustable ceramic mechanism for precise milling, from fine to coarse. An acrylic window in the body of the mill showcases the salt or pepper while indicating fill level. The Stratus Mill stands 8"-tall and uses six AAA batteries.
William Bounds 800/473-0504 wmboundsltd.com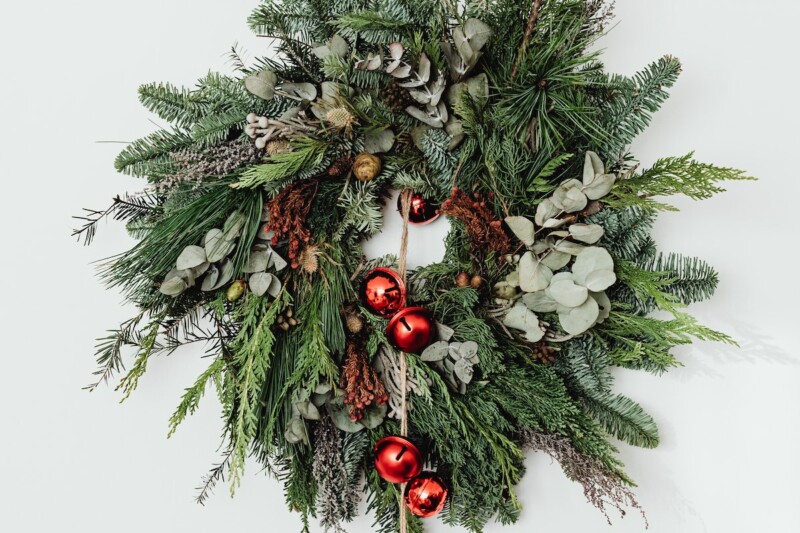 Uncategorized
Very best wishes for a safe and happy holiday season and a prosperous year ahead.