There's something magical about watching a talented cook prepare a vegetable stir-fry or flame-grilled burger in front of you. Red peppers and broccoli florets sizzle in the wok; the flame of the grill reaches up to surround the freshly-formed patty. Now more than ever, customers want to participate in the culinary experience. Operators and consultants responded by breaking down walls between the back-of-house and dining rooms and designing open display kitchens.
"Display kitchens allow customers to see that the food is fresh and that employees are preparing it in a safe, caring way," says John Birchfield, FCSI, Principal at Birchfield Jacobs Foodsystems, Baltimore. Across all segments, from fine-dining establishments to quick-service restaurants to healthcare and higher education serveries, display kitchens dominate design.
Costel Coca, Design Principal at Webb Foodservice Design, Tustin, Calif., says, "On our university projects, exhibition cooking isn't even a question anymore, it's the baseline. We're now starting to get a lot more K-12 projects asking for exhibition cooking—operators who traditionally relied on back-of-house kitchens. With open kitchens, students have a better connectivity to the culinary process.
"But designing open kitchens presents challenges. Consultants are faced with creating a kitchen that's operationally efficient and visually pleasing, not just in the interest the food preparation generates, but in the ability for employees to keep it neat and clean. Planning the menu concept, specifying the right equipment, thinking through utilities and ventilation requirements and paying attention to details will lead to a winning design.
Concept To Equipment
There are as many versions of display kitchens as there are designers. But generally, consultants start by defining the menu concept, and then specify supporting equipment, organized by the most exciting, theater-like pieces upfront near customers and the prep and warewashing workhorses further back. Manufacturers have stepped up by building stunning, quality equipment, from color-coated ranges to refrigerators with curved edges for a less-institutional, boxy look.
"One of the biggest mistakes is designing a kitchen without knowing your menu concepts and what you want to prepare out front because that makes a big difference in getting the right equipment and the right layout," says Carolyn Ruck, Principal at Ruck-Shockey Associates, Truckee, Calif. "And build flexibility into your program so that you can change concepts. Some operators will build big kitchens without really knowing what they want to do and then they're limited."
If you have only minimal space in the front-of-house, you'll need to decide what part of your menu to focus on closest to the customer. Do you want to highlight a build-your-own pizza bar with a hearth oven or is Asian food a big draw and you'll need a stir-fry station with customer-facing wok induction cooktops?
Reggie Daniel, FCSI, CHM, MCFE, Design Director at Atlanta/Charlotte, N.C.-based Camacho, says, each concept presents different challenges. "Burger joints, pizza places, fine-dining restaurants—they all have their quirks that you have to keep in mind when you're putting the kitchen together. In many cases, you have to take something that's bland and make it exciting. You want the guys who are flipping the dough up in the air and then catching it, not putting it into a press and then into a conveyor oven—otherwise you may as well do it behind a wall because there's nothing sexy about it."
If you have ample front-of-house space or if customers can view the entire kitchen, designers have ways of creating focus on the action stations and minimizing sightlines to the less romantic but necessary tasks.
To hide tasks, "We often use partial walls or tall equipment, such as interesting-looking storage racks holding whisks and spoons, not just sheet pans, to downplay the back area and draw guests' eyes to where you want it to be—on the cooking equipment," says Pamela Eaton, FCSI, LEED AP BD+C, Regional Manager at Cini-Little Int'l., Germantown, Md.
Conveniently, employees rely on the more action-packed equipment—cooking suites, electric griddles, gas-fired grills, hearth ovens—for the finishing and final assembly, which plays well into the operational flow of the kitchen. Food flows in from the back, employees bulk prep or bulk cook it and then move it to the front and into undercounter refrigerators or refrigerated drawers. (Food always flows forward and out.) Ideally, all ingredients needed for a meal period are within arm's reach of the cooks finishing the dishes.
Also related to operational flow, Armand Iaia, FCSI, Regional Manager at Cini-Little, suggests planning a convenient location for servers to pick up hot and cold foods. The pick-up area needs all the extras, including flatware and condiments, and must be out of the customers' circulation path. Generally, the hot-food pick-up station has heat lamps, which can block sightlines to the chefs if not planned well. Try to locate the pick-up area off to the side.
In today's market, you'll find manufacturers offer more elegantly-designed equipment than in the past. "Clients are paying for a stylistic look to the equipment whereas maybe 10-12 years ago, they would've considered the piece more of a commodity, easily replaceable—almost disposable," Birchfield says. "But with the stylization comes cost. Be careful of how you spend your money so you're doing it in key locations where it will really make the operation pop."
Consultants offer a few tips when choosing display-kitchen equipment: Avoid hot equipment with high backs facing customers; they won't be able to see the action. (Sounds obvious, but it's missed on a lot of projects.) On cooklines, put in for interconnected equipment versus multiple brands with varying heights.
Keep equipment as low profile as possible across the kitchen; you want the focus on the chefs. For example, opt for refrigerated bases versus tall refrigerators. And consider mobile equipment, which is easier to clean around and underneath. Certain prep equipment has a place in display kitchens too; add a slicer at a deli, for instance, so employees keep productive.
Cooking Power
Designers often add heavy-duty cooking equipment along the back wall of a display kitchen to accommodate utility lines and ventilation requirements. (Back-wall hoods run more efficiently than island canopy hoods.) This layout also adds depth to the kitchen. Opposite the cookline, designers might add a chef's counter where cooks turn, face customers and finish dishes. Beyond that, closest to the customer, they'll add anywhere from a simple serving counter to a low-profile display-cooking station, boasting electric griddles with downdraft ventilation or wok induction cooktops, for example.
"We're adding a display-cooking station at a small college right now and we're not going to put in gas burners because of the hood implications," says Scott Reitano, Principal, Reitano Design Group, Indianapolis. "We're adding induction burners because they require less infrastructure and are versatile." Electric induction burners in light applications often don't require hoods; check local codes.
But while induction equipment has advantages, several consultants agree, many clients still prefer gas-fired models because of the flames, which draw attention. Eaton says, "There's a growing acceptance of induction equipment…but gas-fired pieces are still king."
To add heavy-duty cooking equipment, designers may rely on island cooking suites, instead of or along with back-wall cooklines, because they can run utilities through a centrally-located chase. Eaton says cooking suites are some of her favorite pieces of equipment to add to a display kitchen because of the clean sightlines and high-end finishes, such as brass, copper or high-polish stainless. But she runs into challenges when clients request cost reductions because the rest of the building comes in over budget. (Cooking suites can run $250,000.) Fabricators can sometimes step in and build a custom, stainless "surround" around freestanding equipment to make them look like a suite at a lower price point.
Plenty of projects, however, challenge designers to find ways to run gas lines to less than ideal locations, such as an island counter. Coca says, "On one project, we built a sidewall (measuring 6-in.W x 48-in.H) to the cooking station to allow us to get a gas line closer to the equipment without totally losing the feeling of an exhibition space—a risk you run once you start adding walls." On another project, at the SAS Institute, Cary, N.C., Daniel ran Ansul fire suppression lines from the back wall, under the floor and up through the front edge of a front-facing cooking counter to enable employees to face customers while preparing menu items.
Pay careful attention when specifying ventilation hoods in a display kitchen. Birchfield says, "Large hoods can sometimes generate a lot of white noise. One way to meet this challenge is by using on-demand ventilation or hoods with low airflow, which can reduce not only the sound coming from the hoods but the swishing sound that occurs in the duct work. We always consider piping in music into the retail dining areas to deflect some of the awareness of the overall noise; kitchens are inherently noisy."
Meanwhile, when placing hoods, take all external factors into consideration. Common errors include placing a hood too close to a four-way diffuser or too close to a doorway. Be cognizant of any air movement around the hood that may disrupt the plume of the effluent being drawn up the flue; ensure that the effluent doesn't roll out from underneath.
In some cases, you might add side panels to help the hood better draw effluent. Air balance in the building becomes incredibly critical as negative pressure means everyone will be smelling exhaust fumes and cooking odors throughout the open kitchen/dining areas.
Attention To Detail
You've defined your concept, organized your equipment and addressed utilities hook-up, hood placement and exhaust balance. Now it's time to tackle the finer details—providing a finished look, lighting and waste handling.
To achieve an overall finished look—to tell a story—designers work hand-in-hand with architects and interior designers. "When it comes to any exhibition kitchen, one of the biggest challenges is the heightened need for coordination with the rest of the design teams because everything—from decorative to mechanical—needs to be well thought out," Coca says. "We as foodservice designers don't have as much freedom upfront as we do in the back-of-house.
"Step back and think about what customers will see in the kitchen at any given moment. Opt for cantilever shelves instead of standard shelves to avoid the look of brackets. Or add a belly bar to a range so it looks more finished. Many designers will specify cabinets to hide storage; customers don't see the pots and pans underneath as they would with an open table. Avoid visual clutter, such as handwritten signs for employees taped on the wall, assorted containers, soiled wiping cloths, etc.
Make sure every kitchen component has its place. Where will cooks move dirty pots and pans that's reachable but not in sight of customers? You might need a cabinet with an open recess for a bus tub behind the cooks or a sink for hot cookware to cool down.
Lighting plays a key role too. Ken Schwartz, President and CEO, SSA Inc., Pinellas Park, Fla., often recommends a lighting consultant on display-kitchen projects. "It's important to have the right lighting at the culinary team's work surfaces because certain lights have a positive or adverse effect on the look of the food," he says. Schwartz recommends using LED lights with a color rendering index greater than 90. Anything less can make meat look green even though it's fresh.
When it comes to waste handling, Eaton says, reducing volume serves as the first step. Prepare ingredients in bulk in the back-of-house as much as possible so that employees can easily dispose of cores, skins and wrappers out of sight. Portion menu ingredients for each meal period and only pull up front what you need. Use reusable, not disposable, containers to transport ingredients to the front-of-house. Tuck slim trash cans into work counters with discreet openings where employees can dispose of waste.
Between specialty equipment, closed cabinets, interior design elements and finishes and all other upgrades, expect to pay anywhere from 25% to double on a display kitchen when compared with a back-of-house kitchen. But take note: Display kitchens may help reduce labor. In some applications, a cook who's already working a grill can also take a customer's order; saving you from needing an employee dedicated to taking orders.
By meeting challenges and designing an effective display kitchen, designers ensure customers focus on the most important element of all—the food product.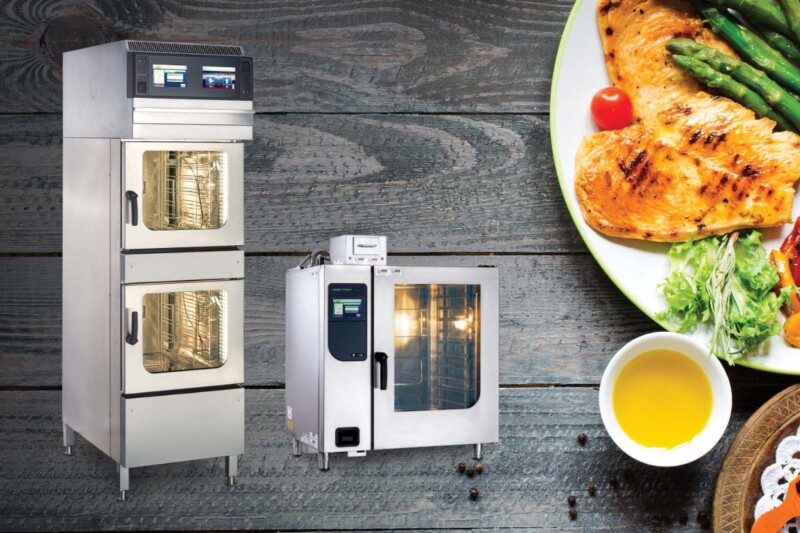 Ovens
In recent years there has been a legitimate debate over the virtues of boiler and boilerless combis. Each basic design has its advantages and flaws.