Cold brew and nitrogen-gas-infused cold brew are experiencing more than just an uptick in popularity. In grocery, cold brew coffee SKUs have surged from just a few to dozens. The list grows almost weekly and according to a 2015 report from research firm Mintel, retail sales of cold brew reflect its expanding role in the coffee category with estimated 115% growth from the year prior, reaching an estimated $7.9 million in sales. Starbucks reported a 20% increase in its overall iced drink portfolio after the introduction of cold brew in its retail stores. Last month, the chain announced that by the end of summer, more than 500 Starbucks stores will serve Nitro, cold brew coffee infused with nitrogen gas. In interviews, CEO Howard Schultz says he expects cold brew coffee and its even hotter cousin, Nitro, will be a multi-billion-dollar industry.
But what is cold brew coffee? While the methods of brewing other drinks—like beer, for instance—require skill, precision and a fair investment of time and money, cold brew coffee is both easy and inexpensive. For many, including Starbucks, the brewing method of choice has been a small-batch system like the Toddy. This method is the most common; brewers steep coarsely-ground coffee (about double the amount of grounds-to-water ratio of hot brew) in room temperature or cold water over a 12-24-hour period and filter it into containers. Other makers such as Bruer, Brew & Bottle, Brewista Cold Pro and a few others have slight variations but use the same basic method. The bottom line here is that with a few hundred dollars and some patience, you can be a successful brewer of cold brew coffee.
However, foodservice demands go beyond small-batch brewing methods, which may not be practical in meeting supply needs. Companies with a history of providing coffee extracts, such as Javo, Finlays (formerly Autocrat) and Aspen Beverage, provide cold brew in concentrate form for foodservice; the concentrate is then diluted to the proper strength onsite. Makers of cold brew coffee concentrates use a variety of methods and some are even shelf-stable. Cold brew coffee is smoother, sweeter and less bitter or acidic than iced coffee (hot-brewed coffee that's been chilled); some who take cream and sugar in their coffee can often drink cold brew without doctoring it.
Of course, the most popular cold drinks today have a common thread—texture. Beer has "head," soft drinks have bubbles, frappes are creamy and granitas have ice. Drinks like these move well, outpacing "flat" cold drinks. Nitrogenating cold brew adds texture without compromising the flavor and, in fact, adds an element of creaminess and sweetness without adding any other ingredients except gas. Starbucks says you can really taste the citrus and chocolate notes in its Nitro cold brew. Additionally, nitrogenated cold brew has virtually no added prep time as compared to many iced drinks like frappes, iced lattes and smoothies.
A nitrogenated cold brew pours, cascades and settles with the same kind of theater and whimsy as a stout beer. The dark brown liquid begins filling from the bottom appearing more caramel than dark brown at first. As the glass fills, the froth quickly expands upward. As the cascading slows, the creamy white head becomes more defined and contrasts with the dark brown coffee. It's hard to not be transfixed by the phenomenon of cascading micro bubbles.
Nitrogen-infused coffee is delivered on tap and takes approximately 3-5 seconds to pour, much faster than the minute-plus required to prep most iced drinks.
The most common method is to pre-nitrogenate a keg full of cold brew coffee. The process is complex but straightforward. Step 1: Fill the keg with cold brew coffee (diluted to the desired strength). Step 2: Pressurize the keg with 100% N2 at 30+psi (or a blend of nitrogen and CO2). Step 3: Keep the keg in cold storage (32°F-38°F) as liquid accepts gas into the solution the colder it becomes. Step 4: Agitate. Step 5: In 12-24 hours the keg is considered "nitrogenated," ready to serve from the tap.
A method that's becoming more popular infuses the coffee with nitrogen inline as it's tapped. This is the approach Starbucks is taking with the NRA Kitchen Innovations Award-recipient Multiplex N2-Fusion tap unit from Manitowoc. The refrigerated unit, equipped with two taps, serves nitrogenated cold brew coffee from one tap, still cold brew coffee from the other. It holds three, three-gal. kegs of cold brew. The nitrogen tank, stored externally along with the primary regulator, feeds into a nitrogenator and pump inside the cabinet.
Another tap unit, with a patent pending, comes from JoeTap. Staffers fill a beverage tank or keg onsite with cold brew coffee and place up to three, five-gal. tanks in the refrigerated compartment of the JoeTap unit. They attach beverage and gas lines to the tank and the nitro coffee is ready to be poured. JoeTap's dual faucet allows cold brew to be served still or nitrogenated, as well. A main advantage in inline systems is having the process of nitrogenation in the operator's control, according to Terry Olson, Sales Director for AC Beverage, Annapolis, Md., which distributes JoeTap. "Those who own a JoeTap only need access to cold brew coffee or can even brew their own. We've calculated that a JoeTap can pay for itself in as little two months."
In the coming months, JoeTap will release a model that allows cold brew concentrates to be brixed at the point of dispense. The new units will come with a "whisper quiet" onboard nitrogen generator, alleviating the need for external nitrogen tanks and a bag-in-box (BIB) approach instead of kegs. For an operator using shelf-stable BIBs, this means a small footprint and no downtime.
If you plan to look into cold brew and nitro-infused cold brew on tap, make sure to research the cleaning and care of the keg and tap systems as they require some training. If cold brew coffee sales trends are any indicator, care and keeping of your units will be well worth it.
Randy Anderson is a cold brew coffee consultant.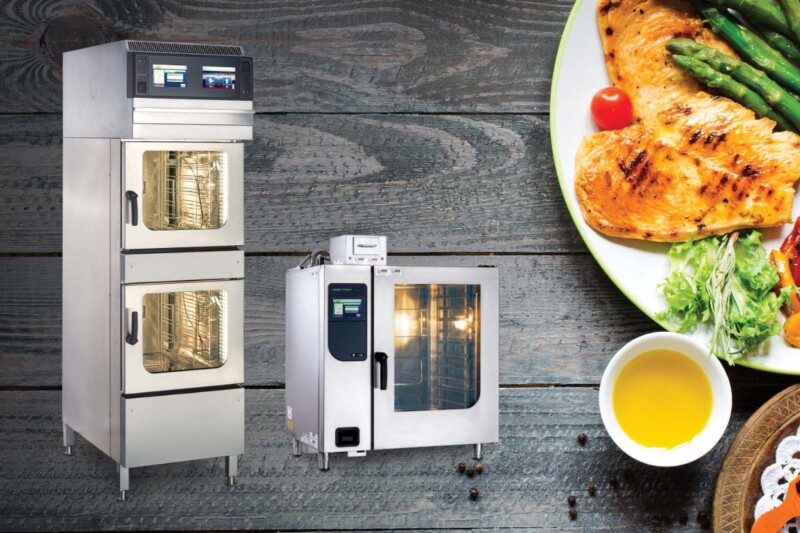 Ovens
In recent years there has been a legitimate debate over the virtues of boiler and boilerless combis. Each basic design has its advantages and flaws.