E&S Industry Event & Award Coverage
The E&S Industry Gets Set For The NAFEM Show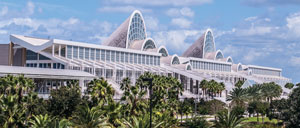 Every two years, foodservice equipment manufacturers debut their latest, greatest and most cutting-edge foodservice equipment and supplies at The NAFEM Show. This year's event promises to be one of the largest ever, with about 560 exhibitors taking up more than 372,000 sq. ft. of space at the Orange County Convention Center in Orlando, Fla., Feb. 9-11.

Download This, Mark That Down
Don't wait until you're in the thick of things to download the tradeshow tools NAFEM has designed to help you navigate the show. The NAFEM Show Buyer's Guide, available as a free download on the show's website, thenafemshow.org, includes the new rules of foodservice E&S buying, with key considerations such as energy efficiency, how trends affect purchases and analyzing your menu for proper equipment choices. On your smartphone, download The NAFEM Show app to access the show schedule, event details, floor map, exhibitor lists and a message center for breaking news.

The What's Hot!, What's Cool! Pavilion is a must-hit stop on the show floor to see a concentration of the latest and most innovative items from more than 140 companies. This year too, Mike Colburn and Mary Esther Treat of Ideas Well Done, Winooski, Vt., will help be your eyes on the show floor, reporting twice a day on Friday and Saturday on noteworthy equipment they encounter in an informal Inspiration Station, a conversation area with seating set up for the purpose.

Still trying to figure out how to get to the show? Take advantage of The NAFEM Show Scholarship Program to get $500 to offset travel expenses, plus free registration. The NAFEM Show website has details of how to apply and the deadline is Jan. 31.

Getting To Know You
Networking begins at The NAFEM Show during the official Kick-Off Party on Wednesday night, and the show itself begins the following morning at 9 a.m. On Friday night join us at the FER Industry Excellence Awards Gala, an industry-wide celebration where we gather to honor a select group of outstanding leaders from every channel of the industry. (See the "Register Now!" sidebar for more details on purchasing tickets to our event.) Everything wraps up with the After-Show Party on Saturday night, with dinner and a concert. This year's headline act: The Killers (22 million albums sold worldwide).

In addition to the events, there are plenty of opportunities for networking on the show floor and in the meetings and events taking place with allied associations, including:

• Foodservice Consultants Society Int'l.-The Americas. FCSI-TA's Symposium, Breaking Bad Habits & Breaking Through, runs Feb. 7-8. The event starts out with a private party at SeaWorld and flows into sessions the next day including "Away with the Tray—Modern Healthcare Foodservice Programs," "FBI Negotiation Secrets for Breaking Bad Communication Habits," by Chris Voss, former FBI international kidnapping negotiator. Register at fcsi.org/2017symposium.

• National Equipment & Supply Association. Join fellow NESA members for a pre-show get-together on Wednesday at the show from 2 p.m. to 5 p.m. at the Doubletree Hotel. The association has also organized time on the show floor before it opens to everyone on Friday and Saturday morning from 8 a.m. to 9 a.m.

• Foodservice Equipment Distributors Association. FEDA members are invited to attend the box lunch sales seminar, Feb. 10, 12 p.m.-1:30 p.m. The program, "Know More! Relationships," is led by Sam Richter, Founder of Know More!

• Manufacturers' Agents Association for the Foodservice Industry. The 2017 MAFSI Membership Meeting and Cocktail Party takes place Feb. 10, 5 p.m.-6:30 p.m. at the Orange County Convention Center. While walking the show floor, be sure to stop by the FER booth 886 to visit with us and to share your favorite equipment finds on the show floor.

See you at the show!

The NAFEM Show
Orange County Convention Center
Orlando, Fla.

Thursday, Feb. 9, 9 a.m.-5 p.m.
Friday, Feb. 10, 9 a.m.-5 p.m.
Saturday, Feb. 11, 9 a.m.-3 p.m.

Attendees: 20,000 Exhibitors: 560

Events:
Kick-Off Party: Wednesday, Feb. 8, 6:30 p.m.-8:30 p.m., Hilton Orlando. Tickets: $30.
After-Show Party featuring The Killers: Saturday, Feb.11, 7 p.m.-11 p.m., Orange County Convention Center. Tickets: $125 through Jan. 15, $150 after.

Registration: $75 through Jan. 31, $100 after. Register at thenafemshow.org.

Register Now!
Foodservice Equipment Reports' Industry Excellence Awards Gala
Friday, Feb. 10
6:30 p.m.-10:30 p.m.
Hyatt Regency Orlando

Tickets: $349 per person for FER advertisers and customers; $649 for non-advertisers. Reserved tables of 10 are available.

Awards: Young Lion Awards honoring the E&S industry's rising stars age 40 years or younger. Management Excellence Awards for multiunit operators, dealers and consultants. Industry Service Awards for individuals who have made extraordinary contributions to the E&S industry.

Visit http://bit.ly/2dGeS6s for more information including the full list of winners. Contact Robin Ashton, rashton@fermag.com, 847/910-5163, or Christine Palmer, cpalmer@fermag.com, 847/648-0059.