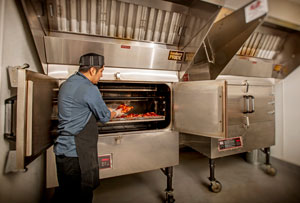 The proliferation of barbecue in its myriad forms across the country has helped spur the popularity of smoked foods of all kinds—from traditional meats and seafood to cheeses and more exotic fare (think ice or even lettuce). More and more operators are adding smoked items to their menus to give customers something new and different. Even healthcare facilities are doing more smoking to add flavor to the menu without adding salt.
Used to be you had to purchase a bulky pit barbecue smoker, already smoked foods, or use a smoke flavoring to put smoked products on your menu. Now, you have several options from literally dozens of equipment manufacturers for smoking product in-house. In most cases, it's so easy that smoking foods yourself can give you more control over your product profile and likely save you money to boot.
We say this a lot, but it's worth putting out there again: to figure out what equipment to evaluate, start with the menu. Decide what products you want to smoke, how much you'll go through in a day, and then give yourself room to grow. In other words, pick equipment that's flexible enough to let you add new smoked items and with enough capacity to handle the extra volume.
Of course, space is always at a premium, so that should factor into your thinking. Fortunately, some of your options may be able to do double, even multiple duties when it comes to your menu.
The products you want to smoke can have a big impact on where to start looking. If you're thinking about some smoked cheeses for the sandwich and salad menu or some cold-smoked salmon for weekend brunches, you may not need as large a piece of equipment. More delicate items like these only need an hour or less to acquire a good smoke flavor, so you can produce more volume in a smaller unit in a day. Items like pork butts for pulled pork, brisket, ribs or whole chickens, for example, take up more space and need much more time—anywhere from four to eight hours—to fully cook and take on the flavor you want.
Take Your Pick
You can take one of primarily three different directions: traditional barbecue smokers, cook-and-hold ovens, or combi ovens. Each has its benefits and potential drawbacks. Note the Smoker Gallery includes a broader selection of equipment you can use to smoke menu items.
Traditional barbecue smokers typically cook and smoke meats in high volume, though smaller units are available. Pit barbecue smokers, as the name implies, replicate the centuries-old tradition of cooking over wood charcoal fires in pits dug for the purpose. Often barrel-shaped, basic units are wood- or charcoal-fired, but gas-fired models are available. This type of smoker is more often used by large-volume barbecue restaurants or in barbecue competitions.
Commercial models are typically gas-fired, though smaller models may also be electric. The heat source cooks food product, and either a gas burner or electric element heats wood to produce smoke, which gives you more control and consistency and requires less skilled labor. A firebox in larger units accommodates from one to three fireplace logs; the firebox in smaller models uses wood chips to smoke product. In both cases, the firebox is usually adequately sized to completely smoke a unit load without having to replenish the wood.
Units come in two styles—with rotating or stationary racks. Rotating or rotisserie rack smokers continuously move product through the smoker cavity on racks much like a Ferris wheel, so product cooks and smokes evenly. Most models also have a low-velocity convection fan to maintain a steady cavity temperature. Capacities range up to 1,400 lb. or so (about 135 pork butts, 180 chickens, 80 briskets, or 120 baby back rib racks, depending on rack configuration and product weight).
Most have a temperature range from 100°F to 325°F with thermostat control and dial gauge. Some models have digital cook-and-hold controls that allow you to set cook temperature and time, and hold temperature when the product is done. Other basic features include a ¼-hp rotisserie motor with chain drive, rotisserie advance foot switch, upper temperature safety limit switch, and casters or adjustable legs.
Stationary rack smokers are dedicated smoke and roast ovens with capacities that range from 200 to 500 lb. As the name suggests, these smokers have rack slides that allow you to confi gure the racks in the cavity for different types of products, but the racks don't revolve.
Though at least one manufacturer offers a gas-fi red model, most units are electric. Temperature controls range from about 80°F to 325°F, providing the ability to cold smoke, hot smoke and/or slow-roast a variety of foods. Typically, a small convection fan will supply enough air movement to cook and smoke product more evenly.
Several models provide the ability to inject steam into the cabinet to keep foods like ribs more moist.
Doors Number 2 And 3
Cook-and-hold smoker ovens represent a sort of hybrid that can serve dual duty in operations requiring only a relatively light volume of smoking. Essentially cook-and-hold, slow-roast ovens with a firebox for wood chips, they typically have a capacity of about 100 lb. (though they're stackable to handle more volume). They, too, have low temperature ranges of 80°F to 325°F, and can cold smoke, hot smoke, slow-roast and hold foods.
While they can roast and/or smoke foods, the potential drawback is if you use them to smoke a lot of food, other foods may take on some smoke flavor when the equipment is simply used as a cook-and-hold oven.
Your third option is a combi oven. Many models now are designed with a wood chip fi rebox to give you the option of using the oven as a smoker. Some makers offer an electric firebox as an option that you can place directly in the bottom of the oven cavity, a nice retrofit for ovens operators may already have in their kitchens.
Combi ovens, of course, offer incredible cooking versatility and a wider temperature range (up to about 575°F); adding a smoking option just gives you that much more menu flexibility. A real bonus of using a combi as a smoker is that many models come with a self-cleaning feature that will wash the interior clean of any lingering smoke odor. Even more basic models usually have a hose attachment for manual cleaning that will help accomplish the same thing.
Combi ovens also come in a wide range of sizes, from countertop units to roll-in rack units, so they can handle practically any volume. And their programmability in most cases can make smoking any food, from water (used to create smoked ice in cocktails) to pork butt, as easy as pushing a button.
As with any kitchen equipment, look for sturdy, durable construction using stainless interiors and exteriors.
Ventilation is required for any type of equipment that's used as a smoker. In most cases, the ventilation hood already in your kitchen should suffice, but it's best to check local regulations to find out what the requirements are for your stores.
With so many equipment choices available, you should have no trouble finding an option that best suits your operation, as long as you do some homework. As smoked foods continue to grow more popular, smoke 'em while you got 'em.

Smoker Advancements
As the technology for all foodservice equipment advances smoker manufacturers are riding the bandwagon. Perhaps the biggest advancement, particularly for traditional revolving and stationary rack smokers, is digital control.
Many models give you the ability to set the smoke time as well as the cook time. And digital controls also can turn many smokers into programmable cook/smoke-and-hold ovens. Though not standard on all units, features such as these are available as options on most models.
More advanced controls on some traditional smokers and most cook-and-hold smoker ovens give you more programming flexibility, and usually offer an internal temperature probe that automates much of the smoking and cooking process. The advantages are more consistent product from store to store, and less training required for kitchen staff.
Combi ovens perhaps offer the most versatility of all in terms of programmability and cooking/smoking techniques. And both combis and more advanced cook-and-hold models offer HACCP data logging either standard or as an option.
Which Wood?
Large smokers have fireboxes that accommodate fireplace-size logs, meaning you'll need to find a wood source, and a place to store it.
Smaller models have ventilated fireboxes or trays that use wood chips, wood pellets or sawdust. Pellets burn hotter and more slowly than chips or sawdust, provide good control over both hot and cold smoking, and create little ash, but make sure that what you buy doesn't contain additives or binders. Wood chips burn faster than pellets or sawdust, so most smoker makers recommend soaking them overnight to make them burn more slowly. Sawdust is the least expensive, but generates less smoke and heat.
Wood smoke from different trees, of course, will flavor foods differently. Hardwoods burn more slowly, so are used most often. Hickory and oak are traditionally used for barbecued meats. Hickory has a sweet to strong bacon flavor, and works well with pork, ribs, beef and ham, while oak is milder with little aftertaste. Mesquite is often used in Southwest barbecue, and has a strong distinctive flavor that complements beef but also works with poultry, pork and seafood.
Fruit woods, such as apple and cherry, have a sweet, fruity smoke flavor and are particularly good for poultry and pork. Cherry wood's milder smoke flavor is good with all meats and gives light or white meat a rosy hue.
Use lighter hardwoods such as maple, alder or nut trees such as pecan for smoking poultry and fish. Experiment with which flavors best complement your menu items. Many operators are using smoke to impart flavors to salads (smoked romaine lettuce), vegetables and even cocktails (ice cubes made with smoked water).
Cleaning Tips
DAILY:
• Clean racks and oven interior.
• Wipe down exterior.
• Remove ash from the fi rebox.
• Drain grease pan.
WEEKLY:
• Clean door latches.
• Inspect the burner for ash accumulation.
• Check door gaskets and clean as needed.
• Inspect the fl ue for creosote build-up.
MONTHLY:
• Inspect and clean the convection fan blades.
• Follow manufacturer's instructions for specific cleaning and maintenance information.
Accessories & Options
As with any piece of equipment, don't forget to factor options and accessories into your buying decision. A few to consider include:
1. upright rib racks
2. chicken spikes
3. fish grates
4. tempered glass doors
5. keyed door lock
6. lockable control panel
7. smoke extractor damper
8. eyebrow ventilation hood
9. through-the-wall insulation kit
10. reversible door hinges
11. swivel and locking casters
12. adjustable legs
13. stacking kit
Smoker Gallery:
ALTO-SHAAM COMBISMOKE
Alto-Shaam's CombiSmoke feature, available on the CT PROformance combi ovens, increases versatility by allowing operators to smoke any product, hot or cold, with real wood chips. The CT PROformance is considered an alternative for a convection oven, kettle, steamer, fryer, smoker and dehydrator; with the PROpower setting, it operates up to 20% faster than other combi ovens and up to 80% faster than conventional technology. Programmable touchscreen controls allow you to cook with a touch of a button.
alto-shaam.com
ANGELO PO SMOKERSTAR
Smokerstar is compatible with Angelo Po's Combistar combi ovens. Powered by 110V, the Smokerstar rests on top of the combi oven; it doesn't take up valuable cooking space inside the cooking cavity. Add your own desired wood chips and flavoring ingredients into the Smokerstar tray and begin smoking. When you finish the smoking process, choose the automatic washing program with a touch of a finger and the oven will clean itself.
angelopoamerica.com
CONVOTHERM CONVOSMOKE
The Convotherm 4 easyTouch tabletop combi ovens (6.10, 10.10, 6.20, 10.20) come with an optional smoking feature, ConvoSmoke. This box has the ability to smoke hot (meat, vegetables) or cold (cheese, fi sh) food items; is fully integrated and programmable in your cooking profi le so you can complete a recipe without touching the unit; and can hold up to 8 biscuit pucks or pressed wood chips. Available in the gas, electric, generator or spritzer combi models.
convotherm.com
COOKSHACK FAST EDDY'S FEC240
Model FEC240 is a 100% wood-burning, pellet-fi red smoker with the company's IQ5 electronic control system. The FEC240 can smoke 250 lb. of pork butts, 240 lb. of brisket, or 60 chickens in the smoker's nearly 22 sq. ft. of space—and it still fits through a standard door. It features an offset fi rebox and a convection fan. Oven temperature reaches up to 350°F and the digital controller includes 8 programmable cooking pre-sets, an alarm cycle, LCD display, and USB port.
cookshack.com
CRES COR COOK-N-HOLD SMOKER OVEN
This Cook-N-Hold Low Temperature Smoker Oven adds variety and versatility to your menu. Model 767-CH-SK-D smokes with real wood chips; it can cold smoke fish and cheeses as well. The efficient 3000W power unit allows for reheating of prepared meals or bulk items (maximum temperature is 325°F). This smoker holds up to 100 lb. of meat in less than 6 sq. ft. of floor space. Ovens come standard with easy-to-read and operate LED digital controls, while Deluxe versions offer 18 programmable recipes and food temperature-probe cooking.
crescor.com
ELECTROLUX VOLCANO SMOKER
Compatible with Electrolux combi ovens, this accessory is ideal for cooking and smoking a wide variety of foods using wood chips or dried spices. To use, simply open the Volcano Smoker and fill it with coal, ignite the coal with a torch for a few minutes, drain the wood chips (soaked overnight) and then place them on top of the coal, adjust the lid position to achieve the desired amount of smoke, and then position the smoker in the base of the combi.
professional.electroluxusa.com
ENVIRO-PAK MARTINI 280
Enviro-Pak's new Martini 280 sports a log-burning smoke generator. This state-of-the-art oven features a programmable logic controller with remote access—control it from your computer or smartphone. This model holds 280 lb. of whole muscle meat, and was designed for chefs and pit masters; plus, it was engineered and manufactured by a smoke-oven manufacturer with over 50 years of experience.
enviro-pak.com
EQUIPEX FM-4 SMOKER
Equipex's FM-4 Smoker measures 16-in.W x 28-in.D x 12-in.H and sports stainless construction for durability and longevity. A stainless enclosure allows for cold smoking while the wood chip compartment contains low wattage for heating. The smoker comes with a cover, timer and oak sawdust, making it ready for any foods (meats, poultry and cheeses) that come its way. The smoker relies on a 120V power supply, is portable and easy to operate.
equipex.com
FWE G2 COOK-AND-HOLD SMOKERS
Introducing the New Generation (LCH-SK-G2) of Low Temperature Cook-And-Hold Smoker Ovens that cut operating costs and increase quality. FWE's process of slow cooking and smoking produces a high-yield product with natural outside bark and rich, intense flavors. Deliver valued menu additions with smoky aromatics and flavors of favorites such as brisket and ribs, as well as cheeses and fish. These models reach up to 350°F and can hold from 5 to 14, 18-in. x 26-in. trays/pans.
fwe.com/products/smokers
JADE CHITWOOD SMOKE BROILER
This Titan specialty broiler from Jade is perfect for broiling with a little extra flare. The unique, gas-powered unit works with a smoke drawer for wood assist (flavor only). Choose from radiant-style burners or ceramic briquettes. The Chitwood Smoke-Ejector system provides maximum smoke to the grill surface; the system is independent of the main burner heat for cold smoking. A 14-ga. stainless, welded body construction and 1 30,000 Btu/hr. burner every 12-in. of the broiler are other equipment highlights.
jaderange.com
NU-VU SMOKE SERIES SMOKERS
Nu-Vu's Smoke Series Smokers (Smoke6 and Smoke13) allow for smoking, baking, warming up, holding and slow cooking. The stainless construction makes the unit durable and helps when it comes time to clean. Units come with a water-line connection for a humid smoke, and separate controls for heat, humidity and smoke, allowing you to customize recipes. Top-mount controls and components makes it easy to maintain, and chrome racks accommodate assorted cooking pans sizes.
nu-vu.com
RATIONAL VARIOSMOKER
Everyone can smoke foods in a Rational combi-steamer. Give your products a natural smoky flavor, which you can regulate exactly how you like—without needing a separate smoker. The VarioSmoker works with conventional smoke materials, such as wood chips or pellets; use it to produce briskets, ribs, pulled pork and more. Use the plug-and-play accessory in nearly all Rational units built since 1997. (The VarioSmoker is not recommended for 202 model units.)
rational-online.com
SOUTHERN PRIDE SRG–400 SMOKER
The SRG-400 is a gas-fired, wood-burning, stationary rack smoker offering a 400-lb. capacity; it fits through a standard 36-in. doorway and under a standard-depth hood. Standard features include stainless construction, single product door, convection fan system, 7 nickel chrome flat racks, 2-in. insulated wall construction and removable rack slides. The removable rack slide system can accommodate 27 flat racks producing 87 sq. ft. of cooking surface. Control the unit using a digital cook-and-hold thermostat (140°F to 325°F).
southern-pride.com
TOASTMASTER COOK N' HOLD SMOKER OVEN SERIES
This series of electric-powered cook-and-hold smoker ovens (ES-6 and ES-13) holds either 6 or 13 18-in. x 26-in. sheet pans, has solid-state controls, an AutoMist humidity system, variable moisture control, 1 bottom drip pan and either 5 or 13 chrome racks. Hinge the stainless door on the left or right; ovens come with 3¼-in. casters. Electrical requirements run 208V or 240V, single phase or 3 phase.
toastmastercorp.com
TOWN FOOD SERVICE SMOKEHOUSES
Hot and fast or long and slow—Town offers a traditional Asian-style barbecue/smoker to match your needs. Roast and smoke up to 55 lb. of tenderloin, 175 lb. of ribs or 24 whole chickens in Town's natural gas- or propane-fired smokehouse ovens, available in 3 widths (24 in., 30 in. or 36 in.) and with a stainless or galvanized exterior. Rack systems, skewer rods, hooks and roasting bars are available.
townfood.com
VULCAN ACHIEVER SMOKER BASE
Vulcan's Achiever Smoker Base for VACB Model Gas Charbroilers accommodates wood chips, blocks or logs to achieve the desirable taste customers seek. Enhancing chargrilled products such as fish, meat, chicken and vegetables with the on-trend smoking cooking process just got easier. The base boasts heavy-duty, stainless welded construction; place it on top of an equipment stand or an appropriate refrigerated base.
vulcanequipment.com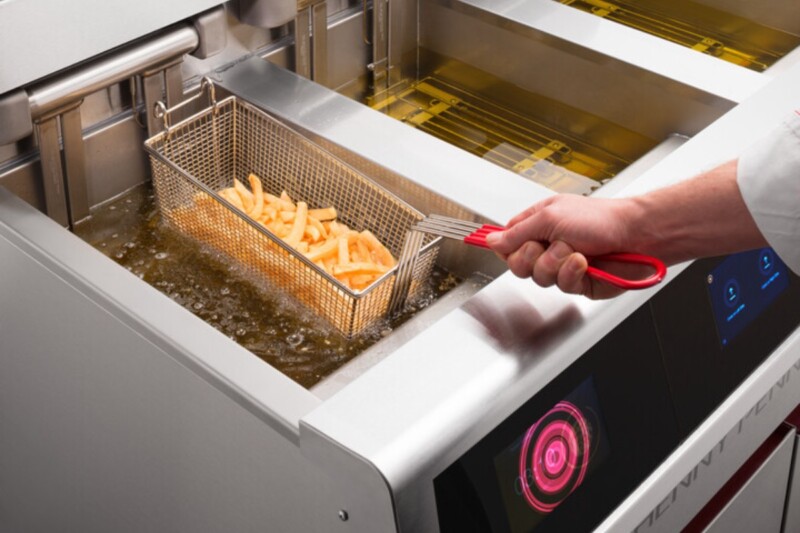 Equipment
In 2009, we introduced Evolution Elite, the industry's first reduced-oil capacity fryer. Now, we're celebrating the newest generation! Our latest low oil volume fryer, called 'F5', combines innovation and simplicity to…